"I don't know, Google it."
We hear it, say it, and do it countless times a day. Google reigns supreme as our ultimate source of accessible information ― and consequently, a primary channel for consumers to discover and interact with brands. Because of this, marketers need to play by their rules when it comes to the virtual world ― even when the search engine rolls out unexpected game-changers, like the update they announced last summer.
In short, Google plans to update their algorithm in the spring of 2021 to factor in the characteristics of Page Experience, a change that will undoubtedly have a major impact on site rankings.
Before sliding into a tailspin on mastering the specifics of the incoming launch, let's unpack exactly what Google is looking to accomplish.
What is the Page Experience?
According to Google, the Page Experience update uses certain signals to, "measure aspects of how users perceive the experience of interacting with a web page. Optimizing for these factors makes the web more delightful for users across all web browsers and surfaces, and helps sites evolve towards user expectations on mobile."
Basically, Google is looking at how easy (or difficult) it is to use your site. Using the existing Google Search signals is part of this: responsiveness, safe-browsing, HTTPS, and intrusive interstitial guidelines.
Arriving with the update comes the inclusion of Google's Web Vitals into this process, which focus on three main factors: loading time, interactivity, and visual stability ― put into Google's verbiage below.
Largest Contentful Paint (LCP): rate of speed around the loading time for a webpage's main content piece, typically the largest element. Your LCP shouldn't exceed 2.5 seconds.
First Input Delay (FID): page responsiveness to user activity like clicking, scrolling, and typing. Ideally, your FID should be less than 100 milliseconds.
Cumulative Layout Shift (CLS): your webpage's visual stability, taking into account any unexpected or unwanted page element shifts that occur while the site is still loading. Elements that cause page shifts include popups, ads, images, videos, and more. The lower your score the better, so try to keep it under .1.
The bottom line is that Google is looking to optimize search results for the most user-friendly websites, and for good reason ― according to their own research, as page load time increases from one second to 10 seconds, the probability of a mobile site visitor leaving increases by a whopping 123%. Similarly, as page elements increase from 400 to 6,000, the probability of conversion drops by up to 95%. Aggregated all these aspects under the incoming umbrella of Page Experience provides the combined power to impact organic search results.
How to prepare
Don't underestimate speed
Instant access is expected from users in any modern website experience, and they aren't playing around ― Google research found that one single second can decrease conversion rates by up to 70%. As Google suggests, the standard shouldn't exceed three seconds, and there are multiple steps you can take to avoid missing out on valuable users because of preventable delays.
The more components you feature on the page, the longer it takes for it to render ― combining files can overcome this and minimize HTTP requests. Keep in mind that browsers load web pages moving from top to bottom, which can be used to your advantage. Compressing large images, reducing page redirects, and fixing 400 and 404 errors are quick, tangible steps to improve your website speed.
Don't forget to also check on caching, compression, and image file sizes ― plus, examine the operation of JavaScript loading and server response times to gauge your page speed.
Prioritize the mobile experience
Website responsiveness is far past a bonus in site performance, it's a necessity ― especially with mobile devices having generated roughly half of global website traffic since the beginning of 2017. This will become an even higher priority for developers when the Page Experience update goes into effect. Google offers a few specific tips themselves to optimize your site's mobile responsiveness.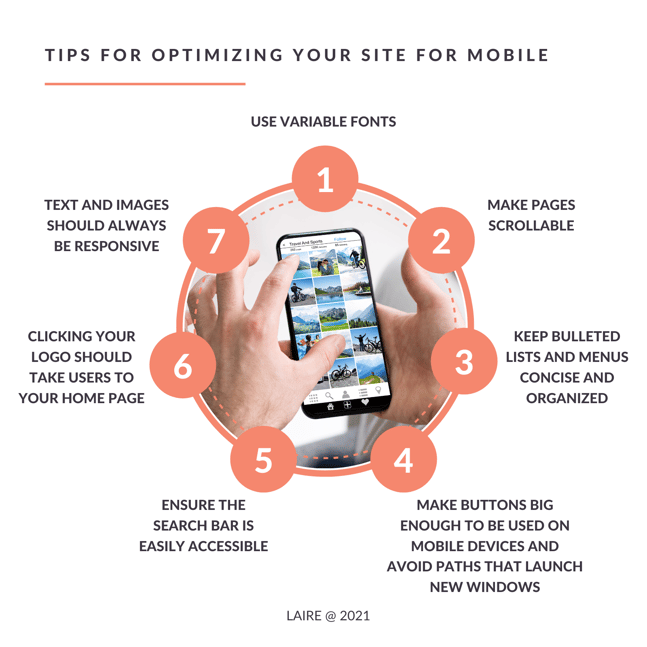 Use variable fonts
Make pages scrollable
Keep bulleted lists and menus concise and organized
Make buttons big enough to be used on mobile devices and avoid paths that launch new windows
Ensure the search bar is easily accessible
Clicking your logo should take users to your home page
Text and images should always

be responsive
You can submit your web page to a quick Mobile-Friendly Test to determine what aspects of your page could use improvement.
Ensure security
A safe site is a successful site, especially since Google's update wants webmasters to provide the best possible site security and browsing safety. Prior to the Page Experience update rollout, take the opportunity to double-check your website and increase protection from malware and other hacking attempts. You can add a firewall to ensure that your website offers a secure HTTPS connection ― if your site begins with HTTP, it would benefit you to purchase and install an SSL certification, or to turn on SSL within your domain provider. Not only can you create peace of mind for yourself and your users, this can positively impact your SEO rankings.
Optimize content
Content is still king, it's the ultimate baseline for the quality of your site. Google points out in their own blog, "Great page experience doesn't override having great page content." Don't let your content fall in priority as you hone in on the new Page Experience parameters and expect your site traffic to explode ― oftentimes, webmasters can get too hyperfocused on the technical aspects of SEO that the most important elements of your page fall by the wayside. Despite changing search engine standards, quality content will always play a crucial role in page rankings and should always be created to be digestible, valuable, and unique.
There are, however, steps you can take to elevate your quality content to the next level to be optimized for Google's algorithm updates.
Alt text has become a major topic in the world of web development over the past few years, as it can revolutionize an accessible browsing experience for those with visual or cognitive impairments.
Used in an HTML code, alt text describes the appearance and function of an image on a webpage. These tags will be displayed in case an image file isn't loading or can't be seen by an individual user, providing context for users to understand its purpose. These descriptions are also used by search engine crawlers for indexing, making them helpful in improving rankings. Alt text descriptions should be concise and specific, ideally featuring a keyword, and can be significant in improving your website's organic search results.
Virtually every website features calls to action (CTAs) in some form, encouraging users to take specific actions from subscribing to newsletters, signing up for a mailing list, booking an appointment, and, most importantly for some, making a purchase.
Embracing the knowledge that your audience arrives with different mindsets at different points of interaction allows you to prioritize customizing your CTAs for the best results. This can have a major impact on user experience and improve not only interaction rates, but overall conversions.
As is standard, CTAs should be clear, concise, and specific about the requested action ― ideally leading to a benefit that the user will get out of the interaction, adding value in the form of new information, a solution, or a necessity. Put yourself in the mindset of what a consumer will "get" out of this action, and speak their language accordingly.

Visual design matters just as much as verbiage, too. CTAs should be brightly colored, proportionately shaped and sized, and positioned with overall visual design and accessibility in mind. Extensive research has gone into the elements behind a successful CTA, from psychology surrounding responses to color and shape to optimal page placement.
Getting started
We still have several months to go before this update goes into effect, giving plenty of time for webmasters to prepare ― and your audience will expect you to be ready.
When taking the steps to optimize your site rankings in the coming months, consider starting here:
1. Get familiar
Familiarize yourself and the rest of your team with the new metrics that Google is implementing, and the verbiage around them. As mentioned before, these consist of Largest Contentful Paint (LCP), Cumulative Layout Shift (CLS), and FID (First Input Delay). Dive into Google's helpful explanations and measurement benchmarks to begin mastering them.
2. Take inventory
Once you have a clear understanding of Google's fresh metrics, you can conduct a site audit to gauge the quality of significant factors on your existing website, including loading speed, responsiveness, user experience, mobile usability, and security. Determining your potential problem areas are key in improving.
3. Team up
It's no secret it takes a village to build a top-quality website, and all the aforementioned factors impacting site performance prove it. Get prepared for the Page Experience update by bringing your team together and ensuring you're all in alignment when it comes to approaching this algorithm update for maximum success. Call on your SEO, UX design, and IT teams to tackle the challenge as a united front.
Go forth and optimize!