We're in the digital age, where more and more people are using the web to research and decide on products and services. This is an awesome time for home improvement and construction companies to effectively talk to a specific audience – however most of these businesses aren't even doing what they need to compete.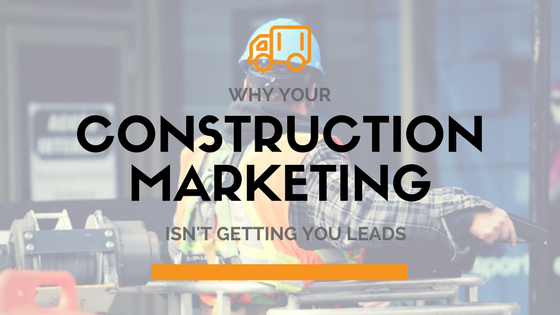 Is this you? You think you've invested in the marketing for your construction business.
Shiny new website? Check
Yellow Pages ad? Check
Started a Facebook page? Check
Slick yard signs? Check
Postcard mailer to homeowners? Check
Flyers at home show? Check
Even though you have allocated to what you think is marketing, these are tactics, and none of it ties back to a real PLAN, nor is it talking to a specific buyer. It's time to rethink the marketing dollars you're spending and make a change that brings you the qualified leads you need. Here's what you are doing that is getting in the way of your own lead generation:
You're Not Connecting
Have you labeled the different groups of clients that you do business with? And have you identified the clients that you want to get more business from? Understanding who your "A+" client is (and is not) is a crucial step in effective marketing. Once you've identified whom you're talking to (for example, female homeowners, ages 30-55, working professionals, with children) you can begin to speak to this specific client's needs and their complaints (to be fancy, these are called "pain statements").
So, have you been talking to your potential clients about THEIR pains ("I'm worried we'll have to move out of our home during construction!"), or are you just pushing your business and how great YOU are? If you can truly connect with your clients, and show that you are listening to their concerns, you have a much better likelihood to get that lead and earn their trust to start a working relationship.
Connecting with your client's pains can be done through headlines on your website or in ads, or sharing articles on social media that speak to your client's interests. It does not have to be difficult, but you have to always keep your A+ client in mind with every message you put out into the world.
You're Not Meeting Them on Their Turf
You may think you're on the social media channels that you need, but do you have a presence on the channels where your prospects spend time? Facebook may not be enough. You could survey your clients to find out which sites they frequent. Your leads could easily come from Twitter or Thumbtack, but how do you know if you don't ask or try it? (Learn more in 9 Tips for Home Improvement Companies Getting Started On Social Media).
If you're using traditional marketing (also called "Outbound") such as advertising in print, cold calling, and direct mail, these are techniques that interrupt people in their daily lives. They didn't ask to see your ad or to receive a phone call. This can be an expensive method of marketing, throwing a lot of tactics out there, hoping that your message makes it to the right person.
Inbound Marketing is a solid strategy to promote your business -- a way to further develop your web presence in order to effectively reach your ideal clients. Instead of focusing on Outbound Marketing that interrupts, Inbound Marketing appeals to potential clients by publishing informative and entertaining content on your website. Essentially, you attract new clients to you by answering their questions and offering solutions to their home improvement needs. This content will show up on search engines as individual articles, all living on your website (see the "You're Not Giving Them Value" below).
Also, while you may think of email as being ineffective and spammy, surprisingly it is nearly 40 times more effective than Facebook and Twitter at acquiring customers. Sending a personalized email providing helpful resources can help you connect with your clients on their own time.
You're Not Giving Them Value
When prospects come to your website, do you provide tools or education to help them along in their decision process? Are there articles that discuss "Is a 2-Story Addition Right for You?". Or do you offer them a budget calculator to start dreaming of their project? You can provide value to your leads by featuring articles that you share from reliable, relevant sources and/or articles that you craft yourself.
Having a blog and resources page on your website, offering helpful information, aids in presenting you as a credible resource in your field. Also, your website visibility will be maximized if you add a blog page -- it adds pages and searchable terms to your website, which increases the likelihood of your website being ranked higher on search engines.
You're Spending Money in The Wrong Places (or Not Enough)
Most home improvement contractors overspend in areas like Yellow Pages, without being able to provide a return on investment (ROI). (See the Forbes article "Should Small Businesses Still Book Yellow Page Ads?" – the answer was "No!" if you want to get ahead, or even break even). Or the big spend may be on Search Engine Optimization (SEO) services. We have seen many small businesses blindly giving money to SEO firms, paying to get their sites ranked at the top of the page for certain keywords (ex: "home additions"). But how do you know those keywords are what your prospects are searching for? Is your SEO company ranking you for the right keywords that will get you found? The truth is that publishing multiple blogs on "home additions" and dedicating a page on your site to "home additions" could have the same, natural effect to have your website show up on search. There are many ways to increase your ranking results on search engines, and some of the most effective, built around content, come at a much lower cost.
On the other side of the spending conversation, small business owners only spend about 10 percent of their annual revenue on marketing. Overall marketing spend should be based your goals. If you want to increase your sales by $500,000, will a monthly spend of $500 get you there? If you have not set a budget, even a low starting budget, you won't know how to measure results, or what is needed to reach your goals. Marketing is about testing. But you don't know until you try, measure results, adjust, and try again. (Note: "measure" is an important word. You should stick to tactics that you can see the interactions, traffic and clicks for before you branch out to more "outbound" tactics). If you have very targeted plan and tactics in place, perhaps a lower spend is all you need.
If you analyze where you are currently (mis)spending, and adjust your focus to make sure you are connecting with potential clients, you have high possibilities to turn your marketing around!
---
If you would like to see how you can grow YOUR construction business with a marketing plan, strategy and implementation - Download your copy of the construction marketing checklist below!