So, your business got a not-so-great review on Facebook or Google My Business. In a perfect world, you'd be able to click a button and bad reviews would disappear. Wow, wouldn't that be nice? The reality is Facebook, Google My Business, and other online review sites don't allow businesses to edit or remove reviews. Only the user can make those changes.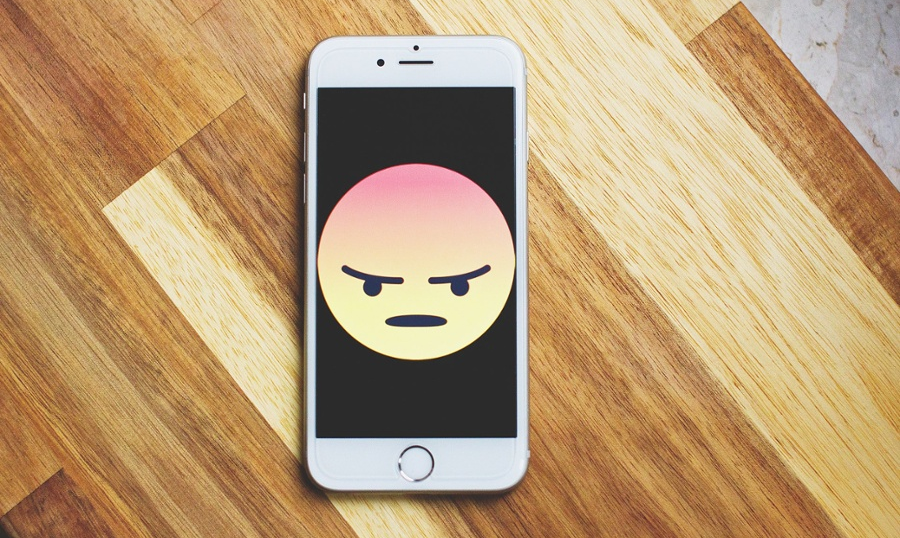 But there is a way to properly address bad reviews to show that you (your brand) cares about their problem. And that can quickly turn a negative experience into a positive one. Then, if you are fortunate enough, the negative reviewer may go back and update their feedback to be more positive (fingers crossed!).
Before we dive in any deeper, there are isolated occurrences when you can report a review that doesn't follow Facebook's community standards and it may be removed. All you have to do is click the exclamation point icon next to the Facebook review and select one of the following options: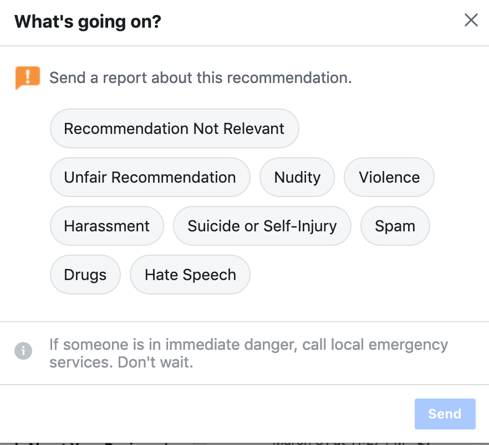 For Google My Business, you can report a review if you feel it violates the Terms of Service by selecting the flag icon next. The "report a policy violation" window will then give you a list of options to pinpoint the violation type (see below).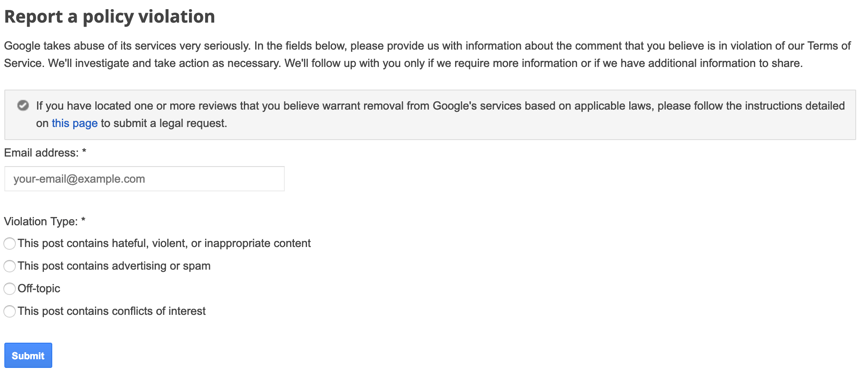 How to Handle Bad Reviews Online
How you respond to bad reviews is a critical component of your digital marketing efforts and how your business is perceived by the online world. Here are some options you can explore to make the best of negative feedback.
Take time to understand the situation before you respond. There are two sides to every story, and typically the same goes for online reviews. Talk to team members who may have insight about the incident. Getting this information will help you in handling and (hopefully) diffusing the situation.


Post a thoughtful response and try to take the conversation offline. This is a great tactic because you don't want the user to respond to your response rehashing the same concern they already voiced. This will give you the opportunity to show the public your business has addressed the feedback and is sympathetic to the user's experience. Your response should end with something like: "If you would like to discuss further, we would like to offer you the opportunity to chat with us directly. Please email us your contact information or send us a private message and we'll follow up with you." After this, you simply wait and see if they respond privately.

When crafting your responses to bad reviews, make sure it's clear that you've taken the time to read the concern. Nothing is worse than seeing the same coined response used over and over on review sites. How impersonal is that?

Note: If you're a medical professional, it's important not to disclose information that could be in violation with HIPPA when responding to reviews. This means not confirming that the reviewer is actually a patient in your response.


Contact the user personally by phone or email and ask how you can make the situation right for them. Offer to resolve their concern or complaint as best you can. If nothing else, this personal touch can take a negative experience and turn it into a positive one, making the user more likely to do business with you again. Maybe even brand loyal! Here are some concrete examples:



- Let's say a customer was overcharged on their credit card for their purchase. Instead of simply refunding their card, make the resolution even sweeter by emailing them a coupon for their next purchase, or sending them a note in the mail apologizing for their recent experience (and throw in a coupon too). Old school, but effective.





- Here's another scenario - a user has left a bad review about a late order. No matter if it's one day or ten days late, make sure to address the individual with the same level of empathy. To address the issue, check on the order, send updated tracking, and if the customer needs the item for an important event, consider overnighting a new one. You can also offer to include a return label for the delayed package so they don't get stuck with more product than they need.




Respond to reviews in a timely manner, ideally within 24 hours. This goes for positive and negative reviews. It ultimately shows your audience that you're engaged and care about the feedback you receive.



Plus, especially with bad reviews or comments on social media, leaving them unanswered or unsolved for too long can lead to a less than ideal result. Other people on social media, including the user's friends can start adding on to the conversation, chiming in with more negative feedback. It can really spiral out of control. Definitely not the trending topic you want to be a part of, so timely responses are crucial!



Tools to Help Monitor Online Reviews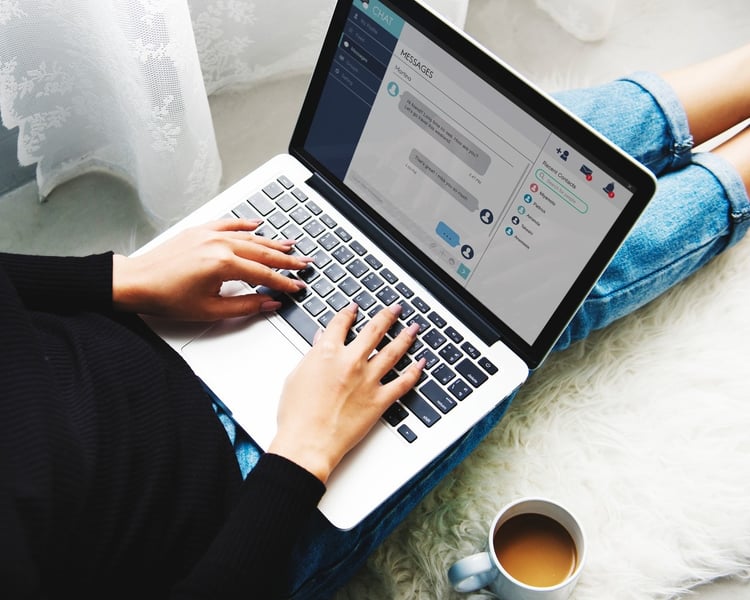 Not everyone has the time, resources or know-how to properly monitor reviews and your online brand reputation, and that's okay! Luckily, there are some great tools out there that can help, so no reviews - good or bad - slip through the cracks. Here are two of our favorites:
1. Social Mention - Totally free and super easy to use. This tool monitors a bunch of different sites and social media platforms (over 80 to be exact) to help your monitor and measure your company's reputation in the online space. When you type in your brand name, you'll see results for strength, sentiment, passion and reach. Let's take a closer look at those terms and what they mean. Strength is the likelihood your brand is being mentioned on social media. Sentiment is the ratio of positive mentions to negative ones. Passion is the likelihood that users will mention your brand repeatedly. And last, but not least, reach is the number of unique users that are talking about your company. Here's a preview of what the results look like when we type in "HubSpot".

2. Hootsuite - Commonly known as a free social media scheduler (with paid options), Hootsuite also makes a great tool for social media listening to catch those positive and negative reviews and comments. Not only can you follow conversations, you can also reply. And if you have a whole team of potential responders, Hootsuite has the capability to assign team members. Pretty cool, right?
Do Online Reviews Really Matter?
YES! According to Inc.com, 91% of consumers read online reviews on a regular basis. And 84% trust online reviews as much as a recommendation from someone they know. This is why it's so important that you respond to all reviews your business receives. No one likes to see a disengaged company who doesn't interact with their customer base.
In addition, Google announced that responding to reviews improves your local search engine optimization (SEO).
Another aspect to consider for SEO is your business's information. Is your business's name, address, and phone number accurate on the directory and review websites? This ensures potential customers can locate and contact your business, ultimately leading to a better customer experience.
Tip: You can see how accurate your directory information is using Yext Business Listing Scans.
How Can My Business Get More Online Reviews?
We said it earlier and we'll say it again: Online reviews are more important than ever before. This means having a customer base that consistently leaves reviews online. You never want to have a handful of months (or even years!) go by since your business's last review. If your company is doing email marketing, consider asking previous customers to leave a review in your next newsletter. Or, if a customer compliments their experience while at your business or interacting with you via phone or email, thank them and ask if they'd be comfortable leaving a review online.
Here's the Thing…
If customers want to give feedback (even bad reviews), embrace it. There's really no way to escape it and handling it in a professional way lets other would-be buyers know you care about your customers, their opinions and their overall experience.
Take the opportunity to learn from the reviews your business receives. Bad reviews could help you uncover aspects of your business that could use some improvement, and the positive ones can help reaffirm areas that are top-notch.
Want more marketing insights from our team of experts? Click the button below to join our email list.