Email newsletters are a low-cost and direct way to stay in touch with your audience. They provide additional opportunities to share valuable content in a digestible format that supports your brand, delivered right to your subscriber's inbox. Sending emails to your list of subscribers is a no-brainer! You have at your disposal, a database of contacts who willingly subscribed to your newsletter because they want to know more about you and have indicated that they find what you produce valuable and/or insightful. You've already grabbed their attention somehow, so how can you keep them engaged in an email newsletter format, to keep them coming back for more, eager to see YOUR company's name in their inbox?
Steps to Email Marketing Success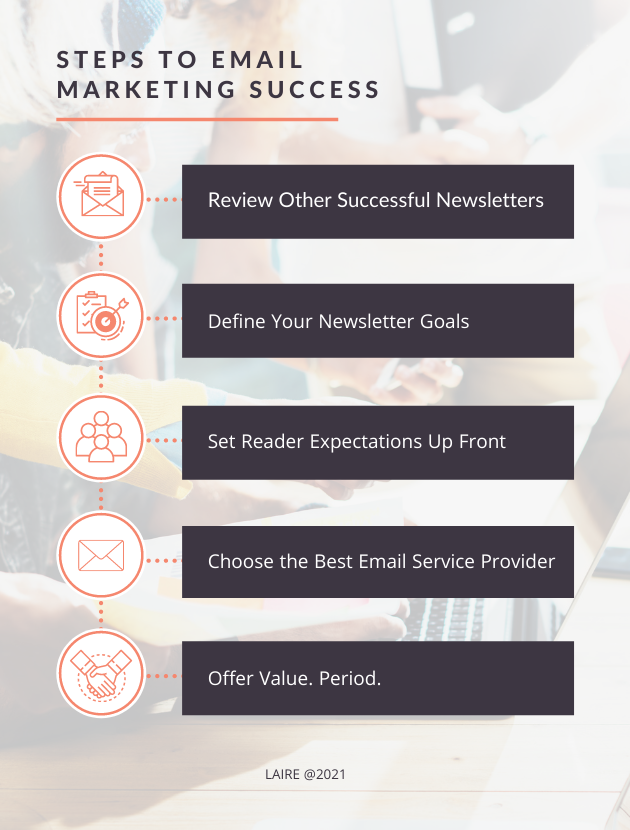 Before you just start firing off scheduled emails to your subscribers, let's take a minute to assess how you can approach the planning process with a strategic mindset. Who does your email newsletter go to? Your subscribers, right? Right. So - no matter what you do, or what you plan, you have to come back to the mentality that the email newsletter is about them, not you.
Sure, you're the one producing the email and it has your name written all over it - but the real key here is to make sure that every bit of information you are sending will be of value to THEM. What do they want to see? When do they want to see it? How do they want to see it? Questions like these can pivot your mindset from one of 'what are WE going to promote?' to 'what are THEY going to get out of it?'. Now that we've gotten that out of the way, let's jump right into the practical steps you can take to find greater email marketing success for your business newsletter.
Review Other Succesful Newsletters
If you're on the outside of an organization, you won't have a full picture of how its newsletter is performing. What you can measure is how you react to the newsletters that you've subscribed to. Start off basic by asking yourself these questions:
What made you subscribe to this newsletter?
Have you read this newsletter? Or does it just crowd your inbox?
What language, topics, and resources included in this newsletter do you find interesting?
Do you often further engage with the newsletter by clicking the provided links?
Once you've answered these questions, you'll have a foundation of what makes a newsletter successful. And while the newsletters you subscribe to might vary from the newsletters you are wanting to create, you'll be able to draw inspiration from multiple sources to decide what matters to your audience and what will make a great email newsletter.
In addition to the context of the newsletters you are reviewing, also make note of their style elements, their colors, fonts, and any other inclusions that might also make sense for your audience. We highly recommend checking out newsletters within your industry for a further dive into what your audience will be interested in and on the lookout for. While your head is full of great ideas, there might be something you're missing that will really send your newsletter over the top, and doing your research will help!
Define Your Newsletter Goals
The next step to creating a solid newsletter is to define your goals. Goals associated with newsletters can take on a variety of forms and can be tailored to your specific company, clients, and needs. Finding what metrics matter to you will play a big part in deeming what is considered successful. This can include email opens, bounce rate, unsubscribe rate, click-through rate or conversion rate, and contact rate. Your goals will change over time and as your newsletter develops, and you might find your goals shifting from quantitative to qualitative.
If you're unsure about your goals, that's okay! Start small with a goal of securing X number of newsletter opens, meaning that your audience is reading what you're writing. From there, move on to bigger goals, such as lowering your unsubscribe rate. Take note of when newsletters are performing well in this context and begin mapping out things that have changed throughout the different issued emails. You can also set goals for the content you are providing. A goal could simply be to provide one industry fact with every newsletter. Or it could be to share a great animated video that dives deep into a topic.
Your goals will change over time and as your newsletter develops, and you might find your goals shifting from a quantitative external metric to a qualitative internal measure. Maybe your audience is really interested in what's happening in your shared industry. Or maybe your audience wants to see the details about your latest product launch. This will help establish if your audience is more inclined to pay attention to promotion vs information. We'd recommend starting out with a mix of both promotional and informational content, with a focus more on the information. You want to be a resource to your audience that can provide timely information that matters to them, but you also want to ensure that your viewers know about your offerings and how you can help.
Set Reader Expectations Up Front
Don't leave your readers guessing as to what their newsletter will contain each month. This is where subject lines and preview text can make a big difference in your open rates. If you're discussing some really big announcements, include those in your subject. Or if you have a new blog, include a quick line about it in your preview text. You always want to refrain from sending vague, or even blank, subject lines. This is a sure way to plummet your engagement.
Additionally, your readers will expect variations of the same content month to month. If you've been providing a marketing hack or an industry insight over the past few months, don't stop! This is especially true if you see a certain section is performing exceptionally well in terms of conversions and click-through rate. If you notice your clicks are skyrocketing around a specific topic, you could even consider diving in deeper into that subject to continue the conversion boost.
Choose the Best Email Service Provider
There are a plethora of email service providers, and the good news is that a lot of them are really great and provide similar features. You'll want an email service provider that allows you to create gorgeous emails that stand out and look well designed, without the hassle of having to hard code every element. Drag and drop editors are great for this functionality.
You also want to ensure your email service provider is providing feedback and analytics about your emails. Open rates, delivery rates, bounce rates, etc. It all needs to be there and accurate. If an email service provider does not include these metrics, we recommend looking at other options. And don't forget about the capability to segment your email subscription lists easily. If you're constantly having to manually update your email lists and reupload these lists on a monthly, or even weekly basis, you're wasting your time!
We think it's safe to say that we are big fans of HubSpot. HubSpot has done a great job of building an email platform that allows you to keep track of all of your emails in one place. HubSpot has a hefty tool belt of automation features that are designed specifically with your growth in mind. But it's also very possible that HubSpot isn't the right choice for you, and that's okay! We're also big fans of Drip, Mailchimp, and SendinBlue. These tools offer different levels of service and are tailored towards specific businesses and their needs. If you're unsure of which one is right for you, try using their free options or a free trial to see how the platform behaves with what you're wanting to do and go from there. Trust us, when you find the right tool, you'll know!
Offer Value. Period.
Email newsletters can help to position your company as a trusted advisor - even an expert in your industry. But the only way to get to this place is to offer valuable content that your audience will actually care about. There is great debate over whether or not to give away 'free' content within the body of your newsletter. By 'free', we just mean content that you offer freely to your subscribers, without requiring anything in exchange.
In the next section, we'll unpack ideas that you could include in your newsletter, but for now, consider the level of exclusivity that you create by offering special promotions, new releases, or sneak peeks to your subscribers. This type of content can make them feel special, and will keep them coming back for more. We mentioned this in the beginning, but just remember, your newsletter isn't about you. The key to a successful newsletter is knowing exactly how to delight your audience with information that they find to be of great value and relevance.
Ideas of Content You Can Include In Your Next Company Newsletter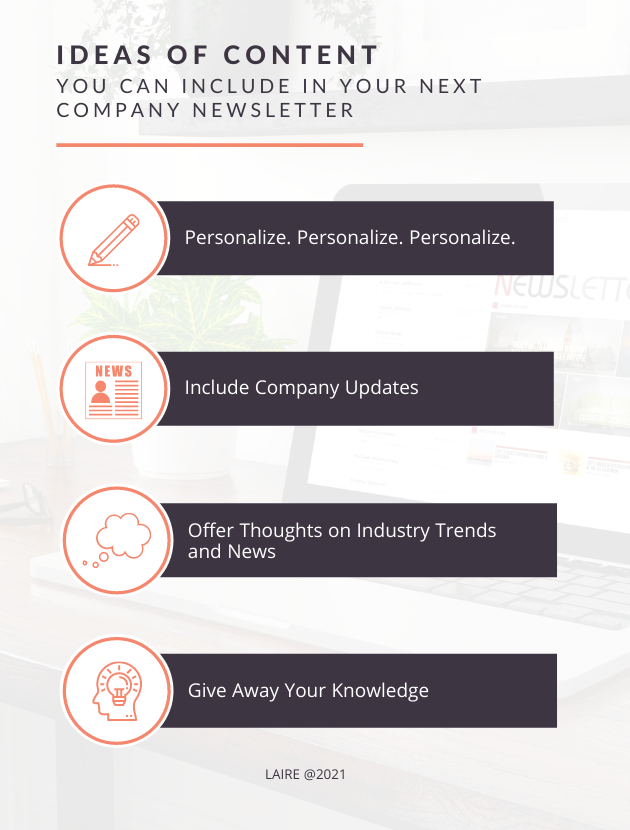 Now that we've gotten into what the steps are to successful email newsletters, let's discuss some examples of what you can include in your newsletter. This is your chance to shine and show off what your expert team holds knowledge about. We recommend including the following:
Personalize. Personalize. Personalize.
We are in a day and age of technology that allows us to mimic individualized efforts. Almost every email service platform allows you to add personalization tokens into your email parts. Use an individual's name in the subject line, the greeting, and throughout the email. Ask yourself, would you be more inclined to open an email that has your name in the subject line? We know our answer.
If you're new to marketing technology, personalization tokens are a simple way to include an individual's name throughout the email without having to actually send an individual email. Work smarter, not harder mindset is the foundation of this tool. Just be sure your lists have accurate contact information in them before you hit send.
Include Company Updates
While your audience likely won't be interested in the fact that your office switched from a traditional coffee maker to a Keruig, they will be interested in your company wins! For example, If you've brought on a new executive or employee, this is a great space to introduce them to your readers. They'll be able to put an additional face to the company and be able to make human connections with the words on their screen.
Additionally, if your company has a keynote speaker at an upcoming event or presentation, let your readers know! They might be interested in attending and networking with your company. Another great share is to announce new recognitions and awards. This is your chance to say "Hey, we do great stuff and it is proven." and thus hopefully bringing in new business!
Offer Thoughts on Industry Trends and News
You are more than likely your audience's source for information on the latest trends and news in your industry. Your audience might not know how an update or crisis will impact them, or that it's even happening, but they will be glad you brought it up and offered your knowledge on the topic.
You don't need to worry about reporting the daily 5 pm news here. Just focus on trends and news that are really relevant to your readers, their industry, your business, and how this information will change their current processes. To take it a step further, offer up suggestions on how they can work with these changes, and if this is news that might impact your business relationship, sneak in a line or two about how your company can help.
Give Away Your Knowledge
Your newsletter is also a place where you can serve up your latest content and offers. Your business works hard to produce guides, eBooks, checklists, webinars, and blogs that help your clients in their efforts. They will be ecstatic to see new resources that are available to them. And by giving them away, you might find leads knocking on your door sooner rather than later. And let's be honest, the majority of individuals are more interested in resources when they are able to get an overview of what they can expect. Don't hand out your resources if you aren't willing to provide a synopsis along with them.
But this is not the place to send regular blog updates. If you'd like to send regular communication about your blog, opt for an RSS newsletter or a separate subscription. If you're really keen about highlighting your blog, tie it into an update about the latest LinkedIn update or the most current release of marketing automation software. Offer the who, what, when, where, and why of these updates with a CTA to find more information on a specific blog.
Conclusion - LAIRE
Email newsletters have long been the go-to format for delivering company communications and marketing. In fact, 81% of B2B marketers said that their most used form of content marketing is through email newsletters. However, a newsletter can only serve its purpose if it successfully captures the attention of your readers enough that they open and read it. You have to get creative and strategic to break through the noise and clutter of every other email that clogs an individual's inbox.
Your subscribers have granted you the permission you need to show up regularly in their inboxes - so it's your time to shine (and get to work!). If you're looking for guidance and expertise to create a content strategy that informs, educates, and helps you to connect with your audience, we're here to help. Our team of digital marketing experts knows what it takes to employ content tools that generate leads for your business. Contact us today to learn how we can fine-tune your strategy and employ next-level content capabilities for your business.