COVID19 has impacted many businesses and made the need for remote work more prevalent than ever. For some, remote work is not too far out of the norm, but for many others, it's a completely new way of working that takes some getting used to. For newly remote or hybrid teams that don't typically work from home often, it is important to plan for your new workflow. We've come up with an extensive checklist to help plan for everything you need to carry out business as usual.
After being a fully remote team for over a year now, we've learned a few things. Here are the pieces you should be mindful of when considering this transition for your own business.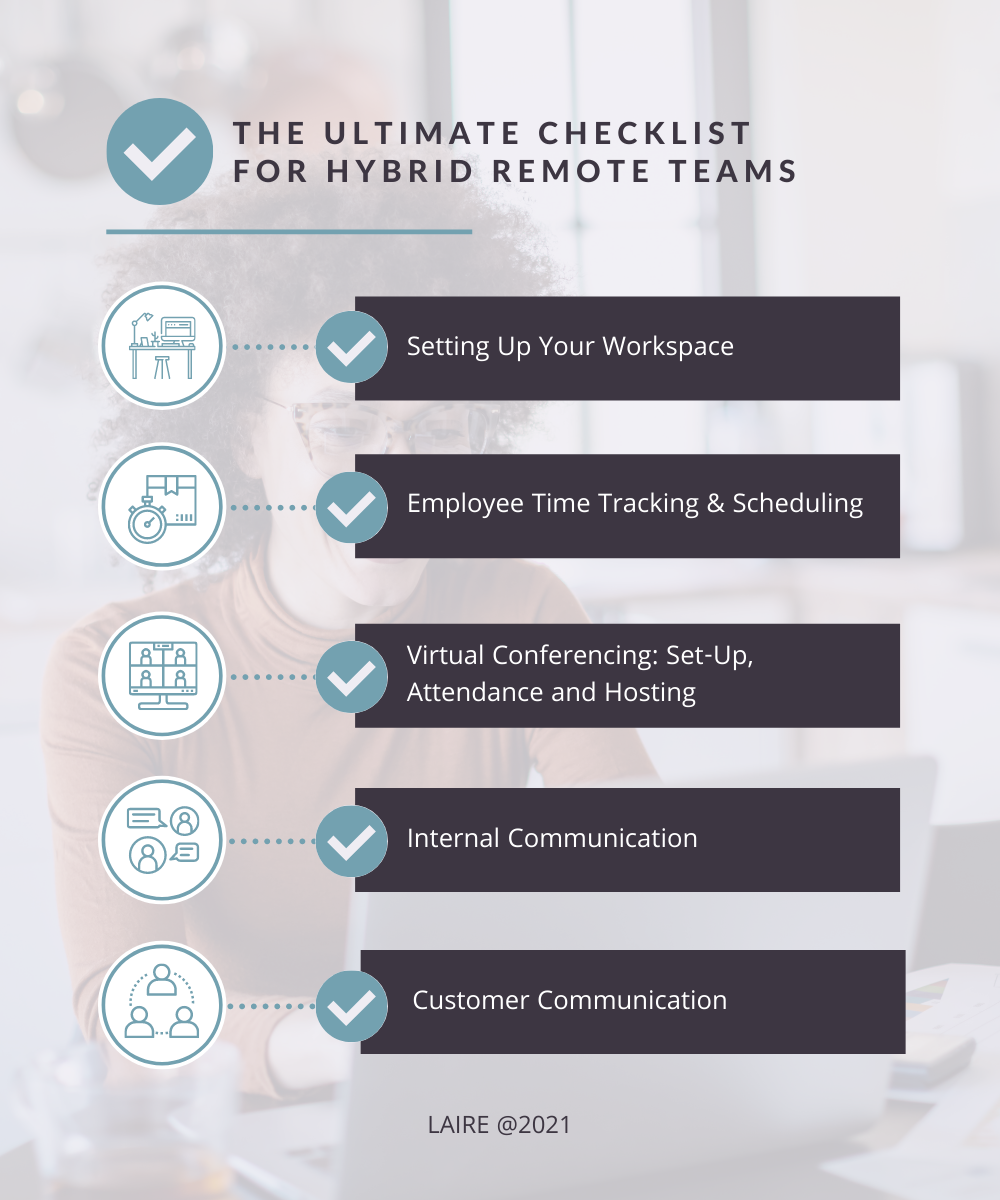 Setting Up Your Workspace
The first step for a successful work from home experience is to designate a specific location in your house to work at. This will allow you to be present in your work and not become sidetracked by household tasks.
Determine a space
Get the necessary equipment to do your work more efficiently. For some this means obtaining the following:

Separate monitor
Detached mouse
Detached keyboard
Electrical outlets
Appropriate air ventilation and lighting

Set boundaries with housemates
Employee Time Tracking & Scheduling
You may have hourly employees and a need for time tracking. Luckily, there are many mobile-friendly time and attendance trackers that you can take advantage of. Some include Hubstaff, Workpuls, Time Doctor, and more. When assessing apps like these, it is important for the employer to ask these questions to find the right solution:
Does the time and schedule app automatically sync with payroll?
Is it quick and easy to implement?
How hard will it be for employees to understand the new application?
Are there special needs like lunch breaks?
What types of employees do you have?
How many states do you operate in?
Once you have selected the right software to use, send an email reminder to employees, ensuring that each has downloaded the app and practiced clocking-in and clocking-out. They must also know how to track meal breaks, and report any requested time off including paid sick time and paid time off.
For additional tips on how to maximize the productivity and collaboration of a remote team, check out our blog here.
Virtual Conferencing: Set-Up, Attendance, and Hosting
A conferencing application is one of the main tools used when working remotely for obvious reasons. When implementing your digital conferencing solution, consider the following:
Decide on one virtual conferencing platform for your entire organization. A couple of examples would be Zoom, GoToMeeting, and Amazon Chime.
Send an email to all employees with your chosen platform and directions on how to use the program. Many of these tools offer much instruction and direction on their websites.
Host an internal "test call" to confirm employee access and speaker/microphone proficiency
If you have clients that will be using your conference line, send them an email with the new expectations and clear directions on how to use the system.
Employees should email any client they manage directly with a personal email regarding your remote work shift, and what changes they should expect. It is also good to practice using the new platform to ensure the process goes smoothly while working.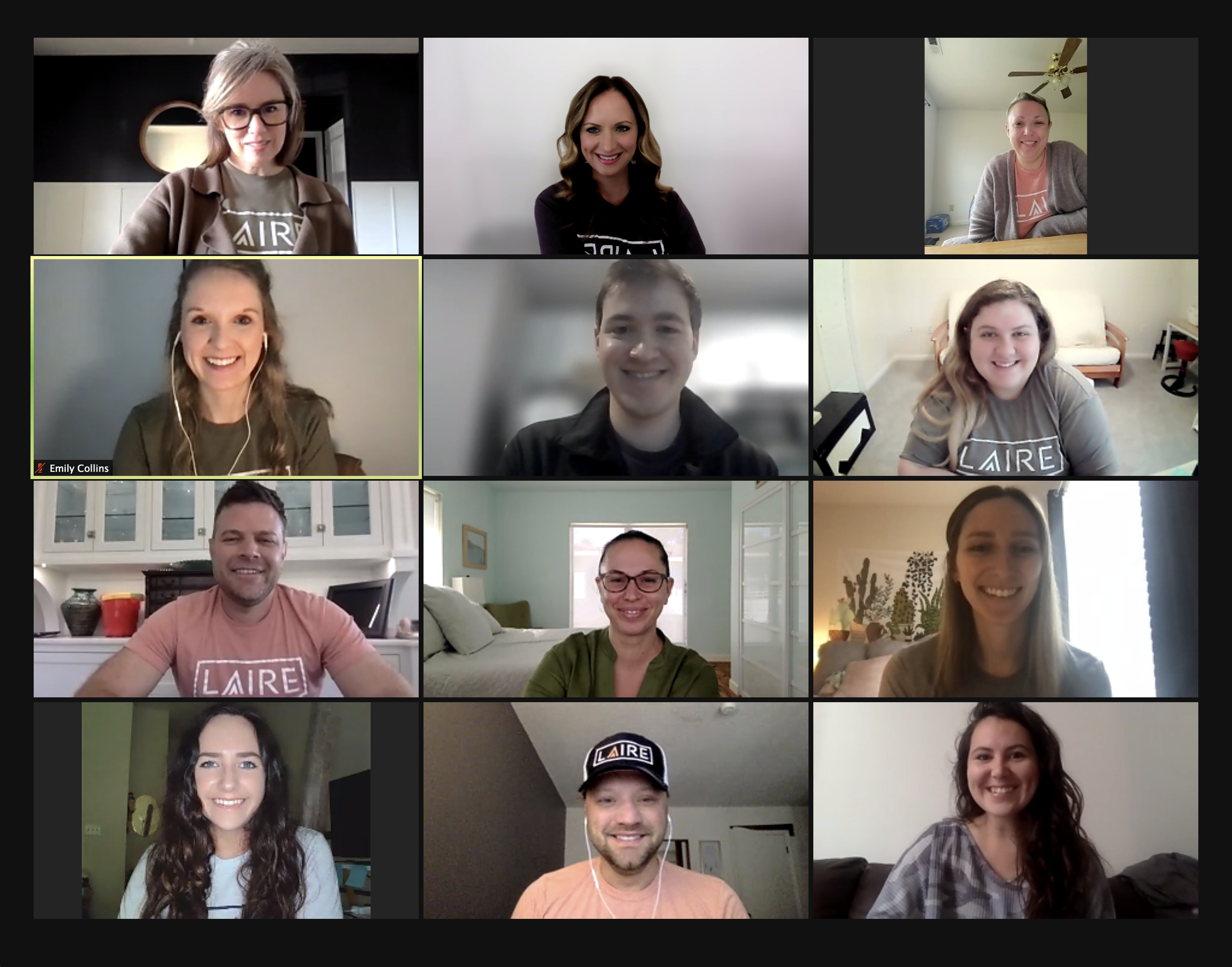 Digital calendar invites are very helpful in keeping track of virtual meeting times. Calendar invites automatically notify invitees via email, including a link to your virtual conference center. Invitees accept the invitation and the meeting will automatically populate the time slot suggested by the meeting organizer. It is essential for employees to:
Assess meeting attendees' calendars to find a mutually free time/date.
Include a link to your virtual conference room and how to join the meeting instructions. This could include pin numbers, conference line numbers, or attendee IDs.
Turn on your video during meetings. This will increase face time and allows remote workers to pick up on body language.
Dress appropriately (at least from the waist up) for all virtual calls, particularly with customers, clients, or prospective partners.

Maintain professionalism and proper business etiquette at all times.

Choose a quiet spot to take or host meetings. Background noise can be interruptive and distracting to meeting attendees.

Mute yourself if you aren't talking.
Internal Communication
While conferencing software is important and very helpful for meetings, it is essential to have another platform for day-to-day communication between managers and coworkers. Platforms like Slack, Hipchat, and Stride offer an interface that allows you to quickly instant message your teammates. Here's how you should get started:
Identify a chat communications platform for all employees to use.
Ensure every team member is able to sign on and use the system.
Set clear expectations about how employees are using your system - when are they expected to be available, and how frequently they are to monitor the platform
Ensure all managers are communicating with their teams at least once a day as a team. This sets the expectations for employee-manager communications cadence. First thing in the morning is ideal.
Test communications with your team on the platform to make sure everyone can communicate with others and feel enabled to do their jobs.
This can be quite an adjustment for employees and there are a couple of things they can do to ease the process along.
Get comfortable with making written requests by providing a lot of information in emails.

Make clear requests, provide deadlines, and always include relevant information or reference materials as attachments to emails.
When communication or projects get too complex, pick up the phone!
Customer Communication
Your customers need to hear from you now more than ever. Over-communication is key to strengthening your client relationships as well as keeping your clients at ease during this time. Here's a few things you should consider doing:
Email your customer base an acknowledgment of the coronavirus and any impact it's made on your business.
Ask for their continued support
Ask if they want to continue to receive updates, and manage a list of customers who do want ongoing communications.
Post on your social media any changes to business hours, availability, or new protocols.
Work From Home Tips
Remember, we're all in this together. Have compassion for yourself, customers, and colleagues who are working within a new normal. There may be interruptions, loud noises, or kids screaming, and that's okay.
Find a dedicated spot in the house that will be your workstation, and communicate as much to your entire house.
Ask for their understanding of your needing quiet space, with limited distractions.
Prep meals during weekends so you have more time during the working hours.
If you have children at home, set up a schedule of work duties and home duties and let your superiors know if there is any interference with your deliverables.
If you have children at home with screen time restrictions, consider loosening them during working hours.
Use headphones (noise-canceling if you have them).
Take phone calls outside.
Hopefully, this extensive checklist can help your team acclimate to remote work and find success during this uncertain time. If you have any questions or concerns, LAIRE is here to help! Send us a message or give us a call.