In the early stages of the COVID-19 pandemic, our employees were asked to work from home. We felt it was our responsibility to our team to keep them as safe as possible, even if that meant we would not be able to work in the same location. What we did not expect was the tremendous growth and potential we would see during that time.
We quickly realized that we could effectively and efficiently deliver the same, if not greater, value to our clients while working in a virtual setting. And with many of our employees having families and small children while dealing with the impact of remote learning, we were able to offer a better work/life balance that could allow for flexibility while promoting productivity.
Maintaining Employee Morale and Company Culture
While working remotely proved to increase productivity and efficiency, we saw a decrease in connectivity between team members. Talks while making a cup of coffee or enjoying lunch together in the office kitchen had suddenly stopped and there seemed to be a disadvantage for new employees who hadn't connected previously.
One way we decided to fight the lack of employee-to-employee relationships was to use Lucidspark in our weekly retrospective meeting (more on that later). During these meetings, we take the first thirty minutes to ask two questions and have each person write their answer on a virtual sticky note and then explain to the team. Some of our favorites were "What books are you currently reading?", "How do you like your eggs cooked?" and "Do you collect anything?". One particularly memorable answer was from our Co-Founder, Todd, who spoke about his collection of "Gold Santas'' for Christmas time.
We also began strongly encouraging peer collaboration on all projects. By utilizing programs such as Zoom, Slack, and G Suite, we were able to provide a working environment very similar to a conference room in a virtual setting. By encouraging this connectivity, we saw our employees become happier and their work increase in quality.
But through this connectivity, we also learned to respect each individual's time and understand that Zoom fatigue is very real. While maintaining a team-centric culture, we knew that not all team members needed to be on all meetings and that some meetings could be combined to ramp up efficiency.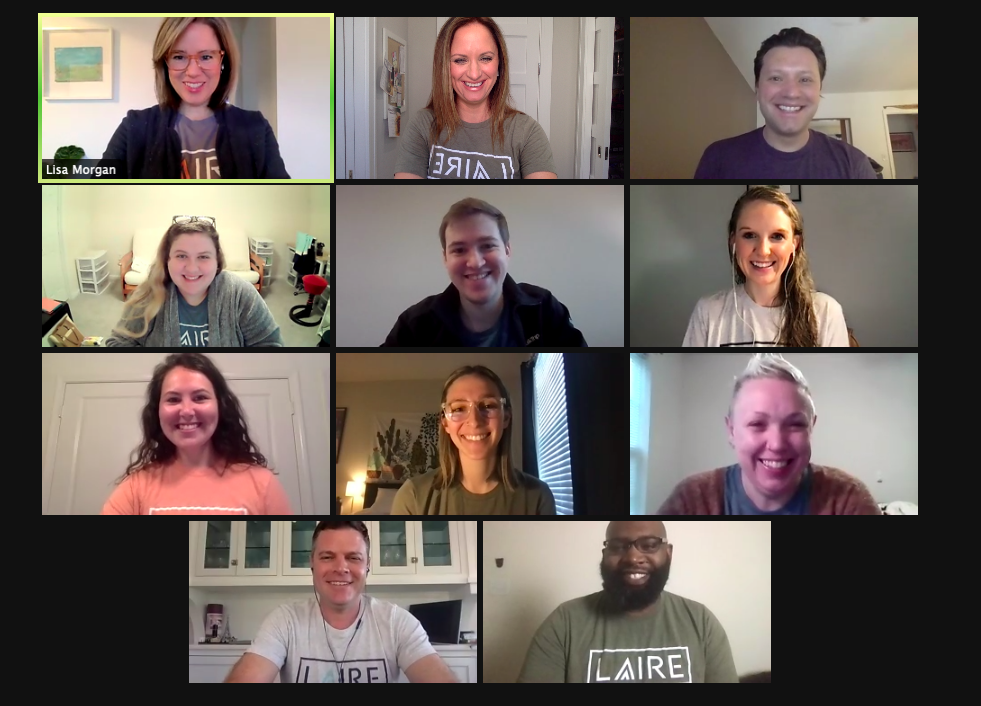 The Main Question: How?
While we definitely faced challenges in the beginning part of our transition, we opened our employment pool to the entire United States, meaning we could continue to expand our team with top talent without relocation. This talent has proven to be self-starters and sought us out because they preferred to work from home. Without the constraint of location, we were able to build a team that could deliver the absolute best work, and more importantly outcomes, to our clients.
By opening up our employment pool, we put a focus on talent that could set up a workplace in their home, possess exceptional time management skills, and have the ability to schedule their days according to what tasks needed priority and what could be left for another day. New team members were given the opportunity to onboard on their own before their first day with LAIRE. Administrative tasks, such as setting up their company email and reading our employee handbook, could be done ahead of time if they chose. This meant the onboarding process when new team members reported for their first day could be spent diving into client deliverables, team processes, and the standard for how LAIRE delivers exceptional work.
Becoming an Agile Agency
Long gone are the days of popping by a colleagues' desk when a task needed to be completed or a quick design review. Fortunately, LAIRE was planning ahead not knowing what was around the corner. After implementing the Agile Methodology, along with Jira and Scrum as the agency's project management software months ahead of the pandemic, we had the tools to remain on task and on time.
After working with a consultant for 3 very worth it, but very long months, our agency had transformed into a well-oiled machine with transparency. We were now focused on the bigger picture, not individuals. Time tracking became the main way of knowing what capacity our team could operate at. We did not want one individual to have an extremely light week workwise, and another feel like they were drowning in the tasks they had to complete. We now had a playbook that we could compare to. From Laura Laire, "We were able to measure, monitor, control, and adjust the outcome we needed as a team".
With this new platform to determine how the team was functioning through employee sentiment, expected capacity, actual capacity, and adjusted workdays, we could enter into a cycle that increased weekly in terms of velocity. This became especially apparent as we organized our Jira system to become an archive. We began linking previous tasks to current and future tasks to improve communication between our coordinators, designers, and managers. We knew what was happening when, who was completing the specific task, what would come next, and if there were questions, we had documented previous work.
We also implemented daily 10 minute Scrum meetings and weekly Sprint meetings. Through our quick daily Scrum every morning, we were able to let team members know how our workload was evolving, offer to lend a helping hand should another member of the team need it, and ask for clarifications and questions on projects. This daily touch base also set the tone for the day, reminding everyone that we are in this together and we are truly going above and beyond for our clients.
The weekly Sprint meetings were a retrospective and deep dive of the week. We stated earlier that we begin each meeting with a series of "ice breakers" to connect with each other. We then, as a team, go through the previous week's work to understand why tasks were taking less or more time, provide clarity on why some projects were delayed a day, where we stood with client approval, and offer the opportunity for the entire team to rank the week on a scale of 1 to 10. This ranking showed us how our team was being impacted by the work they were doing and by personal struggles happening outside of the virtual office. By helping and supporting our team in the low-ranking weeks, we were able to provide a boost of morale and help ease any burden they were facing.
Smoothing Out Wrinkles
While we feel we were among the lucky ones to have had such a smooth transition, there were definitely times where we needed to make adjustments to better accommodate our team and our clients. Here is what we learned after a year of being a fully remote agency:
Happy People Are Creative People
We quickly discovered that when our employees are happy, the work they produce for our clients is on a much higher level than when they are feeling bogged down or burnt out. By implementing a system that could improve our structure for time management and help organize tasks, deadlines and priorities became clear. This continues to keep our staff from having to chase down work or wonder when projects will be completed.
Providing An Environment of Value
We never want our employees to feel like they are always on the clock, especially when it can be hard to separate work and personal life when working from home. While providing 10 paid holidays and 20 days of PTO, we still wanted our employees to feel appreciated by giving them their birthday off and also like they could contribute to their community with a charity day. LAIRE's PACE initiatives are our way of giving back to the people, animals, communities, and environment that we love, and we wanted our employees to feel that sentiment deeply. By offering our employees a day to volunteer, we are able to provide them with the freedom to get involved and make a difference.
LAIRE Leads to Growth
While we strive to push that for our partners and clients, we also want our employees to continue to grow throughout their careers with LAIRE. One way we aim to accomplish this is by having a small weekly training and by holding team certification days. On these days, the entire team takes the time to complete new HubSpot certifications, as well as earn certifications through partners like Google Analytics and SEMrush. We also take this day to learn about updates made to certifications we have already earned. By taking this time to develop and evolve our skills, we are confident in providing the best solutions for our clients.
Moving Forward as a Remote Agency
While the previous year definitely proved to have challenges and areas for growth, we are proud of all we were able to accomplish. Without our team's ability to adapt and stay positive throughout the entire process, we would not be able to provide the growth our clients expect to see. We are excited to see the growth we will experience in the near future.
Looking for a remote agency to continue your career at? Visit our careers page to read about our offerings, available positions, and to submit your resume.