Case Study Overview
A luxury home builder with a good referral business but minimal digital presence employs LAIRE to implement a website redesign, Inbound marketing, HubSpot implementation, and Sales Enablement to grow their business and a reliable lead flow.
Background
Home Builder has Room to Grow
When we met our client in 2018, their brand was known in our region as a quality home builder of custom homes, with an average home sales price of $950,000. They had an established, knowledgeable sales team, and an in-house Marketing Manager who facilitated print materials and advertising. The CEO was heavily involved in the flow of the business, and the departments interacted well with each other.
The issues:
This company was well-known for only one of its four offerings. Custom homes excelled, but few in the community knew they also developed neighborhoods and semi-custom homes and offered home renovation contracting.
While they received sales and leads from referrals, they had no reliable lead source from digital marketing.
Their website did not represent the quality they delivered and lacked conversion opportunities.
The management and sales team did not have consistent reporting and handling of data and lead opportunities.
When the housing market was up, the client did well, but if the market dips, they did not have a reliable lead pipeline.
This client was searching for a solution for these issues and was interested in HubSpot to better synchronize their sales and marketing activities. To be a key player in the housing market in the Charlotte, NC region, they knew they needed a digital foundation created to grow their marketing efforts beyond the reach of regional print ads. Our goal was to set their team up for success.
The Client's Goals
Implement sales and marketing systems to be efficient in the fast housing marketing, and a lead pipeline to keep growing even in slow market times.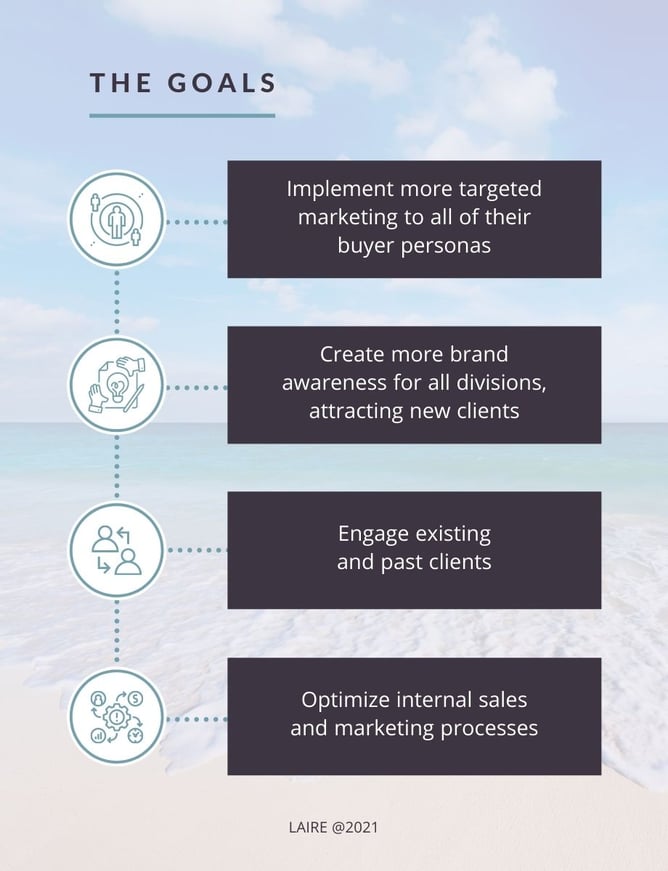 Our Strategies and Results
Starting with Website Design & Development
Our team diagnosed multiple issues with the client's current website. The user experience was disjointed, with dead ends and no messaging for their different buyer personas. The site lacked content designed to educate and inform the buying process. And the sales team didn't have a consistent pipeline of quality digital leads because the site's only conversion point was to "talk to Sales".
Our website team's focus on improving their site:
Increase awareness of the client's other services (Remodeling, Home Maintenance, Neighborhoods)
Offer content supporting the long sales process and knowledge needed to buy a custom home
Show the beauty and craftsmanship of their work, elevating the image of the company and its products
Before we begin a beautiful website design, we conduct research so our design is based on a powerful user experience and the ability to capture leads from the website. That research process our agency undertakes is called the Marketing Action Plan (MAP) by LAIRE® and extends beyond just plans for the website, but also includes marketing strategies and tactics. The success of future marketing efforts is heavily dependent on a smart, Inbound website design, so we don't design a website without a MAP in place.
We started the 4-week MAP process in early 2019. It included reporting on current website user and keyword analytics, conducting persona interviews and creating buyer personas, drafting unique selling propositions and "Remarkables" for that brand, and planning future content and channel optimizations. The client's marketing and sales team worked closely with our agency team during this process, to give feedback on website wants, needs, and nice-to-haves, as well as invaluable feedback on the sales process and how it could be improved digitally.
Because we knew this client wanted to implement HubSpot Marketing and Sales Hub tools, it made sense to also build the website on the HubSpot CMS platform so that all of their lead generation efforts would be linked. Using HubSpot landing pages and website analytics tools would be key to learning from user experience and making adjustments to improve website conversions, resulting in sales growth.
After the research period, we created site concepts, held client feedback meetings, and made adjustments to the designs to result in a final website concept that delighted the client, and would speak to their ideal clients. The site was developed on HubSpot, the client's team was trained on the CMS tools, and the new website was launched in spring 2019.
Expanding to Inbound Marketing with HubSpot
Now that the website was complete, we shifted our focus to establishing a digital presence. Our team knew we could achieve the client's goals through our thorough, and consistent, Inbound marketing approach. The client had 12,000+ viable contacts in their database who weren't being communicated with, so we knew we had a great opportunity to put nurturing marketing tactics in place, and then also reach untapped prospects.
Using HubSpot, each marketing activity would be tracked, allowing us to show the exact dollar amount our campaigns produced or influenced. These numbers would be visible to anyone on the client team, in real-time through our marketing and sales dashboard.
We implemented the marketing strategy and plan laid out in the MAP:
HubSpot Marketing Hub tools setup, including CRM customization and contact properties
Content creation (blogs, premium conversion offers)
Email marketing (newsletters, lead nurtures, automated workflows)
Social media account unification
Lead and list segmentation
Facebook advertising creation and monitoring
Reporting and analytics
In 2019 we built the initial foundation with the new website, solidified their SEO strategies, and honed in on improving conversion rate. In 2020 we grew their digital presence and expanded their organic reach, and continued with a focus on increasing conversion rate sitewide and nurturing leads into customers. Here are some KPIs during our partnership: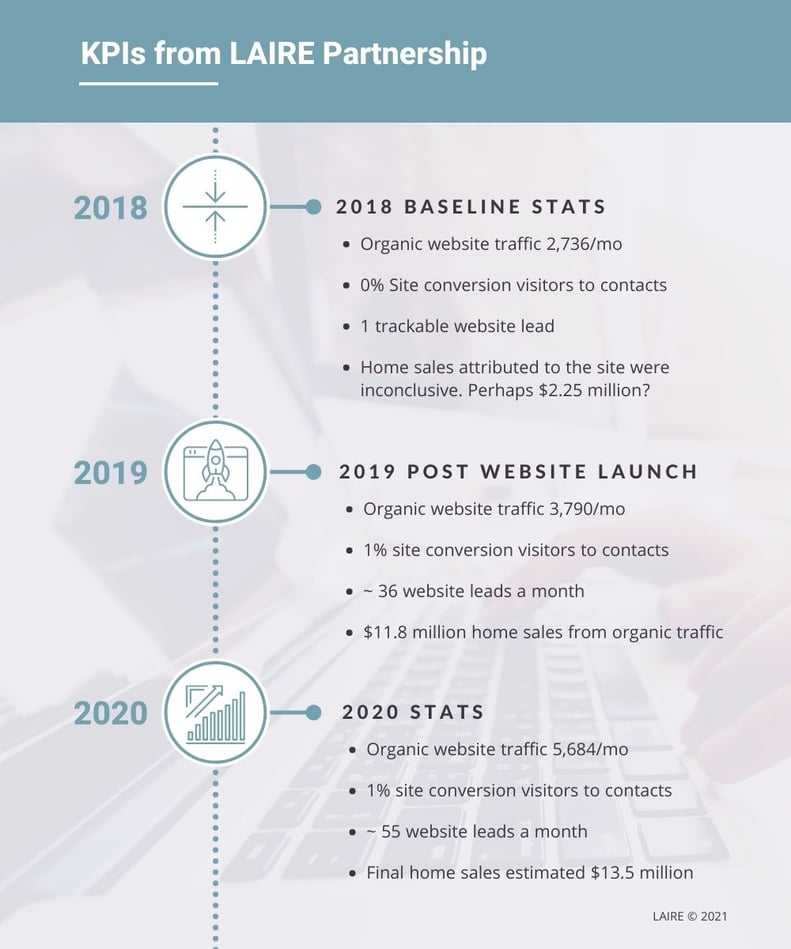 2018 BASELINE STATS
Organic website traffic 2,736/mo
0% Site conversion visitors to contacts
1 trackable website lead
Home sales attributed to the site were inconclusive. Perhaps $2.25 million?
2019 POST WEBSITE LAUNCH KPIs
Organic website traffic 3,790/mo
1% site conversion visitors to contacts
~ 36 website leads a month
$11.8 million home sales from organic traffic
2020 KPIs
Organic website traffic 5,684/mo
1% site conversion visitors to contacts
~ 55 website leads a month
Final home sales estimated $13.5m
Wrapping up with Sales Enablement Training & Custom Reporting
In order to handle the growth the company was experiencing, the sales team needed support in embracing the new technology that could make their jobs more streamlined. Their sales processes were outdated, and they were using a prohibitive Contact Relationship Management (CRM) tool. Not only did they need coaching on effective sales and follow-up methods, but they also needed their new HubSpot CRM setup to optimize the knowledge they held on prospects, and utilize automation to close leads.
Initially, we held weekly team training to carry out an 8-week agenda, focusing on tools and best practices, with homework assigned to each sales member. We then moved to support the team on a monthly basis, with a scheduled check-in and assessment of the new tools and processes they had in place.
Issues their sales team was having, and the sales enablement solutions we implemented:
A consistent sales process was not used.

--> This was created, with steps documented. We had input and buy-in from the whole team, and the process was reinforced in weekly meetings.

Sales letters were outdated.

→ All sales materials were updated and redesigned, with clear goals set for each piece of the sales process.

The sales team was writing sales/marketing material, which was a drain on resources and time-consuming.

→ This writing and content creation task was moved to the marketing and extended team. The sales team would contribute to content creation through interviews once per quarter to get their viewpoint on a topic and ensure that sales support materials were created.

The sales team struggled qualifying leads, then the sales process took too long once leads were qualified, and it was not guaranteed to close the contracts.

→ Bi-weekly meetings with the marketing team were scheduled to keep the two teams talking about sales assets that were needed, roadblocks sales were having with leads, and ways that marketing could target more qualified prospects.
The sales team copy and pastes email messages into the existing CRM manually

→ HubSpot sales email sequences were created to streamline the communication process with leads, moving them to get a response or book a meeting.
→ Sales email snippets were created to give the team resources to use, referring to educational or process documents.
No email templates or tracking were in place to reach out to leads. Past client interaction was lacking, with no capturing of upsale or resale opportunities.

→ HubSpot Marketing Hub tools were put in place, and a series of email nurtures was created by the content team to fit every stage of the buyer's journey, including re-engaging past clients.
The manual tasks that the sales team has to do slowed them down. And there was no tracking or notifications for what leads do on the website and for how long

→ We introduced sales automations and internal workflows for sales tasks, lead assignments, changing deal stages, alerting of actions on the website)
Reporting was a heavy lift and management often nagged the sales team to complete it.

→ As we list below, custom and automated reports were created in HubSpot, removing their need for multiple manual spreadsheets. Management was sent weekly auto emails and links to custom Sales Dashboards.
They did not have a reliable timeline for when they could sell homes - it could be 6 months or 6 weeks.

→ It is proven that marketing automation and lead nurturing can speed up buyer timelines. So a consistent content schedule was implemented with the marketing team for blog content, download offers, nurturing email campaigns, and digital advertising.
Here is a sample list of the types of custom HubSpot reporting we created, most of which were automated to be delivered to the manager before sales meetings. However, during our partnership, there were 50+ HubSpot reports created that addressed needs of each division.
Revenue by service division (custom homes, semi-custom homes, remodeling)
Leads by interest area (to assess interest in a neighborhood or region)
Recent activity by salesperson, with status notes (for the Sales Manager to have a summary before 1-on-1 conversations)
Leads by deal stage, with time in stage (to assess next steps to move a lead down the funnel)
Summary
Through our systems guidance and the inbound structures we implemented, we created a foundation that this home builder's marketing and sales teams could continue to build upon, on their own, as they grow.