Marketers across the board have a firm understanding of why having a phenomenal landing page to catapult an audience through the marketing funnel is so important. Landing pages are a great tool in the digital marketing toolbox that helps drive conversions to help increase your company's total revenue.

Perhaps you aren't a marketer, and you have no clue how to master the perfect landing page. That's okay. Maybe the previous paragraph left you scratching your head. That is okay too. We are going to walk you through the full definition of a landing page and give specific examples of landing pages that will give you the advantage you need to capture leads like a pro.
What is a Landing Page?
According to HubSpot, a landing page is a page that offers a resource from your business by giving over contact information like first name, last name, email, or anything that your business needs to learn more about the contact. You can receive this information by using a lead generation form. Pro tip: We've all heard the saying, "simpler is better." This saying also goes for landing page forms. The simpler the form, the more likely a web visitor is to fill it out. Only collect the necessary information.
You may be asking: "What's the difference between home pages vs. landing pages?" Isn't the goal of both to nurture web traffic? With landing pages, it's much more than that. There are many differences between home pages and landing pages, but the main difference is that a landing page has no navigation menu to ensure that the viewer stays on the page.
HubSpot did an analysis of 7,000 businesses and discovered that companies see a 55% increase in leads when they increase their number of landing pages from 10 to 15. This just goes to show the importance of landing pages in today's business scope.
Raise your hand if you are excited to embark on your landing page journey and increase your chances of getting 55% more leads than your last campaign! 🙋
Let's look into some of the best landing pages from industry leaders to get your creative juices flowing.
The 3 Best Landing Pages:
1. Uber

If you are looking for awesome inspiration for your next landing page design, check out some of Uber's landing pages. Uber has crafted a variety of landing pages for drivers and riders alike. What works on this landing page is that it's simple, uses white space, and has a compelling title.
A rule-of-thumb for a landing page is to give the audience one task only: to convert. In this case, the conversion point is to fill out the lead generation form. This is a great way to capture the necessary information to start the process to become a driver with Uber.
What is interesting about this landing page in particular is that Uber gives the viewer the chance to redirect to the "Ride with Uber" page if they made it to this specific landing page on accident. Although you want the audience to stay on the landing page, this is a good user experience token since it's easy to mistake the "Drive with Uber" option for "Ride with Uber."
2. Shopify

Serving over 500,000 businesses in 175 different countries in the world, Shopify has picked up momentum to be one of the most popular e-commerce platforms today. What is Shopify's marketing team doing right?
Let's take a look at Shopify's landing page to get a glimpse into what has helped them succeed.
The landing page is easy to understand, highlights features and benefits, and uses a short lead-capture form.
In Shopify's case, it makes sense to only ask for an email in exchange for a free trial. It allows the audience to joyously get started right away in their free trial journey, and the marketing team can then send marketing collateral to get the recipient to move further along in the marketing funnel. This works for Shopify.
Depending on your business, this might not work. Although short forms are less time consuming for the audience, be sure to get all of the contact information that you need from the start. Don't cut out the necessary contact fields because you want to be convenient and have an increased number of form submissions. You don't want to run a campaign to realize later on that you needed more information than what was required on the form.
Having an influx in form submissions looks good on the surface, but it does not set your sales team up for success if they do not have imperative contact information to close a deal. Marketing and sales alignment is crucial in a flourishing company.
3. WordStream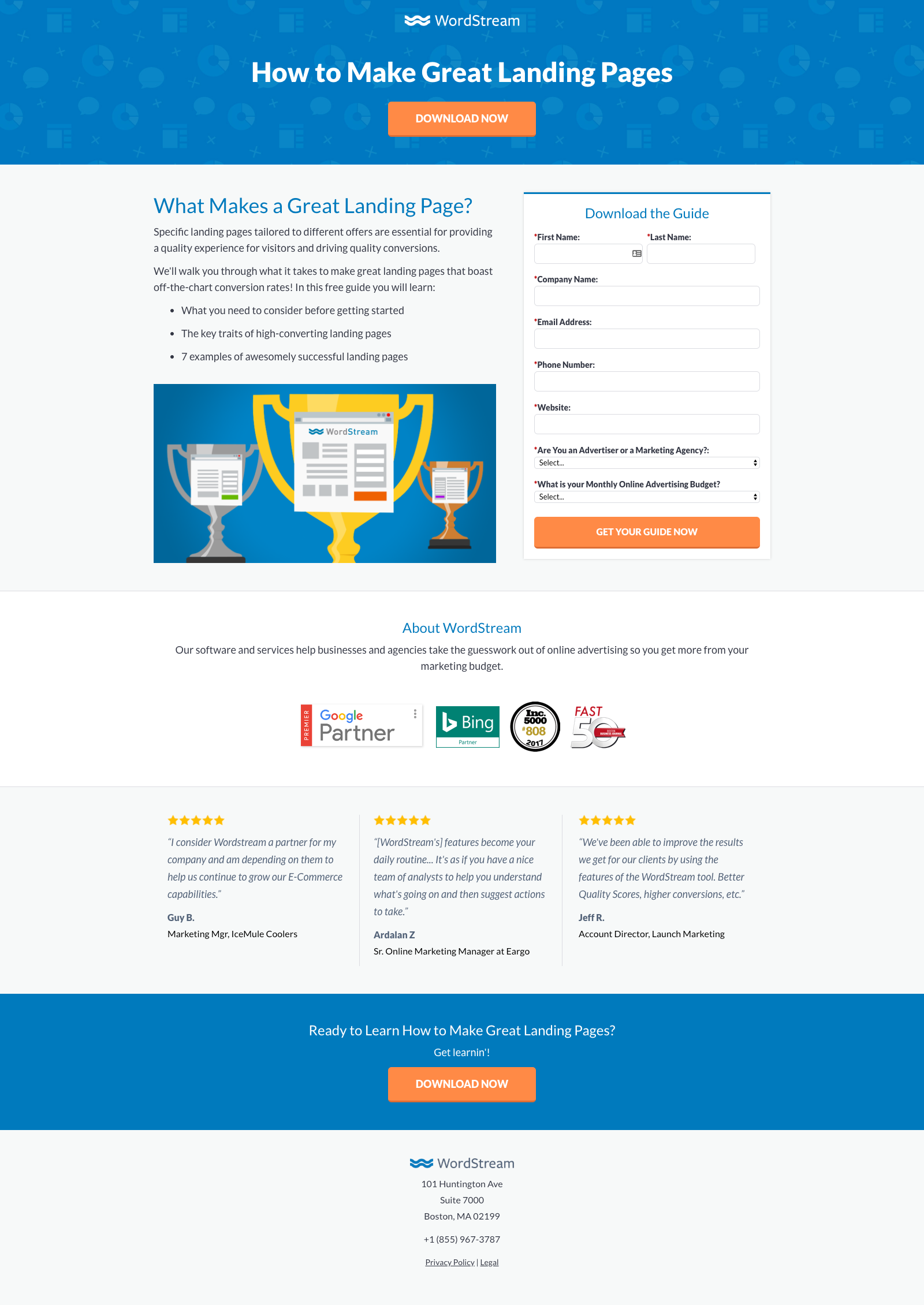 WordStream is a Saas company that is founded on the desire to make "online advertising easy." The entire site is aesthetically clean and full of helpful information that has enabled WordStream to grow to have over a million advertisers.
Let's look into one of their landing pages. This landing page works because of its direct call-to-actions (CTA), relevant hero image, and minimalism.
Have you ever looked at a website that had too many bold colors and text overload that hurt your eyes? We can guess that you probably didn't stay on that website for long.
This landing page's simple layout allows for the viewer to understand the task at hand without being confused. The goal is to get the audience to convert. The last thing you want is for your audience to bounce off of your landing page because it was cluttered with unnecessary design elements.
Conclusion:
Whether you have been in the industry for a while or you are new to marketing, feel confident that you now have the power and knowledge to create killer landing pages that actually work.
Having a compelling headline, a clean design, and projecting value to the audience are only a few of the factors that make a landing page go from good to great. Without data or testing though, you won't be able to gauge the success of your campaigns.
If you are still at a loss for what to do next in your company's marketing efforts, your Google search ends here. At LAIRE, our team of experts has proven to increase leads and walk alongside businesses just like yours to go above-and-beyond to meet sales goals.🚀