I'm a social media marketing fanatic. I spend a large portion of my life strategizing and executing social media marketing plans, and I love every moment of it. So when I was asked to speak to the Southern Textile Association about how to build a brand and drive new business with social media, I accepted with no hesitation.
I not only had the pleasure of teaching a group of professionals about social media marketing; I also had the privilege to learn from this eager, open-minded group. As a post-talk wrap-up, let's dive into my three key takeaways from speaking at the STA conference.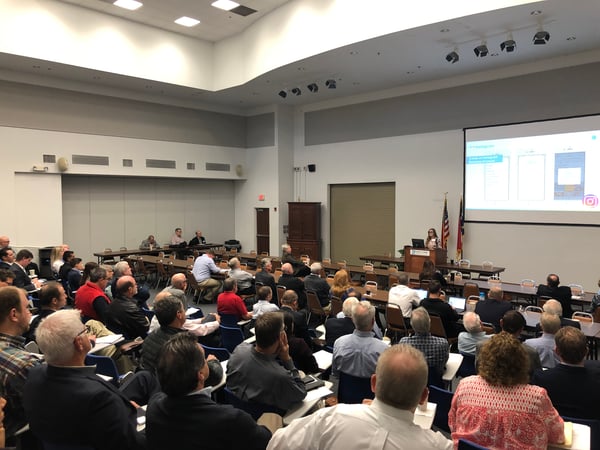 1. Just because an industry isn't using social media marketing, doesn't mean they don't want to use it.
Are you in charge of marketing for a company that has never used social media marketing before? Or if they have used it, they haven't done it well? Don't lose hope. The STA conference was a wonderful reminder that, though people may be strangers to social media marketing, they are often very open to learning about it.
Textile companies aren't extremely active in the social media world, so I was uncertain about the level of interest the audience would have. I was pleasantly surprised to find that the group of textile professionals at STA's event were incredibly engaged and extremely curious. At most speaking engagements, you can expect a select few audience members to be staring at their phone during your presentation, or even whispering throughout it. Not here. Every single person in the room was interested in what I had to say, and how it could positively impact their business.
Social media marketing can be intimidating to people who haven't done it before. There are so many platforms to choose from, a variety of content types, multiple ways to deliver content, and not a lot of time to figure it all out. Once I provided some guidance, social media marketing seemed slightly less scary and a lot more exciting to the audience. After speaking, I talked to many individuals who were ready to take what they learned, and share it with the rest of their company. I'll call that a success!
2. The value of using social media marketing for B2B businesses is not always obvious.
Of all the questions I received at this event, the question that stuck out the most was:
"Why should I use social media marketing if I'm not consumer-facing?"
We're all used to seeing social media messaging from B2C brands, such as Nike or Target. But the value of marketing a product to other businesses through social media is not as obvious to many people. As someone who lives and breathes social media marketing, this is a helpful reminder. If someone in your company is asking you this question, or if you are wondering why in the world you would use social media for your B2B company, there are two simple answers:
We're all consumers, whether we're buying for a business or for ourselves.
It can be easy to forget that, even though you may be selling something to a business, the buyers and decision makers of that business are consuming content. They're likely active on social media in their personal lives, and let's be honest, they're probably active on social media at work too. Social media is an effective way to build relationships with the people who make buying decisions for their company.
If any of your competitors are on social media and you aren't, you're already behind.
If a prospective client searches for your product or service on Facebook, and they find your competitor before they find you, you're losing money. If someone refers your company to a colleague, but they can't verify that recommendation with a positive online presence, you're losing money. If your competitors aren't on social media – be the first one there. You'll immediately have an advantage.
3. In some cases, using social media to recruit talent could be critical to an industry's continued success.
When you search "textile mill" on Google, many of the first images you find are sepia-tone photos of people working in terrible conditions in the late 1800s. The textile industry has an image problem, and a large topic of conversation at this conference was how to change the perception of what it's like to work in the textile industry. Most STA members in attendance were industry veterans, and were looking for ways to bring fresh new talent to their companies.
So where is the current workforce researching prospective jobs? On social media. The first step to making a company look appealing to job seekers is to create an interesting, informative social media presence that accurately represents your company. For many of the companies represented at the STA event, a strong social media presence could be crucial to sustaining their business in coming years.
For a copy of the slides from my STA presentation, click here.
Speaking at events like the STA conference is always an awesome opportunity to tap into the questions, concerns, and doubts people have as they explore the world of digital marketing, so we can better serve our clients. What questions do you have about social media marketing for your business? Feel free to comment below or contact us HERE!
---