Business-to-business, or B2B, marketing through LinkedIn makes perfect sense, right? LinkedIn is a social media platform designed specifically for businesses and professionals. If you have a B2B company and you are not using LinkedIn to market your products or services, you might be missing out on access to individuals and companies that could benefit from partnering with you.
Don't worry if you haven't dived into the world of LinkedIn yet, it's never too late to get started. We wrote this article to give you an idea of all of the best ways to make an impact on the social media channel.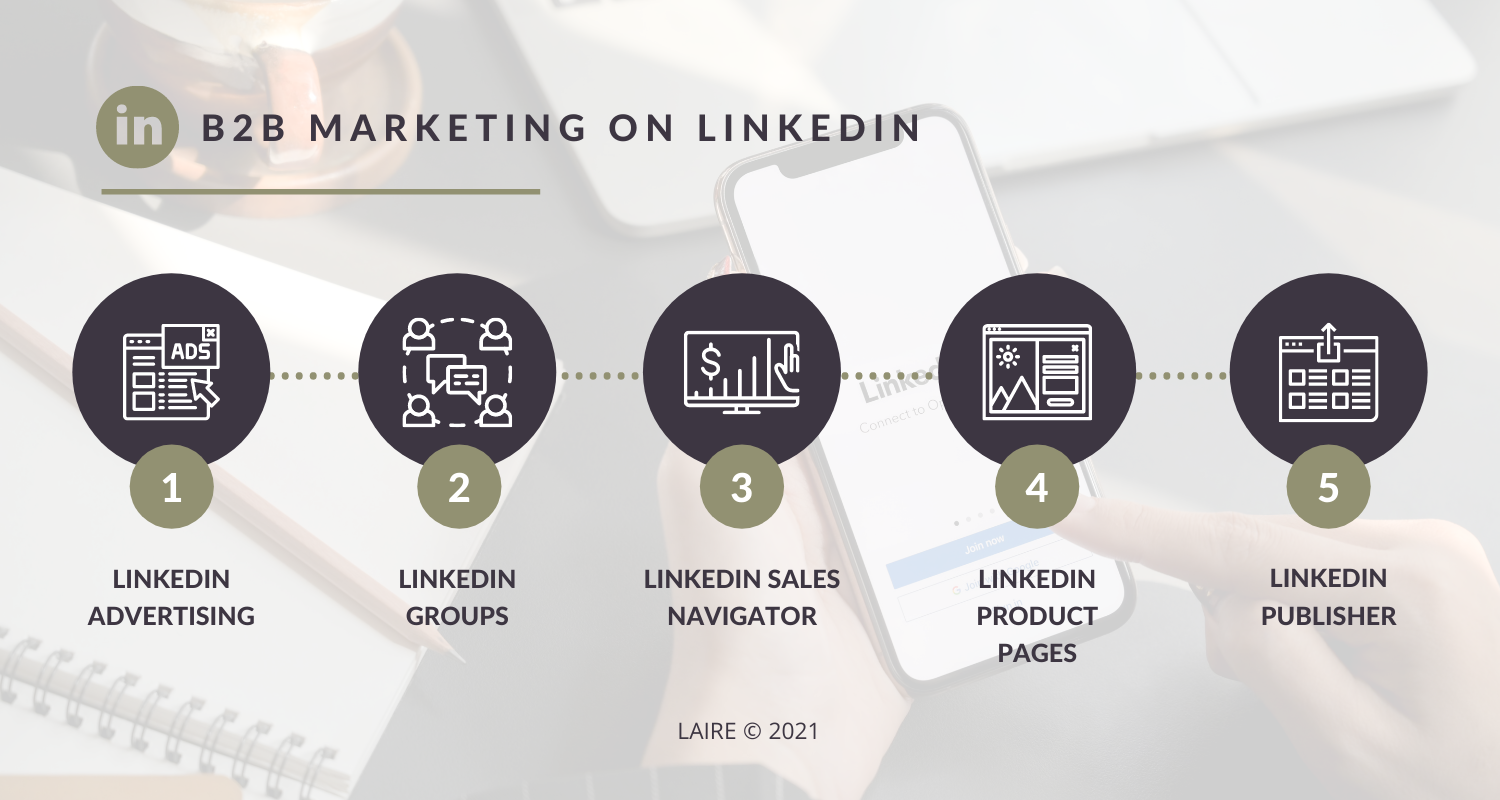 B2B Marketing on LinkedIn
1. LinkedIn Advertising
What LAIRE really enjoys about LinkedIn Advertising is the option to be really granular with your targeting options. LinkedIn Advertising lets you target professionals and companies based on industry, job role, seniority, specialized groups, or skills (which can be competitor products, goals, key specialties - which can be indicators of niche markets). For example, if you want to find professionals that specialize in "home remodeling" or "fix and flips," you can set those skillsets as your targeting criteria and reach the people that specialize in those areas. The same goes for software. You might want to reach graphic designers that have experience in Adobe Photoshop or accounting software.
Although your audience size might not be that large on LinkedIn, you're going for quality over quantity, and LinkedIn is great for that. If you set your budget on a CTR campaign, you're not getting charged for the impressions, which means you're only getting charged for people that are interested in the content that you're offering. The key here is to be patient and always remember to set experiments.
You can even target companies of your choice with specific messages in personalized ad campaigns. You can find the right companies to target in Sales Navigator (another great feature from LinkedIn). Once you get into the Ad campaigns, start adding the companies you want to target into your campaign. There are two things to keep in mind. First, you can only target 100 companies within each campaign. And two, you must reach a threshold of LinkedIn members to launch your campaign.
The one negative with this is, if you're trying to go after extremely small companies with less than 10 employees and you hit the "100 company" mark... and you don't have a big enough audience size, you won't be able to launch your campaign.
On the upside, LinkedIn Ads also allows you to do retargeting. For instance, if you set up retargeting on your website and through LinkedIn, you can follow your website visitors with social messages on LinkedIn.
2. LinkedIn Groups
LinkedIn Groups can help you create relationships with potential buyers. You can post content in groups to increase brand awareness, establish your company as a thought leader, test product or service ideas, and generate free leads for your company.
As a piece of advice, make sure that you're not posting too much content that's "all about you." For example, you don't want to put a client testimonial in a LinkedIn Group. People join groups to get thoughtful content that helps them get answers to their pains or helps them be more efficient or productive at work. It's important to create relationships with the people in the groups. If people ask questions and you're an expert, provide answers for them. Help them! Then post a link to an e-book that could help them. Your best-case scenario is they download your content, become a lead, enter your email nurturing funnel, and then convert into paying customers.
3. LinkedIn Sales Navigator
Our favorite part about Sales Navigator is that it helps you with market research. Most B2B companies are on LinkedIn, and if that's where your personas are, we would highly recommend making the investment. It's a great tool for finding and saving accounts that are a good fit for your company. It allows you to segment markets on everything from department size, function, and keywords (which could help you narrow your search).
After saving your accounts, another benefit of Sales Navigator is saving leads in those accounts. This is great for sales folks. You can even set up alerts on your leads. Through alerts, you get updates on job changes, whether the individual leaves or gets promoted. You get updates on major changes that an account is undergoing. You can additionally get updates when those leads post articles and can see the content they are sharing - on a company or lead level. This can not only drive your content strategy, but it allows you to create a highly personalized message and ad campaigns with content that resonates with them.
4. LinkedIn Product Pages
LinkedIn has recently released a new feature called Product Pages. Within these pages, your company can highlight up to 10 products with images, descriptions, and a choice of CTA buttons for interested individuals to connect with your company and enter the bottom of your lead funnel. What sets Product Pages apart from other pages is the review feature. Reviews can be left on your product by individuals with active LinkedIn pages, thus creating credibility that your product is effective and useful. You can also highlight customers or companies that you have partnered with and worked with. If your company offers a service, this particular LinkedIn offering is not for you. LinkedIn specifies that any service provided or performed by humans cannot be advertised on Product Pages. Products must be tangible products or software, such as Zoom or Jira. But don't worry! The Services Marketplace for LinkedIn is in the works and will be released shortly!
5. LinkedIn Publisher
You should always be posting blogs and industry news on LinkedIn Publisher. Why? We've seen people go from an expert (that not many people know about) to an industry thought leader in just a matter of days. Think about it like this. You're creating content quickly and you are staying up-to-date with the latest trends. By creating thoughtful articles that are "top of the news" your content could skyrocket to the entire LinkedIn network through LinkedIn Pulse (which has more than 500 million professionals). Your target personas will see you as a trusted resource, your authority on a topic will increase and your reach will increase exponentially.
There you have it, five ways LinkedIn can help your B2B marketing. Social media platforms are always evolving and changing. If LinkedIn adds or removes useful tools, we'll be sure to let you know. Make sure you subscribe to our blog to never miss an update.
This blog was originally published on May 23, 2018 and has been updated for clarity and with the latest information.