If you're in the B2B sales world, you know that larger dollars are at stake, the sales cycle is typically a bit longer, and greater levels of commitment are often involved in the buying process. This type of investment means that your buyer wants to be absolutely sure of their decision to work with your business. What does this mean for you? You must be able to provide solid proof that demonstrates the value of your products, services, or solutions. One of the best ways to help your audiences envision the impact that your business will have on their bottom line is by creating customer case studies. It can be a lengthy process, but this rewarding content marketing tactic should not be overlooked.
A Content Marketing Tactic to Drive B2B Sales
According to this Demand Gen Report, case studies convert at the highest rate out of any other content type. A well-written and engaging case study can capture the interest of a B2B buyer and motivate them to reach out to you much sooner. Interested customers want proof that you will be able to deliver tangible results for their business. When done correctly, a case study can position your company as a trusted leader, giving your skeptical prospects the confidence needed to move forward in the buyer's journey.
B2B Buyer Statistics
In our experience, a B2B buyer is far more interested in shorter, on-demand, informative content to help them solidify their purchase decisions. Below are a few statistics that provide additional insights into why you should prioritize the creation of customer case studies.
Understanding that today's buyers are doing their own research online - and like it that way - it is crucial that your business invests the time and resources necessary to develop effective customer case studies as part of your content marketing initiatives. To put it bluntly, it's time to put your metrics where your mouth is. The next section will outline the best format for your case study.
What Should a B2B Case Study Include?
Now it's time to actually compile your case study, but what should you include to ensure the most effective and compelling finished product? We've got you covered. At its core, your case study should follow this basic format:
1. Dynamic Title or Headline
Titles can often leave us stumped. Follow this formula for an attention-grabbing title: your customer's company name + the product or service your customer used + a statistic or result your customer got from working with you.
2. Short Executive Summary
The executive summary should be short and sweet statement (a few sentences will suffice) that summarizes the customer experience from beginning to end. Introduce your customer and the unique challenges they were facing prior to a relationship with your company. Next, explain what your company did to solve the problem. Close it out with a few results that your customer achieved by using your services, products, or solutions. Keep it concise, yet impactful.
3. Customer Challenges
You'll want to outline a brief description of the customer helped to give prospects a place to easily relate to the subject of your case study. Then, explain the exact pain points they experienced prior to working with your company. What problem(s) was the customer trying to solve? What led them to look for a solution like the one your company offers?
4. Strategy and Solution
Spend some time discussing the exact strategies and solutions that enabled your customers to level-up their business. You can get technical here if it makes sense. The detail you provide in this section will give a potential lead some additional ideas of how you may be able to best assist their own business and the processes they would go through. Point out specifics, why they mattered to the customer, and how you conquered them to really drive the effectiveness of your game plan.
5. End Results
Show me the data! Facts, figures, and statistics will really make the difference. Pick the metrics that will resonate with your audience and show the greatest impact. Worried that your numbers aren't as notable as they should be? No problem. Case studies don't have to always show an increase in revenue. You could also highlight results such as brand awareness, time or money saved, a clear before/after customer experience, or even include an evocative customer quote for some slam-dunk social proof.
For example, this is one way we shared data in a LAIRE case study: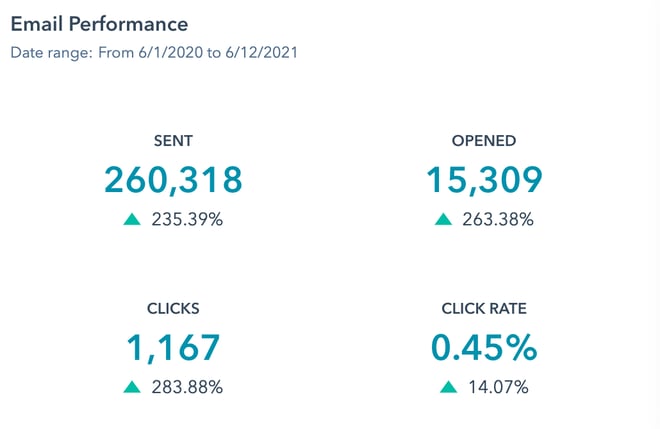 6. Closing CTA
Guide your reader where you want them to go with a clear call-to-action (CTA). Don't close out your case study without giving the user an obvious next step to engage with your business. Perhaps you have a relevant download or blog on your website that you can link to. Here are a few additional options that may work well: introduce a free trial or demo, promote your newsletter, or ask them to go ahead and contact your team. If you've kept the attention of your visitor for this long, the last thing you want to do is leave them hanging.
Take Your Case Study to the Next Level
Want to take it one step further? Of course you do, you're a go-getter and you want more customers! Here are a few next-level tips to really elevate your B2B case study.
Focus on Your Customer, Not Your Company
Did this one catch you off-guard? Many B2B companies make this mistake and spend the majority of a case study talking about themselves. In reality, it isn't about you. It's a chance to spotlight your customer. Think of the prospects that will be reading your case study. The pieces that will resonate the most with them will be the challenges, pain points, discovery process, and end results that your current customer experienced as a result of working with you.
The idea here is to have them read it and be reminded of their own challenges and existing pain points in a way that leads them to then inquire further about your business. Of course, you'll naturally include portions that discuss what your team explicitly did to help, but remember to keep the language as customer-centric as possible for the biggest impact. Let your customer do the talking!
Develop a Compelling Narrative
When sitting down to write your case study, aiming for a compelling narrative is key. It may be helpful to think of it as if you're telling a story. Let's take it back to English class for a moment. You may recall that a good storyline includes exposition, rising action, and resolution. Organize your case study in this way and be sure to write in your own brand voice to capture your audience.
Include Visual and Interactive Elements
Case studies should definitely include notable facts, figures, and statistics - but don't forget that it needs to be a visual piece as well. Incorporate attractive elements such as product screenshots, headshots, or brand logos. You may even decide to use expandable text, menu boxes, or blocked quote features to help break up heavy areas of text. A good solution for showcasing your metrics or numbers may be to include some type of counter or infographic. If possible, embed a video testimonial into your copy for additional engagement.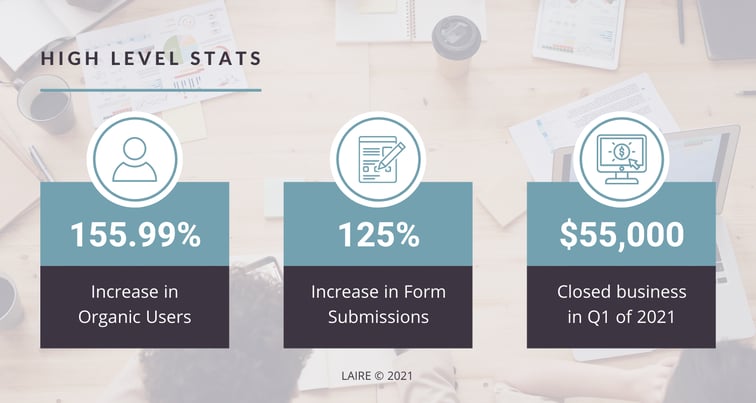 Squeeze the Value
No doubt it will take you time to gather the details, gain customer approval, write the copy, and finalize your case study. That's why you really need to squeeze as much value as possible out of your hard work. That's right, we're telling you that there's more than one way to use this resource. Start by dedicating a section of your website to them. Prospects will love coming to your website to see a full library of resources such as these, further positioning your company as a trusted leader. Beyond having a dedicated space on your website, link to them in blog posts or add them to relevant service or product pages.
Next, you'll want to promote, promote, promote! Send it out via email and publish it on social to share with your audiences and create additional visibility. Finally, share them with your sales team as helpful assets to use in any client presentations or pitches. Eventually, you can repurpose the content and create a relevant blog around the same topic, turn it into a webinar, distribute it as a press release, or create a video version of the results.
Enlist a Partner That Knows B2B Marketing
Tackling a case study may seem like a daunting task. We get it - you're busy doing the ACTUAL work, with no time left over for writing or regular promotion of a case study, let alone crafting and executing a content marketing strategy.
LAIRE is a digital marketing agency that knows B2B. We consider ourselves to be experts in developing successful inbound marketing tactics that create reliable revenue growth for companies across the nation.
Don't just take our word for it, read our own customer case studies for proof that our strategies really work. We've learned for ourselves that claims cannot fully gain the trust of a prospect. You need concrete proof. Is it time to enlist a partner to support your B2B marketing efforts? We can help.