Let's start with the obvious, as a business, you are interested in converting leads to sales and bumping up your company's revenue. Not making any grand assumptions there, right? That's all well and good, but how are you maintaining that growing customer list and nurturing those relationships? If you are thinking, "Post-It notes", "Word Documents", "Manilla Envelopes", or anything resembling these...*cough*...antiquated...*cough* methods, please consider investing in Customer Relationship Management software. Your time, not to mention your customer's, is worth the investment.
What is Customer Relationship Management (CRM) software?
A CRM is a technology used to manage a company's interaction with current and potential customers. It manages your customer data in real-time and software can enable marketing automation as well as integrate with social media and email marketing. The goal of a CRM is to improve business relationships by staying connected with your customers and streamlining processes.
CRM Best Practices: How Do I Get Started?
1. Choose a CRM that Fits your Needs - Before investing in a CRM system, make sure you do your research and select the one that fits the needs of your business. Different versions offer more in-depth capability that can get complex, while others offer a more user-friendly component that may help your business transition smoother. You also may want to consider if the CRM is cloud-based or requires an on-site server to store information. Does your CRM need to be mobile-friendly so that field reps can easily access it once they've left a customer? These are all things to consider when making the decision.
2. Make the CRM a Foundational Part of your Business Growth Strategy - The beautiful thing about CRM software, is that it keeps all of your customer data and marketing information in one centralized location. It helps you organize the influx of customer and sales data, which simplifies the process of finding the information that you need. Imagine how easy your life would be if all of your customer information, communications, sales data, contact information, and more were located in one spot. What if you could create automated email nurture campaigns and follow-up letters to buyers based on their interaction with your last communication? Sounds pretty sweet, right? All of this and more is possible with a CRM. It can be the bones that give structure to your sales strategy.
3. Train your Employees to Use It - Make sure your employees have a thorough understanding of how a CRM works, and more importantly, how your company will be utilizing it. This is an easy way to keep your team on the same page, streamline workflow, and keep operations consistent. Whether they are in marketing or sales, they should be well-acquainted with how it works, and where to get the information that they need to do their jobs more efficiently. HubSpot offers some great tutorials on getting started with your CRM.
4. Rely on Automation - Automation is a necessity for any business trying to grow. Create a plan based on buyer behavior, set it and let it go to work for your business. This will free up time in your workweek so that you can focus on other important tasks, saving you and your team a load of stress.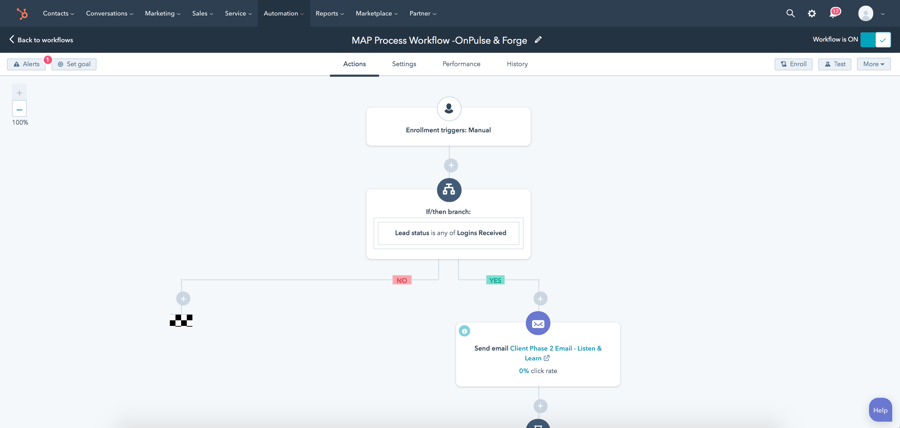 5. Keep Data Current - This goes hand in hand with training your employees to use the software as they will be contributing updates daily. Whether updating preferred contact methods and a company's name and address, or simply taking notes for every interaction, If your team is in the habit of updating information as necessary, then the data should always be current.
6. Keep it Simple - Don't feel the need to utilize all of the features that a CRM has to offer. Find a use that makes sense to you and your employees. Remember, at the end of the day, the real purpose of this software is to improve team efficiency and help you organize data. The process doesn't need to be convoluted and complicated, a simple approach will do and you can always scale up and try out new features as your team becomes more acclimated.
How to Use Your CRM, and the Benefits
1. Respond Faster to Online Inquiries - One of the most quantifiable benefits of incorporating a CRM system into your business plan is the inevitable increase in lead conversions. Imagine contacting an interested lead within 10 minutes of them submitting a form on your website. It's a win-win for both parties: the prospective customer receives immediate personalized attention and a solution to their problem, meanwhile, your business gets the sale.
Increased customer satisfaction - Check!
Increased sales numbers - Check!
Increased revenue - you've got it, Check!
2. Increase Referrals from Current Clients - Today's culture is now now now. Customers expect support fast and at any time of day and your CRM system can help with that. Satisfied customers are more likely to leave great reviews and refer you to their friends. Keep in mind that your CRM will have a record of every purchase and customer interaction, so you will be able to glean a better understanding of their needs, buying habits, and behaviors for future up-selling opportunities.
3. Get the Most out of Each Contact Record - The contact record for each of your customers, whether an individual, company, or organization, is an in-depth data profile for each of your prospective buyers. In this, your team will be able to track sales and marketing communications that your contact has received and leave internal notes that will allow for seamless follow-up email campaigns. Every person that you and your team are in contact with should have a contact record.
4. Use Your Filters to Customize Which Contacts You Would Like to View- How you organize your contact records really depends on what makes the best sense for your team. There are multiple filters available that can help you prioritize your data, such as "task due date", "job title", "lead status", and "contact owner". You can even create custom filters to organize your contacts, just make sure it is a system that makes sense to your team.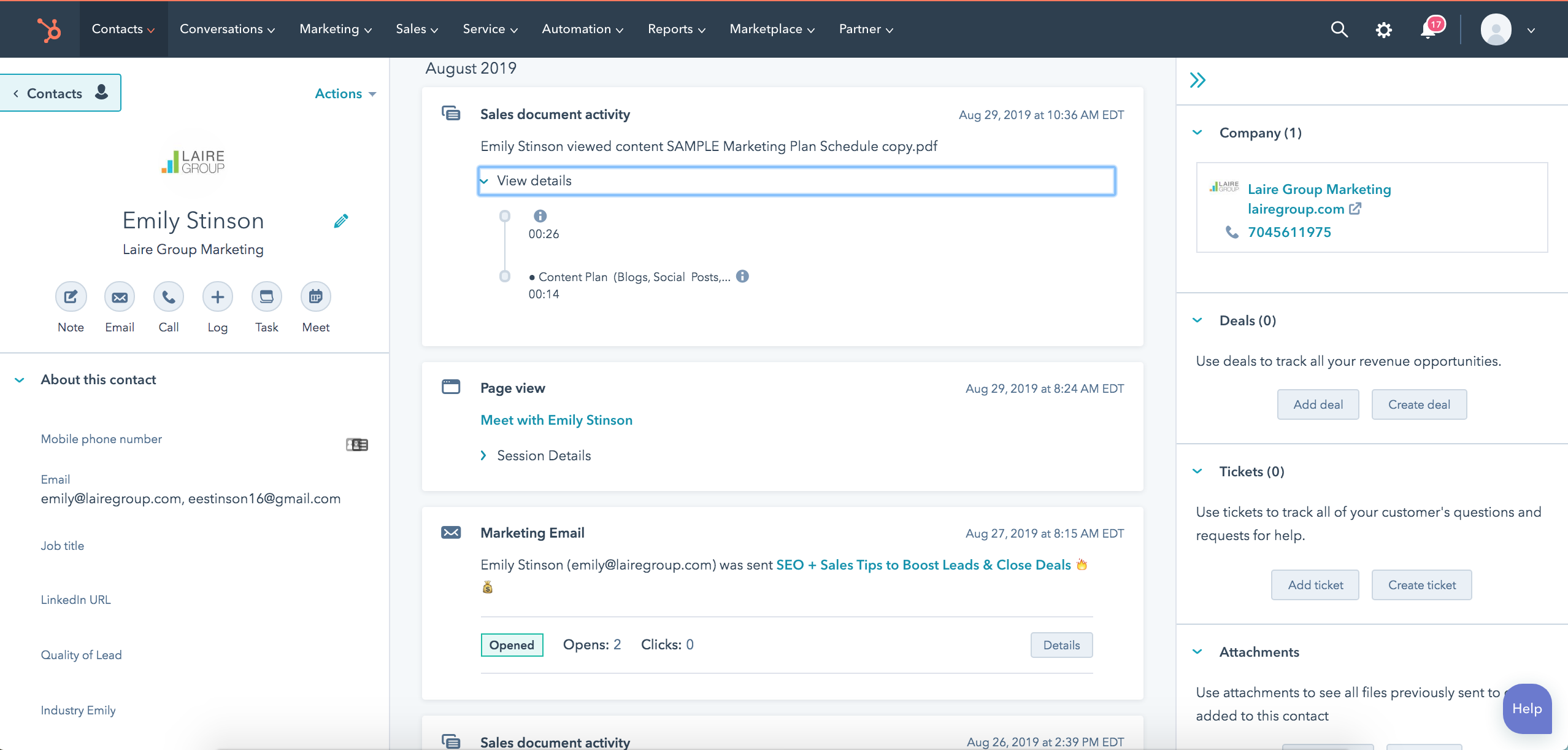 5. Use Email Templates to Save Time and Keep it Personal - Part of the nurturing process for your customers is to keep them engaged with your company through helpful, curated content. Email marketing is a wonderful way to stay connected with your customers and a CRM system is a perfect way to keep track of campaign effectiveness (views, opens, link clicks, open rates, etc.) Email is a great way to send in bulk, but also personalize based on Lead Segmentation. You can create workflows and email segments that target customers in different stages of the buyer's journey and send content designed to push them to the next Deal Stage for your sales team.
Email templates are tailored to each contact with personalization tokens and each one that you create should be written with a particular type of customer in mind. To create a successful nurturing campaign, your emails should always provide value to your customer, whether through helpful content, promotions, downloadable guides, or more is up to you, just remember to always be helping.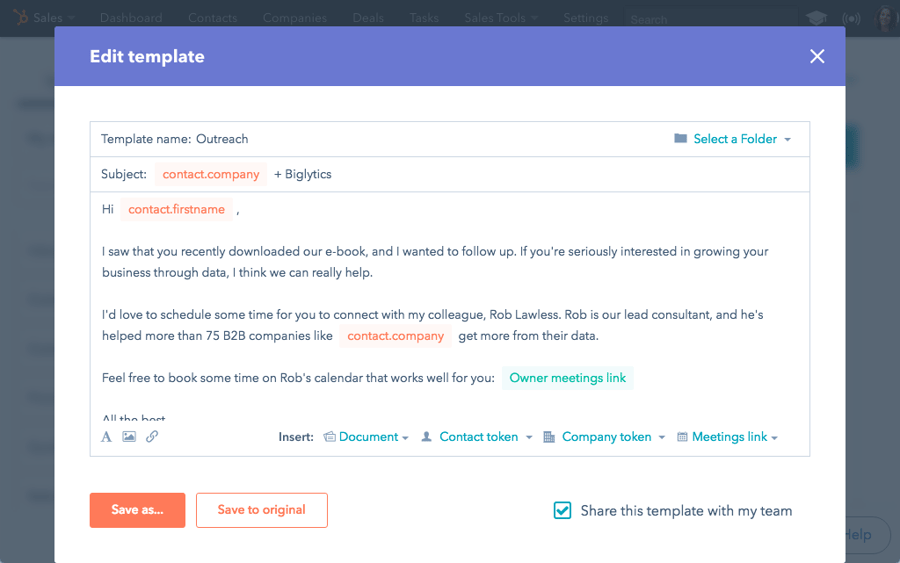 Conclusion
Now that you have your CRM software, every interaction with a customer through email or phone will be tracked and you can stay organized internally by leaving notes and tasks in the contact record.
Your customers value a seamless, personalized experience and with CRM functionalities that have never been easier.
Lead management is crucial in your CRM because before they become clients they are leads that need to be nurtured. You can create deal stages to put each prospect into a lead nurturing bucket and they will be assigned workflows based on what stage of the buyer's journey they are in.
If you're already using a CRM but have no idea how to use it effectively, this blog should help. If you need further assistance, contact us. Ready to start right now? HubSpot offers a free CRM, so you can get started today!
A CRM is a money-making machine and if you're not using it to the fullest, you're missing out.