You've probably heard this before – video is super important for a successful social media strategy. Broken record, right?
Marketers have been talking about video content for years, and yet, there are still lots of companies out there that are not doing it. There's a bit of a fear factor with video. It seems like a big undertaking, but it doesn't have to be. In this article, we'll talk about how to make video a little less scary, and some tools to help you start incorporating video into your posts and boost your social media engagement.
Popular Online Video Tools Your Business Needs to Use
Did you know that social media posts with video have 48% more views than other types of social posts? Also, did you know that video consumption rises by 100% every year? These stats just go to show that if your B2B business isn't posting video content, your business will miss out on the opportunity to reach the right people.
Don't overcomplicate it though. Creating a video doesn't have to be a full-blown production with a camera crew. There are multiple online tools and apps out there so you can keep video production in-house. Plus, they are super easy to use. Here are some examples of popular video platforms your business needs to use in 2021:
1. Biteable
This video creator is extremely user-friendly. What's nice about Biteable is that you have access to a bunch of templates, stock video, and music. Plus, they've done a really nice job of mapping out the process so you don't have to guess what to do next. Start with a video title, pick a template, then an image or video (or upload one), choose a font, and move onto the next scene. After you've mapped out your scenes, select a color scheme and music, and boom – a video perfect for social media. It's only $23 per month for the pro version, and definitely worth it.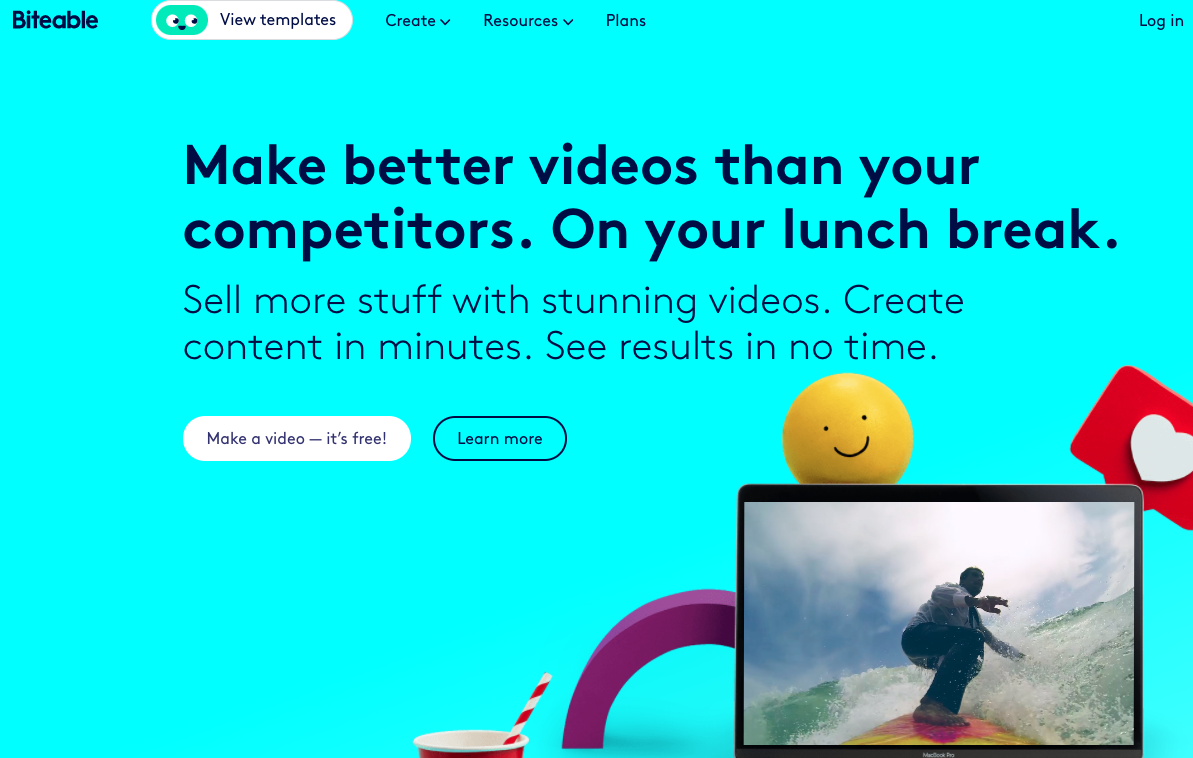 2. Camtasia
This screen recording and video editing software makes it easy to record demos, how-to videos, webinars, video lessons, and more right from your laptop. Then, after you say "cut" (not literally), Camtasia allows you to edit, upload videos from your computer, add animation features, customize the colors to your brand specs, and upload to your favorite video hosting site (like YouTube and Vimeo). Camtastia does have a cost ($249/year), but they offer a free trial so you can make sure you love it before you buy it.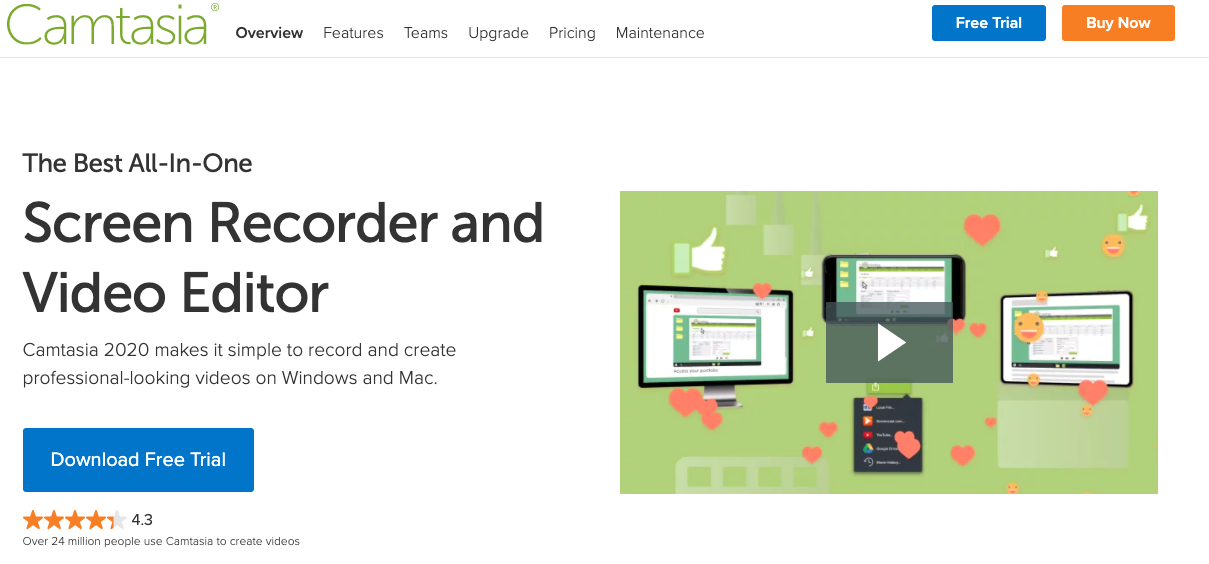 3. Animoto
Animoto is pretty similar to Biteable, but with a different style of templates. So, it's really up to you what your preference is. Here's basically how it works – start with your own video (taken with your phone or camera), photos, or a stock video from the options Animoto has available and start personalizing the color scheme, music track, and font. After you are done personalizing the video, you can share it directly to social media. This is another super simple video creator. It's also very affordable – only $5 a month!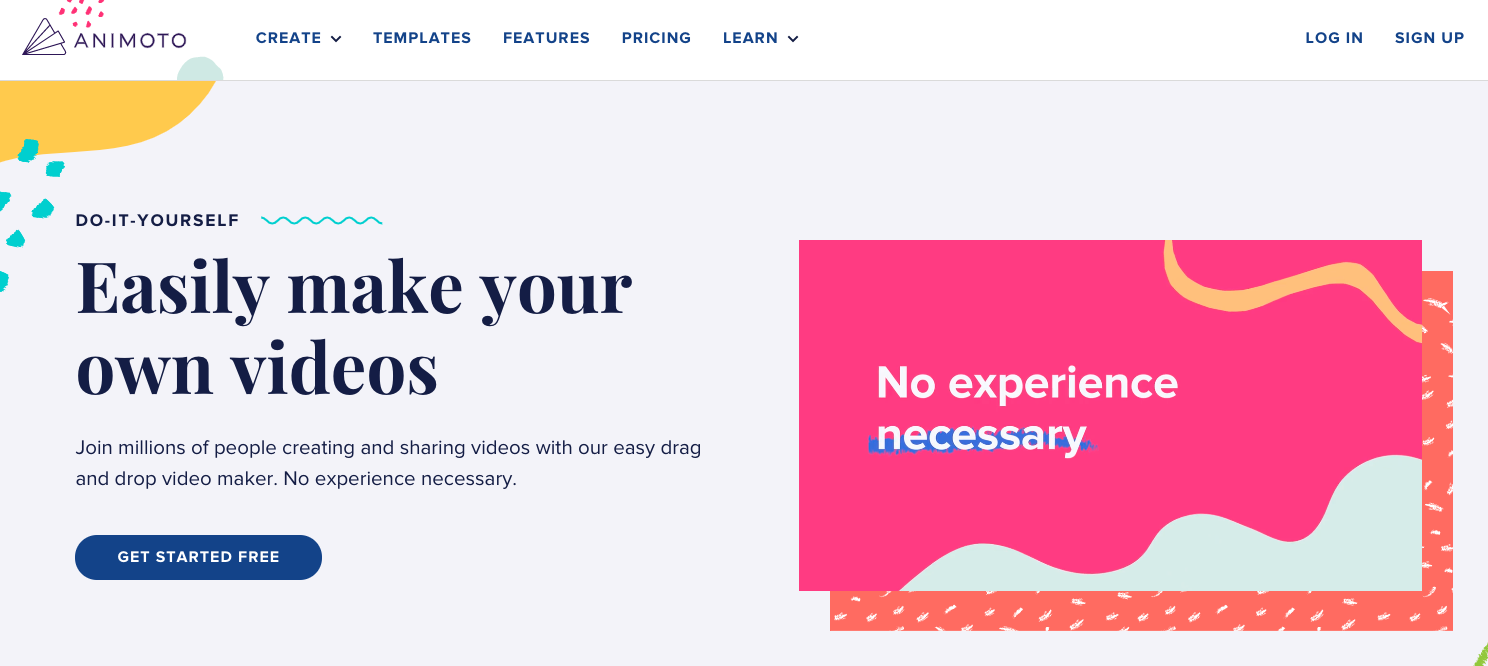 Now that you have some video creator tool options to choose from, let's talk video marketing best practices so your videos can boost your social media engagement. Because that's the whole point, right?
5 Ways You Can Make Your Videos Standout
1. Make it pop.
It's the age of the never-ending scroll. People on social media are scrolling and scrolling until they find something that catches their attention. So, make sure your video is eye-catching, interesting, and to the point. By adding cohesive, branded animations throughout your video, you will be sure to keep your audience engaged!
Pro tip: For the video thumbnail, you need to choose an image that is relevant to the video. Want to create an noteworthy thumbnail? You can create free custom thumbnails for your video with canva.com.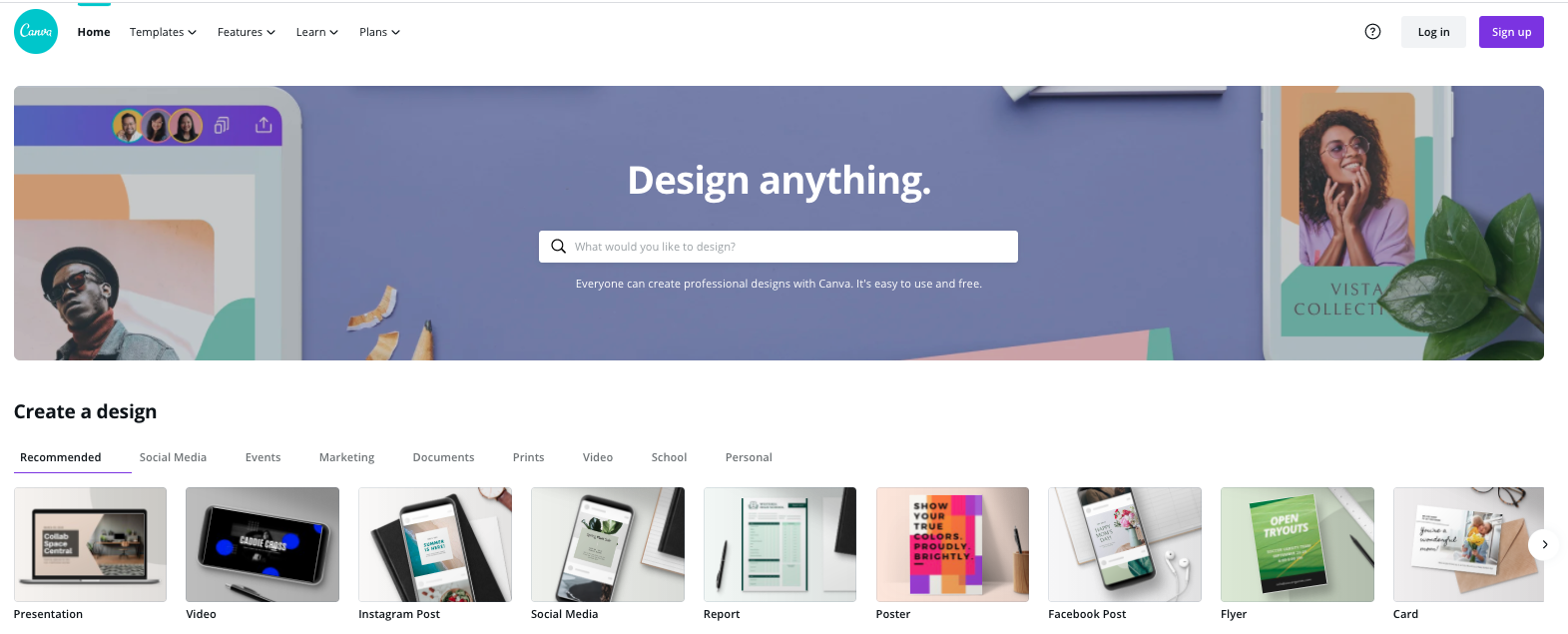 2. Provide value.
Before you hit post on your social media channels, ask yourself this question – "will my target audience care?" If the answer is "no" or you aren't sure, chances are this video isn't providing any value and will not help your social media engagement ratings. This isn't exactly ideal. A valuable video on social media will do one of the following:
Entertain your audience
Educate or train
Help with a problem
What does your video do? Is it meant to be funny? Is it informing your audience about a certain topic? Be sure to understand your video's purpose before hitting record. It will save you time in the long-run!
3. Pick out the right length.
You may have created a beautiful, valuable video, but if you don't create video content with the social media algorithms in mind, your video may not show up on your desired audience's feed. Here are the recommended video lengths for different social media channels:
Facebook: 3+ minutes
YouTube: 8+ minutes
LinkedIn: 30-90 seconds
Instagram: 30 seconds
Twitter: 15 seconds
TikTok: 30 seconds
4. Rally your audience with a clear call-to-action.
When writing post copy to go along with your video on social media, make sure to use actionable language. Words like – watch, view, and press play – tells your audience exactly what you want them to do. You can even ask a question in the post to encourage commenting. With a clear call-to-action, you can easily improve your social media engagement.
5. Consider adding captions.
It may seem odd, but captions (or subtitles) are very effective at getting the message of your video across to your audience. Here's the reason – there are a lot of people watching online videos on silent, so if you're conducting an interview or talking about how to use your product, subtitles are a great best practice. Facebook can add captions for you, but it isn't always 100% accurate. Instead, we suggest using a tool like Rev.com. It's only $3 to create captions for each minute of your video, and it's much more dependable.
Are You Ready to Post Engaging Video Content?
With your favorite video creator tool, and these five best practices, you're well on your way to boosting your social media engagement with some awesome branded videos in no time! Just keep in mind that your videos don't have to be perfect.
There's a lot more marketing advice where this came from. Subscribe to our weekly blog emails here:
*This blog was originally published on April 8, 2019, and updated on December 14, 2020 for accuracy.