Struggling to shorten your sales process? Frustrated with trying to keep track of all the documents going back and forth on your road to closing a deal? We get it. We've been there too, but thanks to an amazing tool, we overcame that hurdle. Here's how we streamlined our sales process to close more deals and improve our clients' experience with PandaDoc - the customizable document creation tool that's equipping sales and marketing teams in B2B, B2C, and everything in between.

PandaDoc Minimized Friction in our Buyer's Journey
The goal when we set out in search of a solution for our document signing and tracking problem was to create a frictionless buyer's journey. That meant making it as easy as possible for a potential client to find us, learn about our solutions, and ultimately join our client base. While there are so many factors and steps that can add friction (some manageable; others inherent), simplifying the document signing step in our sales process was something that we identified pretty early on as a candidate for an upgrade.
After testing and trying out a few different solutions, we chose PandaDoc. The visibility it gave us into the progress of our documents and the way it integrated with our other sales tools made it an easy choice.

Screenshot of PandaDoc dashboard
Since implementing, we've been able to create and send beautiful, custom documents that represent our brand, creating a more seamless experience for clients, as opposed to the clunky, 20-page, 12 point font Times New Roman documents from days long past. We've heard great feedback from prospects and clients about their experience, quoting how easily they were able to:
Access the document from the link that was sent to their email
Click and sign
Communicate with our team in the built-in messaging system when they had questions or concerns
Pay invoice built directly into PandaDoc document
Not only has PandaDoc made it easier for our team to create, send and track documents, but it has made it easier for our clients and improved their overall experience - a huge win.
PandaDoc Simplified our Internal Processes
Between non-disclosure agreements (NDAs), client agreements, proposals, quotes and more, there are a lot of important documents exchanged between our team and our clients. Historically, keeping up with all of these documents was a matter of having a very well-organized inbox and an endless supply of sticky notes.
Now, we can quickly see how many documents we have, what the progress is, and glance at a quick timeline to help us stay on track and prioritize. The time that it has saved us and the organization has given us time back in our day to better communicate with and service our clients.
Additionally, the easy-to-build and fully-customizable templates have allowed us to create a template for any and every document we need to send out (like the one below). Then, easily duplicate and customize them, saving time on our end and getting them to our clients even quicker.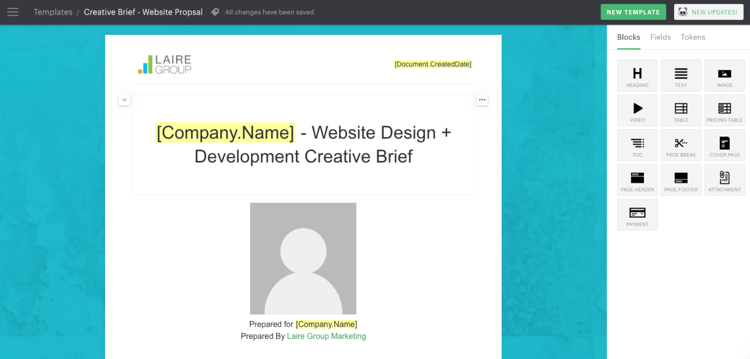 It Integrates with HubSpot 🙌
As a HubSpot Certified Partner agency, any tool that plays nicely with our CRM, marketing, sales, and services platform is going to be high on our list. PandaDoc integrates beautifully with HubSpot, making it so simple to create, send, track and sign documents for leads in your CRM.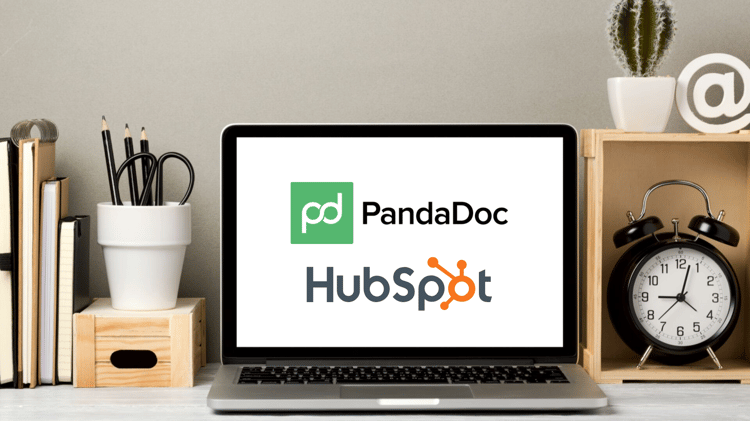 Before PandaDoc, the creation of documents was typical - duplicating a template in Microsoft Word, customizing for the client, and double and triple-checking every line before attaching to an email and sending out into the great unknown.
Now, we can simply navigate to the contact record in the HubSpot CRM, use the PandaDoc widget to select our pre-created templates, and the integration automatically updates any token fields with the information related to the contact record. Name, company, title, even deal amount can all be pulled into the document seamlessly with PandaDoc. This has saved our team time in the sales process and lots of headaches when prepping documents for our clients.
The preparation was never the core problem though… It was the waiting. Wondering whether your document was received, if they've seen it, when they've signed it, etc. But PandaDoc on HubSpot eliminated the guessing game. Like any other sales document or email, HubSpot tracks updates of your document. See right from the contact record if they've seen, opened, or signed the document and access the document right from the widget.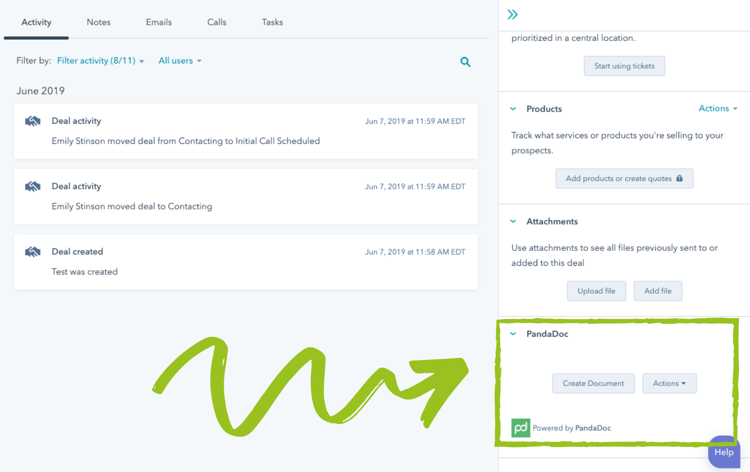 For our team, followup is important. Whether the document was signed immediately or it's still in limbo after three weeks, we needed a way to track that progress and follow up appropriately. Through the HubSpot integration, you can trigger workflows to send out email reminders, information on the next steps, other documents or any other communications you can automate.
Additionally, workflows can be used to advance deal stages or lifecycle stages. When a new client agreement is signed, our system moves them to "Deal Closed" and adjusts their lead status to "Client". This allows the marketing team to keep up with the status of leads, track ROI, and trigger marketing automations. A win-win for everyone.
We are a big fan of any tool that allows us to work smarter, not harder, and improves our sales process and the customer journey at the same time. If you're looking for a solution to streamline your sales process and help you close more deals, consider PandaDoc! Interested in other tools that we recommend? Check out this blog on the top 5 apps that integrate best with HubSpot.
Hitting a snag in your sales process? We can help! Our team specializes in sales enablement and can help you identify and solve the issues that are slowing down your system and help you start closing more deals. Find out how by scheduling your free audit.