In today's fast-paced and competitive business landscape, professional certifications have become more important than ever.
Certifications are a testament to an employee's commitment to continuous learning and professional development. They can also provide you with valuable skills and knowledge that can enhance your career prospects and demonstrate your expertise to employers and clients.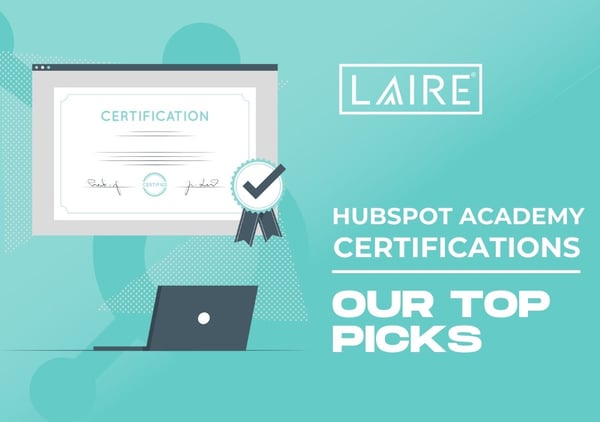 When it comes to marketing, sales, and customer service certifications, HubSpot Academy stands out as a leading provider. HubSpot Academy offers a wide range of free online courses and certifications designed to equip you with the skills you need to excel in your role and stay ahead in the industry.
In this blog, we will discuss HubSpot Academy's top certifications that marketing professionals and business owners should consider pursuing to enhance their knowledge and boost their careers.
HubSpot Academy Inbound Certification
Geared primarily toward marketing managers and business owners, the Inbound Marketing certification course helps you create accurate buyer personas and map out the buyer's journey so you can develop impactful content that will drive action.
During this course, you'll go through seven lessons that cover topics such as:
Inbound marketing fundamentals
Creating content for the buyer's journey
Developing a content distribution strategy
Learning behavioral marketing and customer segmentation
Maximizing return on investment (ROI)
Utilizing marketing automation
The Inbound Marketing certification was designed to help marketers like you scale your marketing content by more than 60% so that vital parts of your marketing strategy don't go unused. Not to mention, having an official certificate adds a strong professional touch to your resume and impresses future employers.
"HubSpot's Inbound Marketing course was immensely helpful in learning about marketing techniques that are central to both HubSpot and the inbound methodology as a whole. It broke down creating educational content, the buyer journey, and so much more, while connecting the dots on lead nurturing and marketing processes.

This is a fantastic place to start for anyone looking to incorporate inbound principles into their marketing strategy."

– Arika Massey, LAIRE Account Manager
HubSpot Academy Content Marketing Certification
With the Content Marketing certification course, you'll learn how to craft share-worthy content for your audience, gain insights into building content optimization frameworks, and understand how to work with influencers to increase your audience reach.
Intended for marketing managers, content marketers, and business owners, this certificate consists of 12 lessons that cover topics like:
Planning long-term content
Generating content ideas
Creating quality blog content your target audience wants to read
Extending the value of your content by repurposing it
Effectively promoting your content
By completing this certificate, you'll gain knowledge on how to create content that resonates with your target audience and learn how to effectively promote your content so that it reaches them too.
Keep in mind that content marketing doesn't have to mean blogging. Brands we all know and love have had majorly successful content marketing campaigns without a blog in sight.
Take Spotify, for example. Spotify Wrapped — which offers users a fun round-up of all the music they've listened to throughout the year, plus personalized playlists — is a highly effective campaign due to its personalized approach, social sharing capabilities, and seasonal appeal.
By creating personalized summaries of users' listening habits, it fosters a strong emotional connection and encourages users to share their experiences on social media. This, in turn, produces user-generated content, increases brand visibility, and reinforces brand loyalty.
The best content marketing campaigns combine various elements to drive user retention and generate widespread brand exposure. Taking HubSpot's Content Marketing course will get you one step closer to consistent, successful campaigns, too.
"What sets HubSpot's Content Marketing course apart is its comprehensive curriculum. From crafting compelling content strategies to optimizing for search engines and measuring success, every aspect of content marketing is covered in depth.

The course goes beyond theory; it offers practical insights and real-world examples that make learning engaging and applicable. The course modules are thoughtfully structured, ensuring a progressive learning experience that builds upon foundational concepts and culminates in advanced techniques.

It's a well-rounded program that caters to both beginners and seasoned professionals, delivering value at every level of expertise."

– Stephanie Kidd, LAIRE Editorial Content Manager
HubSpot Academy Social Media Certification
Social media is a potent tool for reaching your audience and converting leads. The Social Media Marketing certification course will help elevate your social media skills, from creating engaging content to measuring your ROI. You'll learn how to utilize social platforms to increase brand awareness and attract new customers, all while developing meaningful relationships.
There are eight lessons in this course that cover topics including:
Developing a social media strategy
Building content for social media
Expanding your reach on social media
Using social media to build one-on-one relationships
Measuring your social return on investment
Each of these topics is designed to enhance your skill set by providing insights into what's important in the realm of social media marketing and specifically what you should prioritize for your company.
HubSpot Academy Email Marketing Certification
The Email Marketing certification course is designed to equip you with the skills to create a compelling email marketing strategy that not only avoids sounding robotic but also fosters trust with your leads.
When creating an effective email marketing strategy, it's important to remember that the messaging is about your audience — not your company. While it may be tempting to showcase all the remarkable features of your product or service, what truly captivates readers is understanding how your solution can genuinely enhance their lives.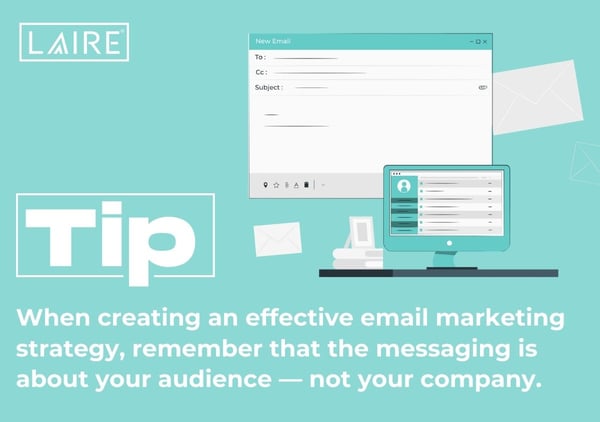 Over the course of nine lessons, this certificate covers the above principle, as well as best practices for email marketing, including how to:
Employ problem-focused messaging
Write strong, catchy subject lines
Test email performance for future improvement
Develop relationships through lead nurturing
In the realm of email marketing, employing the right strategies is crucial to attract and engage leads, ensuring they are drawn in rather than pushed away. By earning this certificate, you will help build a strong foundation in email marketing and gain the ability to apply your knowledge effectively to create impactful email campaigns for your company.
"Our team values staying up-to-date on email marketing best practices by taking the HubSpot Email Marketing certification. We recognize the power of email to connect with our target audience when executed effectively.

As someone in a Creative position, I understand the critical role design plays in motivating readers to take action. It's important to optimize email conversions just as we would for a web page. Therefore, we regularly study email performance and make necessary adjustments to improve reader engagement over time."

– Lisa Morgan, LAIRE Creative Projects Director
HubSpot Academy Sales Certification
The Sales Enablement certification course equips marketing and sales managers with the knowledge and skills to develop a marketing-driven sales enablement strategy. It covers principles and best practices, providing a comprehensive approach to effective sales enablement.
There are a total of 12 lessons in this course that explore topics including:
Aligning your team around a unified revenue goal
Developing a lead qualification framework
Holding your team accountable with a service level agreement (SLA)
Maintaining alignment within your teams with "smarketing" meetings
The power of buyer personas and content in sales
Continuing enablement after the initial sale
By completing this training, you will gain the knowledge and skills to establish a marketing process that consistently delivers high-quality leads to your sales team. Additionally, you will learn how to align your marketing and sales teams, ensuring they work together toward common business objectives.
HubSpot Academy SEO Certification
SEO is an important part of content and the overall visibility of your business's website on search engines like Google. If you're a marketer, content creator, or just someone who wants to improve their SEO skills, HubSpot Academy's SEO certification course is for you.
There are six lessons in this course that cover topics like:
SEO basics
On-page and technical SEO
Keyword research
Link building
Optimizing your website
SEO reporting
By taking this course and earning the certificate, you'll be able to increase your website's visibility on search engines by building backlinks, use keyword research to improve your website's search performance, and evaluate and report on your website's SEO.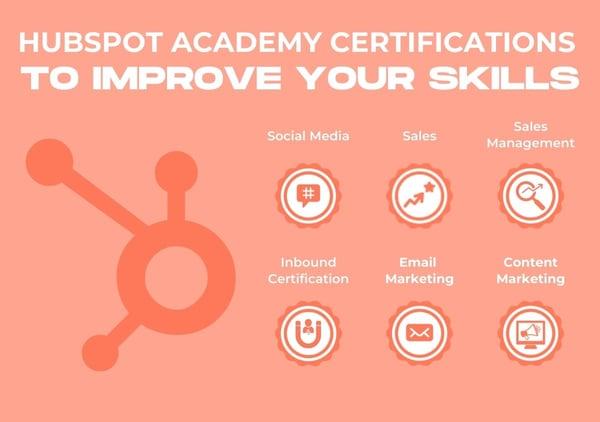 Be a Better Marketer With HubSpot Academy Certification Courses
By taking the HubSpot Academy courses mentioned above, or even just some of them, you can level up your marketing skills and boost your career.
Each course provides comprehensive insights, practical strategies, and industry best practices that are relevant and applicable to your marketing efforts. With flexible learning options, industry-recognized certifications, and a supportive community, HubSpot Academy empowers you to be a better marketer.
If you don't have enough time to spare to complete a multi-lesson course, we have plenty of resources that will do the trick. Start with our free eBook: 24 Pro Tips to Help You Crush Your Marketing Role.