Are you trying to choose between HubSpot and Salesforce? In many cases, there's no need. When used together, the two platforms can generate results exponentially better than a business would have gotten from one platform alone.
Does Hubspot Integrate With Salesforce?
HubSpot and Salesforce are both popular and highly-rated CRM platforms. HubSpot is ideal for marketing and shines in generating and nurturing leads. Its user-friendly, intuitive interface makes it an excellent tool for all levels of users.
Salesforce is a powerful and endlessly customizable data-crunching machine. It's the industry leader in tracking customer interactions and is known for helping businesses transform leads into sales.
If both options sound appealing, don't worry. HubSpot and Salesforce feature native integration, allowing the two platforms to cooperate seamlessly. Businesses looking to leverage each platform's unique strengths can do so easily, with minimal time and technical know-how.
Why Consider Integrating HubSpot With Salesforce?
While both HubSpot and Salesforce offer a full suite of CRM services, they excel at different things. When integrated, HubSpot's advanced marketing capabilities pair with Salesforce's premier sales and CPQ features to create a powerful — and profitable — feedback loop.
For example, say a business uses HubSpot to launch an omnichannel marketing campaign. Their marketing team is excited about the possibilities of generating and nurturing leads across multiple platforms, including email, social media, blogs, and their website.
By integrating HubSpot with Salesforce, this business can easily capture lead engagement data across different platforms and use Salesforce's lead attribution tracking to measure campaign performance and revenue generation.
Integration creates the opportunity for real-time strategy adjustments, allowing the business to streamline its sales funnel and provide the sales team with detailed information about leads with a high likelihood of conversion.
How to Conduct a HubSpot to Salesforce Integration
There are several distinct phases in the Salesforce HubSpot integration process.
Prepare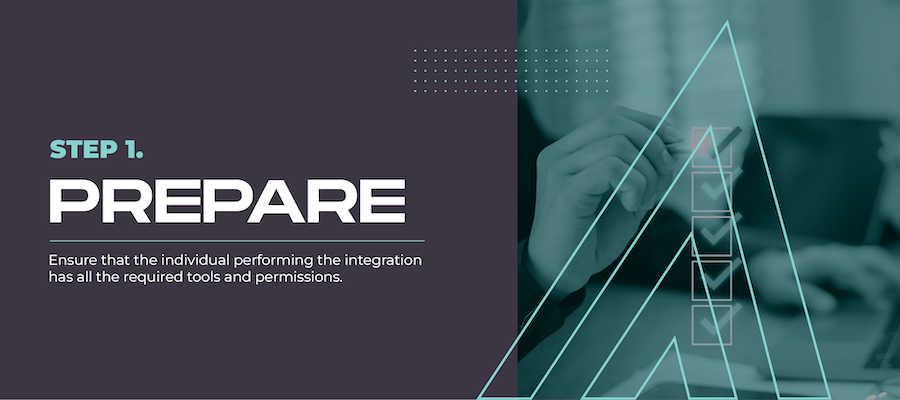 Before beginning the integration process, ensuring that the individual performing the integration has all the required tools and permissions is essential. Requirements include:
Admin-level access on HubSpot
System administrator access on Salesforce or the Hubspot Integration Permission Set
An API-enabled Salesforce account
Permission to modify all object types included in the sync, including contacts, accounts leads, opportunities, etc.
Modify Metadata enabled — this permission is required to sync deals and to access the HubSpot Visualforce function on Salesforce objects
Integrate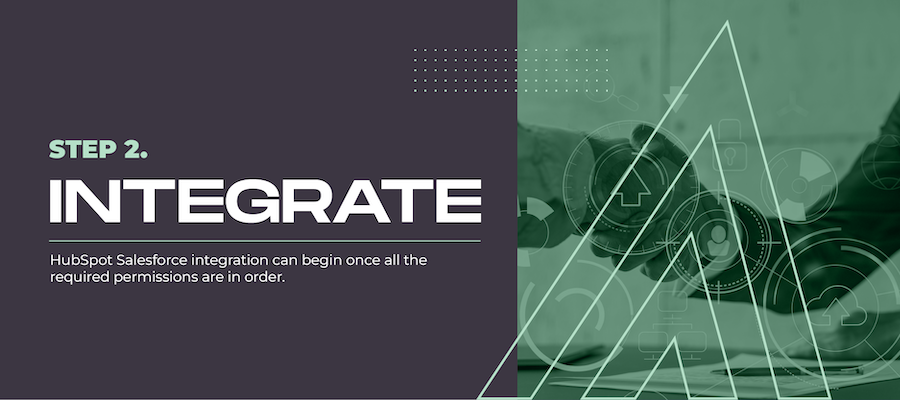 HubSpot Salesforce integration can begin once all the required permissions are in order. You'll stay in HubSpot for most of the process, with occasional redirection to Salesforce.
Step 1
Go to the HubSpot marketplace and search for the Salesforce app. Click on the app to install and input the Salesforce account login information when requested.
Step 2
Once logged in, a hyperlinked message inviting you to start the Salesforce package installation will appear. Click on this link. A Salesforce window will open with the HubSpot installation package ready. Tick the Install for All Users box and hit Install.
The download may take a few minutes. An email will be sent from Salesforce when it is complete.
Step 3
Navigate back to HubSpot and click Next. Afterward, you'll be allowed to enable HubSpot's Visualforce module, which gives a detailed window view of a lead's activity and its likelihood of conversion within Salesforce.
If you opt in, you'll be redirected to Salesforce to configure your viewing options. When finished, go back to HubSpot and click Next. If you opt out, simply click Next. You can always come back to set this feature up later.
Step 4
The next step is to choose where and how the data will sync between the two apps. This part of the process is called field mapping. There are two options for field mapping: recommended and advanced.
The recommended setup works best for businesses with simple, straightforward Salesforce setups without many custom fields. It automatically links data from one app to the corresponding field in the other. Problems can arise if no related HubSpot field exists for a selected data set in Salesforce.
Using the advanced setup options is more time-intensive but more accurate. For businesses with highly customized Salesforce setups, it may be less time-consuming in the long run to do the field mapping manually for each object type, as it can reduce the time spent fixing confusing errors later.
Our HubSpot Operations Specialists can work with you on advanced field mapping and object customization to prepare for your Salesforce and HubSpot integration.
In cases where both apps have independent values for a single field, you must decide which app has priority and, in turn, which value the installer will keep. At LAIRE, our hands-on approach to integration includes checking that field property types, picklist values, and API names match.
Step 5
Once field mapping is complete, you'll be sent to a page to review your integration settings. Carefully review this page and make any necessary changes. Finally, click Finish Set-up and Begin Syncing. You will automatically redirect to your Salesforce integration settings as the data sync begins.
Step 6
This initial sync will import Hubspot data to Salesforce. To import data from Salesforce to HubSpot, you'll need to use the HubSpot Import Wizard to choose which data you want to bring over.
Step 7
Review all data carefully to resolve sync errors, remove duplicate records, and eliminate any issues between the apps that could lead to data rejection.
Automate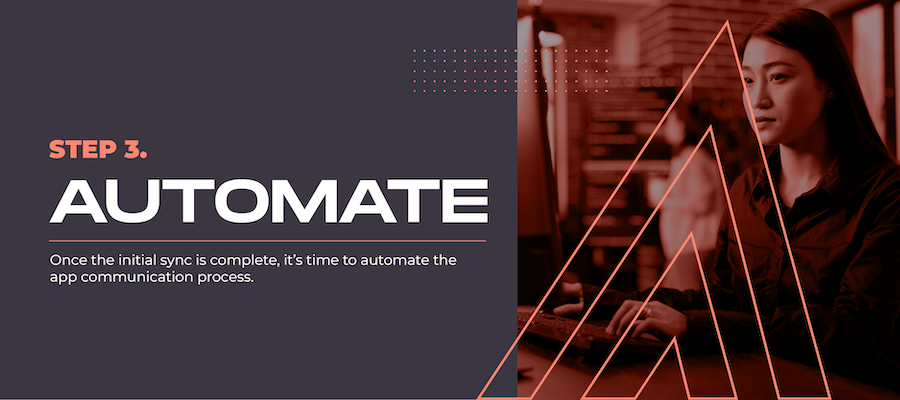 Once the initial sync is complete, it's time to automate the app communication process. You can use workflows and automation tools in both apps to set up rules and triggers to sync selected information between apps automatically.
For example, you can set triggers to automatically sync any lead contact information changes made in one system to the other, reducing manual effort and maintaining consistency across platforms.
Challenges of Integrating Salesforce and Hubspot
When integrating complex systems like HubSpot and Salesforce, it isn't unusual for problems to arise during and after the process. Some common issues include:
Duplicate data: Data duplication is always a problem when syncing two systems. Using deduplication tools makes eliminating or merging duplicate records more efficient, preventing wasted effort.
Field priority issues: Three options exist for setting up field priority. The Prefer Salesforce option means that HubSpot will only import data to Salesforce if the data field is empty. The Always Use Salesforce option ensures that HubSpot data will never pass to Salesforce and that Salesforce data will overwrite any existing HubSpot data. The two-way priority option gives each program equal authority, updating both programs regardless of where the change originates.
Customization issues: If your Salesforce has a lot of custom rules, workflows, data sets, or validations, you must account for these during the integration process. Failure to alter, accommodate, or account for customization can cause data rejection while importing data from HubSpot.
Aside from simple technical difficulties, it can be challenging for a business to determine which data will have the most significant impact when shared between systems. Learning which data to share, how to share it, and who to share it with can take time.
Working with partner organizations, like marketing agencies or consulting firms, with expertise in HubSpot or integration practices can smooth the process.
HubSpot/Salesforce Integration Best Practices
Beginning the Salesforce HubSpot integration process can feel overwhelming, but there are some things you can do to make integration easier:
Understand your sales process: When you deeply understand the sales process, you better understand which data points are most vital to optimizing sales. This knowledge allows you to choose the highest-value data to share across platforms.
Learn the vocabulary: HubSpot and Salesforce use different terminology to refer to similar objects. By taking the time to familiarize yourself with the jargon unique to each platform, you can make the field mapping process more manageable.
Prepare your map: By preparing a field mapping document in advance, you can streamline the integration process. When you know exactly which fields to link and have that information written down in a detailed and organized way, field mapping becomes a matter of clicking the right boxes.
Don't forget to leverage all available expertise. Employees or partners with experience using or integrating Hubspot and Salesforce are valuable resources.
We Can Help You Minimize HubSpot Salesforce Integration Issues
HubSpot Salesforce integration is straightforward, requiring little time or technical expertise. The native integration between the two platforms makes it easy for businesses to use them to create synergy between marketing and sales, forming a feedback loop that supports growth, efficiency, and communication on an organizational level.
To learn more about leveraging all available HubSpot tools, download this free checklist for information on some of our favorite high-performing features.