The LAIRE Digital Marketing service level agreement (SLA) is a dedicated commitment to clients like you to bring forth our best while supporting your goals with effective communication and understanding of expectations.
To help our clients achieve their marketing goals, and to foster a mutually beneficial partnership, we prioritize timely updates, efficient project management, effective communication, and dedicated support for a final product that always "wows". We provide exceptional service, transparency, and efficiency, with clear expectations set forth in the very beginning.
What Is an SLA?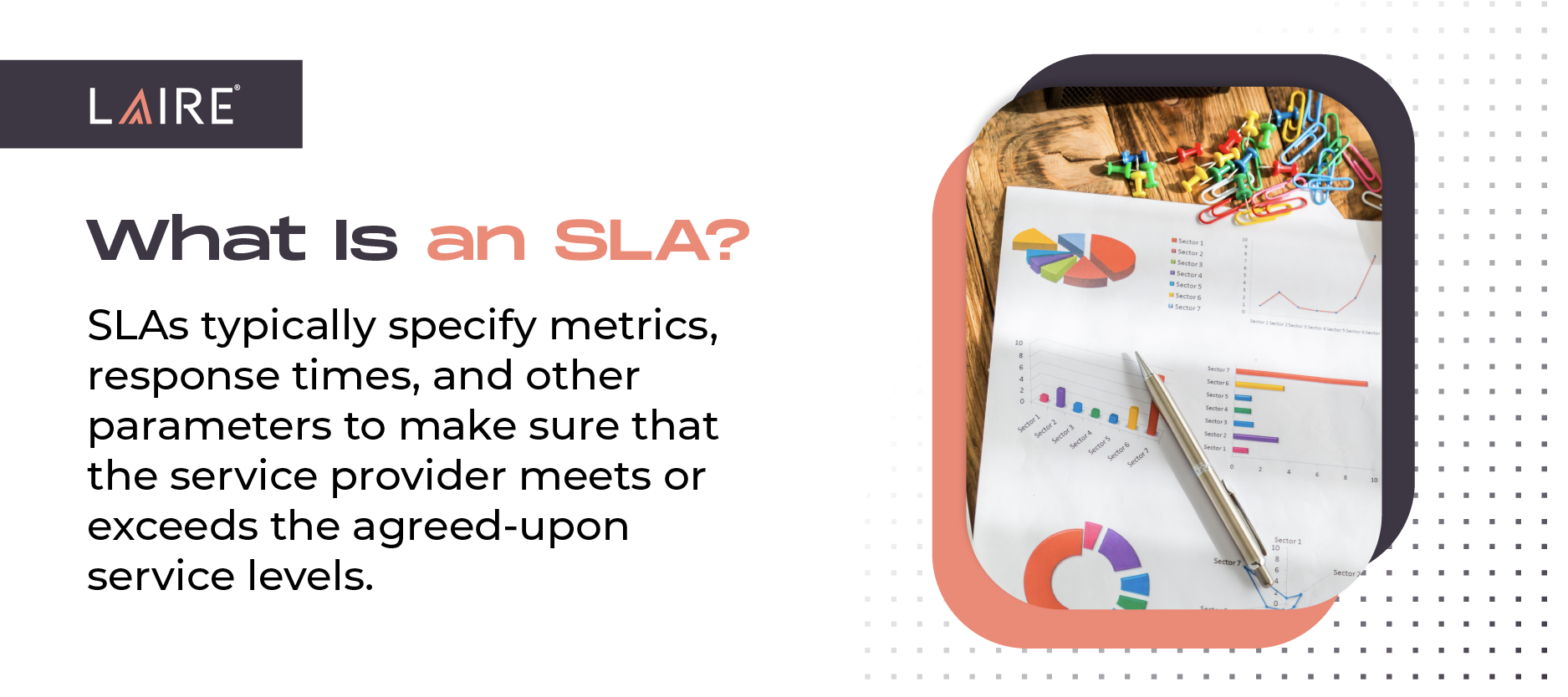 An SLA, which stands for service level agreement, is a formal contract or commitment between a service provider and a customer.
It outlines the terms, conditions, and expectations regarding the level of service that the customer can expect from the provider, and serves as a crucial document in various industries, including finance, construction, and manufacturing, to establish clear benchmarks and standards for performance and quality.
SLAs typically specify metrics, response times, and other parameters to make sure that the service provider meets or exceeds the agreed-upon service levels. This helps to maintain transparency, accountability, and overall customer satisfaction, increasing the likelihood of a long relationship ahead.
What Is a Service Level Agreement for LAIRE?
Since you're now familiar with the framework of an SLA, here's what you can expect when partnering up with LAIRE.
Client Services & Support
Our management structure is designed to ensure a seamless and productive working relationship with our clients.
At the heart of this structure is your dedicated Account Manager or Project Manager, who serves as your primary point of contact. They oversee and coordinate all aspects of your account workload, putting effective communication and timely execution at the forefront of their tasks.
You'll also have access to our entire team, each of whom plays a crucial role in delivering successful outcomes for your projects. Responsiveness is extremely important to us: We reply to calls and emails within one business day and keep you informed about tasks and their progress.
We always offer alternative solutions in case issues arise, and in the rare event of a team member's absence, we'll promptly notify you and provide a replacement contact within our agency to maintain uninterrupted service.
This structure is designed to provide you with the highest level of service, support, and peace of mind as we work together to achieve your goals.
Meetings
To optimize the efficiency of our services and cater to our clients' needs, we offer flexible meeting options.
Scheduled check-in meetings are available through Zoom or phone calls, with in-person meetings considered on a case-by-case basis upon request. This approach ensures that your dedicated Account or Project Manager can allocate more time to actively managing your marketing campaigns rather than spending excessive time on travel.
As a valued client, you can expect a range of support and communication benefits, including scheduled update calls, calendar invites with essential meeting details, easily accessible meeting notes and agendas via Asana project boards, post-meeting recaps, and weekly status reports for major projects.
Additionally, our approach involves quarterly project and account reviews. This helps foster collaboration between our Account Management team and clients to assess past results and strategize on future campaigns.
Should a meeting need to be rescheduled or canceled, we kindly request a minimum of one business day's notice for seamless coordination. To initiate a meeting with your Account or Project Manager, you can reach out via email or utilize the automated meeting link provided to you.
Our goal is to always ensure that meetings are a productive and hassle-free way for us to connect, collaborate, and drive your success.
Communication & Accessibility
Our office operates from Monday to Friday, 8:30 a.m. to 5:00 p.m. ET, giving you dedicated access to our team during these hours.
You'll receive the contact details of your Account or Project Manager and the Director of Client Success during your initial kick-off meeting, providing you with direct points of contact for discussing account progression and addressing any queries you may have.
We recommend designating a primary point of contact within your organization to streamline communications and approvals. This helps to facilitate an efficient flow of information and ensure project timelines are met without any oversight.
To continue, your Asana project management board and email are the preferred methods of communication since these help us keep a clear record of important details about your projects. We are always open to discussing alternative project management tools if there is one that you prefer.
If you have any questions or issues, you have the option to escalate them to the Director of Client Success, who commits to responding within 12 hours. In addition, Todd Laire, CEO and managing partner, is available for contact should any urgent needs come up.
Reporting
As part of your ongoing engagement, you can expect comprehensive updates and reports from your dedicated Account or Project Manager. They'll offer a detailed overview of your marketing efforts and campaigns, including customized analytics dashboards that give you real-time access to track performance.
You will receive weekly reports for short-term projects, monthly reports covering all marketing activities, and a quarterly roadmap to assess outcomes and strategize future goals. These regular updates provide you with transparency and insights into your marketing initiatives, allowing us to make data-driven decisions to optimize your business's success.
Custom Design Requests
Our design services for marketing assets and websites are all specialized and managed by the creative department.
While design is typically included in our planning for deliverables, additional custom or rush design requests do require assessment by the creative team. These specialized requests may require up to two weeks for completion, contingent upon department availability and the specifics of what you need. They also may incur additional fees.
To align with our agency's standards of efficiency and consistency, we only begin design after copy has been approved. Creative execution will align with client brand guidelines where applicable, if a brand guide is given to us.
When initiating a custom design request, you'll be assigned a dedicated account contact within the creative team itself. They'll guide you through the design request process, offering an assessment of the scope, with an estimated timeline and costs before starting.
Generally, for custom design, you can expect two or more concepts, each supported by a strategic and creative rationale, along with two rounds of design revisions for each piece. This approach helps us deliver a more tailored and impactful final product for you.
Project Planning & Scheduling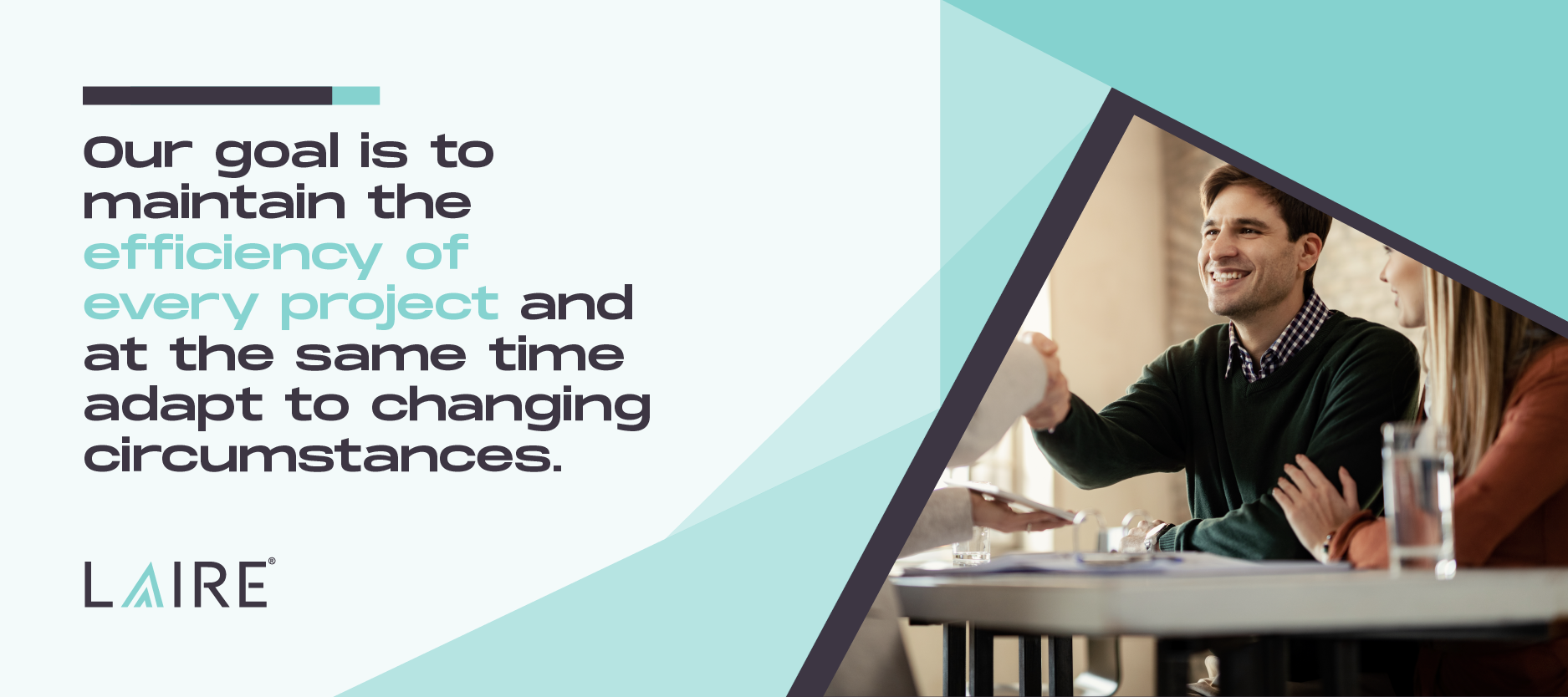 Transparency and effective project management are the pillars that we stand on, which is why we provide a comprehensive timeline with clearly defined milestones at the beginning of each project.
The LAIRE team is committed to meeting every proposed deadline. If unexpected factors do arise, we promise to promptly communicate with you and come up with a revised timeline to ensure that your expectations are met.
If we encounter delays due to a client's failure to provide necessary collateral for a specific milestone, our team may temporarily pause a project until the collateral is received. From there, we will reschedule accordingly and provide adjustments to timelines based on our team's current capacity and other project schedules.
Our goal is to maintain the efficiency of every project and simultaneously adapt to changing circumstances. We aim to always deliver the best possible results with timeliness and communication in mind.
Service Expectations
To provide efficient collaboration and project management, we have established clear guidelines in the following areas:
Client Approvals: Clients are asked to provide feedback on content within the timeframe given by their Account or Project Manager, with a maximum of four business days from the presentation. If more time is needed, clients should request an extension within one business day. Failure to provide feedback within the allotted time will result in the material proceeding for publication. Paid media campaigns have a separate approval process, with no campaign initiation until all necessary approvals are received.
Website Support: Minor website edits typically take three to five days, and we strive to address requests as promptly as possible. Extensive website support, such as new page additions, content audits, or major design changes, will be assessed by your Account Manager, and a timeline and possible project fee will be presented to you.
New Service Implementation: If you decide to expand your marketing or project engagement, please anticipate a one- to three-week timeframe for setup. We use this period for planning deliverables, coordinating team members, and adjusting tools to meet the unique needs of the project.
Payment for Work: Invoices are generally due upon receipt unless otherwise agreed in writing or per a services agreement. If payment is overdue by more than 15 days, all work by the LAIRE team will pause until payment is made.
Additional Expenses: Any costs beyond the client's initial engagement or project scope, such as licensed stock photography or software purchases, will be estimated and presented before work begins. If the project scope changes, the engagement may be adjusted to include new deliverables. Our cost estimates will be determined based on the most suitable supplier for the job, and any changes will be discussed with the client and documented via email. Following approval by the client, we will then issue an invoice.
How Our SLA Benefits YOU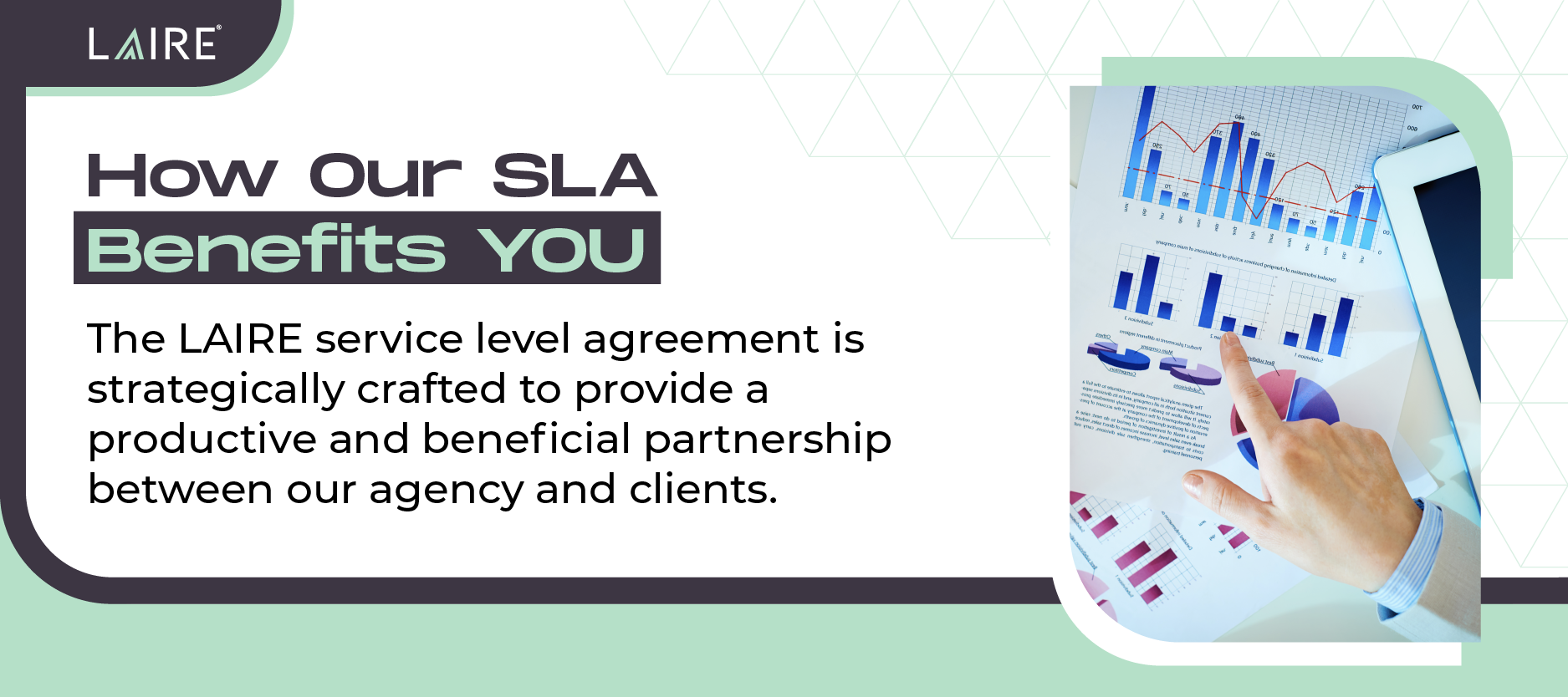 The LAIRE service level agreement is strategically crafted to provide a productive and mutually beneficial partnership between our agency and clients. The foundation of this agreement is set with a commitment to providing exceptional service, transparency, and efficiency, resulting in several key benefits for our clients.
By defining clear expectations and responsibilities, the SLA ensures that clients receive timely updates, regular reports, and a dedicated point of contact within the LAIRE team. It establishes a framework for efficient project management and effective communication, minimizing misunderstandings, delays, and frustration.
This ultimately empowers clients with the tools they need to make informed decisions, helps to streamline their marketing efforts, and supports their business objectives more effectively, while receiving the full support of our experienced and dedicated team. We look forward to working with you and enjoying a successful partnership!
Let LAIRE Bring Your Goals to Life
We aim to cultivate a productive and positive relationship with you. The LAIRE SLA helps us do exactly that.
When both an agency and a client understand what is expected of them, communication clears up and stress levels hit an all-time low. The final product, then, has the freedom to be thoughtfully designed, professionally executed, and delivered in a timely manner.
We're excited about the opportunity to work with new clients and are always open to hearing about new and innovative project ideas. Interested in seeing how we can help you achieve your marketing endeavors? Give our CEO and Co-Founder, Todd Laire, a shout — he'll be happy to hear from you!