Podcasts are a phenomenon in the United States, with no sign of slowing down. Gone is the concept of podcasts being a niche genre of entertainment, it has become one of the biggest markets for advertising. Americans are tuning in every day to listen to entertainment or for their own edification. So, if you ever considered starting a podcast for financial advice, you should consider the necessities for starting. There are a lot of benefits when it comes to starting a podcast, but you should be aware of the particularities of maintaining and hosting a podcast.
Podcasting for Financial Advisors is one of many ways you can enhance your content strategy and overall marketing strategy. In an industry that can often feel cold and lackluster, this form of media can be your chance to shine. You might be asking yourself where to start. This article will be your guide from start to finish, including the equipment you need for what your podcast should be about.
The Podcast Essentials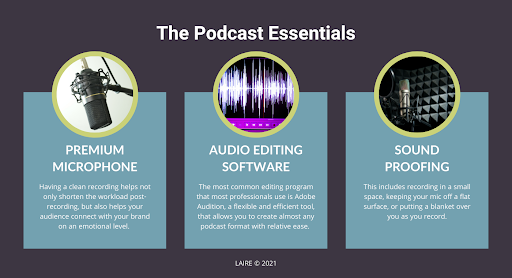 First and foremost, before you even begin writing a script or coming up with topics, you need to have the proper setup to record. Recording equipment, ideal recording space, and a personal touch are all needed for any podcast to be successful. As a financial advisor, you know the benefits of investing. Consider your equipment an investment into your newest form of communication with your potential clients.
Premium Microphone
While you don't have to go for movie-quality sound design, your audience will still expect your voice to be crisp and clear. Having a clean recording helps not only shorten the workload post-recording but also helps your audience connect with your brand on an emotional level.
So don't just buy the first microphone you see or, worse, use your iPhone to record. Study and research what aspect of audio is important to you, and what microphone can help you the most.
Audio Editing Software
One of the biggest mistakes you can make after recording is directly uploading your audio to your RSS (Really Simple Syndicating) feed. No audio is safe from mistakes, and to get the best quality out of any session is to clean it up afterward with professional audio software.
The most common editing program that most professionals use is Adobe Audition, a flexible and efficient tool, that allows you to create almost any podcast format with relative ease. Though if you are looking for something less expensive, Audacity (a free audio editing software) is also seen as viable in getting the best out of your audio.
The amount of editing you want to do is ultimately up to you, as editing does not just mean making sure your audio output is crisp. This also includes any background music or sound effects you wish to use, or filters you wish to place on your voice. So consider how much post-work you will want to be able to do after recording when picking your audio editing software.
Sound Proofing
When was the last time you listened to an entire podcast with an echo? While audio can be cleaned, it can not be fixed. Which makes it all the more important to ensure it comes out decent during the initial recording process.
While not everyone has access to a recording studio, there are a number of home or office remedies one can use to better ensure your audio won't put more work on you. This includes recording in a small space, keeping your mic off a flat surface, or putting a blanket over you as you record.
How to Write a Podcast Script
Now that you have the essentials, you can begin to write your podcast script. Regardless of what format you decide to use for your financial advice podcast, every successful podcast has some form of script used by the host to maintain conversation and interest.
One thing to consider is what you plan on talking about within your podcast. Your audience is most likely looking for expert tips and updates about financial news that will impact them. Try to outline your podcast topics, almost as a table of contents or a glossary, before deciding on the format of your podcast. This will be a big help in determining if the majority of your podcasts will be more traditional and educational, or if your podcasts warrant additional people and experts to weigh in with their advice.
Informative
Often used for Lecture or News podcasts, this is the podcast used to get information as direct and efficiently as possible. Usually done by a singular host, the audience for this genre will expect information to be truthful and heavily researched with facts and citations.
In financial advising, this variety of podcasts can be used to help educate your potential clients on the benefits of partnering with a financial advisor. This can also be a place where you can bring your other content assets to life. Maybe you have a blog about student loan forbearance that is rather technical, adding in a podcast can help supplement your audience's understanding of the subject with actual dialogue, instead of words through a computer screen.
Scripts will pertain to topics at hand and should give off a feeling of listening to your favorite professor at college. Post-editing will also be minor, as the audience is not expecting highly edited audio. Rather just clean audio with a clear output to minimize distractions.
Discussion
As a Financial Advisor, you have a host of opportunities to bring in experts, existing clients, partners, and pro investors who can provide depth and additional knowledge on your topics. Enter the discussion format. Discussion formats can also be seen as more casual by your audience. While finances are certainly not something to joke about, the discussion format can help your audience relax, get to know your personality, and improve your chances of establishing a relationship with a new client.
In this format, you'll have the opportunity to bring in additional people that are experts in a specific topic. Going back to our earlier student loan forbearance topic, you might decide to bring in an individual that currently works within a student loan office or has been working on student loan policy. These experts can help boost the credibility of your financial advising podcast, while also peaking interest from your listeners.
The audience will expect the discussion to be as natural as any conversation they would have, and wish to be enlightened by this information naturally. As such, your script and editing should reflect that. Scripts should be minor, in only providing a template of topics or course of conversation.
Unsure of what to talk about? That's okay! Financial advising, as you know, has many avenues you can take. Start with your best-performing blogs and premium content pieces, there might be overarching themes or topics that you can expand upon or explain in a different way through podcasting.
To get you started, here are 6 topics we think would make a great financially-focused podcast: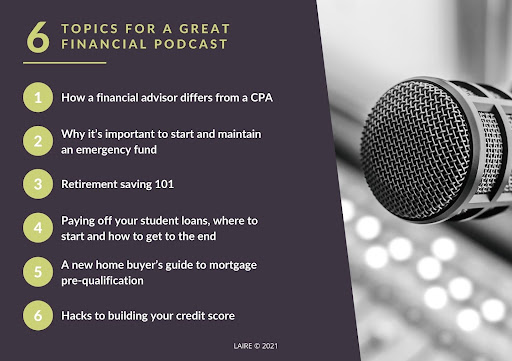 How a financial advisor differs from a CPA
Why it's important to start and maintain an emergency fund
Retirement saving 101
Paying off your student loans, where to start, and how to get to the end
A new home buyer's guide to mortgage pre-qualification
Hacks to building your credit score
Some of these topics you are probably familiar with and could create a standout podcast on your own. Others might require an additional speaker or voice to truly drive home the main points. Get creative! Let your personality show! You're the expert panel, and your audience wants to hear all of the insider information that the general public may not know.
Reaching Your Audience
After you are done recording and editing you have a solid final product, now all that is left to do is send it out to the masses. But with over half a million active podcasts creating their own content, right now, how does one stand out amongst the crowd?
One of the best parts about creating podcasts and successfully marketing them is that you can brand your content to ensure it is reaching the right people in the right niche. Luckily for you, you already know your audience through the use of your buyer personas. The people you need to understand are those who are looking to learn more about your financial advising and planning services, or finances in general. Your audience is hungry for knowledge, and your podcast will be the ultimate resource in answering their questions.
First and foremost, you'll want to market your podcast before launch. Companies don't launch products without any fanfare or campaign in place to get the word out. Neither should your podcast. Go through your preexisting social media accounts, websites, or other owned media and let people know about your new resource. If your podcast correlates with a blog, be sure to embed it onto your article page so your viewers can easily access it.
One way you can help improve the overall reaction to your new media is by giving your podcast entrancing thumbnails, making your titles intriguing, and ensuring your descriptions are search engine optimized. Do not be afraid to draw attention to yourself, establish yourself as a reliable resource, and let your audience know what they can expect before clicking play.
Just remember, creating a podcast is hard work, and maintaining one is even harder. It's not an afterthought, it will be something you will have to continuously manage and monitor, with an audience who will always hunger for another episode. Many agencies out there specialize in podcast marketing. By partnering with a digital agency, you'll have experts to help guide you through the process and ensure your podcast performs well.
The connection you are able to create through a podcast is unrivaled by any media. It's a large market, with the freedom to create your own content your way. So get creative, and be closer to your audience than ever before.