The bulk of financial services have moved online - and there's no reason that this will slow down anytime soon, especially in a post-pandemic age. Traditional methods of finding and retaining investors or clients that will impact your bottom line are fading away. Many in the financial services industry are considering ways to incorporate inbound marketing strategies to see reliable and sustainable revenue growth. Beyond that, leaders in the industry are noticing a need to pivot to differentiate their businesses from competitors.
A question we often encounter from our experience with clients in this space has to do with referral traffic. In a business environment that thrives on word-of-mouth and positive customer experience, it's easy to question the long-term value that a digital strategy would bring. The point of a referral is a customer, right? We can all agree on that. No matter the industry, a referral is considered a warm lead that you want to nurture in the right way, to win their business at the right time. Let's break down the key differentiators between inbound referrals and outbound referrals to help you make an educated decision about your next strategic move.
Inbound Referral Traffic
You may recall this familiar quote from the classic 1989 film, "Field of Dreams": "If you build it, they will come." The saying provides context for our brief lesson in inbound marketing. Quite simply, inbound marketing allows your business and services to be found online by people that are already searching for something particular. They have a need that needs to be met, they are seeking help for that need, they do a quick search and find you - and voilà - the people come to you! That's the hope anyway. By attracting your audiences through valuable and engaging content tailored to their needs and pain points, you can ensure that these information-seekers will find you.
Inbound referrals are going to be your most qualified leads, with much higher conversion rates than outbound methods. The opportunity to be found online while someone is already searching for your expertise, can establish trust and set you apart as a thought-leader or expert to those who may have never heard of you otherwise. Consider this example:
A new Doctor has recently graduated from medical school and is faced with the harsh reality of student loan debt welcoming him to his new career. Where does he start? With a quick Google search for something like 'financial planning for physicians' or 'medical student loan consulting', the MD will be exposed to numerous options in Google just waiting to receive a click. In this example, our client, Spaugh Dameron Tenny would be a perfect candidate for this physician's business. They have sprinkled these keywords throughout their website and are writing supporting blog topics that establish credibility to earn the trust of this information-seeker.
There are two main ways that you'll receive inbound referral traffic as a professional in the financial services space:
Someone was looking for your services and found you organically (similar to the example above) and chose to willingly contact you
Someone was convinced by a friend that they needed your services due to a positive experience they may have had with your firm
These inbound referrals should not be overlooked! The commonalities in these two instances is that trust is involved. Either you've established trust by providing helpful, valuable information that answers their questions or speaks to their pain points through solid content efforts - or - you've earned the trust of one of your current clients who has so much faith in you and in the experience you've provided that they've decided to recommend you to a friend or family member.
Outbound Referral Traffic
Now, that we've unpacked inbound referral traffic, let's look at the competing view on outbound referrals. Think of outbound marketing as your traditional advertising methods. Some may even use the term 'interruption marketing' in conjunction with outbound marketing methods. This outreach was unsolicited and unexpected. Outbound referrals are only slightly better than an average lead, but nowhere as warm or qualified as a referral won from an inbound marketing strategy.
Whereas inbound referral traffic is more of an organic pull, outbound referrals are received through a weighty push. These individuals weren't expecting to hear from you. This method involves a large ask on your part, with a lot of your time and effort involved, and often hefty marketing spend behind it. At the start of an outbound lead conversation, there is little to no trust established between you and the prospect.
Can outbound methods work to capitalize on referral traffic and win the business of a lead? Absolutely! But understand that not all referrals are created equally. Outbound referrals are not ineffective, you may just have a few extra steps involved to qualify the individual and understand how your financial services can help them.
How Do I Get an Inbound Referral?
The process of inbound lead generation will not happen overnight. It's more likely that you'll have about a 3 to 6 month period of ramp-up time before you start seeing results. Also keep in mind, that you're not the only financial service provider that can satisfy the needs of an investor. Realistically, your potential clients can go to another private lending firm and find a solution. Yet - if you've received a referral through inbound traffic, you've in theory already been chosen by this individual having contacted you. This choice that has been made can speed up the sales cycle for you because this lead is far more qualified in their buyer's journey. So, how do you get started with inbound referrals? Great question!
Start by delighting your current customers and engaging with your current audiences by producing valuable content consistently that they will love to consume. Blog regularly and create resources on your website that are focused on the needs and challenges of your personas. Landing on your site is the first part, but providing an enticing offer that makes them want to submit their information for a gated piece of content will push them even further down the pipeline. Gated pieces of content can also be referred to as lead magnets, and are often seen as guides, eBooks, videos, checklists, whitepapers, webinars, demos, etc.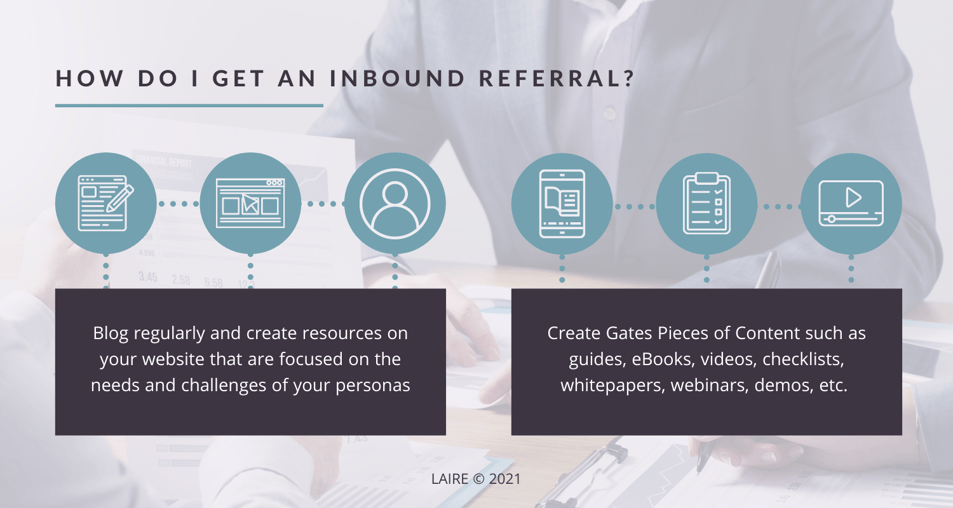 Fueling Revenue Growth with Inbound Marketing for Financial Services
We understand that a referral is not the only way to grow your business. Inbound referral traffic is simply one component of a larger sales strategy and marketing plan that can seem extremely daunting to take on solo. Your financial institution should be considering how to combat against the disruptive fintech trends in the industry if you're not already. The marketplace waits and slows for no one. More than likely, the winner of the search results race, will also win the business.
LAIRE is a digital growth agency that understands the financial services industry, from commercial finance, private money lending, accounting, and bank marketing. We've got you and your clients covered. Our team of experts are armed with the best tools to generate qualified leads through inbound marketing. Together we can close your warm inbound referrals into sustainable revenue for your business. To find out how we helped a financial planning firm increase their conversion rate by 1180% in one year, check out our case study below.