Let's be honest - there's a lot of bad marketing out there. Annoying pop-up ads, low-quality, uninspiring videos, and persistent sales emails that clog up your spam folder (to name a few). And bad news for the companies that are missing the mark on these inbound marketing tactics - their strategy isn't working.
It goes without saying - you don't want to follow the same missteps for your business, right? You want your inbound marketing strategy to be top-notch, boost website traffic and get more leads. That's why we've done a little research and outlined some inbound marketing examples that could use a little help. We'll tell you where they went wrong and what they should have done differently for success. That way, you can learn from their mistakes and get the amazing results you're hoping for from your own inbound marketing tactics!
Example #1: Lackluster Landing Page Design by RoomKey PMS
The landing page below checks a lot of boxes for proper landing page design.
There's a headline on the page
The text explains what information you can expect from the content offer
A relevant picture is included
There is a form to capture lead information
Now, let's take a closer look at the landing page and see what RoomKey PMS could have done differently to turn this inbound marketing example into a big success.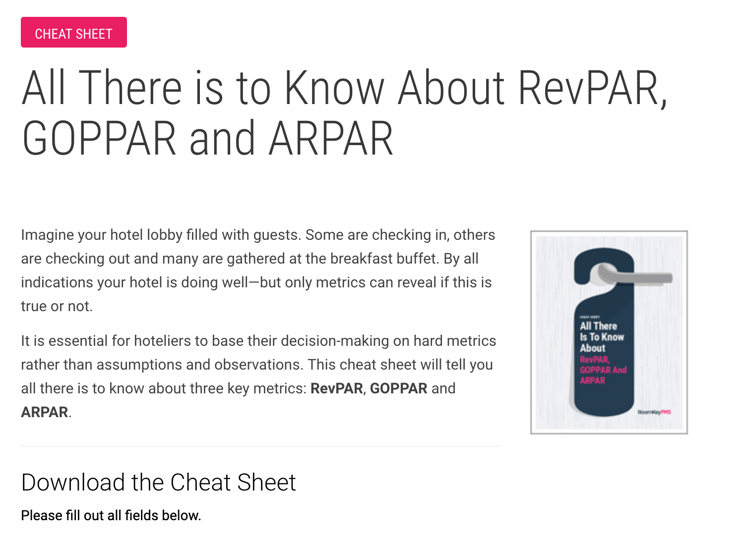 What went wrong?
There are several issues on this landing page. (No offense RoomKey PMS...)
Use of industry acronyms - RevPAR, GOPPAR and ARPAR. Unless you're 110% sure that your audience is well-versed in your industry acronyms, don't use them. Otherwise, you risk losing potential leads due to the simple fact that you've confused them and created a negative user experience. Yes, the cheat sheet RoomKey PMS is offering appears that it will give more information, but you have to convince the audience that they need it first, and confusing them isn't the way to do that.
A teeny-tiny image that isn't attention-grabbing - A single small image on a landing page won't grab a website visitor's attention. And the one RoomKey PMS has chosen leaves visitors straining to see what it is and what it says. Again, this creates a negative user experience.
Lack of "you" statements where it matters - Yes, the text on this landing page has the words "you" and "yours" in the body paragraphs, but they are missing from the headline and call-to-action.
What they should've done differently:
Spell out acronyms and define any other industry terminology.
Include an interesting and engaging banner image at the top of the landing page to grab the attention of website visitors.
Include "you" statements in the headline and call-to-action. That way, users feel like you're talking directly to them and this content offer is for them. We've found that this best practice increases the average number of downloads.
Example #2: "Why Should I Care?" Email Marketing from FYE
Have you ever gotten an email from a company and thought to yourself, "Why should I care?", then promptly disregarded it completely? We've pretty much all been there. This email from FYE is the perfect example.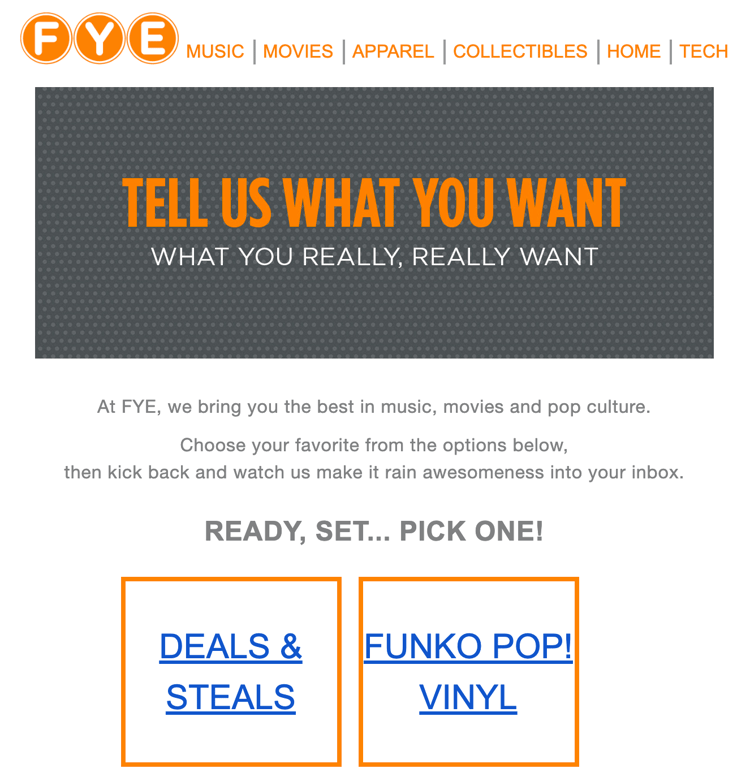 What went wrong?
The first rule of email marketing is - you never speak about email marketing. Just kidding; that's Fight Club. 😜 The actual first rule of email marketing is to always provide value. And that's where FYE has gone wrong here.
This email includes a 15% off coupon for selecting your favorite option from the list they've included. Here's the thing... Do you see anything about a 15% off coupon? Nope. Email recipients have to scroll a while to find it. Instead, FYE started with a call-to-action at the top and pretty much immediately jumped into the action. Where's the value? "...watch us rain awesomeness into your inbox" is simply too vague.
FYE's email is also not super visually-appealing with big blue links and lots of all-caps. All of these missteps together is what made this email land a spot on our list of inbound marketing examples gone wrong.
What they should've done differently:
To make this email really successful, FYE could have done the following -
Change the text in the header image to read: "Tell us what you want, what you really really want, and get 15% off your next purchase". Long? Yes. More effective? Definitely, because this reveals the value right away.
Redesign the buttons to be more visually appealing. A visually appealing email improves the overall user experience and can make your email appear more professional and reliable. After all, there's a lot of spam out there in the email universe. Make sure yours doesn't look like just another piece of spam.
Only use all-caps when it makes sense. The overuse of all-caps is off-putting and can negatively impact the perception of your message. So, use all-caps in your email marketing messages sparingly.
Example #3: Uninspiring Video Marketing from S&D Coffee
This NC coffee and tea company is trying its hand at video marketing, which many of us know is an inbound marketing strategy that has huge potential for improving brand awareness, providing value for ideal clients, and boosting engagement online. Having video content ready for consumption is better than none at all in many cases, but this Teafinity video falls a little flat.
What went wrong?
There's a lot that goes into an amazing, engaging video. Unfortunately, this video from S&D Coffee is missing some of the key components.
The video length is too long. At over two minutes, this video will lose most people's attention before reaching the end. Today, especially on social media, the majority of folks online are constantly scrolling through content until something catches their attention. Then, it's a countdown until they continue to scroll. 30 seconds is the sweet spot for most videos. If you don't prove your video's value before then, you'll probably fall victim to the scroll. In S&D's video, the value isn't even mentioned until 40 seconds in. That means, most viewers have already moved on.

The production quality is questionable.

Although S&D Coffee incorporated some animations, images, and demonstrations, the end result comes across as low-quality and pretty cheesy. Here's the thing - successful video marketing doesn't require a whole production crew, scriptwriters, and professional video editors. Cell phones today can capture decent quality content. And with a little lighting, some storytelling marketing best practices, and a low-cost video editing tool (like Camtasia or Biteable), you can create some stellar video content that looks great and gets results.

No clear call-to-action at the end.

Don't assume your target audience will watch the video and automatically do what you want them to, whether it's signing up for a free trial or visiting a page on the website. Having a clear call-to-action can improve the chance that viewers will take the right next steps.
What they should've done differently:
To improve this video, S&D Coffee should make the following changes:
Shorten the video and highlight the value before the 30-second mark.
Rework the video to look visually up-to-date using basic video tools, which could include a smartphone, simple lighting, and an online video editor.
Add a clear call-to-action.
Example #4: Self-Serving Blog Article from Air Today LLC
Blogging is key for driving traffic to your company's website and boosting SEO rankings. A general rule-of-thumb for a great blog is (similar to other inbound marketing tactics) to provide value for your target audience. That's where this blog from Air Today LLC could use a little help.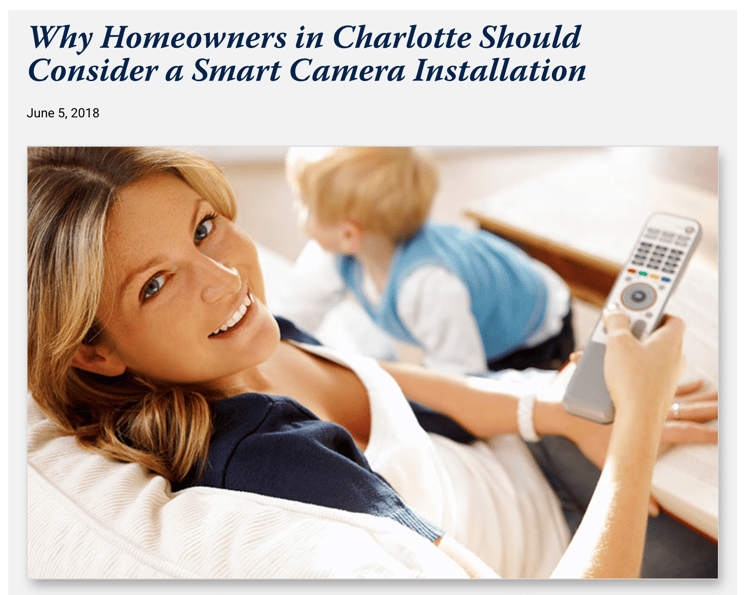 What went wrong?
Instead of writing the blog with the goal of providing valuable content, Air Today LLC is promoting one of their services, which is a common blogging fail we've seen time and time again. This type of content should live on the website page that is dedicated to smart camera installation.
As a blog, this content comes across as self-promoting and probably won't get great results. Not exactly ideal, right?
What they should've done differently:
For this blog to be more successful, Air Today LLC could have taken a different approach and answered a commonly asked question related to the product. For instance, let's say multiple potential customers ask about the difference between smart cameras and regular security cameras. The blog topic could then be "Smart Camera vs. Security Camera: What's the Difference?".
Additionally, if your sales team is getting these questions frequently, most likely, people are searching for this content on Google as well. By answering those questions in blogs, your chances of being found in search results seriously improve.
Example #5: Long Form, Short Content Offer from Salesforce
Salesforce releases tons of fantastic content! And this content offer landing page does a lot right. It's visually-interesting, explains what the content offer includes, and drives website visitors to fill out the form. However, they missed a very important inbound marketing best practice.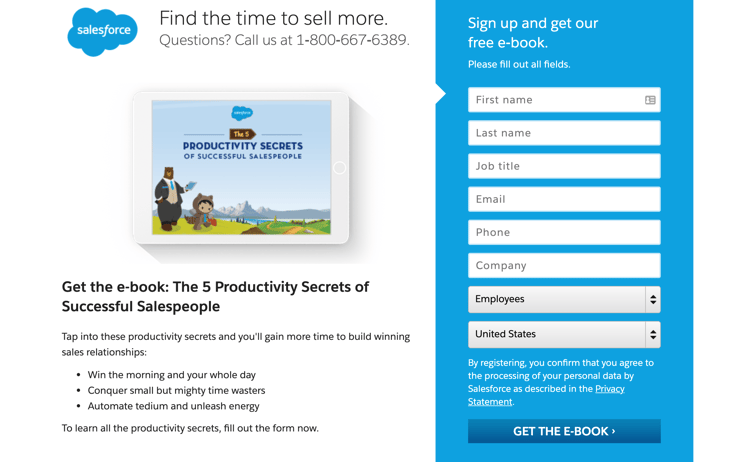 What went wrong?
A good rule-of-thumb for gated content offers is to have the form reflect the level of value for the offer itself. In this case, the form is pretty lengthy, but from the user's perspective, all they will get out of this e-Book is "five secrets of successful salespeople". Does that attribute to eight fields to fill-out on a form? Maybe not.
What they should've done differently:
Instead of asking website visitors to fill-out such a long form before being able to download this seemingly small offer, consider a shorter form that only requires basic information - first name, last name, email, and maybe one other field (like company name). The more valuable the content, the longer the form can be. Reason being - people feel more willing to give out their information if the value is perceived to be higher.
In this case, although Salesforce's e-Book is actually 22 pages long, and is probably chock-full of helpful information, it isn't reflective in the title and description and could limit the number of total downloads. A shorter form could help improve results.
We've now reviewed five inbound marketing examples gone bad, from landing pages and blogging to email marketing and video. You've probably heard the phrase - "Mistakes are stepping stones to success". Learn from these mistakes and implement the best practices to boost your inbound marketing game and get results.
Looking for more inbound marketing tips? Grab your copy of our free checklist to find out what's missing in your current strategy.