Creativity is essential to produce innovative and attention-grabbing marketing campaigns that stand out from the competition. At the same time, strategy is necessary to ensure that marketing efforts are effective in achieving business goals.
Balancing these two elements is challenging but essential for any marketing campaign to succeed. This is often easier said than done, however. Many times, instead of working together, creativity and strategy are at odds.
So, how do you bridge the gap?
Understanding the Dynamic Between Creative vs Strategy
Creativity in marketing involves thinking outside the box and producing something that captures the attention of the target audience. This can include writing unique content, utilizing unconventional mediums, or crafting an engaging narrative.
However, creativity alone is not enough to implement a successful marketing campaign — it's essential to strike a balance between creativity and strategy.
Marketing strategy requires data analysis, market research, and a thorough understanding of your industry and the competition to help ensure that creative efforts aren't wasted on the wrong audience or ineffective channels.
Too much focus on creativity without a solid strategy can result in a campaign that is visually appealing but ineffective in achieving business goals. However, too much focus on strategy without creativity can lead to a campaign that is uninspiring and fails to resonate with the reader or viewer.
How to Balance Creativity and Strategy in Marketing
Creativity is necessary to capture the audience's attention. Strategy is required to ensure alignment with company goals and connection with the intended audience. How can marketing teams find a happy medium?
Through our work with hundreds of clients — spanning industries as diverse as biotechnology and software to construction and manufacturing — we've identified three keys to balancing creativity and marketing strategy.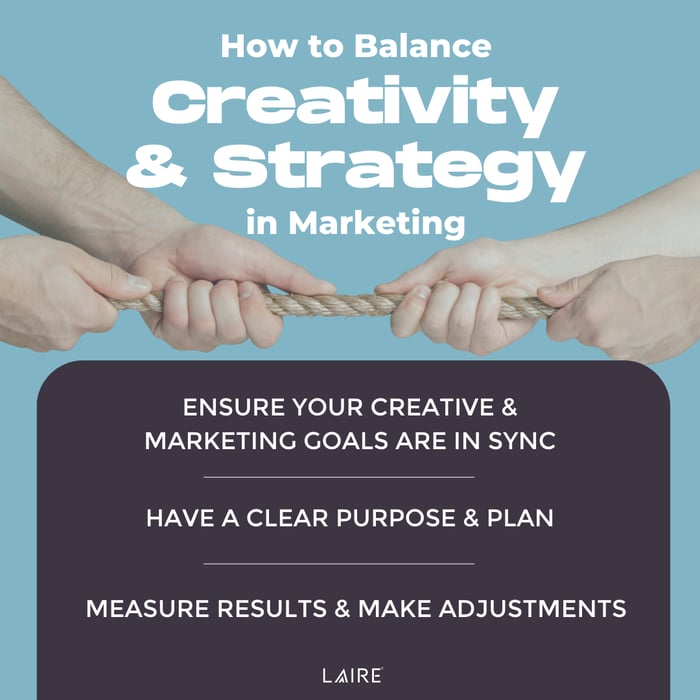 1. Ensure Your Creative and Marketing Goals Are in Sync
In order for creativity and strategy to work together in harmony, your creative and marketing goals must be aligned. One of the best ways to make this happen is with consistent communication.
Marketing teams need a designated time set aside to listen to each other, preferably in regularly scheduled meetings each week. A structure should be created for these meetings that will allow both strategists and creatives to understand the other's current goals and priorities, offer any applicable feedback, and gain clarification.
Building on communication, your team must also collaborate. Take advantage of martech (marketing technology) tools that enhance collaboration efforts, especially in remote or hybrid organizations. Some of our favorites are HubSpot, Canva, Slack, and Zoom, just to name a few. Most of these collaborative tools offer free or low-cost versions, giving your team the ability to experiment and discover what works best for their needs.
Your team's commitment to the company and to each other is crucial for increasing productivity, profitability, retention rates, and innovation. The most successful companies invest time and money into developing this internal commitment among their employees.
Here at LAIRE, we use Officevibe to deliver anonymous employee surveys, measure team engagement, and give our team the ability to send shoutouts to each other, strengthening relationships and commitment levels.
2. Have a Clear Purpose and Plan
A beautiful digital ad or high-quality video won't do you much good if it never crosses paths with the appropriate audience. To ensure your creative efforts deliver the right message to the right people, each member of your team must be crystal clear on the campaign goals — and the path to get there.
For example, say your company just dropped a few thousand bucks on a professionally-made promotional video for a new service you're offering. You upload the video to YouTube and wait for the leads to start pouring in. Unfortunately, the new customers never come… because they never saw your awesome video.
Or maybe you're a little more seasoned and you share the video to your company's LinkedIn account. You get a handful of views, but they're mostly from employees and industry peers, and your target audience still has no idea about this great new service that would actually be really valuable to them.
This all might sound dramatic, but if you don't begin every creative project with a clear understanding of who the message is for and how it will get to them, these great ideas will ultimately go to waste.
To help ensure your creative assets reach the people most likely to engage with and act on them, it may be time to revisit and update your buyer personas.
3. Measure Results and Make Adjustments
Testing and iteration are key to finding the optimal balance between creativity and strategy.
Marketers should test their creative initiatives against the company's objectives and target audience, and iterate based on feedback to optimize performance and deliver the desired results. A/B testing, for example, can be used to compare the performance of different creative concepts or messaging.
Measuring the success of a marketing campaign against the defined business objectives is critical for ensuring that the balance between creativity and strategy is effective.
Key metrics that can be used to measure success include engagement rates, conversion rates, and return on investment (ROI). All in all, measuring results helps marketers identify what worked and what didn't so they can refine their strategies and creative efforts and make adjustments for future campaigns.
Strike the Right Balance
Through improved communication and collaboration, clearly defined campaign goals, and learning from past performance, the love-hate relationship between creativity and marketing strategy can become a love-love relationship, which is a win-win for everyone.
Need help striking the right balance? Our Growth-Driven Design eBook is packed with helpful tips to ensure your website is the perfect blend of eye-catching creativity and effective marketing strategy. Download your copy now.