What have we learned about content marketing in the past year? If you build it, they will come... sometimes... but not always. Not very definitive, we know. There's a myth that content marketing stops when you hit the publish button on a blog or link your eBook to a CTA. But your content marketing doesn't stop once you've written a certain number of words.
Getting Back to the Basics: Inbound Content Marketing
With all of the cool new tools HubSpot and other marketing automation systems are giving us, it's easy to get distracted from the foundation of content those tools rely on. With on-page pop-ups, automated workflows, CRM management, and more, you could spend 24 hours a day learning and implementing all of the higher-level software features. But what is the reason we all adopted Inbound Marketing? Content that helps generate results from leads to sales opportunities to traffic to your website... it all leads back to content.
We create targeted personas, research keywords, and build websites with intriguing conversion points for all of our content.
Now, this isn't to say that we don't use (and love) marketing automation, lead nurturing campaigns, integrated Facebook ads, and HubSpot's sales and marketing tools. We do, but this past year we learned that without helpful content on our clients' websites, all of the other tools and efforts are for naught. But it's a double-edged sword.
Don't Assume That Your Visitors Will See Your Content
Even if you are the best SEO expert... Even if your writing is so compelling it makes people cry, laugh, and smile... Even if your blog has amazing graphics and illustrations... Hitting that publish button isn't enough.
If you've been marketing for a while, you may take your contact list, Facebook following, and high traffic volume for granted. You can post a blog and send the RSS email to the many contacts in your lists. You can post a link to that blog on social media so your followers and friends can click through to your website. But consider a new company or a new Inbound company. If you just started blogging, and everyone is telling you, "blog and they will come" you would get very frustrated when the visitors don't start piling in to see your content. This isn't to say your blog won't help you gain that strong organic traffic that Google demands; it will. But that cannot be your only strategy.
You need a MAP - Marketing Action Plan by LAIRE®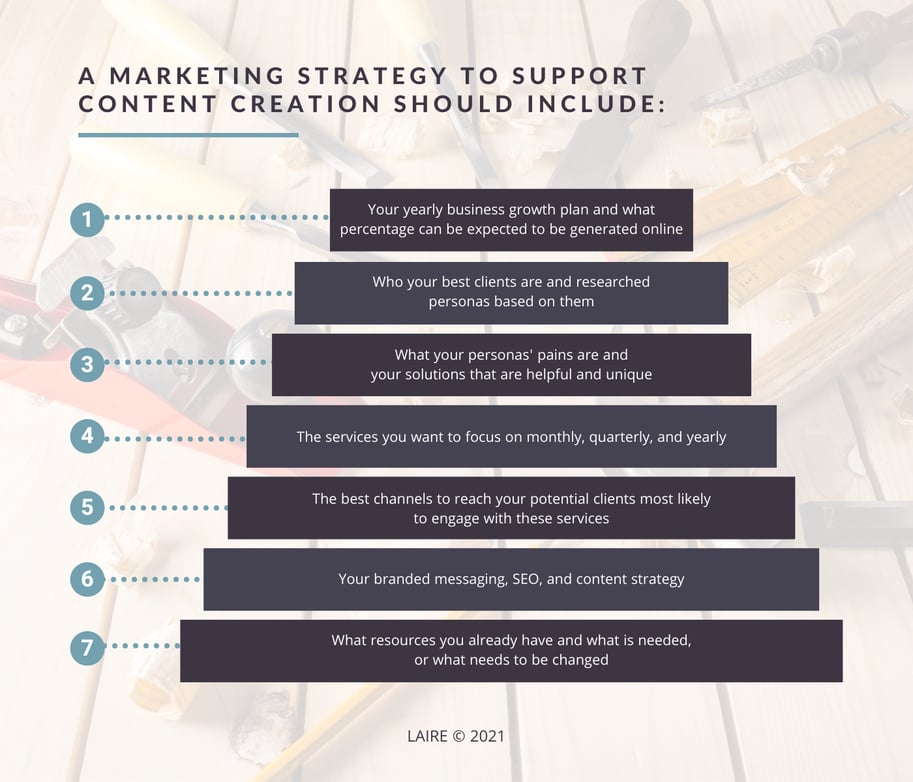 We think about our Inbound strategies like a pyramid. Your foundation is your marketing strategy (what we call a Digital Growth MAP) that includes your plan for growth:
Your overall business growth plan yearly and what percent we can expect to influence online
Who your best clients are and researched personas based on them
What your personas' pains are and your solutions that are helpful and unique
What services do you want to focus on monthly, quarterly, and yearly
The best channels we can use as marketers to reach your potential clients most likely to engage with these services
Your branded messaging, SEO, and content strategy
What resources you already have, and what is needed or what needs to be changed
With all of those things, you have a strong foundation that supports everything you create.
Next, focus on your website copy and content creation.
Marketing Strategy to Support Your Website and Blog Content
Now that you have such a thorough foundation for your marketing efforts, you can start creating.
This year, we conquered the quantity vs quality battle we were having both internally and with our clients. We kept seeing brands with small teams putting out double or triple the content we were... but how?! With our focus being on premium quality content, we were spending more time creating blogs and conversion offers that ended up being too high level for some of our personas.
Don't forget about the TOFu peeps.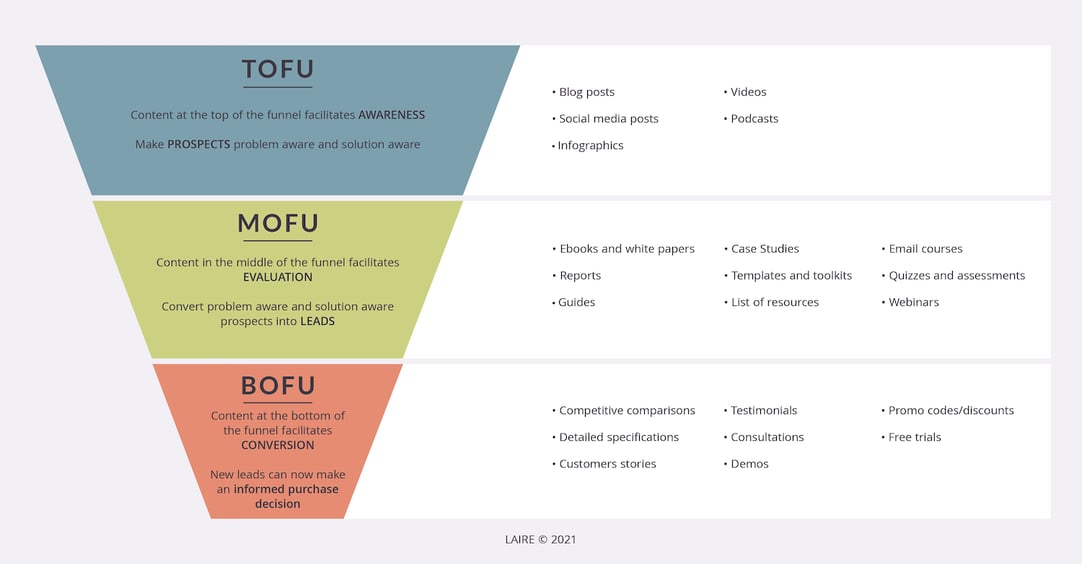 At the top-of-the-funnel, affectionately known as "TOFu", content is geared towards providing helpful information to people looking to get more information about a problem they are having. This is the first content a lead will see once they've entered your sales funnel.
Not every blog or offer has to satisfy all personas at all stages of the buyer's journey from awareness to consideration to decision. Some of your readers will really appreciate the basics. Others will want to know the nitty-gritty of topics. This is where our content plans started to evolve. Our idea: start with a "Top Things [YOUR PERSONA] Needs to Know About [XYZ]" blog. Then gradually break out each "thing" as its own blog. You don't have to write a novel about each topic in the initial list but it helps you organize your content strategy further, and helps move people down your funnel.
Truly focusing on content for all stages of the buyer's journey gives you all of the tools you need to market the services you outlined in your marketing strategy.
That leads us to the last piece of this puzzle, which coincidentally completes a huge circle. Like everything in Inbound, content marketing is cyclical. This is where we get back to the tools our marketing automation systems and social media accounts have bestowed on us.
Use Your Channels to Drive Traffic to Your Website
Your awesome content cannot stand alone. Once you have a strong foundation of helpful and relevant content, it can be supported by your emails, ads, and more. When your active marketing efforts are supported by relevant content, the entire campaign provides more value to your prospects and helps convert more of them into leads.
Isn't the whole point of this content marketing stuff to provide value and set yourself apart from the other guys?
When all of the pieces of your marketing plan work together, you'll see more traffic to your website, more conversions, and more qualified leads. We promise all of the hard work will pay off.
Needing additional help getting your content marketing plan the lift it needs? Content marketing is at LAIRE's core. Download our free content marketing workbook to begin delivering the content your customers want to see!
---