​​Inbound marketing and account-based marketing are two of the many marketing processes that help shape a digital marketing strategy. How do you know which methodology is right for you? Better yet, which combination of tactics can bring your business results? This article dives into the differences between inbound marketing and account-based marketing (ABM).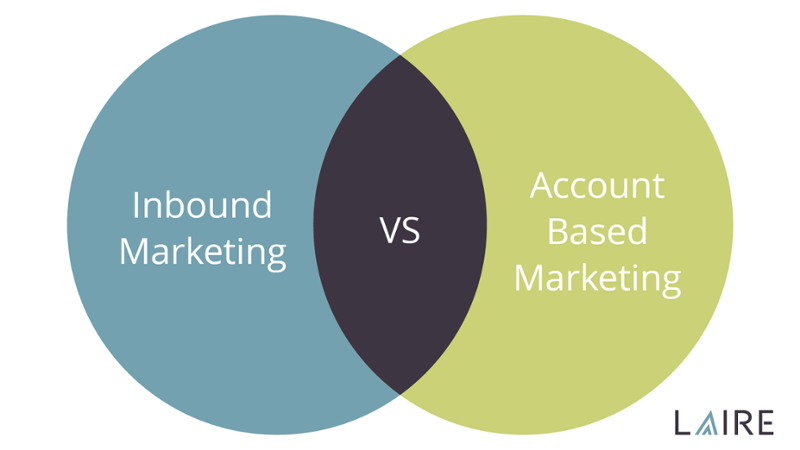 While both account-based marketing (ABM) and inbound marketing each have their advantages and disadvantages, it's important to structure your marketing strategy based solely on your business needs, customer pain points, and desires. At LAIRE, we help our clients create a custom approach that meets their needs. In some cases that have rooted in account-based marketing while other times it may be more inbound heavy. Our most successful partnerships often include both inbound marketing and account-based marketing.
What is Account-Based Marketing?
Account-based marketing, often referred to as ABM, is an outbound marketing process populated by B2B companies who want to find and reach specific accounts they know would be a great fit to service. In B2B companies, you almost always need to reach an entire buying team to make a decision rather than a single lead. It's not called business-to-lead, it's called business-to-business for a reason.
Each person on the buying team has different pains and needs. ABM enables you to center your marketing, and sales efforts around an account to deepen relationships with personal information, for the right people, at the right times. At the end of the day, whether you're dealing with the CEO, CMO, COO, or the CFO there is going to be one common theme: Revenue.
The first step in an account-based marketing approach is to identify your target accounts and then find the right people to approach with your customized, personable message tailored to solving their pain points or presenting them with an opportunity. You will need to do extensive research on each of the accounts, and the potential decision-makers or gatekeepers. This allows you to craft personalized messages and stand out from other vendors that are just sending their elevator pitches.
Should you invest in account-based marketing rather than inbound marketing or lead-centric marketing?
Benefits of Account-Based Marketing:
Focus your efforts on a much more targeted level, allowing you to have more control of the leads you bring in. Inbound marketing works to fill all levels of your funnel. Not all prospects will be a good fit for your product or services. However, the more specific your content is to

your buyer persona

, the more success you will have with your organic lead generation.
ABM allows you to monitor an account's level of engagement rather than a single lead in the buyer's journey. By doing so, you can track the number of leads in an account and what their activity is, helping you determine which accounts are a priority. Essentially, you're working for a conversation with a company as opposed to someone with a specific job role.
It helps you look at the entire account as a whole and then determine a strategy that resonates with them. This is especially important if you have large deal sizes. Why? There's nothing worse than getting an email that you can tell was sent to hundreds of other people
It can help you synchronize interactions and deliver consistent messages between members in an entire account - essentially speeding up the sales process because you will identify each person's pain points.
What is Inbound Marketing?
Inbound marketing is the process of creating valuable content, attracting prospects where they are searching online, turning them into leads, and then nurturing them down the buyer's journey. Rather than focusing on specific accounts, inbound surfaces relevant and helpful information to the people who are looking for it. At its core, inbound marketing is just another word for content marketing. Really good content marketing.
Let's just pretend you're the CEO of a manufacturing company. Not just any manufacturer, you manufacture custom ladders that help airline companies work on their airplanes safely and allow their technicians to reach parts of the aircraft they can't get to with a standard ladder.
That's a pretty niche product with a specific buyer persona - likely the person in charge of maintenance for an airline's hangar at one of the many airports all over the world. How do you reach them? Creating content that presents them with an opportunity or solves a pain point.
An example of a pain point might be you know all airlines have been struggling with a specific area of the airplane. Your company has an answer that your competitors don't. Write about the solution and make sure you're sharing that content in relevant LinkedIn groups, or sharing with qualified leads. The buyer persona will read that piece of content and will certainly remember your company's name at the very least. Best case scenario? He or she starts poking around the website and eventually fills out a form for further information.
From there, you can nurture them through your marketing automation software or CRM until it's time to hand them off to sales, allowing them to do what they do best. Close a sales qualified lead. Inbound marketing is extremely effective. It's successful in nearly every industry, however, inbound marketing excels on the B2B side. The more specific your product, the better.
Benefits of Inbound Marketing:
Your customers will come to you.
You typically have a lower average cost to acquire a new customer (

Source

).
It improves your organic ranking over time. Inbound marketing focuses on content creation and blogging, which increases your website traffic and presence online.
Establish your company as a thought leader. As prospects find you online, you start to develop authority on a given topic. It becomes much easier to trust you and as long as you're offering the right content at each stage of the buying journey, your sales process becomes simple. Less focus on "selling" and more focus on being a "helpful resource."
So, Inbound Marketing or Account-Based Marketing?
It's not necessarily one versus the other. There is room for both inbound marketing AND account-based marketing in your overall marketing strategy. There are instances where companies have used account-based marketing tactics to generate interest while waiting for their inbound marketing efforts to take off.
On the flip side, a strong inbound marketing strategy provides an incredible amount of relevant content you can share with the prospects you identify in your ABM strategy. Like all good tactics, inbound marketing and account-based marketing make one another better and work best when they are part of the overall marketing strategy.
How to get started with Inbound Marketing or Account-Based Marketing
LAIRE has an entire team of marketing minds devoted to helping companies of all shapes and sizes across all different industries. We're not a one-size-fits-all agency. We go through an extensive workshop at the beginning of all of our partnerships that is designed to identify what we need to know to craft a strategy designed to move the needle and help our clients achieve their growth goals.
One thing we know for sure - there's a good chance there will be an inbound marketing and account-based marketing component to the strategy. Have some questions? Our 20-minute marketing assessment is completely free and is a great next step to identify holes in your current digital marketing strategy.