In our digital age of convenience (and being stuck inside) you know that when you're hungry, you've got delivery options. Likewise, there are businesses across the globe that are harnessing the power of social media to deliver content. And just like food delivery services, some are better at it than others.
The great thing is that companies are finally in tune that in order to connect with their prospects and clients, they need to create authentic content and have a presence on social media. The next step is to determine how to share it - and that's no easy feat.
Even marketers are tasked with decisions every day of how to format posts, and there are plenty of options. So, which ones are right for you? Every business' social media presence is unique so naturally, you'll need to tailor your content delivery differently.
By now, nearly every social media platform has a paid option that is being used by small businesses and international brands alike. Gone are the days of 100 percent free social media. However, there are still a few options that won't break the bank. Whether or not you're seeking out pepperoni pizza or looking for weekly meal delivery, there's a social option that will keep your social media full.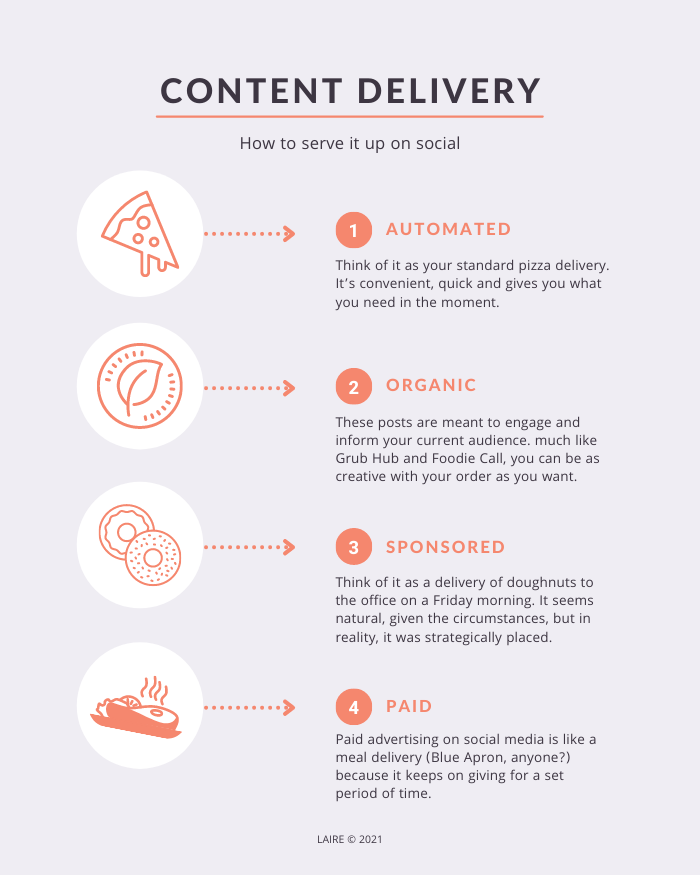 Automated:
Are you especially busy? Platforms like Hootsuite, Sprout Social, and HubSpot make scheduling out social posts a breeze. Think of it as your standard pizza delivery. It's convenient, quick, and gives you what you need in the moment. However, as much as we'd like to gorge ourselves on pizza daily, it isn't healthy. The same goes for your social media presence. In-the-moment posts balance out your strategic, scheduled content. Use social automation for its convenience, but don't depend on it for your entire meal.
Organic:
Nope, we aren't talking farm-fresh content. What we mean by organic are posts to engage your audience. Live tweeting conferences, posting event photos, and all-around non-sales-y content is gold. Brands that have a strong presence on social media realize it isn't all about the customer - it's oftentimes more about the repeat customer. So go ahead and give them something engaging to talk about. Ask questions, post gifs, relate your business to current events. This type of content is similar to the five different delivery apps you probably have on your phone. It's something special (Read: you can't normally have this food delivered) that is a nice change of pace from cheese pizza.
Sponsored:
Marketers love sponsored content because it is the least interruptive form of paid advertising. Think of it as a delivery of doughnuts to the office on a Friday morning. It seems natural, given the circumstances, but in reality, it was strategically placed. Content that is sponsored is somewhere in between organic and paid content when done correctly. Money is put behind a post with a soft sell of the product/service. Just like that last Krispy Kreme, sometimes you won't even realize what you consumed was an advertisement.
Paid:
Social media has become the epicenter of digital advertising. Paid advertising on social media is like a meal delivery (Blue Apron, anyone?) because it keeps on giving for a set period of time. You have all of the ingredients you need (demographics, interests, and a dash of behavior) but it's your responsibility to actually make the ad. As many marketers are serving up paid ads, there is an equal number of small business owners struggling to make them correctly. Don't let the ease of delivery fool you here, you'll be doing the bulk of the work in this kitchen.
Each of these styles of delivery is equally appetizing – and every business has different needs from content marketing. How have you been approaching your content delivery on social media?