Getting started with your first campaign in AdWords is easy. With just a few steps, your ads can be live and showing to a network of potential customers.
If you need help setting up your campaign, be sure to read our blog about getting started with AdWords basics. In step one of the campaign setup, you'll be asked to select your campaign type. There are five types to choose from: Search, Display, Shopping, Video, and Universal App. Keep reading to learn which campaign type is right for you and your business.
Search Network
This is the most common campaign type and easiest to set up. If you select Search Network as your campaign type, your ads will show in the Google search results, above or below the organic results. For example, if you search for "guitar lessons", you're likely to see something like this: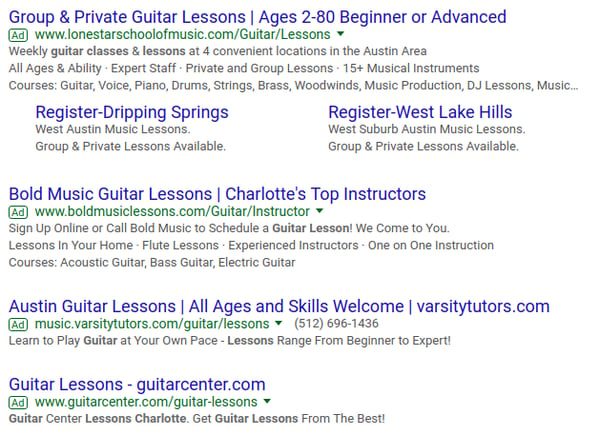 Ads in the search results are denoted with a small green box labeled "ad". The goal of this campaign type is to have people interact with your ad in a certain way; whether it be clicking on your ad to visit your website or calling your business.
The Search Network is a great choice to reach people who are searching for your product or service right now. With the right keyword selection, search ads are an immediate way to attract strangers who are ready to become visitors who can be converted.
Display Network
The Display Network allows your ads to be shown on a variety of websites and mobile apps that match your product/service or your customers' interests. These ads can be comprised of text, images, or rich media such as audio.
This campaign type might be best for you if your goal is to build brand awareness within your target market. When setting up this campaign type, you can create custom targeting that shows your ads to potential customers who match certain demographics, interests, and topics.
It takes a bit more experience and understanding of AdWords to set up this campaign type than with the Search Network.
Shopping
If you are a retailer with a product to sell, Shopping might be the best campaign type for you. Ads set up with this campaign will include a picture of your product, title or brief description, price, store name, and other information. For example, if you search for "guitars", you'll see something like this at the very top of the search results:

There are many benefits to this campaign type including more traffic to your website and better-qualified leads. You may also use Shopping ads in conjunction with Search Network ads. Your product could show in the shopping results at the same time that your text ad shows in the search results.
Video
If you want your campaign to include Video ads, then this might be the best campaign type for you. Your video ads can show on YouTube and across the Display Network. This campaign type can help build brand awareness and can be more engaging than a simple text or image ad.
Just like the Display Network, you can build a targeted audience to show your video ads. After setting up your audience in AdWords, your video ads will then show on YouTube content or websites that match your product/service or your audiences' interest.
Universal App
The Universal App campaign type is right for you if you have a mobile app that you're trying to promote. The goal of this campaign type is to drive more downloads of your app. In order to do this, Google uses search, display, and video to promote your app.
These ads might sound complicated to set up, but it's actually quite easy. You supply Google with the text you would like included in the ad, and they will pull the needed information and images from your app to create ads suitable for each network. Your ads will then show to mobile users who might be interested in your app.
Stay tuned for more topics covering AdWords and be sure to subscribe to this blog for all the latest marketing news and tips.