We can see how search engine optimization or SEO can seem complicated, but you should know that it doesn't have to be scary or intimidating. SEO is about catering your website content to match popular keyword terms, and work with the way search engines operate, while still creating a friendly experience for your website visitor. So let's get into some SEO basics.

Find the Right/Best Keywords
Matching popular search terms with your online content sounds simple, because it is. The first step is finding those optimal keywords that should be on your web pages and blog content. There are several tools to choose from. Some of our favorites include SEMRush, Google Adwords' Keyword Planner, KWFinder, Moz, and Keyword Tool.
You're going to get a lot of data when you use any of these sites. All of the data you get back can be useful, but we don't want to take you down a rabbit hole in this article. Let's keep it simple for now. Here's what's important: pay attention to search volume and search difficulty. You're looking for keywords that relate to your business and that your prospects would use when searching for businesses like yours. The best keywords for your website should have a high monthly search volume (lots of people are searching for it) and low search difficulty (which means fewer businesses are competing to rank for that keyword by using it in pay-per-click ads).
Compile your list of at least 10 keywords after finding the best mix of volume and difficulty. Also, try out different variations on your optimal keywords, and take note of trends for how people are searching. Are they searching asking questions in longer phrases (more on that in a moment), or changing the order of words? You could capitalize on those variations.
STORYTIME! We used to write content for an engineering company. We changed the name of a product after doing keyword research. The data showed us that a variation of the product's name was getting more than double the amount of monthly searches. Almost no one was using the original name. The moral of the story: what your company labels something may not be what your potential clients call it. Being flexible and open minded is an important piece of search engine optimization strategy.
Use Keywords in Existing Content
You've done your keyword homework, so put those keywords to work! Comb through your website pages, blogs, and anything else on your domain. Put those keywords in your content, naturally. Use them in headlines, subheadlines, and body copy.
WARNING! Don't overdo it. Stuffing or forcing keywords will make your pages more difficult to read and Google could label the page or domain as spam.
Use Keywords in New Content
You should always be thinking of new content to post or upload. A keyword-based content plan is one of the most efficient ways to rank highly on Google. You can always pay to rank, but it isn't cheap!
Think of your optimal keywords as a starting point. You and your team should think about how your clients use the terms and build your content around those phrases. Let's say we're creating content for a hat company. We learn through research that the keyword "flat bill hat" has a high monthly search volume and low competition. We should create content based on long-tail keywords to create more SEO-rich blogs. Long-tail keywords are longer phrases that people are more likely to type into Google.
Here's an example below. Google's autofill feature is an indicator of how people are using "flat bill hat" as a keyword. Everything won't be a fit for your business but considering long-tail keywords will open your content up to more people.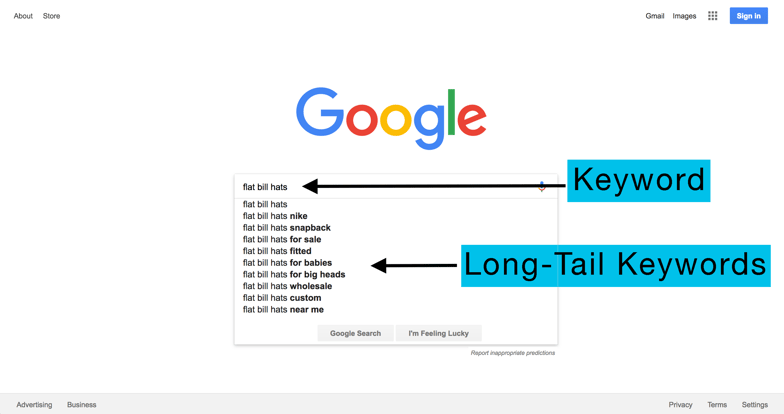 More (Helpful) Content Wins
There are no shortcuts with SEO. Quality content matters. Helpful content will please your visitors, they'll stay on your site longer and will share it. Plus, the more content you have in the form of web pages (blog articles count as pages), the higher your site will rank in search.
Check out our guide on 25 Website Must-Haves for more information on having an awesome website.
It has more SEO tips and ways to structure your website to get ahead, in both search and with prospects.
Think About Links
Along the same mindset of keeping people on your domain, internal links are an important piece of that puzzle. What do you want the reader to do after they've finished reading? The plan should be to keep them on your domain by providing links to other relevant content on your website.
Inbound links or backlinks are also helpful elements. Consider asking other reputable websites to link to your website from their site. Google views links to your website as stamps of approval.
Consider Mobile Views
Between 40 - 60 percent of all website traffic is logged on mobile devices, so make sure your website adjusts to all the different sizes. Google knows people search on devices other than desktops, and favors websites that are mobile-friendly. You can test your site on Google's Mobile-Friendly Test tool, but also know that if your site was designed in the last 2 years, a "responsive" framework was most likely used. But still test it!
Remember SEO Value You Can't See
SEO value extends beyond what the viewer sees on the page. Your site's images should have their alt text filled out. Alt text (alternate text) describes the picture in case the image doesn't load and it gives the image SEO value. Keep in mind, Google can't read pictures.
Speaking of Google, ever notice that green website link that appears in a Google search? That's a custom URL. It clearly tells the searcher what's on the page and it's a chance to use your keywords. The black text underneath is the meta description of your page. Again, it's another chance to tell people what's on the other side of the click and is a prime spot to place keywords.

That's All!
See? That's it! It's not so hard. SEO takes time, not necessarily skill. We hope you're not scared of dipping into the search engine optimization world. If you remember one thing, remember a strong SEO strategy is based on the searcher's experience. The better experience for the searcher, the more you'll benefit from SEO. We're here to help if you need it!