"Should I hire a marketing person or hire a marketing agency?" is a question we hear often. We know why you're asking! It's something that comes up when businesses are beginning to strategize their marketing efforts. There's no definite wrong answer here, and every business is different, but there are a few things you should consider.
You already know the importance of marketing and you're on the right path. The fact that this question is on your mind means you want to give your marketing efforts a fair shot. Starting or ramping up a marketing initiative is great, but your resources need to be going to the right places.
Are you planning on doing more in the digital marketing realm? If so, you NEED to have search engine optimization, content creation, web design, and several other areas covered. There is so much more to digital marketing than having a website and sending out a few marketing emails here and there.
Our Co-Founder Laura Laire breaks down the basics in this video:
3 Positives of Hiring a Marketing Agency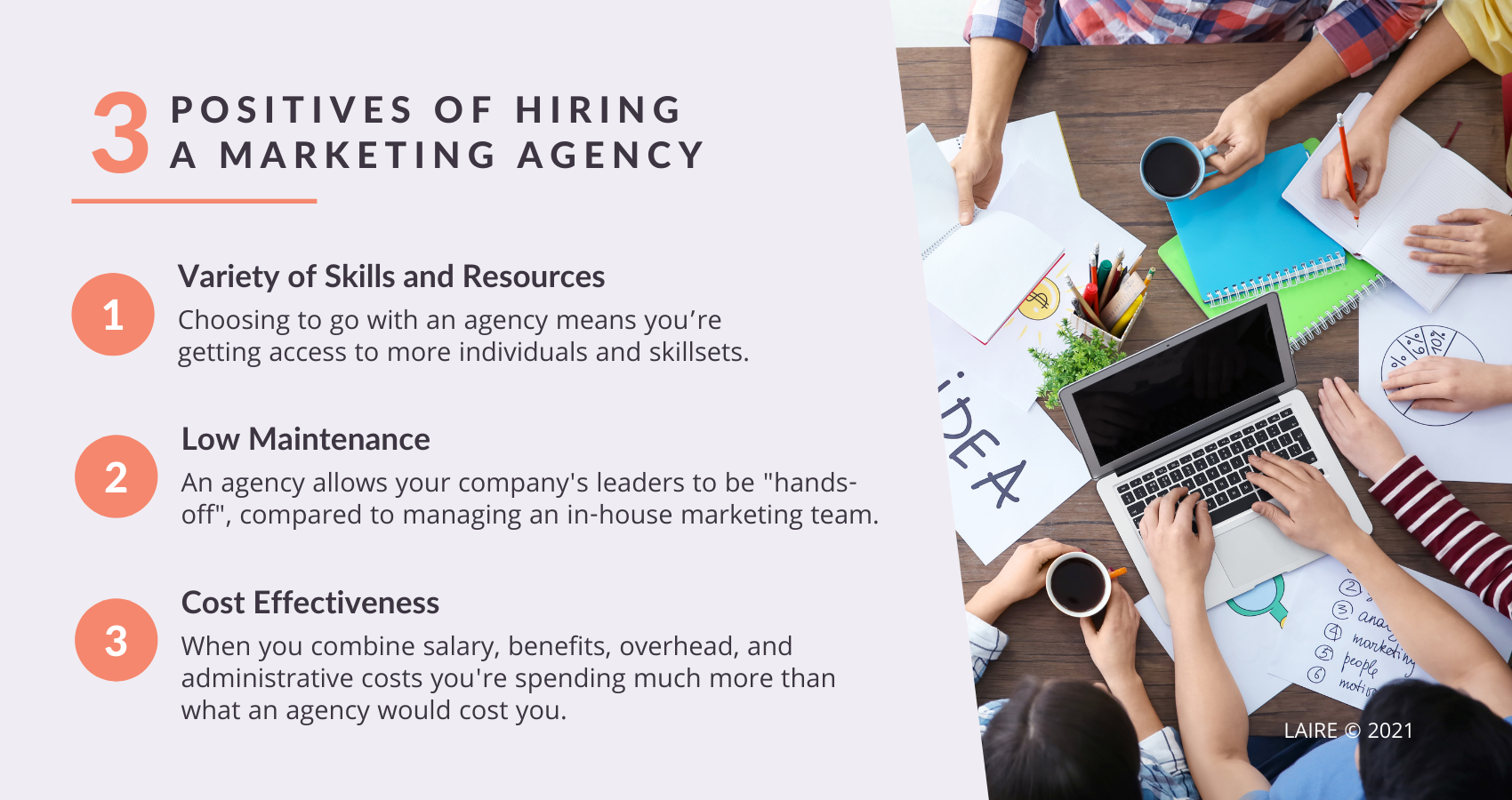 To keep things on a positive note, let's discuss why an agency can be a valuable asset to your marketing initiatives. Key points, such as expertise and cost, are big reasons why businesses frequently partner with an agency.
1. Variety of Skills and Resources



Choosing to go with an agency means you're getting access to more individuals and skillsets. No one person can be an expert on everything. Hiring a digital marketing agency that employs people with a diverse set of skills ensures all of your marketing needs are covered.
Agencies also have more resources that can benefit your campaign or project. Marketing firms are typically up to date with and have access to the latest in design and marketing software programs.
It'll take a few in-house marketing hires to match the collective brainpower you'd get from an agency. Bringing on an equivalent marketing staff isn't always an option for smaller companies. If you can afford to hire a few people with different strengths, great! If you can't, an agency might be in your best interests.

2. Low Maintenance

An agency allows your company's leaders to be "hands-off", compared to managing an in-house marketing team. Once the agency knows what your mission and goals are, the team will handle the implementation and execution of the agreed plan. You will still have control over the goals and plans, but the agency experts will take the implementation work off of your plate.
An agency should work seamlessly with your team to fix any weaknesses and build on strengths. Remember, a win for you is a win for the marketing agency.
3. Cost-Effectiveness



One of the primary reasons businesses opt to partner with an agency is cost-effectiveness. The numbers aren't exactly the same, but usually, a marketing agency is more cost-conservative than an internally hired employee or team.
When you combine salary, benefits, overhead, and administrative costs you're spending much more than what an agency would cost you. You should also consider turnover at that position and the time required to hire and train a new person. Working with an agency offers consistency and stability you're missing out on with an in-house approach.
---
---
2. Potential Downfalls of Hiring a Marketing Agency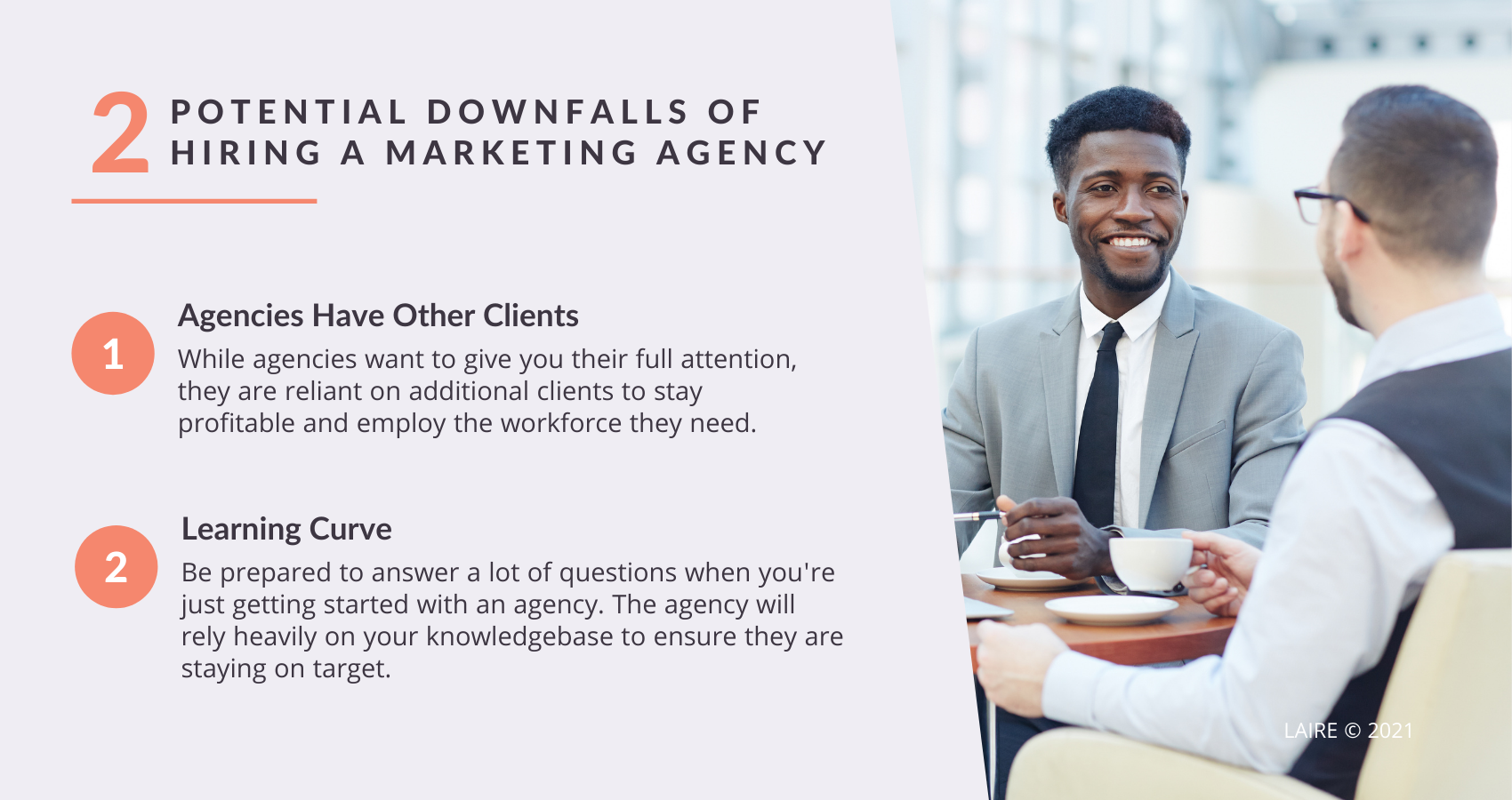 Digital marketing might not be a fit for you and your business, so you won't have the need to hire anyone. Your business may be growing perfectly fine using traditional marketing or the people already on staff.
In the interest of equal time, here are some cons around hiring an agency. Or you might find that your business does not require extensive marketing tactics and only needs one or two employees to lead the charge.
1. Agencies Have Other Clients
Anyone you bring on will devote all of their working hours to your business. An agency has clients that need equal attention and have various deadlines to meet. While agencies want to give you their full attention, they are reliant on additional clients to stay profitable and employ the workforce they need. Also, a full-time employee is more accessible, they're in your building! This might be a major determining factor for a company, if so, hiring an employee is the better way to go.
2. Learning Curve



A reputable marketing agency will take the time to know everything about your business, but they can't know your industry as well as you. A conversation needs to happen at some point in the process to make sure campaigns and goals are aligned.
Be prepared to answer a lot of questions when you're just getting started with an agency. The agency will rely heavily on your knowledge base to ensure they are staying on target. With that said, many agencies focus on specific industries after gaining experience marketing companies within those niches.
Agency or Employee: Conclusion
As you read, there's a lot to consider, but it's all about you and your company. It's great if you can afford to hire a digital marketing employee or team. If you can't, an agency is the better way to go. You might even find that a combination of the two are what will work best for you. It is not uncommon for businesses to have one to two internal marketing employees and also partner with an agency. This ensures your employees are not overloaded and all of the pieces in your marketing plan are carried out.
As long as all of your bases are covered on the digital marketing front, it doesn't matter if your company hires an agency or an employee. There are challenges that come with both paths, but it's worth it to bring more people to your website and improve your business to drive revenue.
Need a fresh set of eyes to evaluate your marketing and sales process? You might find new opportunities to close on your bottom line. Let our experts provide you with recommendations to meet your company goals. Schedule a free 20-minute marketing assessment below.