Whether you are a large corporation or a small start-up business looking to execute your marketing strategies, one fact remains standard across most of the board: you need some kind of marketing professionals working on your plan.
While some companies have the capacity to hire an extensive, internal marketing department, many businesses opt to partner with a full-service digital marketing agency to plan, execute, and deliver results knowing that they will have access to an entire team of experienced marketers.
Why Should Businesses Hire a Full-Service Digital Marketing Agency?
Digital marketing agencies know that there are many moving parts to any marketing initiative, and it is almost impossible for one individual to completely handle on their own. While one individual might be an expert in SEO, copywriting, and planning, it is unlikely that this individual is also an expert in graphic design, web design, or marketing technology.
It is for this reason that marketing agencies opt to employ expert marketers, in their respective fields, in order to create an expert team. When a company opts to hire a marketing agency, they are automatically getting access to a qualified team of marketers that can provide the solutions they need without the cost associated with hiring an entire internal team.
Now that you know why businesses opt to work with a digital marketing agency, you might also be wondering how digital marketing agencies work. While there are many avenues you can take when opting for a career in digital marketing, there are a few overarching areas and common job roles that you will find in any successful agency.
Internal Structure for a Marketing Firm
Because there are many jobs that can be implemented in an agency, those roles have to work harmoniously to achieve and deliver results. If specialists and generalists do not understand the value of each other's contributions, some aspects of the marketing strategy can fall flat.
Marketing teams also have to have their internal processes figured out to allow efficiency in their team. Knowing which role is responsible for which part of the process can speed things along, while ensuring the quality of work is never lost. This internal process also lends itself to team organization.
Having a way for team members to easily store, access, and share files and materials is just the tip of the iceberg. Organizational characteristics also include having a schedule of what job will be done and when, while also ensuring that one team member is not carrying more weight than they should be.
LAIRE has personally adopted the Agile methodology for internal structure and Jira project management, but any software can work depending on the team's needs. With an agile frame of mind, our team is usually working ahead of schedule, ensuring that if an urgent task or quick rework needs to be done, we have the capacity to do so without getting flustered. Planning and working ahead means digital marketing agencies will ensure new client tasks are able to be met.
Interested in learning more about the Agile methodology and how to implement it within your team? Click the box below to get access to our free eBook, "How to Run an Agile In-House Marketing Team":
The Jobs Within a Digital Marketing Agency
As mentioned above, there are many different avenues and job roles that can be present within a marketing agency. Here are some of the roles you might encounter when choosing to partner with an agency.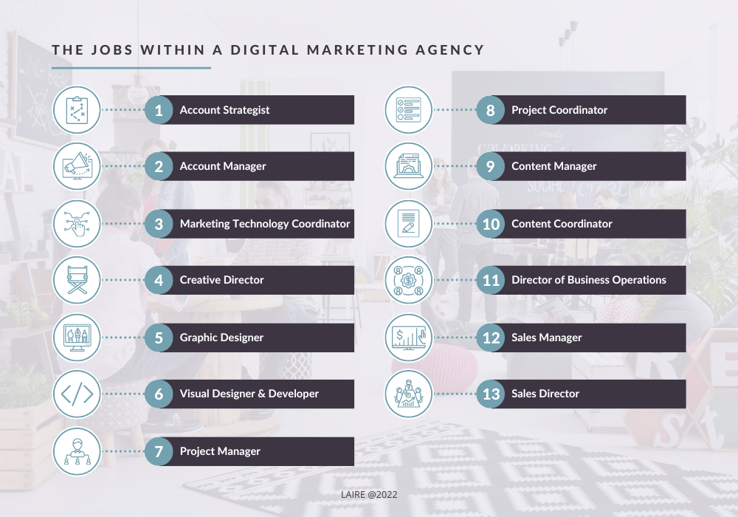 Account Strategist
Account Strategists are the driving force behind client strategy. Creating revenue strategies, crafting seamless and enjoyable customer experiences, and critical thinking to solve problems are what this role does.
Whether the client is just starting on their marketing journey or has a full set of campaigns under their belt, the purpose of this role is to identify pain points and deliver a strategy that will eliminate those aches while driving revenue through the roof. Client advocacy goes a long way with this job and nurturing long-term client relationships sets the tone for every action this role takes.
Account Manager
Account Managers are the planners within the organization. Account Managers are responsible for communication between the agency and the client. Account Managers help plan strategy, with the help of Account Strategists, assign duties to the internal team, review deliverables before they go to the client, and track the progress that is being made through the marketing implementations.
Account Managers are also responsible for ensuring the happiness of the client. If the client is frustrated because they are not seeing results, the Account Manager can soothe those concerns with new strategies, updated content, and digital marketing materials, or determine if the company's goals are set correctly.
Marketing Technology Coordinator
If workflows, lead-generating forms and gates, and automated marketing technology are your jam, a Marketing Technology Coordinator role might be your dream job. These individuals are knowers of all things integration that will help move your potential customers through the buyer's journey stages and into your closing process. In our agency specifically, Marketing Technology Coordinators are HubSpot veterans and can quickly troubleshoot roadblocks or make suggestions for better use of the platform.
Creative Director
Creative Directors are charged to create beautiful imagery and graphics while ensuring the brand's guidelines and preferences are met. Not to mention, all creative elements are passed through this person to maintain quality control and be sure the agency's best work is being produced.
Creative Directors also oversee the layout and visuals created in web design and email templates. The way a CX/UX of website and landing pages is implemented is developed alongside the Creative Director. New graphic ideas and strategies are brainstormed to be implemented by Graphic Designers and Visual Developers.
Graphic Designer
Graphic Designers are the implementers of the Creative Director's vision and then some. Branding projects and social media graphics take shape at the hands of the Graphic Designer. Imagery, icons, and motion graphics for website and email use are developed using this person's tools and vision.
Visual Designer & Developer
Visual designers and developers work similarly to Graphic Designers in that they create visually appealing elements on web pages and emails. In fact, our Visual Designer and Developer designed the layout for this very blog page to ensure it flowed properly and provided a visual that was easily digestible.
Project Manager
One-off projects and beginning phase projects start with a Project Manager. The Project Manager works closely with the website projects to set business goals and implement strategies to consistently convert new leads. Project Managers are also the helping hand to guide businesses from project status to retainer status, helping them get into the groove of long-term marketing goals and plans.
Project Coordinator
Project Coordinators work closely with the Project Managers. This role helps to implement the web changes and project plans to give clients a running start. While Project Managers are on the front-line meeting with clients, hearing their pain points, and delivering solutions, Project Coordinators work behind the scenes to help complete the work and act on the strategy agreed upon.
Content Manager
The Content Manager oversees the content planned, written, and published by an agency, internally and externally. From finding the right content that speaks to buyers to proofing all written content that will be consumer-facing, Content Managers work to put a company's value into words.
Drafting blog ideas, developing premium content offers, and evaluating the associated analytics are just a few of the ways the Content Manager supports the agency. As the gatekeeper of a client's brand, all deliverables move through this role to ensure cohesiveness, accuracy, and uniformity across the board.
Content Coordinator
Content Coordinators work closely with the Content Manager and Account Managers to provide deliverables. The focus here is copywriting. Blogs, landing pages, email, and social media are the main pieces of content this role touches, but this individual can help fill in the gaps where needed. SEO strategy is a big component of the work this job focuses on, to ensure content is being found by search engines and delivered to leads at the right time.
Director of Business Operations
The Director of Business Operations is the foundational glue that holds the agency together. Internal strategy, internal processes, and agency cohesiveness are the priorities of this role. The Director of Business Operations ensures workload distribution and appropriate staffing measures are taken to allow the agency to grow.
If the agency hits a bump, this individual jumps into action to ensure clients do not feel it. The Director of Business Operations also ensures that the client is being billed correctly and collection of payment is being conducted appropriately.
Sales Manager
The Sales Manager is an integral part of the agency's growth. This role is responsible for relaying products and services to accounts, present, and potential. This job role can be brought on to upsell clients on new services but is also responsible for finding compatible client fits for the agency.
The Sales Manager also communicates with the internal team to determine what the capacity for new work is. Sales Managers also draft contracts and work with the other managers and directors to determine deliverables. If you have Sales Managers within your organization, this role is very similar.
Sales Director
The Sales Director works closely with and oversees the Sales Manager. The Sales Director is responsible for ensuring a new business is brought to the company appropriately and assesses the amount of revenue needed to ensure agency production.
They also work with Account Managers, Account Strategists, Project Managers, and Sales Managers to upsell accounts and promote new service offerings and products, while ensuring that the agency is not over or under-delivering on their contracted services and products.
If a contract needs to be reviewed and revised, the Sales Director will work to clarify the contract and provide the new terms that are needed within the sales agreement.
A Note About Freelancing Work
Many digital marketing agencies choose to hire an extended team or freelancers. While many agencies have success with hiring freelancers, it is important to vet "on-demand" workers for quality of work, capability, and any certifications or licenses they might need.
As long as the external team follows brand guidelines and preferences, and can complete work in a timely manner when it is asked for, then freelancers can be a very valuable asset. Remember, freelancers can vary in price, and it is the freelancer's discretion to accept work and set their rate. Here are some areas that freelancers can work on for your agency:
Website development and backend support
Long-form technical premium content offer copywriting
Long-form and short-form blog copywriting
Social media copywriting
Videography and photography
Video editing and motion graphics
You may also find that your freelancers are doing additional work that is not on this list. That is okay! As long as you are happy with the quality of work being submitted, and your clients are happy with the results you are providing for them, you are golden.
Should I Hire an Internal Team or an Agency?
Whether you are starting off your marketing efforts with a small campaign or looking to launch an entirely new brand complete with a new website, you will need a team of marketers to lead the charge. The trouble comes when a company tries to decide whether it makes sense for an internal team to be hired, or if it should outsource its marketing efforts to a digital marketing agency.
Hiring an Internal Team
When deciding to hire an internal marketing team, your company should be prepared to hire anywhere from 2-5 employees to start, keeping in mind that the department could expand in the future due to increased marketing efforts or company growth.
With hiring these employees comes paying salary, providing benefits, and providing any necessary equipment or software the marketers might need. Hiring marketers is also a difficult task in itself. Knowing if the individual you are hiring is the right fit for your company, and knowing if they will be able to deliver results, and eventually revenue, is almost impossible.
Don't be afraid to ask for certifications, portfolios, hiring projects, or even working interviews when deciding to hire an internal team. This can help ensure you are getting the right fit for your needs.
Partnering With a Marketing Agency
We've outlined all of the benefits of working with a digital marketing agency on our blog, but wanted to provide you with a quick synopsis of why a digital agency might make sense for your organization.
For starters, partnering with a digital agency is almost always more cost-effective than hiring an internal team. Because digital agencies have multiple clients to service and additional projects, you are not paying the salaries of multiple people. However, because digital agencies do have a decent portfolio of clients, they may not always be available to tackle new initiatives right away and will rarely operate outside of the signed agreement, unless a new or expanded agreement is put into effect.
Additionally, when partnering with a digital marketing agency, you have access to a full suite of experts and tools available for your company's use. From Account Strategists and Managers to Content Managers and Coordinators, you know you will be receiving work from some of the top-performing marketers in the industry.
If you ever want to know more about your agency's success, they might have a case studies page outlining client wins, or can provide you with specific numbers and plans they used for those successes.
Not to mention, your agency team will always be analyzing performance and adjusting strategy to deliver results. You should be getting a detailed report at an agreed-upon increment of time so you can also monitor how your marketing efforts are working to grow your business.
The LAIRE Method
At LAIRE, we are always increasing our velocity to improve client experience and results. Our team of digital growth experts has a track record of finding innovative and creative solutions to maximize client revenue through marketing efforts. Our team is always researching, learning, and executing new trends and techniques for growth, while ensuring customer identity is always at the forefront of everything we do. Connect with us today to discuss if LAIRE is the right fit for your company and to receive a free marketing assessment of your company.