As a creative agency as well as a business owner, we understand the time that goes into crafting a creative brand, and its role in setting your business apart in the marketplace. It is the first "hello" in connecting, or not connecting with your target audience, so the first impression is everything. You want to get it right out of the gate. From the initial concepts to many rounds of designs, final files, and then rollout, a lot of energy goes into the process of branding, and for good reason.
So with all of this in mind, isn't it a shame when a business that has established a brand fails to use it consistently? We've seen it happen: a user clicks on the website and has one experience... then they jump over to social media, and there's a different look... then they get the sales sheet emailed to them, and there's yet another impression with inconsistent colors, layouts, and logos throughout all. With each varying communication and representation of the business, the user's trust in the brand is eroded, or credibility is never built to start with. If YOU don't know who you are, why should a prospect take the time to figure you out?
Memory plays a significant role in consumer behavior. Memory can provide comfort. Encountering something familiar allows you to relax and notice other deeper details. A prospect sees your logo and relates it to a positive, past experience they had. You are now able to move to the next step and continue to gain their trust, moving forward to a sale.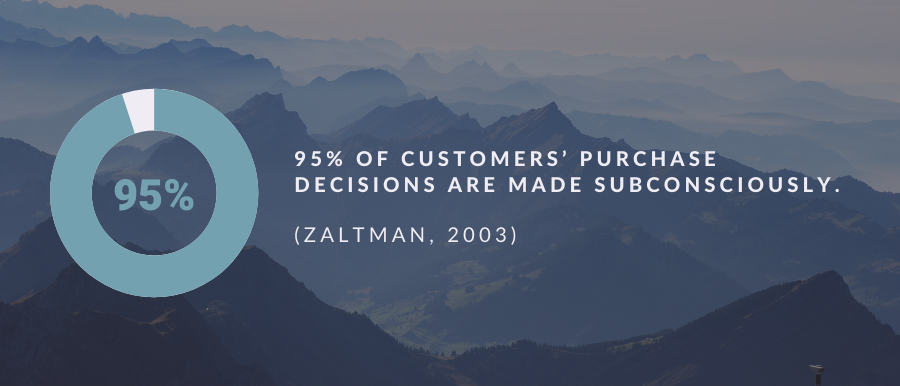 However, if the prospect is not able to pull on memory with your brand because they encounter different iterations, you start the introduction process over and over again, like "50 First Dates."
Now that you understand the power of brand consistency, what can you do to create a stronger and more memorable impression for your organization? Creating comprehensive Brand Guidelines is your starting point.
What are Brand Guidelines?
Creating a booklet, both printed and digital, summarizing all of your brand assets and components, is vital to aligning your organization's activities with your brand. Our agency went through this process ourselves, creating new branding, and identifying the brand usage requirements for our team detailed in our brand guide.
By being consistent in your communication, both visually or verbally, you create a comfort zone in which your customers feel secure and the brand-customer relationship can thrive. (Branding Mag, 2020)
Brand Guidelines most often include the following:
Logo Usage Rules: This includes ideal logo size, logo placements, approved color variations, logo orientations, guidelines for tagline inclusion, and examples of non-compliant iterations.
Brand Colors: These will be the primary and secondary colors used in your branding, along with color codes for design consistency (CMYK, Pantone, Hex #, etc.), and approved color combinations.
Typefaces: Indications for headline and body copy typefaces, approved variations for use (ex: website usage, document usage), and download instructions, should be included.
Layouts: Layouts include common usages seen on pieces such as letterhead or product sheet designs.
Voice: The voice section must include messaging guidelines (familiar vs. formal, etc.), brand phrases, and your mission statement.
Imagery: This should include any parameters for stock and new photography, including subject and color balance (black and white, color, overlays) to ensure a cohesive look for your graphics.
Applications for Brand Guidelines
Inconsistency can be the silent killer of your business. So, the next step once you have your brand guidelines created is to ensure consistent presentation of brand assets in every instance of consumer interaction. Make the guidelines easy for all team members and departments to access, and store them in a central location, such as a shared cloud drive. Include folders of brand assets, like logos, for easy download and placement. And if there are consistent documents your team uses, save neutral templates, such as presentations or letterheads, that can have personalization added by the user.
Internal Brand Consistency: Your branding has multiple uses internally, by Sales, the Executive Suites, and Marketing. Consistent internal use and compliance has an overarching value for your team. It aids with onboarding and improves team sentiment. Plus, it gives your team practice to comply with brand guidelines in external uses, where the prospects and clients can see. Think of ways to implement consistency in pitch letters, presentations, handbooks, operations docs, email signatures -- anything your team touches!
External Brand Consistency: Taking inventory of, and making updates to ALL your user-facing materials is vital for a consistent brand image (which builds trust, and generates new leads!). Complete a survey of the following:
Website: This is the big one, and often your website is the first view a user has of your brand and resources. Ensure your company name, logo usage, colors and fonts are consistent throughout your website.
Social Media: Your platforms should include the use of the same branding as your website, with complimentary cover images, bios, and social post graphics.
Sales Collateral: For brand professionalism, review and consider your stationery, sales sheets, trade show materials, Powerpoint presentations, and giveaways.
Marketing Assets: Leave no asset untouched! Audit your downloads, emails, printed materials, packaging, and digital and print advertising.
Signage: This includes your building signage and any tradeshow displays.
Apps or Softwares: Update any user interfaces to keep consistent with brand colors and typefaces.
Customer Messaging: Don't forget this one! Messaging is just as much of your brand as the logo is! Survey your headlines, benefits, calls to action, and company bios.

The Positive Implications of Consistent Branding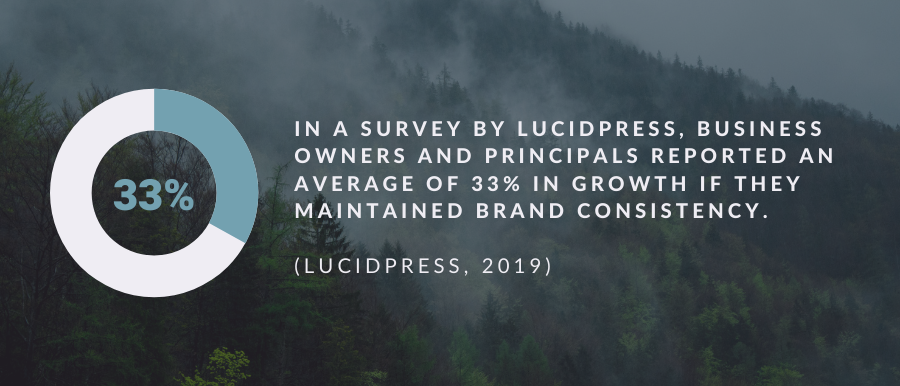 In a survey by Lucidpress, business owners and principals reported an average of 33% in growth if they maintained brand consistency. (Lucidpress, 2019)
Consistency connotes quality. Quality equals trust. Increased trust leads to more interactions with your prospects and clients. Then ta-da... increased revenue! When you have your business and branding together, and the world can see it, there's no question in a user's mind about working with you.
---