Most website owners recognize the value of search engine optimization (SEO) within their website. You've probably done a lot of work to improve it, but bad links could still be lingering and hurting your rankings. These links can lead Google to penalize the website and drop your search engine rankings, thus decreasing traffic. What's a bad link? How can you find them, clean them up, and get your site back on track? We'll tell you!
What Does a Bad Link Look Like for SEO?
Defining a "bad link" is a little harder to do than you might think. The links that are the biggest problem are those that don't work at all. After all, if the search bots cannot get to the site you've linked to, it's doing you absolutely no good.
However, when talking about bad backlinks, we're typically referring to links on other sites that link to your website and harm your search engine optimization (SEO) in the background. But, there are other types of links that can be deemed less than desirable too.
What makes for a bad link? The following are five top examples of the types of links Google may penalize you for if they're on your website.
1. Links to Social Bookmarking Sites
Linking to social bookmarking sites (like Reddit and StumbleUpon) is considered manipulative. That means if you use them often, it can create problems for ranking in search results. These links are placed on these sites manually, which is the opposite of what Google is looking for.
2. Links to Press Releases
Press release links are easy to find, and that in itself is a reason why Google doesn't reward your SEO for having them on your website. It's easy enough to write and submit a press release to distribution sites in order to get hundreds of links. That's why Google discounts them.
3. NoFollow Links
Random NoFollow links will also hurt you, so use them sparingly. Google can find most footprints, especially if you are not using an automated program.
4. Low-Authority or Questionable Sites
When choosing links to use on your site, don't choose those that link to sites that are of lower domain authority than your site. If you are using low-authority sites, that's not going to help you, and it actually drops your overall reputation.
Not sure what your own website's domain authority is? That's definitely important to know; especially when you're comparing other websites' scores. Online resources like UberSuggest and Moz can help! Simply type in your site domain and either tool will populate your domain score on a scale of 1 to 100, with 100 being the best possible authority score.
5. Forum Links
While not every forum link is a bad thing, having too many of them on your website or using those that come from a less-than-desirable site, will hurt your rankings. If there are thousands of links coming from these poor forums, it looks like spam.
There are plenty of other less-than-desirable links as well. Some additional links NOT to include are:
Private blog links
Foreign guestbook links
Blog comment links
Links from cheap link services, including Fiverr
Automatic link building program links
Links that aren't relevant to your site
Now that you know what you should not include and can avoid doing so moving forward, the next step is to remove the bad backlinks. But, how do you find them on your site so you can get rid of them? Knowing what to look for is the first step in the right direction.
How to Get Rid of Harmful Backlinks on Your Website
Having bad backlinks isn't something most website owners do intentionally. They may be links that were created years ago. To get rid of them, you need to:
Identify those that are doing you the most harm.
Search their websites for contact information.
Ask for the links to be removed through that contact.
If you do not get an answer or removal, you can then disavow the links (which we explain later in this blog).
Upload this information to Google.
When you disavow a link, you'll be asking Google to remove it.
Steps to Removing Bad Links
When you realize just how much bad backlinks can cause a problem for you – especially if you are spending a lot of time and money working towards building your SEO ranking – it's time to get rid of them. Here's how you do that.
First, Consider an Audit
One of the first steps to take is to have a technical SEO audit completed (through a professional or an online resource like Moz and SEO Analyzer. This type of audit will look at factors that are impacting your ability to rank. It will look for things such as:
Technical issues with the site
Crawl issues
Any tech-based problem that is limiting access to the site
It is also important to look at the content. You want to be sure your content is on par with your goals. After all, content (or a lack thereof) can be a solid cause of poor SEO rankings as well. When you're 100% sure these areas are taken care of, you can move on to taking more significant steps for bad backlink removal.
How to Create a Disavow File
As noted above, to get rid of bad backlinks pointing to your site, you should try to contact those webmasters and encourage them to take the links down. Make sure to approach them in a friendly manner as that's more likely to get them to approve the process.
If that is not successful, you will need to create a file to submit to Google. To build this "disavow file" we highly recommend using an online tool to help. There are plenty of options available, but Link Detox, which is from Link Research Tools, is one of the best options. What's really great about it is that it can access most types of link sources, which gives you the most effective results.
Lastly, you will need to get as many links as you can into the system – doing this one time is better than dozens of times (such a timesaver). Once you follow the instructions provided by Link Detox to do this, the process doesn't have to be hard. The system will review the links you provide and then rate them. It will then prepare the file for you.
That file can then be sent to Google via Search Console.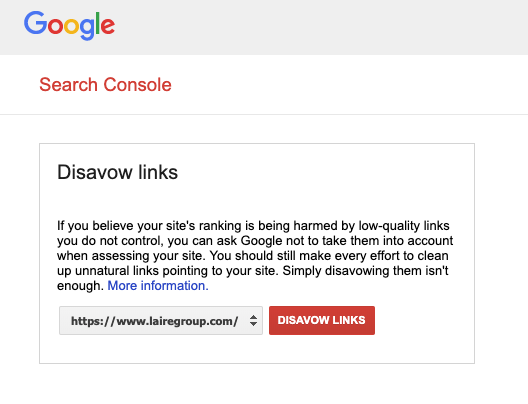 Do You Have a Problem with Bad Links?
Some website owners may not be able to easily recognize if they have a problem with bad backlinks. Here are a few tips that can help you:
Did you notice

a drop in overall traffic

? Sometimes, this drop can be as much as 35 percent. Yikes! If that happens, it may be due to Google downgrading your site.
Take a look at

Google Analytics

data for other concerns. Is it just one page, or is it a significant number of pages that are performing poorly?
A manual action notification is another way to know if you have a penalty related to a link. You can find this in your Google Search Console.
Your goal here is to determine if there could be a problem with bad backlinks and to make sure Google knows you don't want those links pointing to your site. However, don't assume that bad links are the only problem. For many website owners, there's much more to consider about their existing design and content that could also be limiting their SEO success. But, don't feel overwhelmed. If you need help, we've got your back! Contact us anytime.
A comprehensive audit can give you insight into how well your site is working and how you can make it perform even better. Request your website audit today!