LinkedIn ads are an invaluable tool for any B2B marketing strategy. As is the case for any PPC platform, LinkedIn advertising requires a budget to run. This begs the question: What is a good budget for LinkedIn advertising?
Read on to learn about the costs, strategies, and terminology of LinkedIn advertising. You'll also discover why many marketers consider LinkedIn a key platform for generating B2B leads and how you can leverage it to craft your best B2B advertising campaign yet.
LinkedIn Advertising Overview
According to HubSpot, LinkedIn has the highest lead conversion rate of any social media channel at 2.74%. That's over double the lead conversion rate you would see from Twitter (0.69%) and Facebook (0.77%) combined.
For this reason, it's not surprising that LinkedIn is the content distribution channel of choice for 94% of marketers. This means there's a great deal of opportunity for LinkedIn marketing to help you reach the audiences you desire.
You'll make your business more visible to other professionals by running targeted LinkedIn ads, as many employees and organizations use the platform to learn about other businesses and business-focused services.
LinkedIn advertising provides targeting options to ensure that you reach members of your target audience effectively. These targeting options support brand awareness, relationship building, and lead generation.
LinkedIn advertising placements are auctioned to the highest bidder. It's likely you will be bidding against other advertisers who are trying to reach a similar audience. Generally, the highest bidder wins the ad position.
Which Businesses Benefit Most from LinkedIn Advertising?
Before addressing LinkedIn's pricing, it's important to understand what type of business is likely to benefit from LinkedIn's advertising services. As LinkedIn is only currently beginning to grow in its marketing niche, now is the perfect time for your business to evaluate and take advantage of LinkedIn's advertising capabilities to build brand awareness and generate leads.
LinkedIn is attracting a younger generation of business professionals. Through LinkedIn advertising, properly targeted ads can reach entry-level professionals, C-suite-level executives, and almost anyone in between.
LinkedIn advertising can boost awareness, engagement, and lead generation for the following:
Products or services with a higher overall lifetime value for B2B organizations.
Companies who are looking to recruit, as LinkedIn members are constantly considering their next career move.
Companies that want to entice users with opportunities for higher education such as webinars, master classes, and the like, as LinkedIn members are heavily invested in their professional self-improvement.
Setting Clear Goals for Your LinkedIn Advertising Campaign
Every time you launch a campaign, regardless of the channel, your goal should always be clear in your mind. Whether you're promoting your product, inviting people to an event, or urging them to download your eBook, there are a variety of advertising options available to help you capture meaningful results.
LinkedIn offers ad placements such as videos, images, carousels, and more, giving you the ability to customize your audience's experience of your brand and content.
LinkedIn campaign objectives are the potential marketing goals you can choose for your campaign. Depending on which one you select, LinkedIn's algorithms will tap into the platform's user data to show your ad to the right audience segments depending on your targeting parameters.

LinkedIn offers seven different campaign objectives at the moment. To select the one that best fits your goals, you must first understand how they work.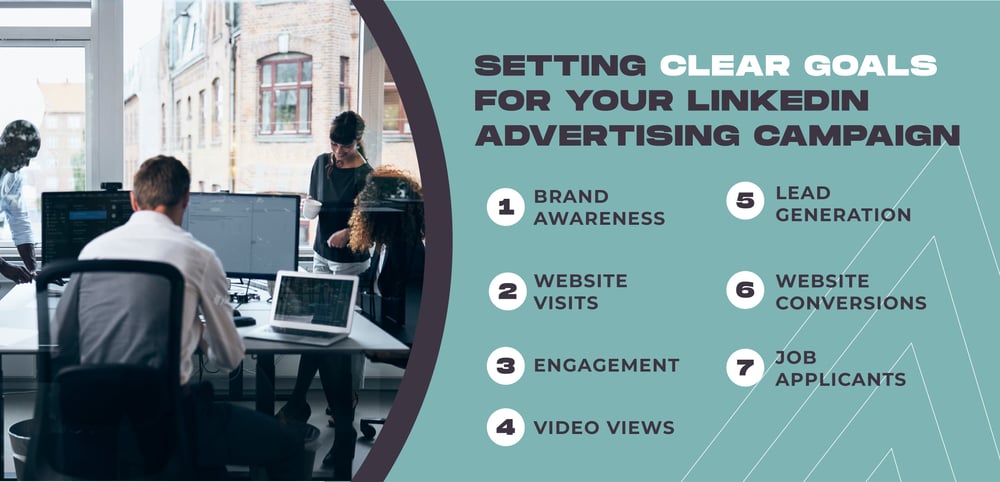 1. Brand Awareness
When you're trying to increase visibility for your company, brand awareness is a great choice since the algorithm will show your ads to people who are more likely to view them, meaning they are likely more active on the platform.
LinkedIn will prioritize placements based on impressions and budget, which will result in the greatest number of views for your ad. For more, check out our blog on designing a killer ad.
2. Website Visits
This objective may suit you if you are looking for more visitors to your website or landing page. Different than the brand awareness objective that focuses on the number of ad views you get from your budget, LinkedIn will try to maximize clicks to your website.
Many will opt to create a landing page for their website visits-focused campaign, but this objective is also a great tool to increase general brand awareness as well. Your website holds the keys to a mass of information about your business, services, and/or products.
3. Engagement
If you select this objective, the algorithm will aim to show your ad to users most likely to interact with it. Engagement on LinkedIn encompasses liking, sharing, reacting, commenting, clicking an ad, or following a company page.
Engagement is a go-to objective for product launches, major announcements, and the like. If you want your content to be seen and engaged with authentically, this objective will yield solid results.
4. Video Views
Video views are probably the easiest and most straightforward LinkedIn campaign objective. Using this method, your video ad will only be targeted toward people who are more likely to actually watch your video. In many ways, this objective is comparable to brand awareness.
The goal of a video view or brand awareness ad is not primarily to generate leads or produce other quantitative outcomes, but rather to capture the interest of as many people as possible.
5. Lead Generation
Results-wise, lead generation is among the best-performing objectives. The major difference is that it enables advertisers to create native forms for collecting leads straight from LinkedIn.
Rather than redirecting a lead to a website or landing page when they click on your ad, a native form will appear on their feed. This will save time and reduce the steps to collect lead details such as first name, last name, job title, LinkedIn profile URL, or other relevant information.
6. Website Conversions
The objective has the same end goal as lead generation, but it allows you to take users to your website instead of using a native form. The end goal is still lead generation because you want to drive as many conversions as possible within your budget.
When using this objective, it's important to clearly define the path your audience will take when interacting with your ad to maximize conversions.
7. Job Applicants
Using the job applicant's objective, you can advertise your current job openings in three different ways: Jobs, Spotlight, and Sponsored Content.
Users will be taken automatically to your LinkedIn profile's jobs section if you select the Jobs format. In this case, you won't be able to take them to a specific job post that you want to advertise. Instead, it will be a generic announcement that your business is hiring.
Promoting specific jobs may seem like a better avenue, but if you promote more generically, you can broaden your audience slightly and increase your candidate pool and brand awareness all within one campaign.
Understanding Campaign Budget Parameters
A budget is the amount of money you choose to spend on your advertising campaigns and marketing plans. On LinkedIn, you can set a daily budget and a lifetime budget.
An advertising campaign's daily budget refers to how much you plan to spend on advertising each day the campaign runs. Your lifetime budget determines the amount of money you wish to spend for the duration of the campaign. Both budget options can be chosen separately or in combination.
LinkedIn requires a minimum daily budget of $10, regardless of the ad format. Campaigns that are new and inactive require a minimum daily budget of $100. The minimum lifetime budget will adjust to a minimum daily budget of $10 multiplied by the number of days in the campaign.
Linkedin Ads have limited budget management tools, but they're easy to use. Ad campaign spending on LinkedIn can be controlled in three different ways: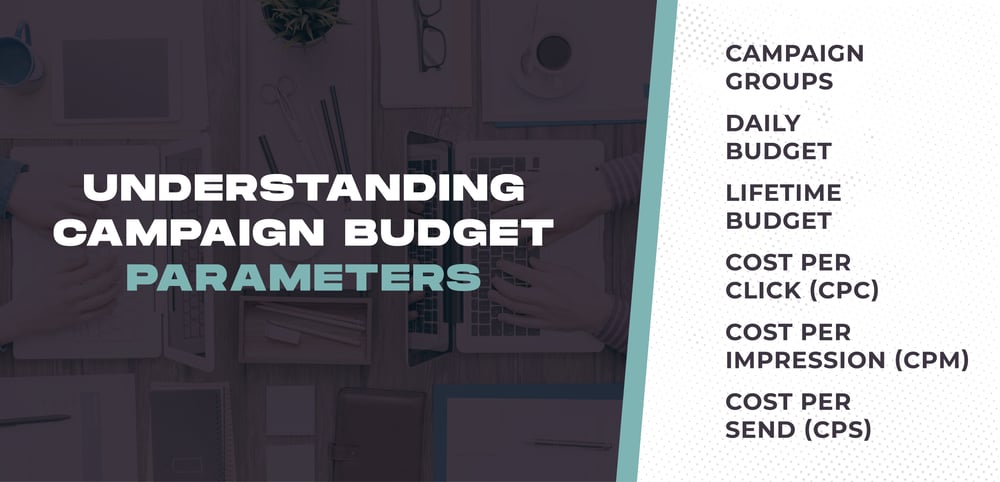 Campaign Groups: Set a budget for each campaign group, and all campaigns in the group will be paused when the budget is used
Daily Budget: Determines the average amount you would like your campaigns to spend each day
Lifetime Budget: This is the total amount you want to spend on an individual campaign from its start to end
There are several budgeting options available on LinkedIn:
Cost per click (CPC): Used to increase engagement with sponsored content and text ads
Cost per impression (CPM): Used to improve brand recognition
Cost per send (CPS): These are used to boost lead generation via sponsored InMail messages
On top of that, you have the option to decide how much to spend per day and overall on each campaign.
LinkedIn advises marketers to divide their marketing budgets 70:30, which means 70% of your budget should go toward increasing conversion rates and leads, and 30% should go toward awareness and engagement.
You should also experiment with a variety of ad formats and forms, track the spending as it happens, and pay attention to where your marketing budget goes.
You should monitor how fast your campaign budget is eaten up by the ads after everything is set up and the campaign is live. Increase your daily budget if your stats indicate poor reach and impressions — you can always cut back later.
If your budget seems to disappear too quickly, you should reduce the daily campaign budget. On the other hand, you should set more ambitious, competitive bids if you still have plenty of your budget left.
Planning ahead and being responsive to the campaign as it runs are the keys to success with optimization. Opportunistic marketers have many opportunities to cut or increase spending.
Bidding on Ad Placements
You can think of bidding like an auction for a target audience. What is the most you're willing to pay to reach your target audience?
An automated bid is a machine learning-based bid that produces the best ROI (charged per impression).
A maximum cost bid gives you more control over your budget, as you can specify the maximum amount you are willing to pay per click/video view/1,000 impressions. LinkedIn will display the recommended bid amount, as well as the range of prices set by advertisers that have similar audiences.
To get the most for your budget, LinkedIn recommends setting up an automated bid. However, if you want even tighter budget control, you should select a maximum-cost bid.
A/B Testing Your Ad Creative and Messaging
You should first find out the ad types and ad copy that are most effective for your audience before investing all your money in one LinkedIn campaign.
A/B testing is a good way to identify the best-performing ads in your business. By creating multiple variations of the same advertisement, you can test them all at the same time. A/B testing with LinkedIn's ad products — Text Ads, Sponsored InMail, Dynamic Ads, and Sponsored Content — is easy thanks to LinkedIn's services.
During the course of running the different ads to test, your business should closely monitor various metrics of each ad to determine its success. If you find the best-performing ad, stop running the ad variations that aren't working as well.
Doing this will allocate the remainder of your ad budget to the creatives and messaging that are performing better, saving you ad spend on those that are not.
Although A/B testing doesn't directly affect budgeting, it is helpful in determining if the money you spend on LinkedIn advertising is being spent wisely.
Activate Your Brand With LinkedIn Advertising
Your company's marketing success can be impacted greatly by LinkedIn ad campaigns if you have the right strategy, budget, and patience.
Don't overlook LinkedIn's powerful advertising platform while planning your social media marketing campaign strategy. Having a well-researched, well-optimized campaign can increase brand awareness, website visits, offer downloads, webinar signups, job applications, and leads, which will ultimately result in increased sales.

By utilizing LinkedIn ads, you can ensure that your brand's message reaches your ideal audience. This includes decision-makers with significant influence.
Connect with the LAIRE team and we'll work together to identify areas where you can improve your brand through a variety of digital efforts, including LinkedIn advertising. In the meantime, download our eBook for a step-by-step guide to a successful advertising campaign.