Press Release - May 6, 2021, Hermes Creative Awards named LAIRE a 2021 Gold Winner in the Interactive Media - Full Website Redesign category for the redesign of the Premier Print Group website. The Hermes Creative Award is one of the oldest and largest international creative competitions in the world, honoring the messengers and creators of the information revolution.


Award-Winning Website Redesign for Commercial Printer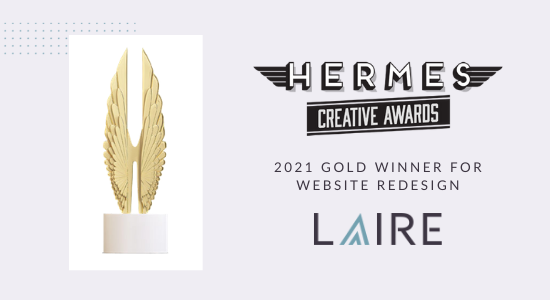 "We are extremely proud of our design and creative team for pushing innovation, surpassing our client's expectations, and earning recognition from a world-renowned awards competition.", says Todd Laire, CEO and managing partner of LAIRE.
Premier Print Group, a leader in commercial printing, tasked LAIRE to redesign and develop their existing site that had been virtually untouched since its launch in 2008. Our team combined unique design elements that referenced the industry, along with an easy-to-use content management system, website platform, and marketing tools for future success.
Dan Paulson, President of Premier Print Group commented, "The collaboration with LAIRE on the redesign project was seamless. We wanted a website that prioritized an efficient and pleasant user experience while hosting a vast catalog of informational, instructional, and valuable content resources, and LAIRE delivered. We now have a highly functional web presence that generates leads and positions us as industry thought leaders."
Hermes Creative Awards is administered and judged by the Association of Marketing and Communication Professionals (AMCP), one of the most respected evaluators of creative work in the marketing and communication industry. A list of Platinum and Gold Winners can be found on the Hermes Creative Awards website. Armed with their imaginations and computers, Hermes winners bring their ideas to life through traditional and digital platforms.
About LAIRE Digital
LAIRE is a Charlotte, NC and Charleston, SC-based agile digital marketing agency that was founded in 2006. LAIRE is a HubSpot Platinum Solutions Partner and has worked with hundreds of B2B companies in industries such as Finance, SaaS, Construction, and Manufacturing.
Our team of marketing strategists, content managers, and digital specialists aim to align client marketing and sales goals to strategies that connect to real-world buyer behaviors and a remarkable user experience. We convert and nurture prospects with valuable, educational content during their experience through their own version of the buyer's journey.
---