Thinking of hiring an external team to help with your marketing efforts? A digital marketing agency might be the way to go. Digital marketing agencies are an organization built of marketing experts that strategize, plan, and execute on tactics to help realize your marketing goals.
Often, many companies choose to hire an agency because they are cost-efficient, others because their initiatives don't require an entire internal department, and some companies opt to hire an agency as an extension of their internal marketing team to help with large project lifts. Why you hire an agency can be for a multitude of reasons.
However, don't get too excited about a potential partnership and sign on the dotted line right away. Take this time to vet your agency and determine if they already align with your company, or if they aren't the perfect match. Not sure where to start? We've outlined our top questions that you should be asking any marketing agency you are considering partnering with.
The Top Questions to Ask Before Hiring Your Digital Marketing Agency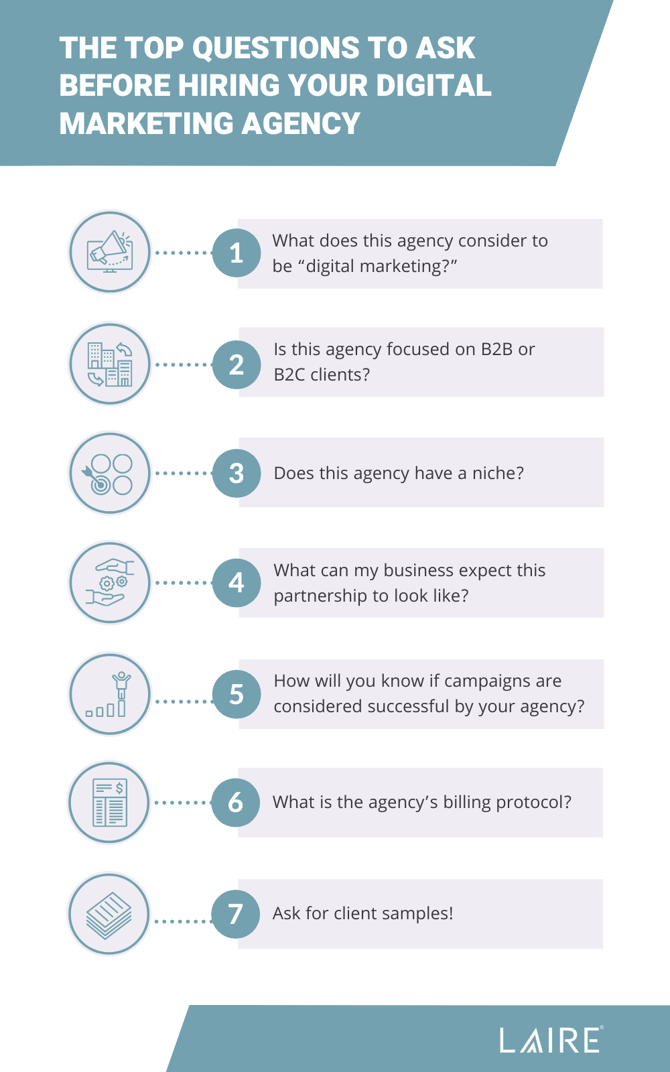 Questions about industry preferences, payment, and overall expectations are a big part of finding the right fit for your business. Not all agencies are one-size-fits-all, and you need to be sure you're partnering with the right agency that will not only align with your team but also align with your goals and be able to deliver results.
What does this agency consider to be "digital marketing?"
Digital marketing agencies all have different definitions of digital marketing. While it is common to think that all agencies do the same thing, this couldn't be further from the truth. The phrase digital marketing agency can be used to label SEO-focused organizations, companies that strictly focus on web design and development, or even branding agencies that only work on developing the brand strategy around your business.
It's also important to remember that not all agencies take the same approach to marketing. Some digital marketers might take a more traditional approach and focus on paid advertising to reach out to your audience, while inbound marketers take a holistic approach to bring leads in through visibility and content they are interested in.
Is this agency focused on B2B or B2C clients?
Business-to-business (B2B) and business-to-consumer (B2C) are very different avenues in which companies present themselves. Don't get us wrong, there can certainly be a crossover between the two, but the majority of businesses focus on one of the two and so do marketing agencies!
The main difference between the two is that B2B companies are talking to buyers for other companies. They might be targeting "decision-makers" at these businesses, but they are still trying to sell their product or service to another organization.
The manner in which agencies promote and use language surrounding your company will be different depending on which category your business is in. Opting for an agency that specializes in one of the two categories will go a long way in your overall marketing strategy, and will help your business see the results you want.
As mentioned above, you might see some overlap in product offerings, such as Skype being available for both individuals and corporate use. The way you market to each of these demographics is hugely different, and unfortunately, agencies are rarely experts in both.
If your business is one that is on the line of both, we recommend finding one of the few agencies that does market both B2B and B2C services and products, instead of putting your trust in one that exclusively markets one side to handle all of your marketing needs.
Does this agency have a niche?
Many agencies, like our own, focus on 1-5 industries that they are experts in. LAIRE focuses on the Financial Services, SaaS, Manufacturing, and Construction industries. Our team of marketers has experience and expertise in these industries and has tactics that are proven to work in these fields. Having an agency that specializes in your industry means you are partnering with a team that already has a base knowledge of the landscape within your niche, or might even have previous knowledge of your company and your unique offering.
These agencies will also have knowledge of your competitors and roadmaps on how to place your company ahead. Not to mention, they will have proven track records and examples they can share with you on how they secured wins for their clients in similar industries.
Pro tip: always check your potential agency's website for case studies. This will outline the framework they did for their client and the results they got from their efforts. You can come to the table with these studies and ask for specifics or how the agency could use a similar approach for your company.
What can my business expect this partnership to look like?
Every agency has different expectations of what their client relationships will look like. Some agencies will want their clients to be very hands-on, while others will prefer to be given the freedom to do what they feel is best.
Your company will have these same preferences as well. You might want your agency to be an extension of your current marketing team, or you might want your agency to take charge. The fact of the matter is that this dynamic varies across the board.
By asking your agency how they prefer to interact with clients, you will have the opportunity to build a system that holds each side accountable. Also, consider asking the agency what their expectations or preferences are around approvals, their usual turnaround times, and how much editing you are expected to do. We would also recommend establishing who will be the point of contact on each side, that way communication and needs don't get murky.
Finally, ask how often you are expected to be in attendance at meetings to set priorities, plan for upcoming projects, and get progress updates on the current tasks happening. In the beginning, this will most likely be more frequent as new projects or initiatives take place and your agency gets to know you, and vice versa. You most likely will be expected to attend weekly, biweekly, or monthly meetings with your external marketing team.
How will you know if campaigns are considered successful by your agency?
The bottom line is that marketing does not always deliver a direct ROI. More often than not, marketing is an effort to bring leads to the door and then are passed to sales to close. All agencies measure success in different ways.
If you are working with an SEO agency, success can be measured by your search volume, keyword authority, and SERP ranking or features. If you're working with a branding agency, success might be measured by the new company logo printed onto business cards. Like the majority of these questions, the answer just depends on the agency and your expectations.
Your expectations matter here, and it is important to voice them. Your agency will want to know if website traffic matters more than Facebook followers, or if your webinar views take priority over your eBook downloads. This is where you can set the stage for what you expect to be made aware of and will also get your agency's gears turning on tactics they can use to deliver these reports.
Don't forget frequency!
Make your agency aware of how often you want to see a report on your efforts, but keep in mind that many efforts will not show progress overnight. For example, when the LAIRE team publishes or optimizes a blog for SEO, it can take upwards of 6 months to see if we saw the results we were expecting. After all, Rome wasn't built in a day. Keep the same sentiment with your marketing efforts.
Try setting the standard that you'd like to see website traffic reports once a month, or see session to contact rate once a quarter. This can always be changed and will help you see that your investment is making a difference.
What is the agency's billing protocol?
Pricing is a hot topic for everyone, regardless of the service or project they are trying to purchase. You want to know how much work you will get for the budget you have. A large handful of agencies price by hours spent on a project or working directly on your company's tasks.
Others will price out the work by project. There might be a set amount for social media posts for the month, a set amount for an email nurture campaign, or a set amount for a whole website revamp. When you are considering an agency, they can break it down for you further and give you an estimate of how much your initiatives will cost.
This also brings up the conversation of how often you will be billed, and how long your contract will last. Some agencies bill on a project completion basis, others on a monthly basis, and so on.
Many agencies will request you to sign a retainer contract that states you will pay them an agreed-upon amount on an agreed-upon basis for a certain amount of time. Others will allow you to work on a project-by-project basis. The agency could also allow you to go month-to-month.
Asking these questions will not only give you an estimate of what you will invest in but also give you insight into what tasks will take more legwork. This can be great for deciding if this is a task you want to outsource or if it is a task you want to keep in-house.
Ask for client samples!
Any reputable agency will be proud to show off its hard work to potential clients. They've put their heads together to deliver results, and as long as the client's work is not confidential, they will want to share it with you. This circles back around to the case study point made earlier. The first place to look for examples is on the agency's website, as many agencies will use this section of their site as a portfolio of sorts.
This client work will also give you an idea of what they will produce for your business. If you are a cutting-edge service provider looking for an abstract rebrand, seeing these client examples might help you weed out more traditional agencies that play it safe.
You can also judge the quality of the work produced, to ensure it meets your standards. Watch out for typos, usability issues, and less-than-stellar results. At the end of the day, a win for a client is a win for the agency, and they will definitely want to highlight their wins.
If an agency is unwilling to show you their previous work, get out of there! This is usually an indication that the agency is not confident in the work they do, is afraid of the errors they've made, or is worried their minimal results will scare you away. You want the agency to brag about themselves when you bring this up, and not doing so raises major red flags.
Asking for these work examples will also give you the chance to ask how they would use similar actions to make gains for your organization. The work will (hopefully) be customized to your unique business, but there are still some areas that can be brainstormed on the spot. If you're viewing a website the agency built, ask how they would use similar elements for your website, or ask what they think is crucial for a standout design.
Anyone Can Talk the Talk. Partner With an Agency that Walks the Walk.
Agencies can promise you a list of things they will deliver to you, should you choose to hire them. But we challenge you to think back to how you found them. Did you find them through a referral from a professional connection? Or did their ad jump out at you on LinkedIn? Maybe you just searched "digital marketing agency" on Google and they were at the top of the list. These are all telltale signs of how good their marketing strategy really is.
Your agency's digital presence will speak loudly for itself and set the standard of what they can do for you. If their website is seriously lacking information or is super plain, they might not be the ideal partner for your website revamp. Or if they aren't present on social media, they might not be capable of creating a solid social media strategy for you.
Become a detective and do some old-fashioned stalking on your potential partner. Dig through their resources, subscribe to their newsletter, and keep an eye out for the quality of their materials and the consistency of their performance. This will help you pick out the winners in your group of choices.
In fact, we challenge you to dig through the LAIRE archives. Get to know us on social media and see if our service offerings align with your goals. We might be the partner you're looking for! We even offer a free 20-minute marketing or branding assessment to show you how we would go above and beyond for your business.