If you are even remotely interested in the growth of your business, you know that having an online web presence is an absolute must. Your website is your online first impression. But what good is a website page if it just looks pretty? As marketers, we have a desire to produce and create compelling content that answers the top questions or solves the problems that our target audiences have. We want them to take meaningful action on our websites, also known as "convert". If your website is not converting any visitors for you at the moment, it may be time to work through our conversion rate optimization (CRO) checklist to see how you can take actionable steps to improve the experience for the user on your current landing pages.
What is Conversion Rate Optimization (CRO)?
A conversion rate is the percentage of visitors to your website that complete a desired action (or, convert). This desired action may include completing or submitting a form, signing up for a service or newsletter, or even purchasing a product. The main thing to know here is that by paying attention to your CRO, you are removing the barriers that may prevent a conversion while simultaneously creating a positive experience for your customers. The formula to determining CRO looks like this:
( Number of Conversions or Leads Generated / Number of Visitors ) x 100 = Conversion Rate %
After calculating your percentage, you can understand if your conversion rate is high or low. According to Wordstream, "the average landing page conversion rate was 2.35%, yet the top 25% are converting at 5.31% or higher. Ideally, you want to break into the top 10% — these are the landing pages with conversion rates of 11.45% or higher."
A higher conversion rate indicates that your website is well-designed and well-received by your target audiences. It is effectively formatted and the content is appealing enough to warrant action by the user. As a business especially, you want to know that your website is performing in such a way that converts visitors into eventual paying customers. Your website is full of potential to optimize for reliable conversions in various locations
The Process to Improve Your CRO
If you have a landing page that is receiving a substantial amount of views, but minimal clicks to no clicks at all on your offer or call-to-action (CTA), it's clear that there is a disconnect for the user. Improving the level that site converts can ultimately boost your sales, so it's definitely worth paying attention to, although many marketers overlook the opportunity. Unfortunately, there is no tried and true formula to determining exactly what will impact your conversion rate.
This iterative process involves a hypothesis, testing, and evaluation phases. By conducting regular audits of your website pages, running multivariate or A/B tests, you are sure to gain the insight needed to make serious improvements. For each test that you run, you will form a new hypothesis. Your hypothesis may sound something like this, "If I change 'X', I estimate I will get 'Y' result".
Common CRO Updates
There are a few common updates when it comes to improving a conversion rate. These updates include: shifting the location of a call-to-action, switching up the design or language in a CTA, relocating or renaming menu items, editing the title or header text for clarity, replacing outdated imagery, or making minor button updates (whether that be location, color, or verbiage).
The CRO Checklist for Landing Pages
Before working through our CRO checklist, you'll want to start by asking yourself these questions:
1. What is the primary goal of the page?
2. What do we want that page to do for our users?
3. Is the page accomplishing the goal?
If your page is NOT accomplishing the stated goal and is NOT doing for users what you initially intended, assess your page against each of these checklist statements below.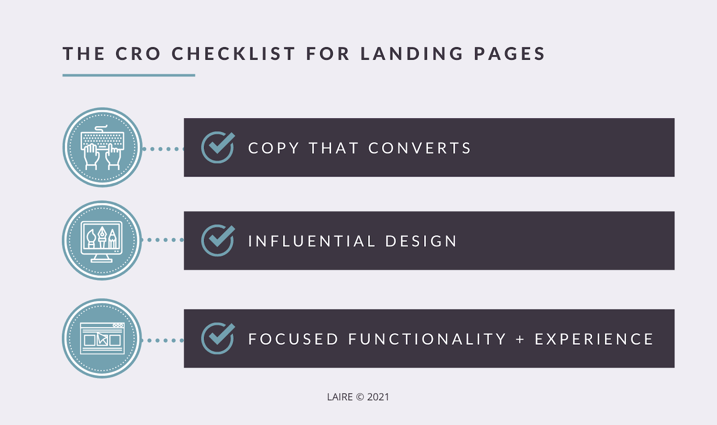 LANDING PAGE COPY
The page content supports the chosen CTA.
The page has a clear purpose and value proposition.
The title/headline communicates value and says something meaningful.
The CTA copy is descriptive and sounds desirable.
The copy has been proofread.
There is a single CTA, so the user stays focused on the goal.
The page has a descriptive meta title and meta description.
DESIGN
The page has a visually appealing color scheme that creates interest for the user.
The page is not cluttered.
Whitespace is used around the focus elements of the page.
There are directional cues that focus the user's eye towards the CTA button or form.
The CTA contrasts with the rest of the page.
The CTA button looks like a button.
There is a CTA button above the fold.
There are clear sections and an order for the user to process the information.
The font style, size, and color were chosen wisely.
The page has a visual focus.
The page is consistently branded with our business' brand standards.
The images have alt text.
FUNCTIONALITY + USER EXPERIENCE
The form only asks the user for necessary lead information.
The form length is not intimidating for the user.
The links are working.
The page is easy to navigate.
The page speed has been optimized.
The page is mobile-friendly and responsive on multiple devices.
The page is at an optimal length.
There is a 'Thank You' page that discusses the next steps post-conversion.
Unnecessary distractions have been removed.
Menu and navigation options have been simplified.
Conclusion
Many things can be done to optimize your website for page experience, but do you know at this time which ones will make the biggest impact for your company? How do you know where to start? Here's our advice -- start with the items that are within your reach, the quick-wins. These are the updates that you know can be made with the help of your current team or your personal specialties within your website platform.
For what you can't do, you need a user-driven strategy based on real data and insights from your current audiences. LAIRE can help you identify which areas of your website are underperforming and transform it into the lead-generating machine that you dream about. Let's chat about our process for building strategic websites and how a growth-driven agency can support your efforts. In the meantime, check out our free guide, "25 Website Must-Haves".