Case Study Overview
C.A. Short Company, a leader in providing employee recognition solutions, started their partnership with LAIRE by kicking off a COVID-19 focused marketing campaign. We implemented an inbound content strategy focused on the offer, as well as incorporating ad spend, and lead flows to generate new business and leads.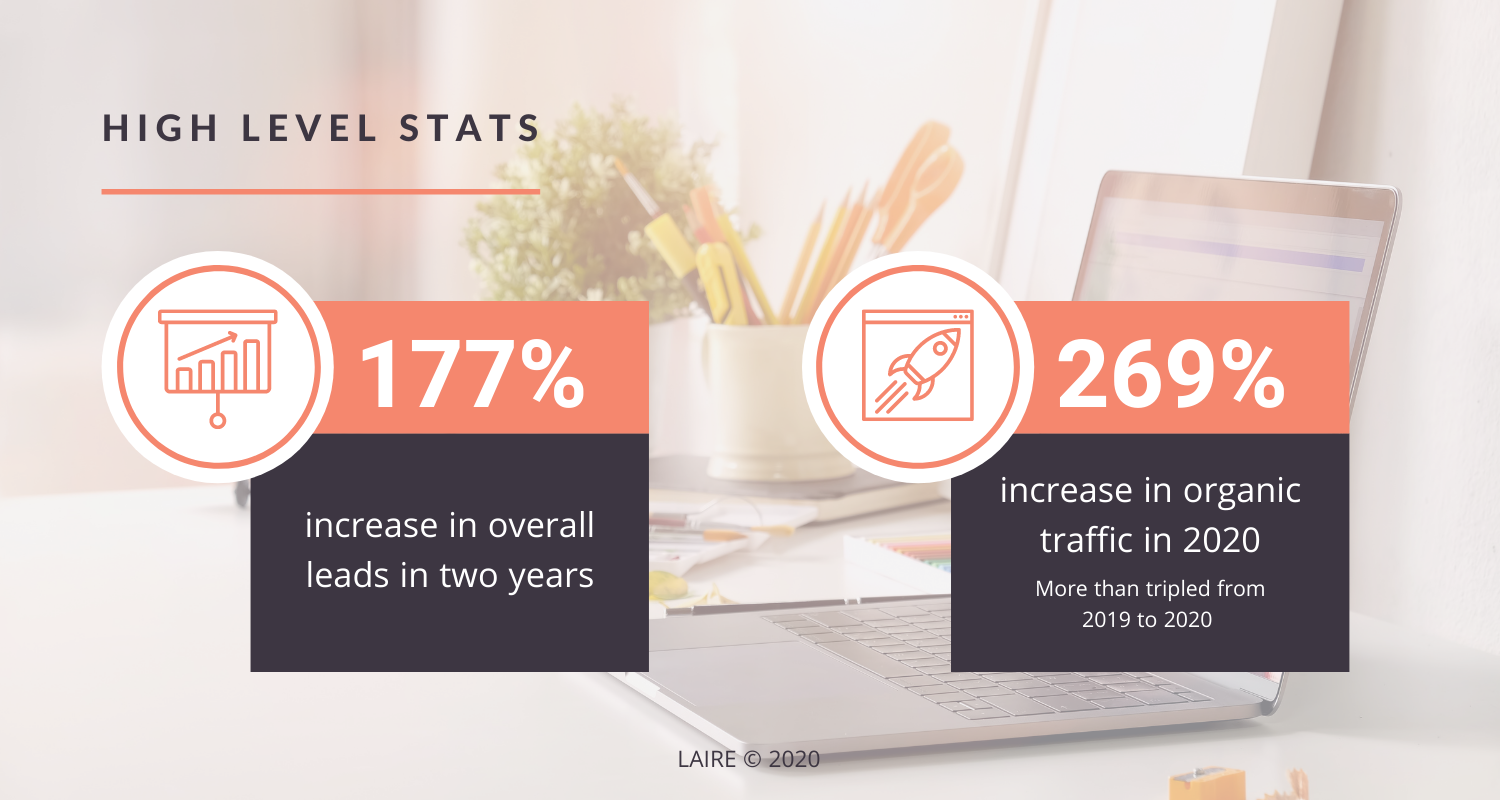 HIGH LEVEL STATS:
177% increase in overall leads in two years
269% increase in organic traffic in 2020
More than tripled from 2019 to 2020
Challenge
C.A. Short Company is a leader in employee engagement and recognition award solutions. For more than 80 years they have partnered with a variety of businesses to increase employee engagement, productivity, and employee retention. C.A. Short offers a variety of solutions including OSHA-compliant safety incentives, employee engagement platforms, years of service awards, and wellness programs.
With COVID-19 sweeping the nation in 2020, consistent leads had begun to slow down and more workforces and employees were working remotely. C.A. Short wanted to use this opportunity to generate a campaign that would target a newly remote audience, as well as develop new contacts and leads for employee engagement solutions.
Solution
C.A. Short Company partnered with LAIRE for a full marketing and inbound engagement with hopes of increasing search visibility and more qualified leads. The start of the partnership involved the big push for a COVID-19-focused marketing campaign. This included:
Content creation
Email nurturing
Optimized landing page creation
Social media push to promote the offer
Paid media campaigns
COVID-19 - We're All in This Together Campaign
Content Creation and Inbound Best Practices Generated 67 Form Submissions
For the "COVID-19 We're All In This Together Campaign", we started with content creation, generating effective landing page copy. We also designed and implemented a new landing page design to improve user experience and lead conversion.
Our content plan centered around industry keywords, as well as incorporating common hardships and emotional verbiage to capture what many employees may be facing during the COVID-19 pandemic. The same verbiage and content was applied to email copy, calls-to-action, and social posts for generating traffic to the campaign landing page.
After implementing an email campaign and nurturing leads through a variety of marketing channels, we were able to generate 67 quality form submissions, as well as over 600 landing page views.
Custom Inbound Marketing Plan for a B2B Leader
Another goal of the C.A. Short Company was to increase organic search traffic and leads. We utilized an aggressive content and SEO strategy, creating unique blog posts every month, along with re-optimizing current content efforts. Monthly we accomplished 8 content pieces optimized for organic search, each focusing on the different service offerings and stages of the buyer's journey.
Additionally, after utilizing HubSpot CRM for 5+ years, the company was in need of a comprehensive audit to clean-up their existing contact information systems, and a redefinition of their MQLs and SQLs to be cohesive with their sales process and goals. We integrated additional workflows and strategic form follow-up emails to better qualify users and define key conversion offers to supplement their stage of the buyer's journey.
Microsoft Dynamics Audit
During our systems audits, we also reconfigured a sync between HubSpot and Microsoft Dynamics to ensure data continuity and integrity. We reviewed the processes and procedures for system users across both platforms to identify information gaps, as well as updating fields and properties in each system to ensure all data was captured and synced uniformly. We also reconfigured the custom integration process triggers to more accurately account for updated information in either system.
Once the integration was updated, we consolidated data from both systems and removed over 5,000 unnecessary/unused contacts from HubSpot.
---
Grow YOUR business with a content plan, strategy and implementation - Download your copy of the content marketing workbook!
---
Results of our Inbound Marketing Plan
COVID-19 Campaign Performance (April 2020 - October 2020)
645 Page Views

67 Total Form Submissions

41 New Contacts

Average Time per Page View: 3 minutes




2020 RESULTS
Average of 6,909 organic visitors to the site each month
Leads = 834
24% increase in total clicks from 2019 (82,000 clicks in 2020)
6% increase in total impressions from 2019 (4,310,000 impressions in 2020)
217% increase in organic keywords from 2019 to 2020 (1,124 vs 3,564)
Impact
After the COVID-19 focused marketing campaign, our team continued to partner with C.A. Short into 2021. We continued our engagement with an aggressive SEO and content creation strategy, as well as implementing marketing and CRM audits to align sales with marketing efforts. We also integrated our website development and technology team to restructure content and designs on a variety of pillar pages and landing pages, as well as clean up outdated templates left over from previous website re-designs with other vendors.

Reaching the end of our partnership's first year, we have encompassed a variety of marketing and inbound solutions including content creation, workflow creation, lead criteria, email marketing, and website optimization. This all-inclusive approach allowed us to evaluate all aspects of their past marketing efforts, and provide ongoing strategic recommendations to increase impressions, clicks, and leads.
Testimonial
"To get a 'Very well done!' from our CEO is like being handed the holy grail 😊. When I saw it I latched onto it and wanted to share it with you because it means something. It isn't just BS when we talk about what great work you guys are doing right out of the gate. We used to come out of our marketing meetings (which always ran over) with frustration and disorganization and things just never aligned…for years…that entire image is fading away after just working with your team for a short time."

- R. Scott Russell, CRP, CEP - Director - Engagement Strategies C.A. Short Company