Case Study Overview
Spaugh Dameron Tenny, a financial planning firm for medical professionals, needed a strategic marketing partner they could rely on to help them reach their inbound marketing initiatives. LAIRE implemented a website redesign, consistent content strategy, and inbound marketing to help them reach their goals. The results?
High-Level Stats:
Boosted conversion rate by 1180% in one year
Click rate increased by 505% in one year
208.39% increase in ranking organic keywords since site launch in September 2019
Total impressions increased by 440% in one year
Video Testimonial: Shane Tenny, Managing Partner of Spaugh Dameron Tenny
Background
SDT: Financial Planning for Physicians and Dentists
Spaugh Dameron Tenny (SDT) is a financial planning firm based in Charlotte, NC that provides comprehensive services for physicians and dentists. When we were first introduced, their marketing manager was in charge of all of the marketing efforts for the firm. They wanted to increase their marketing initiatives, but the manager didn't have the bandwidth to accomplish this single-handedly.
In 2019, we built the initial foundation by launching the new website with an SEO and CRO focus.
In 2020, we grew SDT's digital presence and expanded organic reach with a content focus, building a steady publishing cadence and creating digital content for visitors to engage with and download.
The Challenge: Lack of a Digital Marketing Strategy
SDT's biggest competitors were the online financial e-planners that offered convenience. The firm had been practicing for over 60 years, and they weren't sure how to leverage the digital space to their advantage. The last thing they wanted was to be dull in the changing business landscape. While SDT offered a personalized, white-glove service that an e-planner could not, our client knew they had to up their digital game to win over younger, tech-savvy clients.
Many clients only thought of them for one service (like insurance) and didn't know the breadth of what they offered. This was due in part to their website being incomplete. It didn't tell the whole story of their services.
Another issue they had was with lead tracking. The firm started lead tracking in early 2019 and saw how few leads their site brought in (over 9 months they had 12 leads and closed 8). They had one contact form on their website, and no way for their clients to dive deeper to educate themselves. While they were reaching a network of doctors locally, they had the capability to serve medical professionals across the U.S.
SDT had some solid and innovative marketing tactics in place when they came to us including a podcast, e-newsletters, local lecture series, and webinars, but these tactics were disparate and not tied to a larger strategy. SDT wanted to take strides to be smart with every marketing action, use tracking, and tie it back to the larger goal.
The Goal for a Financial Services Company
The client had set lofty goals. They knew to reach them they needed to have a comprehensive plan to drive traffic, and bring in many more clients, regularly. Here were the goals they set: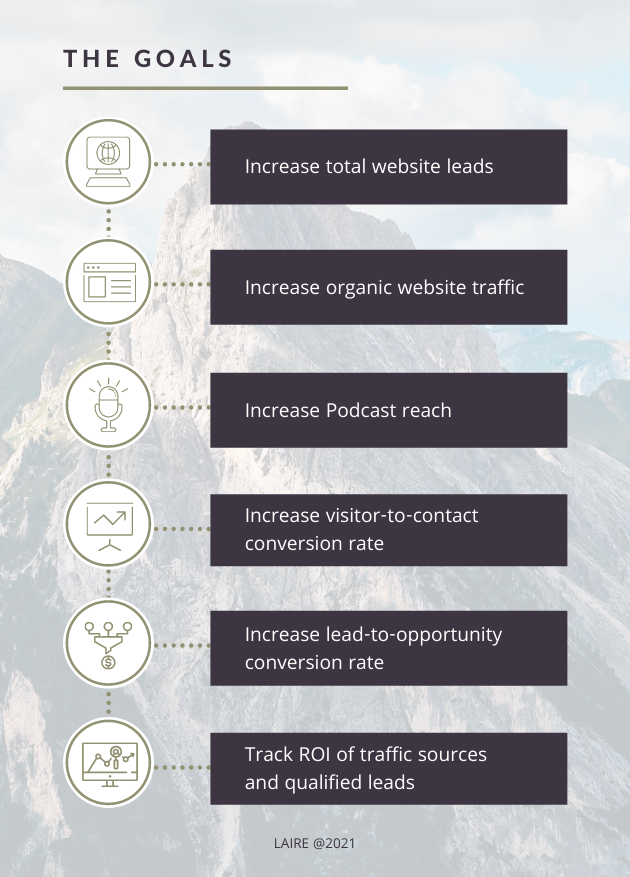 Increase total website leads
Increase organic website traffic
Increase Podcast Reach
Increase visitor to contact conversion rate
Increase lead to opportunity conversion rate
Track ROI of traffic sources and qualified leads
Our Solutions for Financial Planners
Crafting a Marketing Action Plan (MAP) by LAIRE ® & Committing to Take Action
After hearing the different problems SDT faced with their current approach, we presented them with a personalized, Marketing Action Plan specific to their business. During this process we...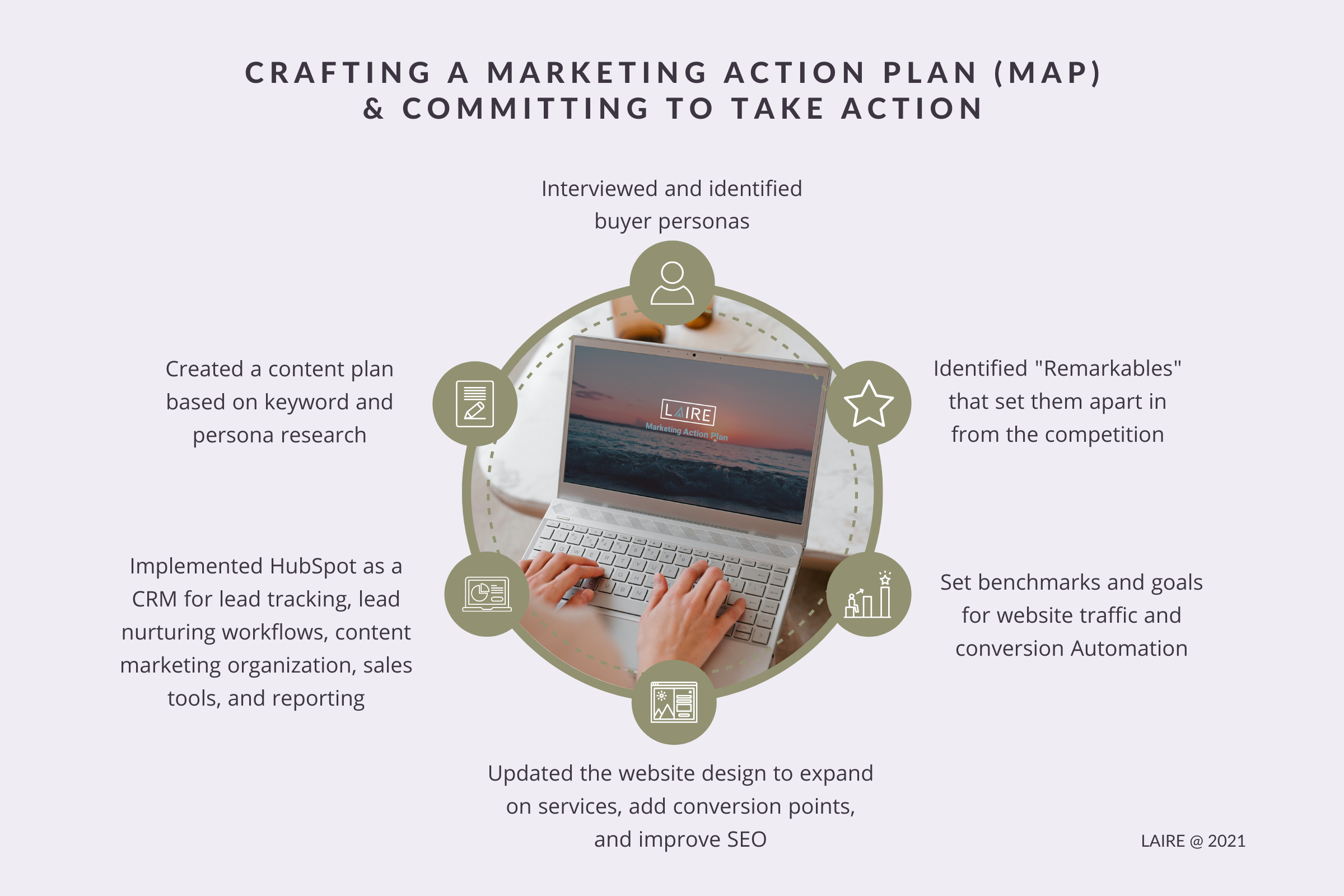 Identified buyer personas
Identified remarkables that set them apart from the competition
Set benchmarks and goals for website traffic and conversion
Updated the website design to expand on services, add conversion points, and improve SEO
Implemented HubSpot as a CRM for lead tracking, lead nurturing workflows, content marketing organization, sales tools, and reporting
Creates a content plan based on keyword and persona research
Once they had a marketing plan, we didn't stop there. They decided to partner with LAIRE to make sure that the items laid out in the plan were accomplished. They understood the importance of creating consistent, valuable content for their potential customers and setting goals to reach new levels of revenue.
Ongoing Efforts:
Continue posting blogs in a regular cadence to increase SEO and organic search
Create new downloadable conversion offers (eBooks, white papers, checklists, etc.)
Add/optimize conversion opportunities on blogs and across the site
Create targeted email nurture campaigns to move leads through the buyer's journey and to their advisor pipeline
Close the loop between marketing and sales


2020 Inbound Marketing Results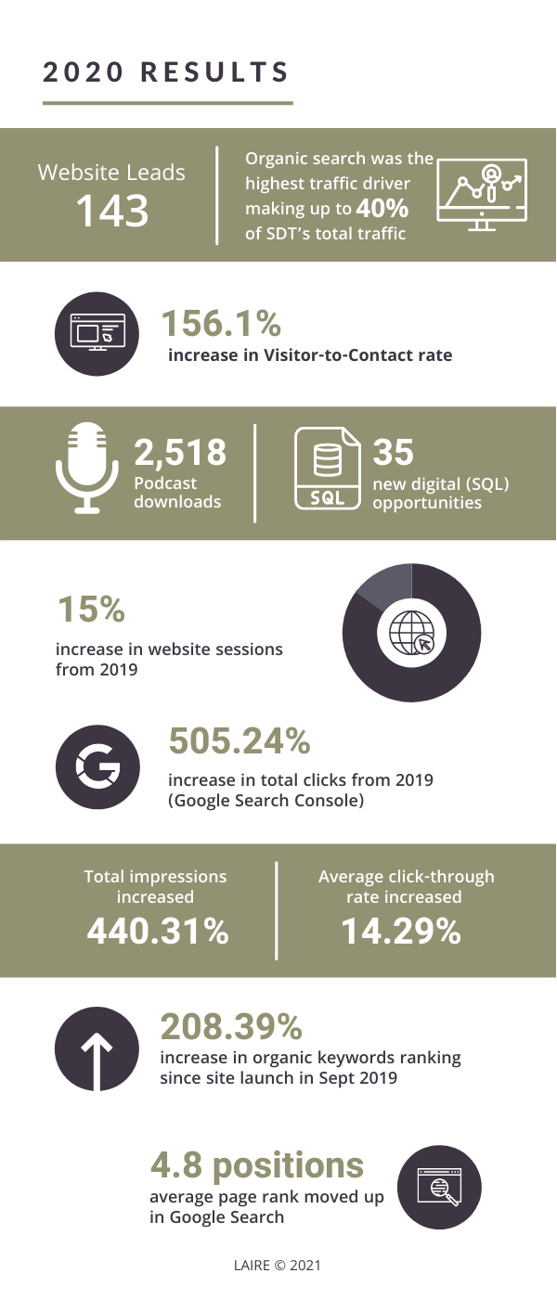 143 new website leads
Organic search was the highest traffic driver making up to 40% of SDT's total traffic
- A total of 6,734 organic search visitors to the site in 2020, whereas, in 2019, SDT only had 2,816 organic visitors
2,518 podcast downloads
Visitor to contact rate increased by 156%
35 new digital (SQL) opportunities
Website sessions increased by 15% from 2019
From 2019 to 2020 (Google Search Console)
- Total clicks have increased 505.24%
- Total impressions have increased 440.31%
- Average click-through rate increased 14.29%
- Average pagerank moved up 4.8 positions in Google Search
Keywords:
- 208.39% increase in organic keywords ranking since site launch in September 2019
Summary
One thing that digital marketers have the most control over is organic search outcomes. With the LAIRE team, SDT improved its organic search sessions by creating content centered around relevant, high-volume keyword topics. In simple terms, SDT produced consistent content that their ideal buyer persona was already searching for. By being strategic with conversion rate optimization (CRO) and showing the correct content offers to the right buyer persona, SDT boosted its conversion rate by 1180% in just one year.
Continued Impact
By creating content offers like eBooks, guides, and quizzes, SDT was able to capture contacts in their CRM. From there, they could nurture their contacts with other relevant content to continue to guide them down the marketing funnel. By implementing data-driven marketing initiatives, they were able to increase contacts and the conversion rate on their overall site.
"LAIRE has been a huge asset in transforming our digital infrastructure, which has improved the reporting and communication between sales and marketing. LAIRE's collaborative and agile approach has helped us exceed our goals while increasing efficiencies through thorough planning, marketing automation, and guiding us through the challenges of adopting Hubspot."
- Spaugh Dameron Tenny Team