Case Study Overview
Our partnership with manufacturer Conitex Sonoco has resulted in a 100-page fully optimized website, as well as a full-service marketing strategy.
50.89% Increase in Organic Sessions in 6 months
83% Increase in Overall Website Users in 2 years
Background
Global Manufacturing Company In Need of Website Redesign
Conitex Sonoco first engaged LAIRE in 2017, in need of website consolidation. A global parent company of multiple packing and transport supply brands, they sought a solution that would allow them to operate many brands under one cohesive website and easily integrate new brands and products as the business grew.
The Problem
Inconsistent Content Strategy and Conversion Opportunities
Despite being part of the same conglomerate, multiple brands dissociated from each other on the website. The site lacked cross-selling opportunities, which led to customers abandoning the site to find additional products that Conitex carried. Despite being a global company, there were no language translations which limited their global visibility and ease of use.
Internal qualified lead follow up was insufficient & not conducive to projected growth. There were inconsistent offers and resources, along with distribution lacking in strategy. The company also lacked a content strategy with no steady stream of engaging content.
Our Strategy
Four-Phase Solution Aimed At Increasing Website Traffic
We began a year-long, growth-driven web design and content project, resulting in increased web traffic on 100-page fully optimized website and content offers hosted on the HubSpot platform. Our strategy consisted of 4 phases:
Website Design & Brand Consolidation
HubSpot Implementation
Content Strategy and Optimization
Website Translation Functionality

Phase 1: Website Redesign and Brand Consolidation
We dove head-first into a 6-month, growth-driven website redesign and development. Working with internal marketing and sales team members, we sought feedback from current and former clients, developed buyer personas and identified a brand voice that would unite the companies and speak to end-users. We wove together the stories of each unique brand to create a simplified narrative customers could identify with. We simplified how users found and chose available products. This was a huge accomplishment which ultimately helped drive sales and simplify the buyer's journey.
Phase 2: Software Implementation - Using HubSpot to Unite a Global Sales Follow Up Process
As a HubSpot Platinum Partner, we are experts in the tools and features hosted on HubSpot's inbound marketing and sales software. Conitex needed a process for qualifying and nurturing leads that could be implemented across its global sales team. Utilizing HubSpot, we developed an internal sales process that determines the quality of a lead, and assigns the lead to the proper sales representative in the appropriate region. To reduce friction and increase response times, we also applied automation to instantly follow up with leads.
Phase 3: Content Strategy
In addition to implementing HubSpot as a sales tool, we leveraged HubSpot to create a streamlined content strategy which covers offerings across all brands. We established a blog cadence that offers useful long-form content and segmented the content into categories under an easily accessible "Resources" tab. In addition to blogs, we added a variety of content offerings, including eBooks, whitepapers, brochures and videos.
At the peak of our content strategy, Conitex Sonoco saw a dramatic lift in website traffic in 2018. Once our first engagement ended and the content strategy was no longer being implemented, the client saw a significant decrease in website traffic. Upon reinstating the content strategy, website traffic began to climb again.
Phase 4: Website Translation Function
The website translation phase is currently in progress and will enhance the overall accessibility of the site for Conitex Sonoco's global partners and users. The functionality is almost complete and will be released soon.
The Results
2019 Results
Total Sessions = 51,921 (up 80.4% from 2018)
Users = 43,169 (up 83% over 2018)
Organic Sessions = 23, 838 (up 72.15% over 2018)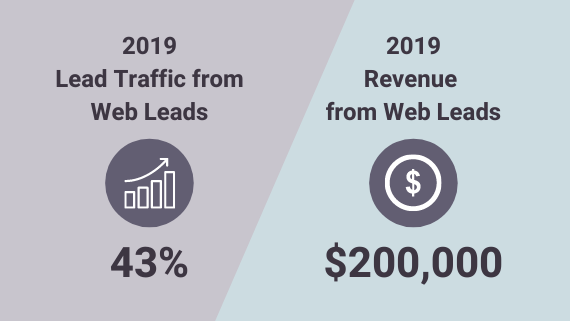 2018 Results - 6 Month Campaign
Total Sessions = 12,299 (up 42.91% from previous 6 months)
Users = 10,060 (up 44.68%% over from previous 6 months)
Organic Sessions = 5,414 (up 50.89% from previous 6 months)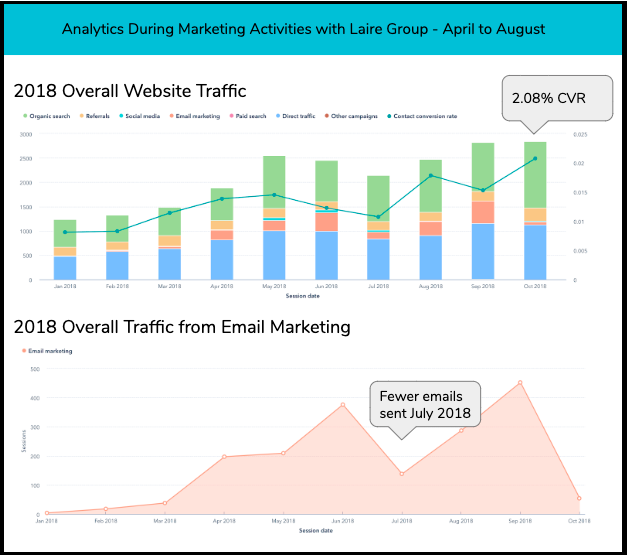 Notable success has come in the form of higher quality leads -- achieved through relevant keyword implementation, an increase in helpful downloadable content, and improvements in sales responsiveness.
Client Success Story
Conitex Sonoco closed a $100,000 deal thanks to web traffic and lead conversion
Since the launch of the website, web traffic and lead conversion rates have consistently grown month-over-month, and in July 2019, Conitex Sonoco closed a $100,000 deal for their LoadRunner corrugated paper pallets; a deal generated from organic search.
The European Union changed its 'Import and Safety Standards' - an update that affected companies with various needs. A company, whose current pallet provider was prohibited by new regulations, was in search of an alternative and landed on Conitex's website via Google search. The simplified user experience allowed the company to easily identify the safety standards and specifications of the product and the sale closed in 3 days.
With the implementation of Laire's content strategy, internal sales process, and automation, the qualified lead was assigned to a sales representative in the correct location who followed up, nurtured, and closed the sale in record time.