Whether you are new to HubSpot or you have been using the platform for years, there is one common truth you need to evaluate regardless of your industry: your HubSpot portal will only help you succeed if you are utilizing its full potential. Let's take a look at how the LAIRE onboarding approach helped a national building material manufacturer set-up its HubSpot portal to scale for the future.
Background
About National Gypsum: A Leading Building Material Manufacturer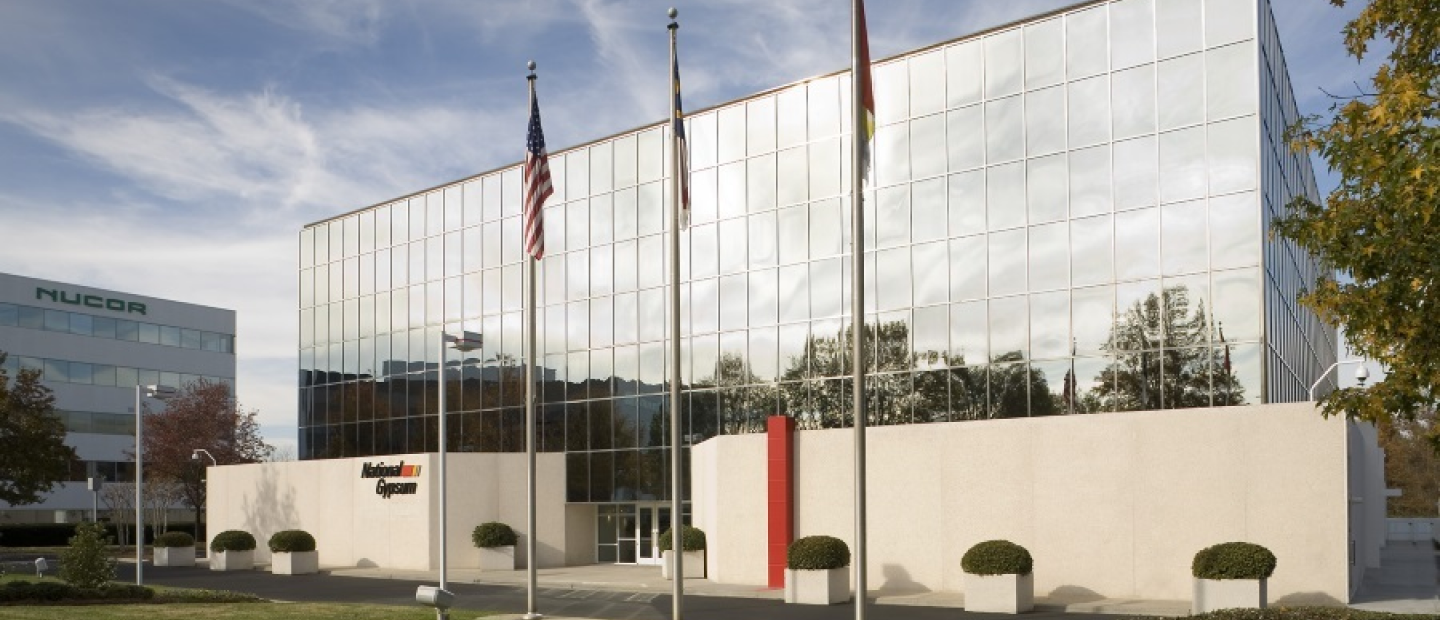 National Gypsum (NGC) is a leading producer of building materials for brands such as PermaBase®, Gold Bond®, ProForm®, and DEXcell®. . Headquartered in Charlotte, North Carolina, NGC has 17 manufacturing plants located across the country in order to facilitate an efficient customer delivery system. As a leader in quality, customer service and innovation, National Gypsum prides itself on supplying building and construction products on a global scale.
The Problem: Onboarding with HubSpot to Reconnect Marketing and Sales Initiatives
As a beginner in the HubSpot world, National Gypsum needed assistance learning the HubSpot Marketing and Sales Hub, getting newsletter campaigns up and running, and defining their sales process. Here is an in-depth look at how LAIRE worked with National Gypsum to overcome their marketing and sales challenges using the HubSpot platform.
Creating Digital Newsletters
Before, NGC used a different email marketing program to send out email newsletters. This system worked for them for a while, but after purchasing HubSpot, they decided to move all e-newsletter initiatives to their HubSpot portal. The problem? They didn't know how to use HubSpot yet, and they needed to migrate their e-newsletter to the new portal fast.
Data Segmentation
Another problem NGC had was that they weren't sure about how they could take control over HubSpot's data segmentation capabilities. They needed training from a partner they could trust to make sure that everything was set-up correctly. (They wanted to be sure that there wouldn't be any hiccups later on down the road!)
No Documented/Standardized Sales Process
The last challenge was that NGC didn't have a defined sales process written down. They hadn't identified the gaps between their marketing and sales teams, and they hadn't asked the right questions to improve their current internal processes. In addition to this, they also lacked a standardized approach to the sales process. All in all, they needed help paving the way for the sales to come in the future.
With these challenges, NGC decided to reach out to a Platinum HubSpot Partner, LAIRE Digital, to help them get assistance with their new HubSpot portal. After signing on with LAIRE, they begin the onboarding process to get their account set-up smoothly.
The LAIRE Onboarding Solution
Once NGC entered into the partnership, LAIRE mapped out a 90-day plan to get NGC's account up and running and for their internal team to be fully trained on how to use HubSpot.
With 90 days to complete the LAIRE onboard, NGC needed to...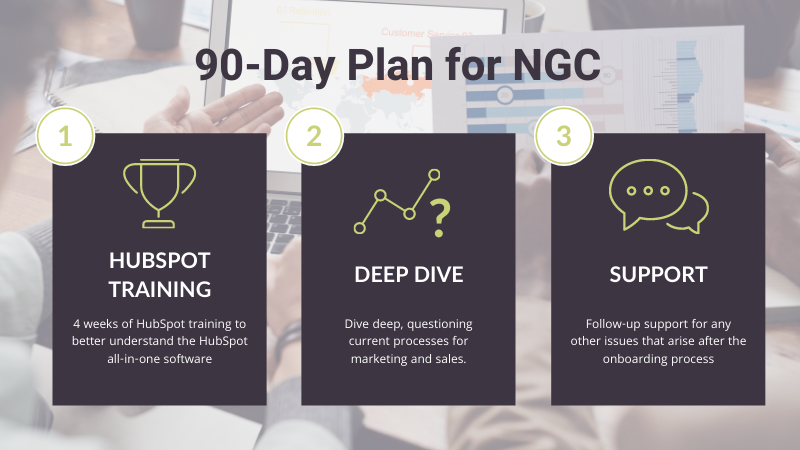 Have 4 weeks of HubSpot training to better understand the HubSpot all-in-one software
Dive deep, questioning current processes for marketing and sales.
Have follow-up support in the case that any other issues arose after the onboarding process
Let's take a closer look at the LAIRE onboarding approach with National Gypsum.
LAIRE HubSpot Training
When it comes to onboarding, every client has different needs. Some clients are already well-versed with all of the HubSpot features while others are just starting out. For NGC, LAIRE built out a 4-week training plan for their teams to get a better grasp of HubSpot's capabilities.
Here is what the NGC training plan consisted of: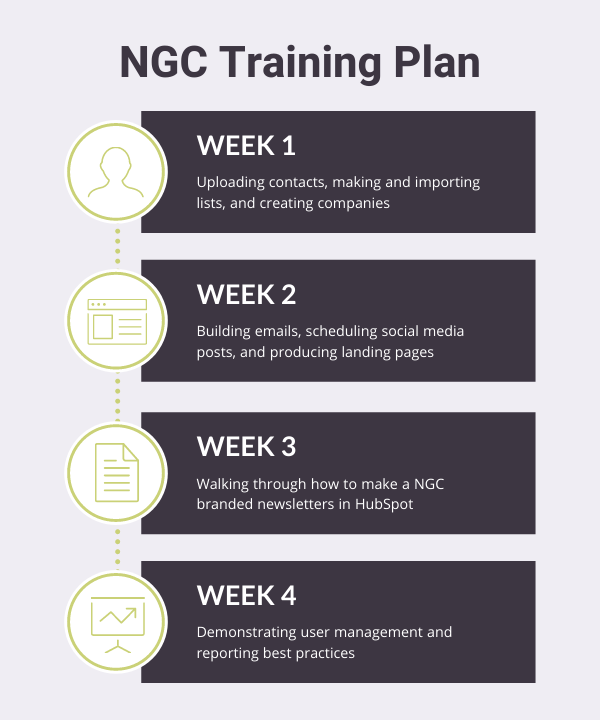 Week 1: Uploading contacts, making and importing lists, and creating companies
Week 2: Building emails, scheduling social media posts, and producing landing pages
Week 3: Walking through how to make a NGC branded newsletters in HubSpot
Week 4: Demonstrating user management and reporting best practices
Asking the Right Questions
During this same time, LAIRE held a sales meeting with the NGC internal team to help them build a framework for ongoing work and CRM success. (Like mentioned before, you want to make sure your portal is set-up correctly the first time around. You don't want to have to go back through and scrap contacts and lists because you weren't asking yourself the right questions from the beginning.)
Here are some of the questions LAIRE asked NGC to better define their sales process:
What is the best way for a sales rep to receive a lead?

In an email?
In the CRM?
Or both?

How do you want to have the initial discovery conversation with a prospect?

In a phone call?
In an email?

What information are you trying to gather in that conversation?

Budget?
Company information?

Pro tip: You can find out these things in a progressive profiling form before the discovery conversation so your sales reps are fully equipped with all the information they need!

Once your lead is "hot", how long does it take to close?

Is it a fast process or does it take a few months to close?
Is it standardized across every sale? Or are there different sales pipelines?
Follow-up Support
After training and the sales meeting, LAIRE continued to ensure the success of NGC's HubSpot migration. LAIRE set-up bi-weekly meetings with the larger team and a weekly meeting with a smaller internal team to make sure everything was running smoothly. In addition to this, LAIRE offered the team support or training through email for any issues that arose in the day-to-day.
Are you ready for your marketing efforts to reach new heights? Take our free 20-minute marketing assessment to find out where you should focus your marketing efforts to get the results you want!