Case Study Overview
Southern Packaging, LP, a supply leader in bulk packaging and FIBCs employed LAIRE to redesign and build a marketing-focused and SEO-friendly website through our Growth-Driven Design (GDD) process. After 9 months of website redesign and marketing engagement efforts, the company has seen a 156% increase in organic users and an increase of 79% of total users in Q1 of 2021.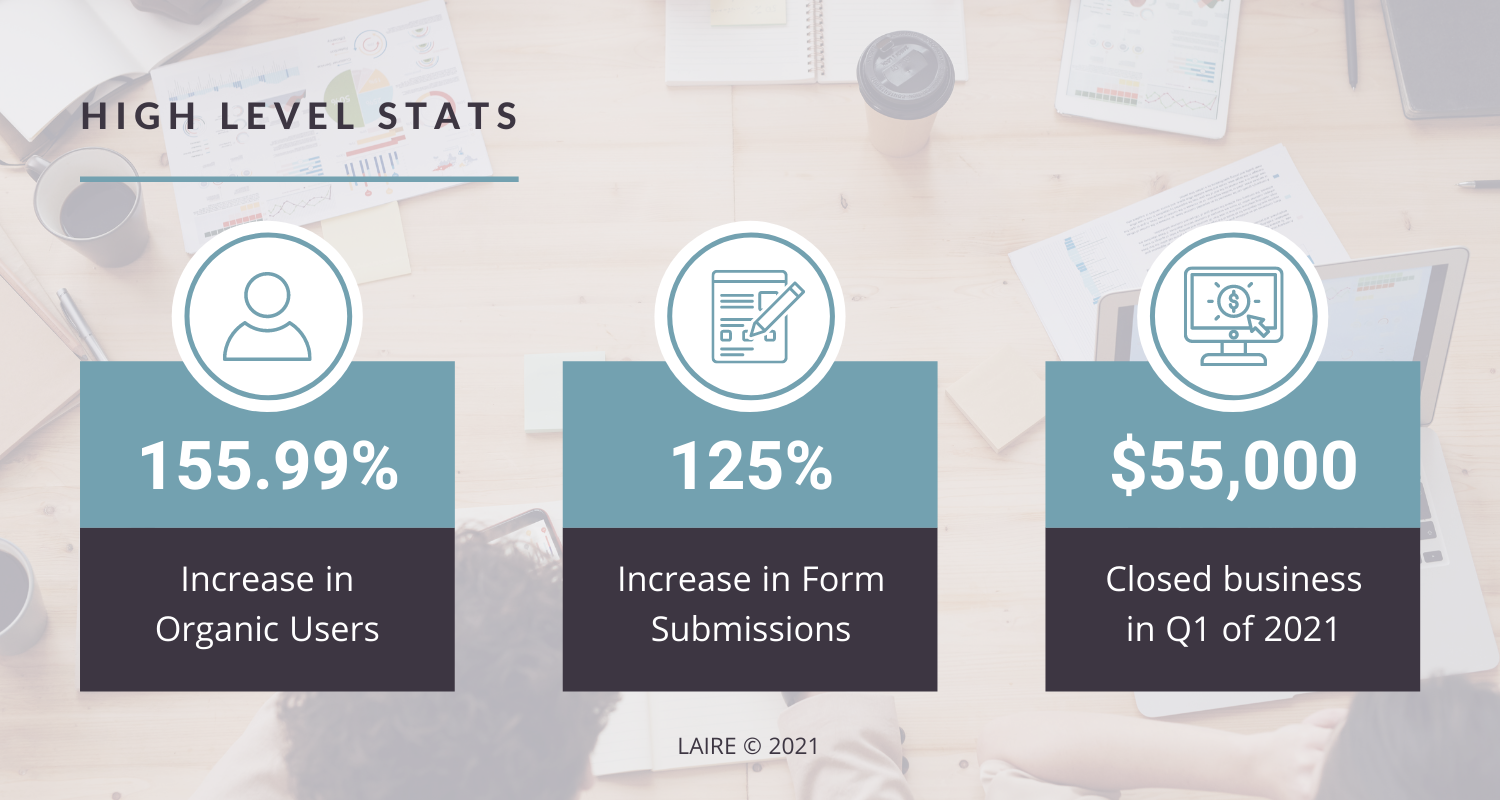 HIGH LEVEL STATS:
155.99% Increase in Organic Users
125% Increase in Form Submissions
Generated $55,000 in closed business in Q1 of 2021 from new digital leads
Background
Bulk Packaging Supply Leader
Southern Packaging, LP is a bulk packaging supply leader, providing supply chain solutions to manufacturers throughout the United States. The company buys, sells, and delivers more than 1,100 different industrial packaging products to nearly 900 locations across the U.S. including FIBC bulk bags, poly-packaging, and more.
The Goal
Generate Organic Rankings and More Qualified Leads
After undergoing competitor research, Southern Packaging, LP engaged us to deploy a marketing strategy that would allow them to compete with their local and national competitors who had been implementing a digital strategy for the past few years.
Aside from having a website, the company lacked any tracking abilities to monitor user engagement. They were also not utilizing any existing digital marketing strategies through blog content, email marketing, or paid advertising. The overall goal with employing an Inbound agency was to acquire more leads through organic search and reach a larger client base instead of relying on referrals and past business.
Our Strategy
Implement Growth-Driven Design Strategy with SEO Focus
When Southern Packaging, LP first approached us to undergo a marketing engagement, we noticed many foundational Inbound assets were missing within their current website, including a lack of SEO-friendly content, and many crawl errors.
With our goal to ultimately generate more organic traffic through organic rankings, and boost online leads, we decided to redesign the existing website through a Growth-Driven Design strategy. This allowed us to create new website pages in stages, highlighting their various product offerings that were not previously being represented on the website, and incorporate strategic keywords and SEO best practices.
After three months of Phase 1 building core website pages, and six additional months of GDD, the site totaled 24 pages that had been redesigned with new content, page templates, and modules.
Phase 1 Post-Launch Marketing Efforts
By implementing a GDD website redesign strategy, our team focused on the priority pages and templates first, then moved into content marketing efforts along with the building of secondary website pages. We created foundational assets such as enticing image calls-to-action, email templates for product notifications and newsletters, and additional content like keyword-optimized blog posts.
Growth-Driven Design and Content Creation Generated 117 Form Submissions in Q1 of 2021
Within six months of continued marketing efforts, we have published and optimized 42 new blog posts, created gated landing pages for product brochures, and set up lead criteria for continued lead-generation efforts. We have continued to push strategic marketing efforts, incorporating quarterly plans to include email marketing and paid advertising. With organic search alone, the company has experienced a sizable amount of digital leads from phone calls to form submissions, while generating $55,000 in closed business in Q1 of 2021 from digital leads alone.
---
Grow YOUR business with a content plan, strategy and implementation - Download your copy of the content marketing workbook!
---
Results of Growth-Driven Design
2021 Q1 TRAFFIC RESULTS
155.99% Increase in Organic Users (1,127 to 2,885)
150.51% Increase in Organic Sessions (1,374 to 3,442)
73.19% Increase in Total Sessions
79.2% Increase in Total Users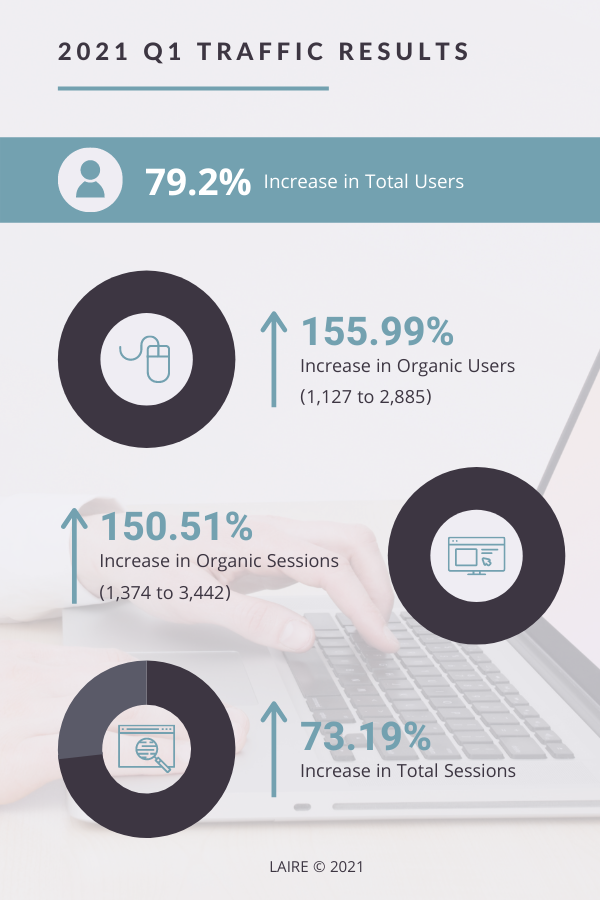 2021 Q1 CONVERSION RESULTS
125% Increase in Form Submissions (52 to 117)
187% Increase in Form Views (1,827 to 5,247)
Generated $55,000 in closed business in Q1 of 2021 from new digital leads.