The goal of your website is to generate traffic and leads. Website traffic will be the determining factor of how successful your website is at lead generation and obtaining revenue. For these reasons, understanding how people land on your website is key to keeping it optimized.
In other words, the look and user experience you want for your website is important. But you still have to consider how your ideal customer will discover it. And if you want to turn your website into a lead-generation tool, you must understand the details of different website traffic sources.
Your focus should be on building all these sources of traffic, not just one.
53% of all website traffic comes from organic search
15% from paid search
5% for social
27% from all other sources
Over 44% of revenue is captured by organic traffic, so this is the main focus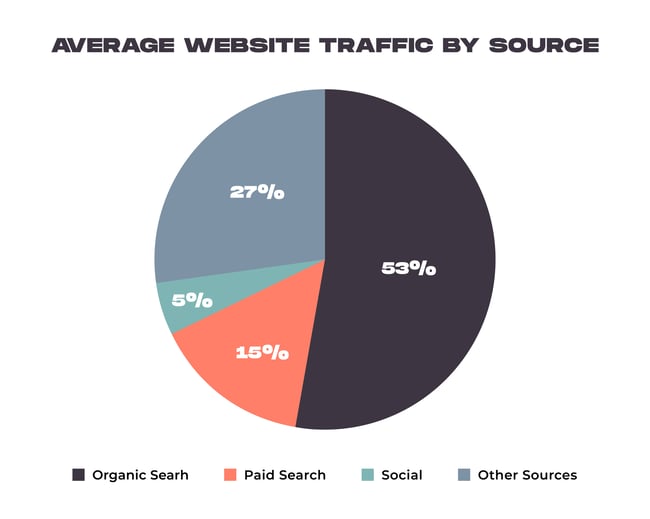 Understanding your website traffic sources is an important part of your digital marketing strategy. Let's break down six different types of website traffic sources. That way, you can make educated decisions based on what's performing best and what needs improvement.
6 Types of Website Traffic Sources
1. Organic Traffic
Organic traffic is made up of users that found your site using a search engine.
Organic website traffic is the primary focus inbound marketing strives to increase. The content you add to your website today is the traffic of tomorrow... and the next day, the next month, and possibly years to come. This is why content marketing is so important and a key function of a successful marketing strategy.
Organic search traffic is earned, not paid for.
According to Imforza, 70% to 80% of users skip paid ads and instead focus on organic results. Organic search is certainly the most valuable marketing channel there is. If your ideal customer is searching for content that matches your product and services, you need to be there to capture those leads.
The simplest way to increase website traffic organically is through search engine optimization (SEO) and content marketing. The higher you rank for keywords, the more often your pages will rank higher in search engine results pages (SERPs). This will, in turn, increase your impressions and lead to clicks and conversions.
ROPS content (Rework, Optimize, Publish, and Share) is a great attention-getter. Every time you update your website or publish new content, Google alerts their bots that new content exists and the website is up-to-date. This is why we suggest creating high-quality content as often as possible for your site.
Getting results from organic search takes time, but they are long-lasting and well worth the effort and investment.
2. Direct Traffic
Direct traffic refers to traffic you receive to your website that doesn't come through any other channel. This means a visitor found your website address by typing in your URL directly in the address bar.
When you type www.lairedigital.com into your search bar and hit 'Enter,' you're accessing the LAIRE website via direct traffic.
If your employees visit your website, that can also count as direct traffic. To avoid muddying your data, your team should filter out their IP addresses from your web analytics.
Here are some quick instructions for excluding your IP address from Google Analytics. Don't forget to do the same with any marketing software you use, such as HubSpot.
How to Exclude Your IP Address From Google Analytics
Login to Google Analytics
Select your profile
Select the Admin menu
Under Account select All Filters
Click Add Filter
Give the filter a name (For example: Use your IP address)
Leave Filter Type as predefined
It should read "Exclude + traffic from the IP addresses + that are equal to"
Enter your IP address
How to Exclude Your IP Address From HubSpot
In your HubSpot account, click the settings icon settings in the main navigation bar.
In the left sidebar menu, navigate to Tracking & Analytics > Tracking code.
Click the Advanced Tracking tab
In the IP Addresses to Exclude text box, enter your IP addresses
3. Referral Traffic
Another way for visitors to find you is through another referring website. This is referred to as a "backlink" since the link the user clicks on leads back to your website. This type of traffic is much more beneficial to your SEO performance than direct traffic.
Backlinks give your website credibility.
The more websites that are linking to yours, the more valuable, credible, and accurate your content must be to search engines. Search engines think of this kind of traffic as positive, but only if it comes from a trusted or highly-ranking site. The more high-quality, relevant links you acquire, the more credit the search engine will give your content.
There are a lot of ways to generate more traffic from referrals:
Get your website published on review websites
Write guest blogs
Contact influencers in your niche
Ask for links from companies you already have relationships with
Turn unlinked mentions of your company into links
Comment on other blogs and industry forums
You can also look at your competitors' link-building strategies with tools such as Monitor Backlinks.
4. Paid Search
Paid search is the exact opposite of organic traffic. The main source of paid media comes from PPC (pay-per-click) campaigns. Most likely it is the result of paid advertising via Google Ads, a common PPC ad management platform. But there are alternative network options.
While content marketing and SEO are both great ways to build traffic, we can all agree it takes time. It is time well spent since ads can generate leads who may have never found your content in search anyway.
There is no reward without risk though, as ads can get very expensive depending on the demand of the keyword. This is particularly true if you are vying for high-ranked keywords everyone else wants.
There is a learning curve involved in profitable paid media. This is true no matter if you're interested in display ads, banner ads, or other types. You may decide that it's better to let the pros handle the details to ensure there is a strategy behind your paid media.
5. Email Marketing
When running an email marketing campaign, it's important to include links that lead back to your website. Similar to blogs, these links should be used as strong calls to action.
Driving blog subscriptions is an important part of the process of nurturing potential leads. When users receive an email notification that you have a new article available, they're likely to click through to your website to read it.
Just be sure to include tracking tokens in the links of your email so the clicks are properly categorized under the email marketing source.
6. Social Media
As you can imagine, social traffic comes from social media sites like Facebook, Twitter, LinkedIn, and other social networks.
Just like organic traffic, social traffic is highly scalable.
As your following grows, so does your traffic. This doesn't mean you have to post new content every day. There are other strategies to keep your audience engaged. Sharing and linking to content from your website will help build your following.
Even better news, it's free unless you pay for advertising products or services. If you pay for social media, the traffic source reverts to paid media traffic.
Over time, you may notice one platform performing better than others. For instance, LinkedIn improves B2B marketing, which is our target market, so naturally, LinkedIn is our focus.
Google algorithms don't consider social links as part of their search ranking criteria. This means that links from your Facebook page won't have any impact on your off-page SEO ranking. But you'll still benefit from the traffic. Considering how much time people spend on social media, it still plays a vital role in driving traffic to your site.
Maximize All Top Website Traffic Sources
Although we've talked about six different types of traffic sources for websites and their features, the truth is that you should be sending traffic of all types to your site.
As part of a solid marketing campaign strategy, regularly analyze and measure your website's traffic sources. You can use Google Analytics, HubSpot, Semrush, Moz, or other software. This will help you determine which sources are most effective for you and which ones might need more attention and effort.
Whether you're ready to take the leap and pay for traffic now or not, you may be at some point. Still, organic traffic created through content and SEO remains to be the most proven website traffic-producing engine.
If your company website needs more digital leads, then you should know the different strategies to bring more online traffic. Contact us now to find out how we can help you reach your revenue goals through content marketing and lead generation websites.