We're always promoting the Inbound Methodology in our articles and strategies, but we have recently learned that the entire world does not know about the awesomeness of inbound! This marketing method has become increasingly popular across all industries, and we think you'll like it. Let's dive into everything you need to know about Inbound.
What is Inbound?
Laura Laire, Co-Founder and Creative Strategist of LAIRE is breaking down the basics of Inbound in this video:
The Inbound Methodology is a marketing technique designed to grow your revenue through organic content marketing, helping you to reach your ideal clients and turn them into customers. Ultimately, your content is here to bring clients directly to your website by answering their questions and creating content they want to consume.
The Inbound Methodology is meant to align with the Buyer's Journey, which is the path a lead takes toward becoming a client. When you adopt an inbound marketing strategy, your goal is to map the client's journey to purchasing your products or services and create relative and timely content encouraging them to move through the marketing/sales funnel. Your Buyer's Journey will be the guiding light on knowing what kinds of content to create for your prospects and current customers.

There are 3 stages of the Buyer's Journey:
Awareness
In the Awareness phase of the Buyer's Journey, the ideal client is aware that they have a problem but may not know exactly how to define or address the problem. At this stage in their journey, it is important to be empathetic and understanding. Acknowledge their pain points and help them relate to your solution. Blogs are an integral part of the inbound marketing methodology and the most effective way to address readers at the awareness stage and attract them to your solution.
Consideration
The Consideration phase is the point at which your ideal client has been educated on their specific problem and is considering different solutions. It is imperative in this phase to educate your readers on how your solution is the best out there. Highlight the things that make your products or services remarkable. Case studies and "Product/Services" website pages are great places to demonstrate the power and effectiveness of your solution.
Decision
Finally, the Decision phase! If your ideal client has made it this far, then you've done a great job at educating and supporting your reader as they've moved through your Inbound Marketing funnel. Now is the time to seal the deal. Be sure to have clear channels to your support or sales team so that leads can book demos or consultations. "About", "Pricing "and "Contact" website pages should be easily reachable if not in the main navigation.
The Current State of Inbound
The Inbound Methodology is an effective and popular way for marketers and business owners in any industry to reach their target audience and stand out amongst the competition.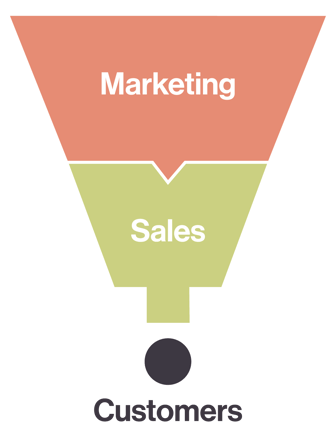 The goal of inbound marketing has always been to attract visitors with compelling content, convert them into leads, close deals, and delight them with good customer service and ongoing information and support.
In recent years, however, there has been a shift in the way that consumers research and make purchasing decisions, which in many ways has disrupted the way that we, as marketers, approach the inbound strategy.
Consumers are no longer looking for just a solution, but rather an experience. Why have just a cup of coffee, when you can order your go-to venti nonfat cappuccino on your app and have it waiting for you when you arrive at the cafe?
According to Forbes, 80% of companies believe they provide a "super experience",but only 8% of customers agreed.
The bottom line: It isn't enough to have a great marketing strategy. You have to build a customer experience.
The Flywheel, introduced in 2018 by HubSpot founders/Inbound experts Dharmesh Shah and Brian Halligan, is a reinvention of the classic Inbound Marketing Funnel.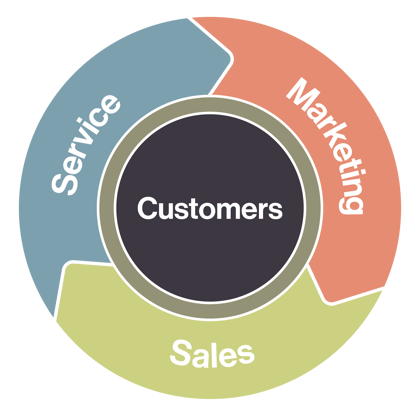 Rather than building content that pushes your leads down the funnel towards a purchasing decision, it encourages you to create a strategy that is centered on the customer's experience. By aligning your marketing, sales, and service strategies with your customer's needs and pains, you create a customer-centric, memorable experience.
If you offer a good customer experience, you will not only increase brand awareness but create a marketing engine that converts leads into evangelists and generates more predictable revenue.
How do I Implement an Inbound Marketing Strategy?
Getting started with Inbound Marketing can seem daunting, but it doesn't have to be.
One of the best places to start with Inbound is by identifying your ideal clients and their pain points so that you can create a content plan that addresses their issues. If you haven't already, schedule persona interviews with your existing clients who best align with your target audience.
Get to know what their pains were, how they researched solutions, what brought them to your solution, and what ultimately made them choose you over the competitors. Then you can inventory the content you currently have, how it addresses these pains, and identify any holes where you need more supporting content.
This is the beginning of creating and implementing an inbound strategy. Sound like too much for you to handle? You don't have to go it alone. As inbound experts, we will help guide you through the process of creating a Marketing Action Plan by LAIRE® that aligns with your revenue goals.
Interested in learning more about Inbound Marketing? Click below to download your copy of our Inbound Marketing Checklist to see what considerations to make and how your current marketing efforts align with the Inbound Marketing methodology.