Creating incredible content is the easiest way to give your company a competitive advantage.
Today's buyer is spending more time searching on Google, reading reviews, and watching product videos than they are talking to sales reps. They want information and answers without picking up the phone so they can cross every "t" and dot every "i" before making their purchase.
The trick is to educate them until they are ready. Once they're ready, then you'll be the logical choice.
Brainstorming New Content Topics? Focus on Helping
As mentioned above, your customers, or potential customers, are turning to Google to help inform their purchasing decisions. This means that publishing incredible content is the best way to satisfy both the buyer and the world's largest search engine.
Google crawls websites and rewards those with helpful content with prime search engine real estate — emphasis on helpful. In other words, your content should be all about helping, not selling.
To shift your content's focus towards helping, prioritize creating educational blog posts about specific use cases solving common problems. Spending time designing big popup banners urging a website visitor to "call now" for the "deal of the century" should be a thing of the past.
10 Easy Ways to Find New Content Ideas
Generating interesting content ideas that are both engaging and help boost website traffic can seem like a daunting task. The following are top resources you can pull from to generate content ideas rooted in helping — not just selling.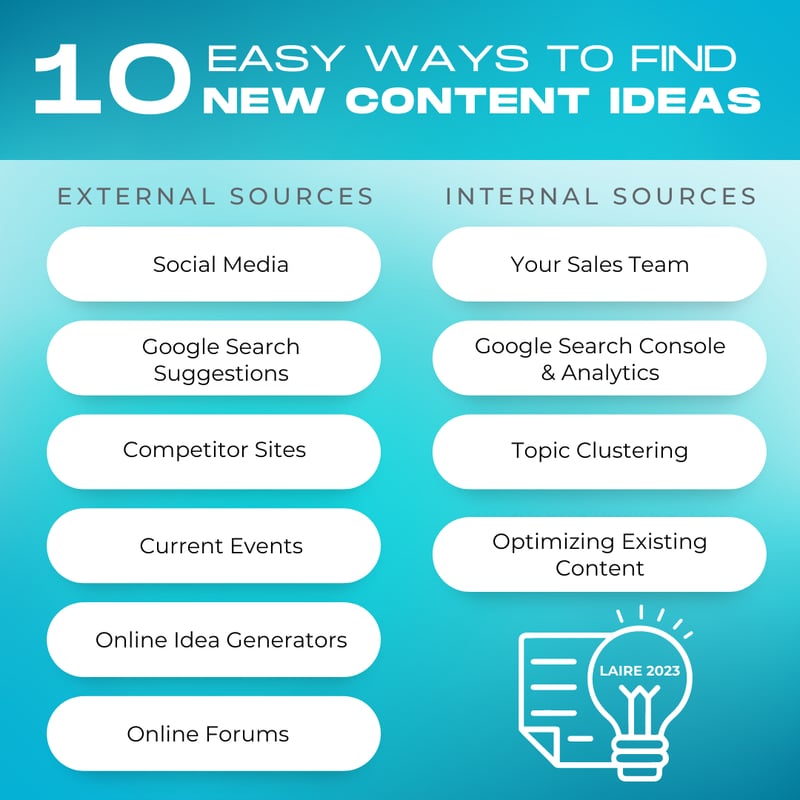 1. Your Sales Team
It's not just marketing's job to come up with content topics. Your sales team regularly makes calls and speaks with customers and prospects. In turn, they should be sharing frequently asked questions and other valuable insights with your team.
Content strategies work best when you get everyone together in the same room (or Zoom call) and come up with a plan that makes sense across the board. But this can't just be a one-and-done meeting — it has to be an ongoing dialogue.
Ultimately, alignment between sales and marketing teams is key to creating content your audience actually wants. Yes, you should still create personas and do keyword research, but the more you know about the questions your prospects are really asking, the better you can educate them along their buyer journeys.
2. Social Media
One of the best ways to use social media to come up with interesting and engaging content ideas is to monitor trending hashtags and topics related to your industry. As you notice emerging trends and discussions, you can create a blog post that provides additional context or analysis on the relevant topic.
You can also turn to social media to conduct research and gather data on topics that are of interest to your ideal customer. Look for common questions or concerns these users have, then write content that provides answers and solutions. A more direct way to do this is by asking questions, running polls or surveys, and encouraging discussion among your current followers.
Pro Tip: Use social media analytics tools to track engagement, sentiment, and other metrics to understand what type of content is resonating with your audience. This can help inform your future content strategy.
3. Google Search Suggestions
When you start typing a question or query into the Google search bar, Google's autocomplete feature provides suggestions for how to complete your search based on what other people are searching for. By using these suggestions as inspiration, you can come up with new content ideas that are directly relevant to your audience's search intent.
You can also look at the "People also ask" section that appears on the search results page. This section provides additional questions that people commonly search for related to your initial query. By answering these questions in your content, you can provide your audience with the information they're looking for and position yourself as an authority on the subject.
4. Google Search Console and Analytics
Analytics tools like Google Analytics and Google Search Console offer valuable insights into what types of content are resonating with your audience. You can look at metrics such as page views, time on page, and bounce rate to see which blog posts are generating the most engagement.
From there, you can create more content on similar topics or explore related areas that may be of interest to your audience.
5. Topic Clustering
A topic cluster is a group of related content that centers around a core topic. Topic clusters are a great way to come up with interesting website content ideas that are not only informative and valuable but also help improve your website's search engine optimization (SEO).
To create a topic cluster, start by identifying a broad topic that is relevant to your business or industry. From there, create a series of subtopics related to the core topic, and create individual pieces of content (such as blog posts) for each subtopic.
By linking all of these pieces of content together, you can improve your website's SEO by signaling to search engines that you're an authority on the core topic. This can lead to higher rankings and more traffic for your website. Most importantly, you'll be providing your audience with a comprehensive and valuable resource that addresses all aspects of a particular topic.
6. Competitor Sites
By looking at what your competitors are writing about, you can identify content gaps and opportunities to create unique content that differentiates your website from the competition.
Start by analyzing the types of content your competitors are publishing and look for areas where you can provide a unique perspective or approach. You can also use a keyword research tool like Semrush to identify the top keywords that your competitors are ranking for, and then create content around those keywords.
Additionally, you can use a tool like BuzzSumo to see which pieces of content are generating the most engagement and shares across social media.
7. Current Events
Current events provide a wealth of opportunities to generate interesting and timely blog post topics. One approach is to leverage breaking news stories by analyzing or providing commentary on the issue.
Another approach to using current events for website content ideas is to identify broader trends or issues that are emerging in the news. This could involve analyzing the implications of a particular event or trend and discussing its broader impact on society.
Setting up Google Alerts is an easy way to get notified of news and events related to your business or industry.
8. Online Idea Generators
Content topic generators, such as HubSpot's Blog Ideas Generator, use algorithms to analyze keywords and suggest potential blog post titles based on the topics and themes that are most popular among your target audience. Simply input a few keywords related to your industry or topic, and the tool will give you a list of potential blog post titles to use for inspiration.
Artificial intelligence (AI) or machine learning tools like ChatGPT can serve a similar purpose. All you have to do is ask the tool for a selection of blog topic ideas, hit enter, and let AI do the rest.
Online content idea generators and AI can save you time and effort by automating the content ideation process. Instead of spending hours brainstorming ideas, you can just input a few keywords, sit back, and watch the magic happen.
9. Online Forums
Similar to social media, by participating in forums related to your niche, you can gain insights into what your audience is talking about, what questions they have, and what problems they are facing.
For example, if you're the marketing manager at a SaaS company, you could join relevant forums and see what kinds of questions people are asking. From there, you could create blog posts that answer those questions and provide valuable information to your readers.
Additionally, you could use the language and phrasing that people use in the forums to create engaging and relatable content that truly resonates with your audience.
10. Optimize Existing Content
Optimizing your existing content is an important aspect of content marketing that ensures you're providing readers with interesting and helpful content.
By updating and improving your existing content, you can ensure that it remains relevant and valuable to your audience over time. This is particularly important in industries that are constantly evolving, as outdated content can quickly become irrelevant and provide little value to readers.
Another benefit of optimizing your existing content is that it can improve your website's performance in search results. Search engines prioritize fresh and relevant content, and by updating your existing content, you can signal to search engines that your website is actively maintaining and improving its content. This can lead to higher rankings and more traffic.
Helpful Content Wins Every Single Time
The moral of the story is: When you create content that your customers and prospects care about, the more likely they will engage with it. The content game is a slow and steady race, but it compounds over time. Produce content centered more around helping than selling and the rest will fall into place.
LAIRE has helped clients across numerous industries gain a competitive advantage through engaging content. To learn how we can help you produce great content that converts while increasing your digital footprint, schedule a free 20-minute assessment.