Having a blog on your website is one thing. Having a blog that your audience actually wants to read and engage with is another. When you take advantage of consistently producing great content for your blog, you'll likely see an increase in website traffic AND leads.
There are many factors to consider when coming up with blog topics for your website, including your target audience, service offerings, and industry. Let's dive in and discuss how you can take your digital marketing up a notch with a thought-out blogging strategy.
Define Your Audience
First and foremost, identify who you're targeting with each blog. Are these individuals in the awareness, consideration, or decision stage of the buyer's journey? Remember your tone and content will vary based on who you're talking to and what you want them to absorb. If your goal is to target people in the awareness stage, your blog may be scratching the surface; while a blog geared towards individuals in the decision stage may be more in-depth.

Analyze Existing Content
Study analytics from old blog content on your site. Is there a content piece that is outperforming others? Outperforming content pieces may have a higher average time on page or more traffic compared to other blogs. Study reasons why the content piece may be outperforming others, which may include:
The format of your blog is easy to digest.
Your blog answers questions people are searching for.
It's a long-form content piece.

Research

shows that long-form content pieces provide more Search Engine Optimization (SEO) value.
With these things in mind, consider incorporating aspects of high-performing content into future blogs.
Revamp Old Blog Content
This brings us to our next point. Don't be afraid to revamp old, high-performing blog content instead of always starting from scratch. This means more than adding a short paragraph or making other small tweaks.
Analyze your content and see if there are any areas you can expand upon. Has anything changed since the content piece was published? Challenge yourself to add 500 words to a content piece that has produced results in the past. Research has shown this can lead to an increase in traffic.
Answer Your Audience's Questions
Chances are you're an expert in your industry. For example, if you're a dentist, you know in-depth information about oral health and your practice's dental service offerings. However, when coming up with blog content, it's critical to take a step back from your expert knowledge. Never assume a surface-level blog won't resonate with your audience or produce traffic. Chances are, your audience doesn't have the expert knowledge you do.
This is when a tool like Answer the Public comes in handy. Enter a keyword into Answer the Public (it's free to use!) and you'll be presented with hundreds of questions people are asking related to your search query. For example, we typed in "braces" and here is a small snapshot of the results: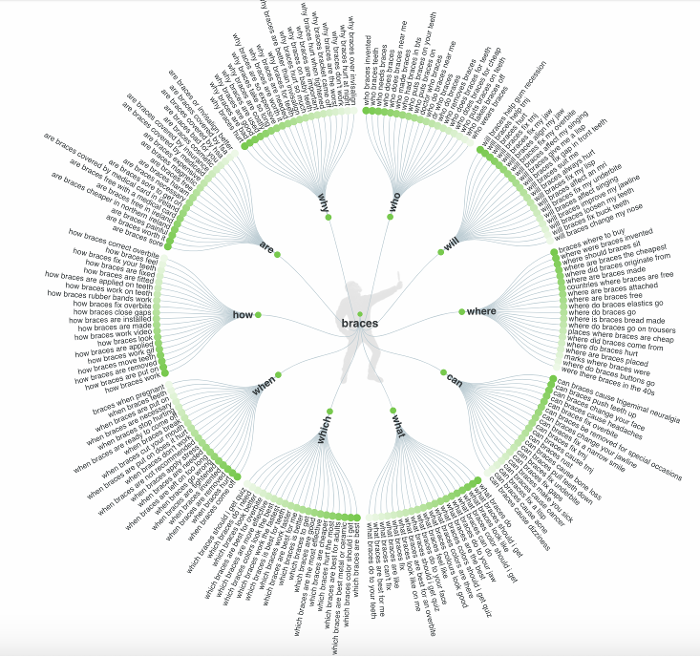 Some examples of results from Answer the Public include:
Can Braces Cause Headaches?
Can Braces Pull Teeth Down?
Can Braces Change Your Jawline?
It's important to note that some of the results will be irrelevant to your services or industry, but Answer the Public will give you valuable insight into what your audience is searching for, which will lead to you producing blog content your audience actually wants to read.
When it comes to writing killer blog content, make sure everything you publish has an identified purpose and you'll be well on your way to success. We'll leave you with some key takeaways for you to consider to produce blog content your audience wants to read…
Define your audience before writing your content piece.
Understand what your audience is searching for.
Ensure your blog's format is user-friendly. Think bulleted lists, images, and sections with headers.
Have fun! Writing blog content is an opportunity to show your business's personality and give your target customer or client a glimpse into your world.
If you're not sure where to start with your blog, we've got you covered! We've formulated a resource for 6 Blog Templates for Winning Engagement that will elevate your content! Download your free copy today!