Are you on the fence about making the jump into all things HubSpot? HubSpot is an investment that shouldn't be taken lightly. How much does HubSpot cost? It depends on what you want from your marketing and sales automation software.

Is HubSpot Right for You?
We're big fans of HubSpot here at LAIRE, however, HubSpot isn't for everyone. If you're all-in on inbound marketing and sales, HubSpot is one of the best marketing automation tools out there. Automation streamlines your everyday marketing and sales duties and simplifies analytical reporting.
HubSpot also removes the need for relying on multiple platforms for website management, social media scheduling, email, workflows and blog hosting. You get all of that and more with HubSpot's deep pool of resources and tools.
HubSpot's Price
The HubSpot platform has a sales side and a marketing side, each with its own set of tools and cost. I'll go through one at a time to keep things simple. Keep in mind that you can pay for one, both or neither these portals, depending on the features you want.
HubSpot Sales Hub Cost
Free to $400/month
The sales side of HubSpot is a smaller investment than the marketing, depending on the size of your sales team. Five users are covered for the $400 a month rate. If you don't want to commit to using HubSpot's Sales Hub for your whole team, you can use the Sales Starter plan and pay per user (only $50 a month) for fewer features.
How to choose the right tier?
What do you want? What do you need? You can see the pricing here and what comes with each level.
These sales tools are important to help your team nurture and close leads. Think about the value of being notified when a contact opens an email. What about having a contact book a meeting with you online based on your calendar? How about having email templates and sequences ready to go when needed? I'm just scratching the surface here.
The next level up unlocks more sales automation tools and integrations to help your entire team make and track sales.
HubSpot Marketing Automation Cost
Free to $2,400/month
As you can tell, the marketing side of HubSpot can be much more expensive, there's a reason for that. You can see everything involved with each tier of the platform.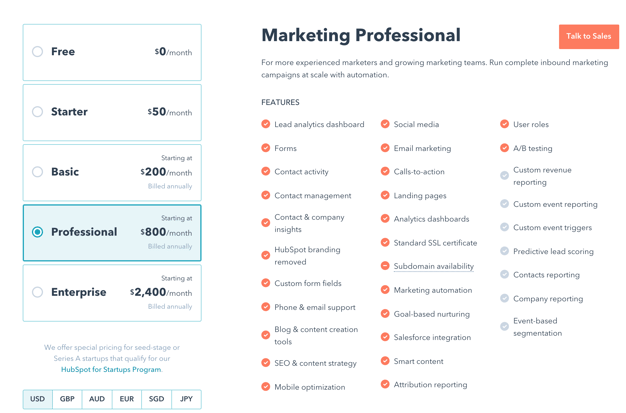 How to choose the right tier?
You'll get an extremely limited version of the platform with a free subscription. If you've truly bought into inbound marketing, you should also buy into HubSpot.
What do you want to do with your marketing? While I don't suggest you waste your money on a HubSpot plan you won't use, I suggest an absolute minimum commitment level at the basic level. With HubSpot's Marketing Basic plan, you'll get calls-to-actions, landing pages, email marketing tools and much more BUT you're missing out on a lot of helpful automation tools. If your business goals include improving your lead nurturing strategy the Basic plan won't be enough for you. The professional level unlocks those missing marketing automation tools and a lot more.
HubSpot for Startups

Are you running a startup business? You might be eligible for considerable discounts for HubSpot's marketing and sales tools.
HubSpot's Additional Costs
There are a few more expenses to consider when investing in HubSpot. Fortunately, HubSpot is upfront with additional costs if you want to host your site on HubSpot's platform, want custom reports or advertising tools.
HubSpot also offers regular consulting programs and onboarding fees. If you have inbound best practices down but need help with the technical side, HubSpot technical support is available too.
Every Business is Different
The best plan for your company depends on the goals you've laid out in your marketing plan and what tools you need to reach them. You need a way to implement and track your marketing and sales efforts; winging it never works long-term. In order to succeed in this inbound marketing and sales world, you need the right tools and resources and that comes with an investment. Contact us if you have any questions about which HubSpot resources are best for you.