As a marketer, you are always looking at metrics, finding trends, and trying to understand how your efforts are performing. But when was the last time you took a long hard look at how your marketing activities as a whole are performing? This is where a marketing audit can benefit you. Marketing audits take time. It is a long process to gather data, pull historical information, dig through processes, and then try to make inferences and informed recommendations from the facts you've just uncovered. But whether your audit is handled internally or externally by a third party, these collections of knowledge can be your ultimate guide to blowing your marketing initiatives out of the water.
What is a marketing audit?
To start things out, let's cover the basics of a marketing audit. A marketing audit is a thorough dig into your product or service, brand, or overall company through its marketing initiatives, goals, strategies, and plans. While your audit can help influence your future marketing efforts, a marketing audit is focused on current and historical happenings.
Your marketing audit can be performed in a variety of ways, but the overall practice is to observe, evaluate, and analyze what you are doing and have done. Your audit will pull metrics on engagement, leads, sales, views, impressions, and pretty much any other related number you can think of, in addition to pulling the process and deciding if it is working as it should. Not only does your audit help you see the big picture of your marketing, but it can also help you pinpoint where things aren't working as well as you had planned.
Why is a marketing audit important?
One of the best testaments to marketing audits is that they allow you to truly hit pause and look at your initiatives with fresh eyes. While monthly or quarterly reporting allows you to gain a quick understanding of how campaigns are performing, this is the point where you can get into the nitty-gritty of each touchpoint your efforts have.
Secondly, marketing audits help you find your gaps. No marketing strategy or plan is perfect. There is bound to be a step that can be added, improved upon, or even taken away. These detractors can greatly impact your success, and once identified, can be manipulated to perform positively. But marketing audits aren't just about finding what is wrong, they're a way to process what is working and why. For example, if one of your blogs is performing leaps and bounds above the others, this is your opportunity to examine it and compare it to other content pieces. From there, you can implement similar initiatives to mirror its success.
A marketing audit can be used as a fine-tooth comb to go through your process and procedures in addition to analytics. This can be beneficial in understanding if efforts need to be shifted elsewhere, or if you need more personnel to stay on top of your game. If it is killing your team to produce a monthly video series that is getting minuscule results, this audit is your proof that shifting to a better performing process that is easier is worth it.
The end goal of your marketing audit is to help you add to, shift, or pivot in your marketing efforts. Whether you increase time and resources or decide to pull back in some areas, your marketing audit is your backup to your decisions.
What is included in your marketing audit?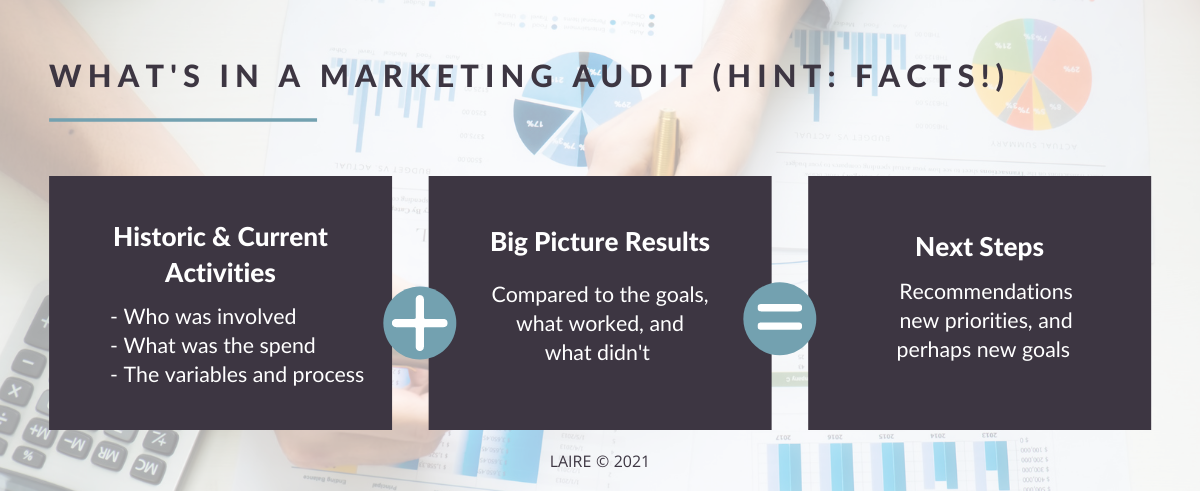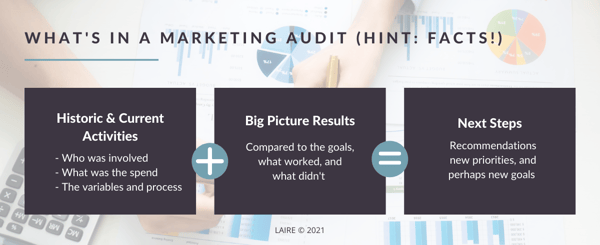 Audits should include all of your historic and current marketing initiatives and activities. Your audit should include data, facts, monetary spending, hours contributed, and processes associated with your activities. You should also include what can be handled internally and externally, and the roles that are required for each step of the way in a specific marketing task.
Your audit should also include an evaluation of the success and effectiveness that each initiative brings to the table, with a comparison to previously determined goals. Try to keep your findings strictly factual. It can be difficult to realize that a project that your team loved and worked hard on isn't bringing in the success you previously hoped for, but in the end, it can help motivate your team to focus on efforts that delivered above optimal results.
While some marketers stop there, we also recommend checking out your competitors. While you won't know their internal metrics and goals, you can make inferences about how they are performing based on their keyword rankings, social media performance, and their overall focus on marketing.
From there, your marketing audit should include a presentation of your findings that is easily digestible and offers a big picture of how your marketing efforts are performing. This presentation should also include how your efforts are relating to internal resources. Remember that big pictures include negative space. This presentation should include a mix of what is working and what is not. Your presentation can be used internally with your team as a means of justification in deciding what to prioritize, or it can be used to back up your department's efforts with the suits upstairs, so to speak.
Also included in your audit should be a list of recommendations and suggestions. These recommendations can be around potential improvements, where efforts should be focused, and some ideas around why certain activities are performing better than others. This list should be rooted in factual information, and not just a continuation of your current efforts. If there needs to be a serious shift, this is the place to explain why and put direction around how.
Why should marketers conduct audits?
The main reason marketers should take a chance to dig into their efforts with an audit is to examine how things are performing over time. While monthly or quarterly reports can show insights into how performance is in a short period, these bigger marketing audits can help shed light on what might be missing.
A marketing audit is truly the best of both worlds. These detailed reports can provide you with a large-scale picture of your efforts, coupled with a magnifying glass so you can zoom in on the finer details. This view can be beneficial when reporting to your C-Suite and gaining buy-in from other departments within your organization by seeing that your overall initiatives are performing well or that you are taking charge to pivot your efforts for better results. And, this is an opportunity where you can prove your ROI to your executives. If marketing is bringing in great results, you're more likely to gain additional funds for expansion.
Speaking of other departments, your marketing efforts should be working to support your company's sales process. Often, sales and marketing experience friction due to not being aligned. You might discover holes in this alignment that can help you get back on track and get additional support from your sales team in terms of feedback about what customers want to see and what your sales team needs to close the deal.
Furthermore, taking the opportunity to step back and view what you've been doing with fresh eyes can open the door to new opportunities for growth that you hadn't previously considered. Maybe there's a new medium you haven't thought about using. Or maybe you're spending too much effort in one area that isn't giving you the results you need. This is where you will get creative as a marketer and truly problem solve based on your findings.
Finally, if you aren't considering what your competitors are doing in their marketing efforts, then you could be missing out on big chances to connect with your audience. Take notice of the world around you and how your competitors are speaking to their audience. While you might not align 100%, you might be able to draw inspiration from their efforts or even find gaps they could be missing where you have the opportunity to shine.
The LAIRE Assessment
LAIRE can be your fresh set of eyes if you don't have the time to step back and look at your marketing efforts. We take the time to collect data points, research your competitors, analyze our findings, and present it to you in a neat package with a roadmap full of suggestions and recommendations. You might have heard us mention this process in the past. We refer to it as our MAP or Marketing Action Plan by LAIRE®.
This MAP is exactly what it sounds like. It is your customized approach to getting on track and crushing your goals. Our team of expert marketers put our heads together and work out the details of everything you need to ultimately bring in solid new leads. Whether shifting your efforts or bringing in new tactics, you'll be covered on all bases. Contact our team today to learn more about our process and how we can help you achieve growth.