HubSpot has secured itself as a gold-standard marketing automation software among today's digital marketers, boasting exponential popularity with users virtually doubling since 2018. Featuring a variety of attractive tools, it's easy to see why thousands of business owners, sales teams, and marketers have made the switch.
But despite the success stories you may have heard of companies revolutionizing their inbound marketing strategies, it's possible to run into unexpected challenges or hiccups when navigating HubSpot implementation. After all, no software is perfect or right for every business.
In our experience, HubSpot issues usually stem from a lack of preparation or misaligned expectations from the company using it. Some businesses facing ineffectiveness with HubSpot may even abandon their marketing automation efforts altogether.
Rest assured that by realigning your goals and taking time to examine why you're not seeing results, it's possible to get yourself back on track and enjoy all the benefits HubSpot has to offer.


7 Possible Reasons You're Not Seeing Results With HubSpot
Before we begin troubleshooting why the marketing automation software may not be working for you, we must first disclose that we love HubSpot.
LAIRE is a HubSpot Platinum Certified Agency Partner because the platform's comprehensive tools and ability to prove ROI have delivered significant results for ourselves and our clients. We mention our successes because we know when HubSpot is a good fit for a business, it can make magic.
Perhaps you've taken time to select the ideal plan, migrated your data, and tinkered with the platform for some time to no avail — but your question still remains: Is HubSpot worth it? The answer depends on your business and its needs.
From our team of HubSpot enthusiasts to you, here are a few reasons why you may not be seeing the results you're looking for.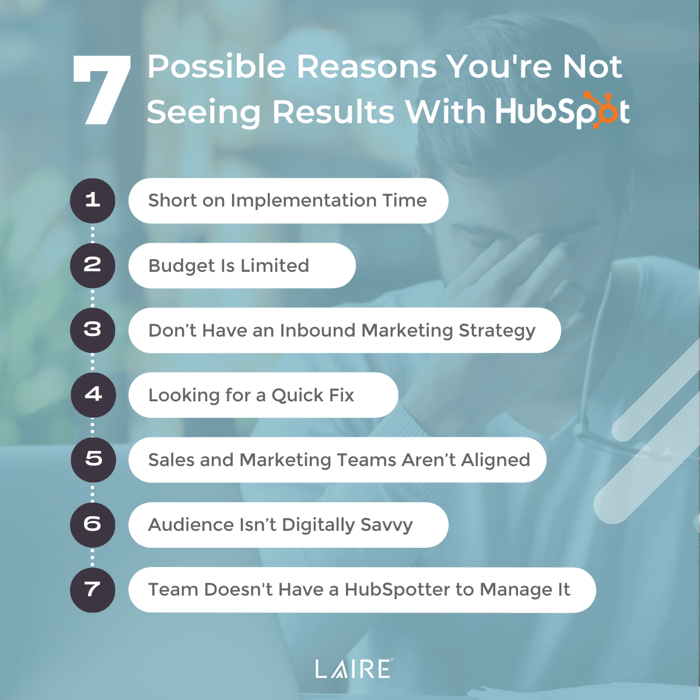 1. You're Short on Implementation Time
You can't think of HubSpot as an end-all solution that will automatically guarantee lead conversion success for your organization. While it is an excellent tool with many functionalities, there's plenty of work to put in on your end as well. It takes time, effort, and attention to detail to customize the platform (and how you use it) in a way that's ideal for your business.
The CRM (customer relationship management) function alone has multiple customizable objects and identifiers that can be manipulated to how you need them to operate. But the customization options don't stop there — they extend across the entire platform. Each Hub also has its own set of unique features that are designed to work together for comprehensive reporting — but only when they are set up correctly.
Take time to explore the features and HubSpot integrations at your disposal, and assess how they may work best for your needs.
2. Your Budget Is Limited
Even with plenty of time, consider whether your business has the budget to make the most out of this software. HubSpot is available for free, but this unpaid version is limited.
To get the optimal functionality from HubSpot, you'll likely want to opt for one of the several paid tiers in the Marketing and Sales Hubs. The Marketing Hub caps at a $3,600 per month commitment, and the Sales Hub maxes out at $1,200 per month.
Keep in mind that your business may only need the capabilities associated with an $ 800-per-month tier. Carefully review the features in each tier before deciding HubSpot isn't for you. You may be able to find a plan that checks all your boxes and fits your budget.
3. You Don't Have an Inbound Marketing Strategy
HubSpot was developed to operate within an inbound marketing framework and functions as such. Although the software offers a variety of features that can elevate a traditional marketing strategy, its results can truly shine when you apply it to your inbound and content marketing efforts.
Ask yourself if committing to inbound marketing is the right priority for your business. If your overall goals aren't centered around long-term growth in regard to your existing and future leads, you may not see the results you're looking for or use the platform's tools to their fullest potential.
If you've determined that your company wants to commit to an inbound approach, remember that content is key to maximizing results. Make sure you're creating content that is:
Valuable: No fluff pieces! To produce content that is genuinely effective at converting leads, you need to provide real value to your audience.
Relevant: Are you writing about the right things? If you're using HubSpot, you've probably already taken the opportunity to create buyer personas. Use these as guides to help figure out exactly what your ideal customer wants to hear about.
Consistent: Publishing with consistency is crucial. Your goal should be to establish a library of reliable content built not only to attract visitors and convert leads but to help optimize your search engine ranking as well.
And if you're still figuring out a path to consistency for your marketing efforts and have only been taking an inbound approach for a short period of time, be patient. Give yourself six months to keep working and then reassess where you're at.
4. You're Looking for a Quick Fix
HubSpot and inbound marketing as a strategy overall are designed for long-term growth and success — not overnight lead generation that is unstable and unreliable. For this reason, if you don't have specific and measurable goals for your marketing and sales efforts, HubSpot may be more powerful than you're ready for.
It is possible to get fast results after implementing the inbound methodology and using HubSpot, but that shouldn't be the expectation. For example, HubSpot's automated lead nurturing tools are designed for long-term use. You can create intricate, automated workflows and emails to turn website browsers into paying customers. But this takes time!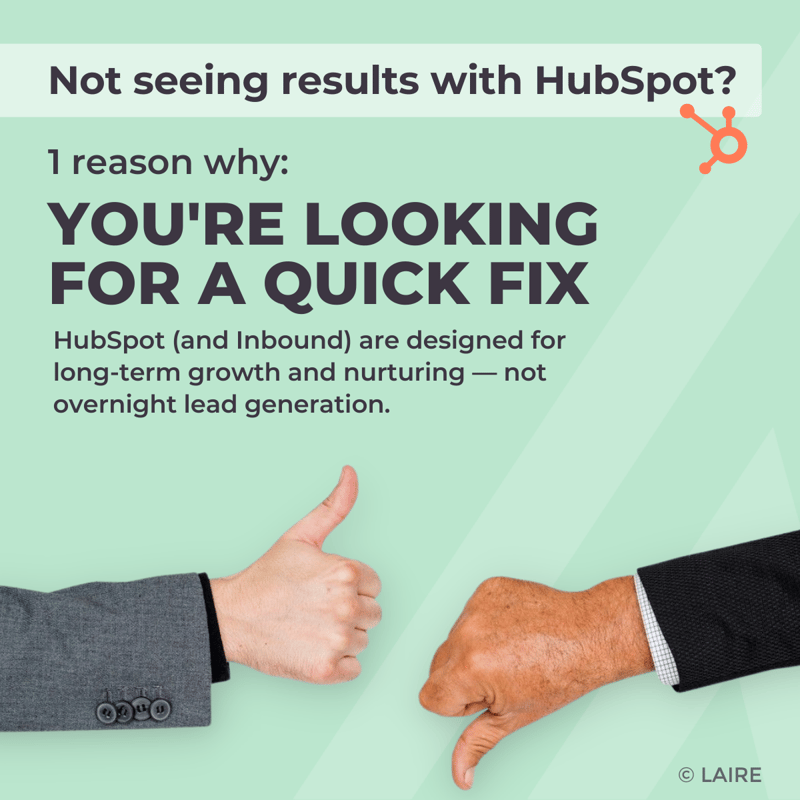 The saying "Rome wasn't built in a day" definitely applies here. With HubSpot, you may not see outrageous results overnight, but you'll have a long-lasting and steady flow of leads to build your business over time.
5. Your Sales and Marketing Teams Aren't Aligned
Aligning sales and marketing teams is essential for any business that wants to grow and succeed. The ability to bring these departments together to work towards common goals like lead generation is a major benefit of HubSpot — which they call "smarketing."
To practice smarketing, it's crucial to have a clear understanding of the roles and responsibilities of each team, as well as a set of agreed-upon metrics to measure success.
This is where a service level agreement (SLA) comes into play, outlining what each team agrees to do and will be held accountable for. By establishing an internal SLA, companies can ensure that both teams are working towards the same objectives and that everyone is on the same page.
To support and report on the internal SLA, companies using HubSpot can make the most of their portal by making sure it's set up to track and measure key metrics. HubSpot can help companies to track leads, measure marketing campaign success, and manage sales pipelines, all of which are essential for aligning sales and marketing teams.
6. Your Audience Isn't Digitally Savvy
HubSpot was designed to help businesses elevate their B2B marketing strategies through:
Digital marketing
Content marketing
Digital advertising
Social media
Take the time to consider whether or not the software was developed with a business like yours in mind.
Perhaps your business has found a sweet spot with a more traditional marketing and sales approach. In this case, you may not have much value to gain from running your operations through HubSpot.
In other words, if your established target audience doesn't automatically consult the internet for solutions to their problems and queries, HubSpot may not provide you with the outcome you're looking for.
Additionally, take the time to evaluate the buyer's journey from the point of view of a standard customer. Is it a drawn-out process over the course of weeks or even months, requiring consistent and strategic attention to your prospects?
If that's not the case, you probably don't have the opportunity to establish meaningful relationships during the sales process or need to continue nurturing leads past the point of initial sale — which is what HubSpot is all about.
7. Your Team Doesn't Have a HubSpotter to Manage It
Although HubSpot is an automated marketing software, its magic doesn't happen automatically. When attempting to optimize results with a multifaceted platform like HubSpot, sometimes an expert opinion is all you need to elevate your inbound marketing and sales outcomes.
If there isn't a bonafide HubSpot lover on your team currently, you may benefit from partnering with a third party that has a confident understanding of the new updates, features, and general functionality of the platform.
Whether you decide to hire someone full-time or get help from an agency, you need someone who can own your company's HubSpot account to ensure you're getting the full benefits. Consulting a third party can help you identify where your specific problems are coming from and propose educated recommendations.


Don't Throw In the Towel Just Yet
If you've reached a point in your HubSpot journey where you know your marketing efforts are consistent, your content is valuable, and your lead nurturing strategy is stable, trust the process and keep going — you may not have been doing it for long enough yet.
Or, if you just don't think HubSpot is a good fit for your business right now, don't write it off completely. As your business and its needs evolve, you may find that the software has the potential to fulfill your marketing and sales growth needs. We hope that time comes soon!


The HubSpot experts at LAIRE know how to maximize all the tools the platform has to offer. To help ensure you're making the most out of your plan, request a free 20-minute portal audit. During this free assessment, we'll review how you're using your HubSpot portal and suggest ways you can improve your process to reap better results.
You can also download our free checklist to learn which HubSpot tools you should be taking full advantage of and using in your marketing activities.
This blog was originally published in July 2022. The content was updated in March 2023.