If you are managing a lengthy master list of sales prospects, that's great news!
This also most likely means that you struggle to keep your prospects that you've garnered from different channels organized and updated. It's ok, we've all been there.
Lists are essential for helping you remember the bread at the grocery store or that date with the vacuum you've been putting off, they are also a critical tool when it comes to your sales tactics.
We are here to share a few insights on how to make your email and business list management more efficient by sharing a few strategies that have proven most effective in converting your prospects into customers.
In the marketing and sales realm, creating and maintaining clean contact lists is critical to staying organized and productive. In the HubSpot world, there are two main types of lists for your contacts: static and active. Let's dive into both.
Static Lists vs Active Lists
Static lists are just that, static. You own the responsibility of adding and removing contacts as needed to help keep track of and organize your campaigns, trade show contacts, and sales prospects.
Active lists are 'smart' lists that dynamically evolve over time. This type of list is designed to work in the background to help you segment your prospects (and buyers) to ensure they get the right communication at the right time. Active lists automatically add and remove contacts to your list based on certain criteria. When a contact meets the criteria for a given list, that contact will automatically be added to the list, and vice versa.


"Active lists are 'smart' lists that dynamically evolve over time."
Based on the level of activity and engagement your contacts exhibit, contacts will ebb and flow in and out of these active lists without the manual oversight.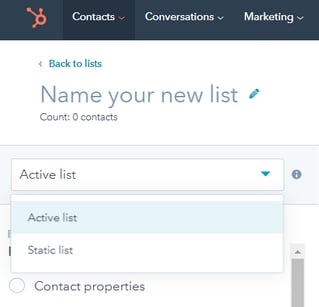 Creating an Active List in HubSpot

There are hundreds of case studies that showcase different ways to use active lists based on your business needs, level of marketing engagement, and expected interaction from your sales team.
Here are 5 tried-and-true benefits and examples of how to use active lists that will enable you to keep your lists clean, ensure your messaging is on-point, and save you time.
1. List Suppression
Ever received a "try our new product" email when you've already purchased that product? Maybe you've been the one to press the "launch" button on an email campaign, only to realize you didn't segment the customer the right way. Yikes!
These emails are often sent to static lists that weren't updated correctly.
With active lists, suppressing and/or re-categorizing current customers is done for you. For example, creating a workflow where the enrollment trigger is a purchase will automatically add qualifying contacts into your active customer list. When setting up your email to deploy, you can easily "suppress" the list of your current customers to ensure they don't get the wrong message.
Regardless of your customer base size, you need to know them, and know them well.
Make sure that you are constantly aware of where they are in their customer journey so that you can ensure you don't send the wrong message to the right customer.

Email Suppression Lists
2. Clean Email Databases
Many organizations have a master email distribution list for contacts to receive their newsletters - a typical static list - but there's a better solution.
Instead, set up an active list for your newsletter. You can set the list to automatically account for contacts who have opted out, contacts who are currently in a specific stage of their customer journey (ensuring your sales and marketing messages don't speak over each other), or contacts who haven't opened your emails within the past 120 days.
Incorporating active lists into your newsletter campaign strategy is the best way to keep your database clean and up to date.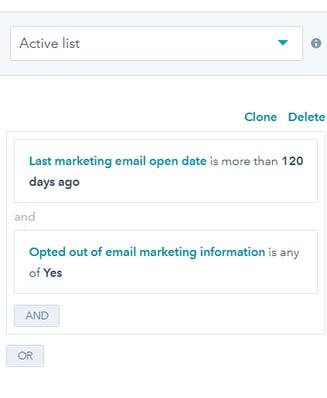 Clean Email Databases
3. To Upsell Leads
Companies who give free trials or have a very low initial trial cost want to convert those contacts into high value customers. It is essential to keep an active list of contacts who have specifically opted in for your free trials and further segment based on where they are in their buyer's journey or their HubSpot score.
You can use a more intentional marketing approach with these contacts than with someone who has signed up to be part of your blog or newsletter.
Setting up appropriate HubSpot scoring metrics is a topic in itself, but you can allocate points to contacts based on their activities (e.g., 50 points for a contact who has completed a free trial within the past 12 months, 5 points for contacts who have clicked a link within an email, or 2 points every time a contact visited 10 website pages).
Creating workflows, referencing deal stages, and using various contact information properties are all factors you can account for when creating active lists of those who are ready for an upsell.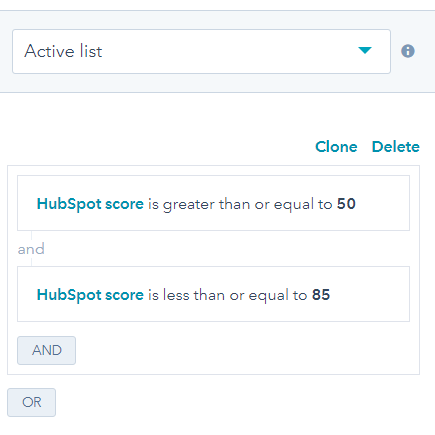 High Upsell Potential Leads
4. Identifying High-Value Contacts
As you continue to understand your buyers behaviors, you may notice that it takes a certain amount of web page views before a prospect converts to a customer. This is normal!
Create an active list, where a contact is added once they have visited between 15 - 29 page views. When the prospect visits between 30 - 49 page views they will automatically exit the first list and move to the second list (30 - 49 page views).
You can repeat this process several more times as you identify how many pages a prospect will visit before converting -- a cue to your sales team to reach out when the prospect has hit certain web metrics!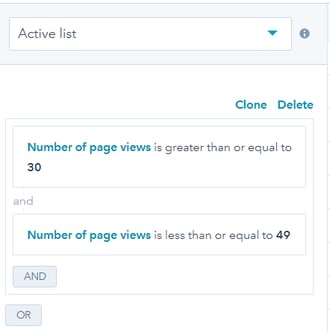 High Value Leads
5. Form Submissions
The most basic use of an active list is to have a prospect enter the list when they have submitted a certain form.
For example: Let's say you give a presentation at an industry trade show and offer a landing page where your audience can trade their email address for a copy of your slide presentation. Instead of manually entering these contacts into a list, you can create an active list (in tandem with targeted marketing emails) based on the form they submitted.
Creating an active list around the prospects who gave their email address for your slides will allow you to re-target these customers (assuming they're not in a 'suppression' list). For example, you can re-engage these contacts via many avenues. You can reach out prior to the next annual conference, to set up sales meetings at the conference, to elicit excitement prior to a presentation you're giving, or for a time sensitive offer leading up to the event.
In a parallel fashion, you should set up active lists based on other landing page form submissions.
Assuming you have multiple landing pages, as derived from your marketing action plan, SEO optimization, Facebook offers, or paid ad campaigns, you will have a clean and up to date database of these prospects - knowing where they all originated their first conversion with you.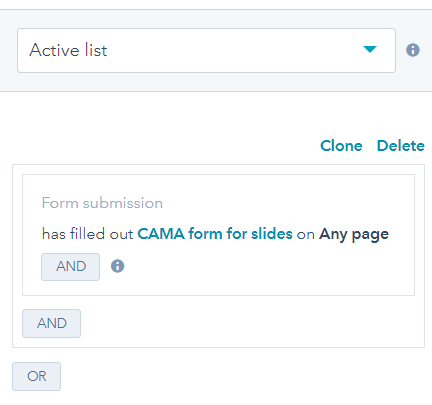 Form Submission Leads
Within the HubSpot platform, contacts can be enrolled in numerous static and dynamic lists at the same time. Using multiple lists at the same time will streamline your marketing and sales processes and have you on your way to efficient and effective prospecting that will turn leads into customers!