Think back to your last road trip: Your car loaded to the brim, you opened up your navigation app (or map, if you're analog), and charted the course to your destination. The map created a clear path and set of expectations that got you there.
The same principles apply to your team's marketing action plan. Marketing plans act as a strategic road map that navigates your company's marketing strategy, benchmarks, and goals throughout the year.
A good plan is adaptable and allows for a change in direction if needed. An effective marketing plan also is not a set-it-and-forget-it resource — it's a diagnostic tool that can inform what's working and what isn't.
On the other hand, an outdated marketing action plan is one of the most common reasons for steady declines in website traffic and lead generation. But to keep your marketing plan from going stale, you need to review it regularly.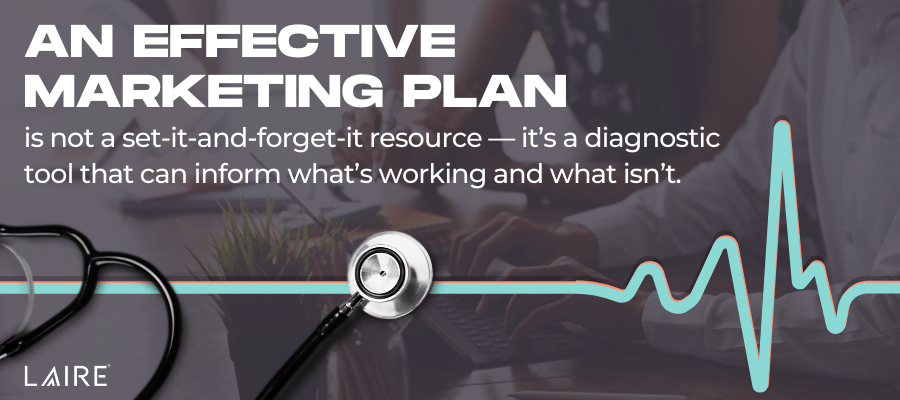 Why Is It Important to Review Marketing Plans Regularly?
Marketing plans help inform what's working and what's not. If one of your marketing strategies isn't performing as well as you planned, you'll be able to rework the plan as part of the review process.
For example, if your content marketing goal is to publish two original blogs per week, that number may go up or down during the review depending on whether or not your team met the goal in the marketing plan.
How to Review Your Company's Marketing Plan
There's no hard and fast rule for how often you should conduct a marketing plan review. Reviewing your plan can be done as often as your team needs. We recommend setting regular review sessions that include key decision-makers for your company.
Are you looking at your marketing plan and nodding? Follow these five steps to successfully complete a marketing plan review.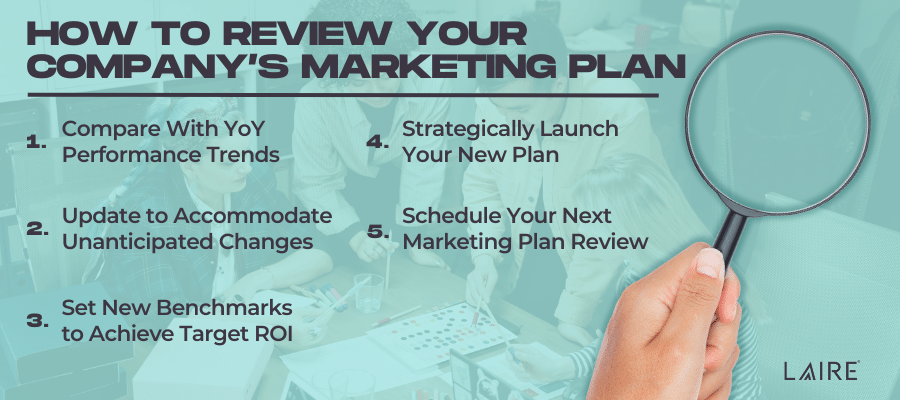 1. Compare Your Current Plan to YoY (Year-Over-Year) Performance Trends
Take the time to look at the strategies and goals in your marketing plan together. Make note of any areas needing discussion as your team reviews line-by-line. Be sure to review your team's budget, timelines, and benchmarks that you established to measure success.
Did the team meet the benchmarks outlined in the marketing plan? If not, your plan review is the time to find out why and whether or not the plan needs to be changed.
Once you're digging into the data, it's easier to find out if a missed benchmark was due to a fluke or a missed goal.
Your current marketing plan can help you adjust and set new goals for the team's updated plan during this step. If a metric needs to be tweaked, you can use the trends you've outlined to set new goals based on historical data.
2. Update Your Marketing Plan to Accommodate Unanticipated Changes
You'll rarely find that 100% of your original plan was working as expected. Once you've established what's working and what's not, it's time to make changes.
Update your plan with the changes that you and other key decision-makers at your company have established. This could include changing the frequency of publishing content, establishing a new approval or communication process for certain tasks, or increasing or decreasing the budget based on actual results.
3. Set New Benchmarks to Achieve Your Target ROI
Decide with your team what success will look like with these changes. How will you know if you're on track to hit your goals? Establishing new benchmarks will not only help keep your plan on track for success, but it will also create accountability for all members of your team.
We recommend incorporating your marketing plan's benchmarks in your team's daily planning, scrum, and retrospective meetings, and even pinning the plan at the top of your company's internal knowledge base.
4. Strategically Launch Your New Marketing Plan
Now that the company's updated changes and benchmarks have been established, you can begin implementing the updated plan. This might require things like:
Adjusting your team's budget for certain campaigns
Beginning to work on new campaigns
Assigning new tasks to your team
Communication is your greatest ally in ensuring the successful implementation of your new plan. Let your team know why benchmarks were changed or updated, how the new benchmarks will be measured, and what the team's specific role is in achieving success for the marketing plan.
5. Schedule Your Next Marketing Plan Review
It can be easy to put off reviewing your company's marketing plan. That's why we recommend scheduling your next review session as part of the review process. By scheduling a future review session on your calendar, you'll be more likely to stick with it.
Your Marketing Plan Is a Living, Breathing Document
Regular marketing plan evaluation sessions are a great way to refresh your team's marketing strategy to develop an improved roadmap.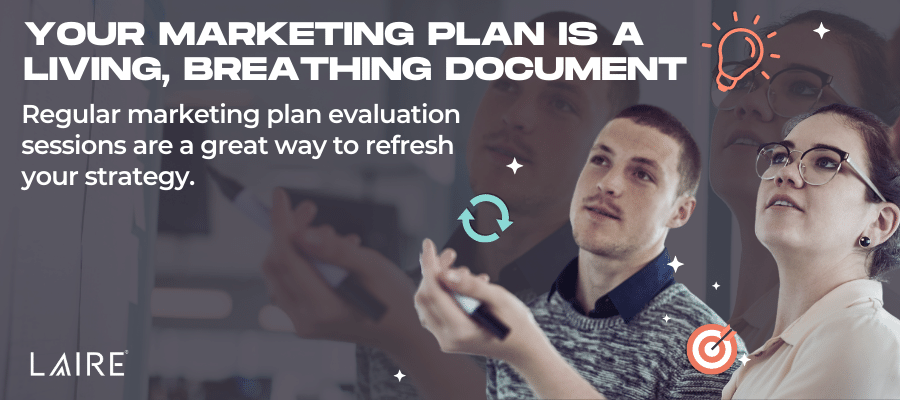 But once you've completed your review, you might need to rework your marketing budget. Our Marketing Budget Guide and Checklist can help you get started!
Overall, by regularly reviewing and updating your plan with your team, it's easier to be agile and take ownership of your company's strategies and goals. Use the data from your regular review sessions to inform the development of a new or adjusted goal with your team. Happy planning!