Are you taking a good, honest look at your company's marketing plan every year? If not, you absolutely should be.
An annual marketing plan helps set your strategic marketing on the right track to make your team's business goals a reality. Think of it as a high-level guide that plans out the direction of your team's campaigns, goals, and growth.
Without one, things can get disorganized — and it's really hard to put a number on the capital you'll need to secure for the projects, hiring, and outsourcing you'll encounter over the course of a year if you don't have a plan laid out.
Remember that the type of marketing plan required can differ based on your industry and your marketing team's objectives.
If you're considering hiring an external partner or agency to assist with your marketing plan, the pricing can vary significantly. The marketing cost hinges on the specific elements encompassed within your strategic plan.
Understanding Marketing Plan Pricing
What is the cost of a marketing plan? The industry average cost of a marketing plan varies from $10,000 to $40,000+. At LAIRE, the price of a professional marketing plan is between $15,000 and $25,000.
At the high end, you can expect a typical marketing plan to be almost as long as a business plan, complete with:
A detailed competitive analysis
Content audit and keyword gap analysis
Website audit
Information about your ideal customers, or buyer personas
Sales process research
Social media audit
One year or 6-month marketing plan
At the lower end, you could expect to cover messaging, ideal target clients, which channels to market to and why, and a full year of strategy and tactics to reach identified goals.
Creating a marketing plan requires a lot of research and preparation. This is why digital marketing pricing varies — it's based on how much work and effort go into developing the plan, leading to different results.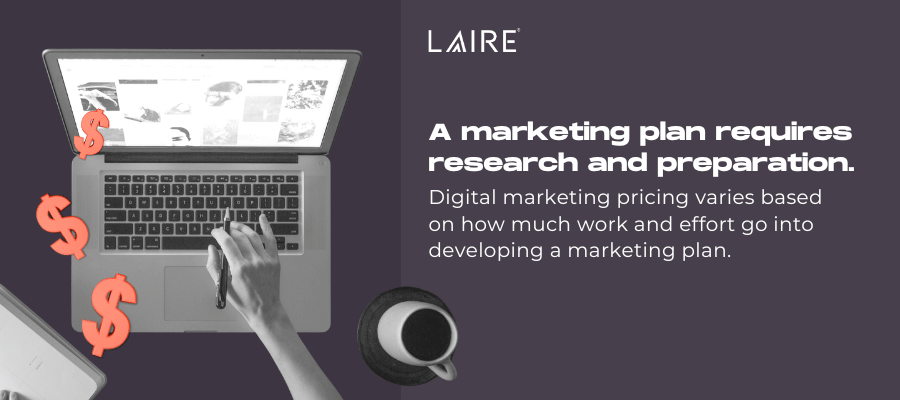 How Much Does a Marketing Strategy Cost?
A marketing plan and a marketing strategy are related concepts, but they serve different purposes in your overall business strategy.
A marketing strategy is a high-level, long-term approach that outlines your business's goals, target audience, positioning, and the general methods you'll use to achieve your objectives.
A marketing plan is a more detailed and actionable guide that outlines specific tactics, campaigns, and activities you'll implement to execute your marketing strategy. It includes timelines, budgets, and specific goals for each campaign.
Costs for a marketing strategy can vary depending on the complexity of your business, the depth of research required, and whether you're working with a professional strategist or doing it in-house. Marketing costs for a small business' strategy can range from a few hundred to several thousand dollars, and even more for larger enterprises.
All in all, it's important to consider the strategy and the plan as investments that contribute to your business's overall growth and success.
Marketing Package Pricing Is Based on the Components of Your Strategic Plan
The Marketing Action Plan by LAIRE® (MAP) is offered to all of our incoming inbound marketing clients. We also offer it as a standalone project for those who are looking to get a clear direction for their business.
We develop this custom marketing plan before we write any content, publish any social posts, build ads, or touch your website. The MAP is key to informing every marketing material handled by LAIRE and should even be shared with your other marketing providers and sales team to make sure all messaging is in sync.
Our MAP focuses on five foundations of your business in regard to pricing digital marketing services: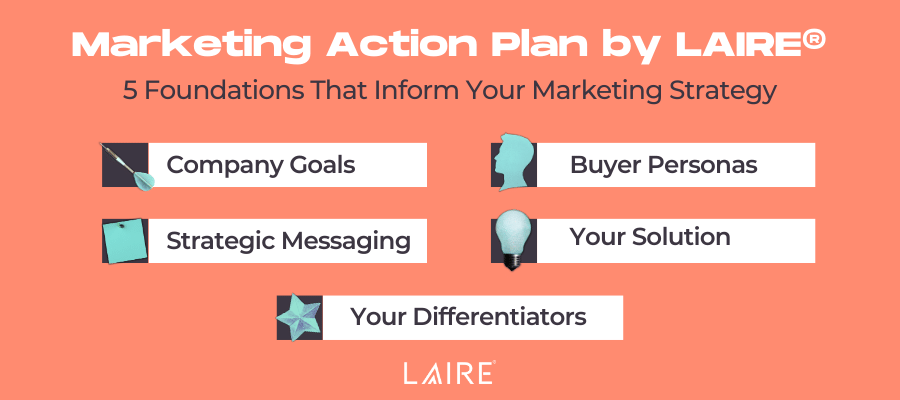 1. Company Goals
When we discuss your company goals, it's a matter of understanding what you want to get out of our work together. This goal is generally tied to top-line revenue and can guide us in knowing exactly how much it's going to take to help you reach those goals within our ability as your online marketing partner.
It will also guide our conversion and web traffic targets, which ultimately inform our ad budget recommendations, social post frequency, and blog publishing cadence.
2. Buyer Personas
Identifying and getting to know your ideal buyer personas is vital to attracting the best clients to your website and landing pages. This stage is the most research-intensive phase of developing your MAP. We typically develop three to five buyer personas.
To develop the personas, we interview your actual best clients. We learn about their lifestyle, purchasing habits, pain points that lead them to you, why they chose you against the competition, demographics, psychographics, and more.
The information gained will inform the content plan and marketing channels used to target the right type of client for your business.
3. Strategic Messaging
Your ideal buyer persona's pains, problems, and challenges become the basis for all our positioning and messaging about your business and product offerings. This strategic messaging will use their exact wording in question form and include exactly how your solution can fix that pain point.
This messaging can be used in website product pages, blog topics, social posts, fliers, brochures, and other non-digital media. Ideal buyer personas will be revisited periodically as trends shift and buyers' habits change.
4. Your Solution
Positioning your products and services around the specific challenges of your ideal client is key to being able to grow your business. The message of providing a solution is only valuable if you are actually providing that solution.
Sometimes, this is an eye-opening moment where a business can find there are some slight adjustments to make to their offering to maximize effectiveness and delight their ideal clients even further.
5. Your Differentiators
Once your products and services are fine-tuned to meet the specific needs identified by our client persona research, it's time to find your differentiating factors.
What makes you remarkable? What's going to make your ideal client choose you over the competition? Is it your commitment to customer service? Is it your superior product? Is it your long-term experience? Is it your big success stories? Is it a specific stat?
We'll help you discover this through persona research, and we'll ultimately craft these "remarkables" into all your messaging to maximize conversions.
If a client comes to us in need of a full website build or redesign, there would be additional pieces to their MAP that are customized to meet their business goals.
LAIRE Marketing Plan Breakdown
The resulting online marketing package you'll have in hand will include:
An executive summary
Growth goals and targets to reach
Target market research (ideal buyer personas)
Your product and pricing (including the "remarkables" that make you unique)
A comprehensive plan for branding, positioning, messaging, content strategy, social media, website optimizations, and more
A timeline for putting these pieces into place, taking your resources and budget into account
Now that you know what goes into a marketing plan, you can see that jumping right into tactics without a clear MAP would be disjointed and not as effective.
By crafting a strategic plan up front, you have a roadmap that helps you keep all your marketing efforts consistent, establish the correct goals, keep track of progress, make necessary adjustments, and inform your future decisions.
Without a marketing plan, you could waste hundreds or thousands of dollars using an unclear message, on the wrong channel, targeting the wrong buyer — making you spin your wheels with no results. With a marketing plan, you know exactly who you are targeting, why, and how.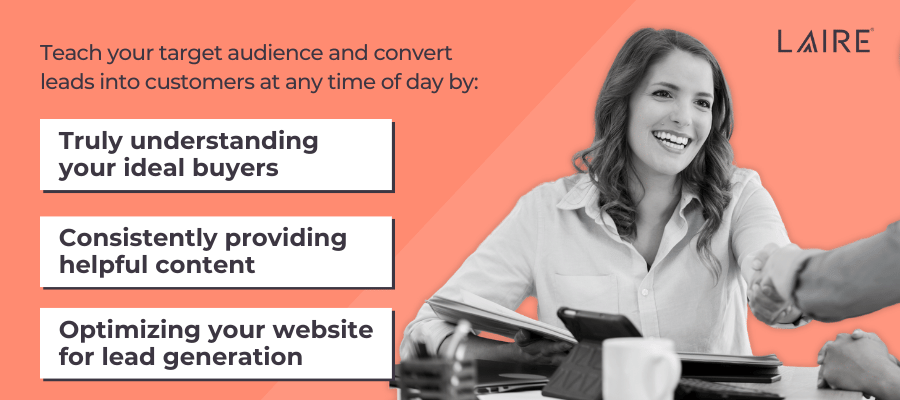 How Much Is a Marketing Campaign?
Once you do have a plan in place and it's time to put the pedal to the metal, you might be wondering "How much does a marketing campaign cost?"...
A marketing campaign cost breakdown can vary significantly based on a multitude of factors. There is no fixed price, as each campaign is unique and tailored to the specific goals, target audience, channels, and strategies involved.
Here are some factors that can influence the average marketing campaign cost:
Campaign scope and goals: The complexity and breadth of your campaign's goals will influence the cost. Are you looking to increase brand awareness, drive website traffic, generate leads, or boost sales? Some industries are more competitive than others, and highly competitive industries often require higher budgets to achieve visibility.
Target audience: The size and specificity of your target audience can impact costs. If you're targeting a broad audience, it might require more resources compared to a niche target. If your campaign targets multiple regions or countries, costs may increase due to localization efforts and different advertising rates.
Content and design: Creating high-quality content and designs, such as videos, graphics, articles, and infographics, can contribute to the overall cost of marketing. Content marketing costs depend on its complexity and the quantity needed.
Advertising budget: If your campaign involves paid advertising, your budget for ad spend will be a significant factor. For example, the average cost for small business advertising can vary significantly based on factors such as the chosen platforms, targeting options, and competition.
Timeline: The duration of your campaign can affect costs. Longer campaigns might require ongoing content creation and management.
Testing and optimization: Depending on the campaign's requirements, you might need to invest in marketing automation tools, analytics platforms, or other software. Building in resources for A/B testing and campaign optimization can also add to the overall cost.
In-house vs outsourced: Whether you handle the campaign in-house or hire external agencies or freelancers will impact costs. With our MAP process, clients receive their strategic plan to either implement themselves or continue working with us for ongoing implementation and management.
Due to these variables, the cost of a marketing campaign can range from a few hundred dollars for a small, targeted digital marketing campaign to several thousand dollars for a large-scale, multi-channel initiative.
According to The Manifest, when considering the average marketing cost for small businesses, "a good rule of thumb for small businesses with revenues of less than $5 million is to spend 7-8% of revenues on marketing."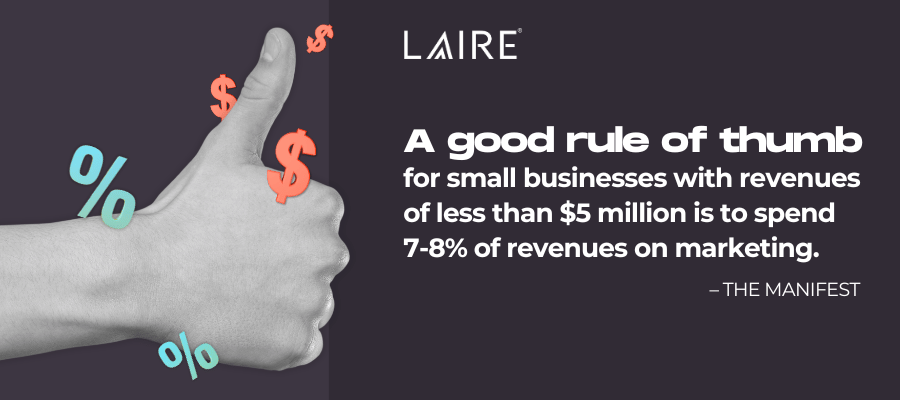 But no matter the size of your business, it's crucial to define your goals, set a realistic budget, and work with marketing professionals to develop a tailored plan that aligns with your objectives and resources.
How Much Is a Marketing Plan?... Priceless
One of the most common questions we get asked is, "How much does marketing cost?" The reality is: You can't put a price on strategic, data-driven marketing plans and initiatives.
When you truly understand your ideal buyers, consistently provide them with helpful content, and optimize your website for lead generation, you create a system that can reach your target audience and convert leads into customers at any time of day. It's like having a salesperson who never takes a day off.
At LAIRE, we don't do anything without a strategic plan in place. Whether you need a monthly, quarterly, or yearly marketing plan, we are your marketing partner, and your business growth is our goal.
If you have questions about our digital marketing packages pricing, reach out to our team today. We're looking forward to connecting with you!