Whether you're an early-stage home project contractor or an established custom home builder that's new to the social media world, there's one thing you should know: It's okay to start small but you need to start now. Social media is a time-consuming but important reality for any new venture. It will help increase your Google search rankings, give your brand a human voice, and allow your clients to start a conversation with ease. Now you just have to get started.
Where do I begin? Which networks should I be on? What do I share? How many times should I post? Is this worth my time? Read on, and we will answer all your questions and concerns! There are a lot of social networks out there, but you don't have to be on all of them. In fact, it's better to pick one or two to focus on when you're first getting started. Unclear as to how Instagram would help your brand? Avoid it for now. Not ready to tackle Twitter just yet? Skip it. The point is, choose one or two platforms to focus on from the start and then build your presence from there.
9 Tips to Get Your Social Media Strategy Started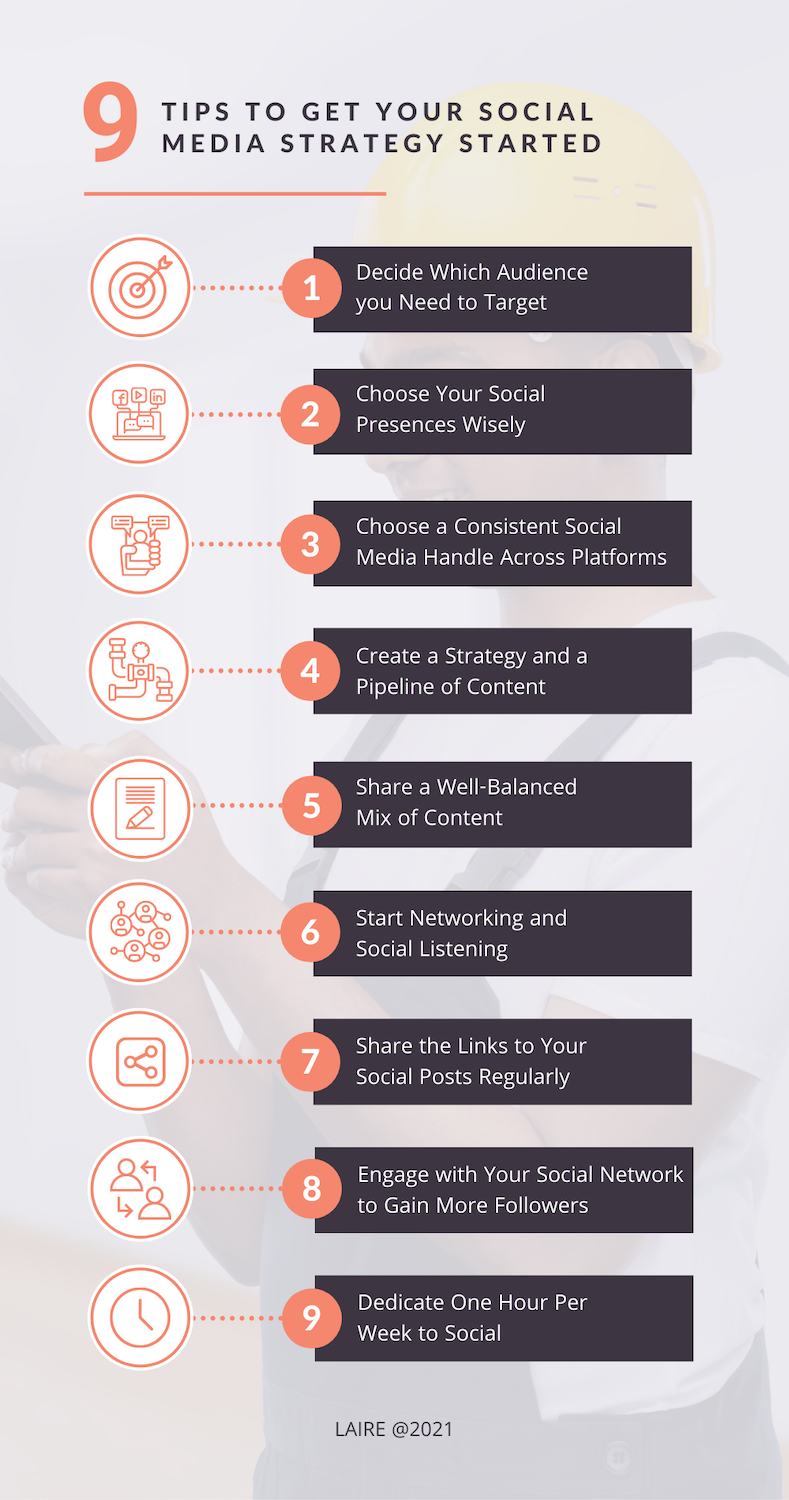 Whether you are a seasoned pro or just getting started, knowing where to start is crucial to ensure you're reaching your ideal audience with the right content. Here's where to start:
1. Decide Which Audience You Need to Target
Let's talk about strategy. You have limited time, and maybe limited content, and there is a very specific audience you want to reach. Here's a quick, non-scientific breakdown of who uses which network:
Teenagers and young adults

gravitate towards TikTok

, Snapchat, YouTube, Tumblr, and Instagram.
Soon-to-be-wives and soon-to-be-moms are all about Pinterest.
Young parents and grandparents alike can be found on Facebook.
Companies, corporate thought leaders, and professionals looking to network rule LinkedIn.
Influencers and bloggers can inhabit any of these platforms, and will often have a multi-channel following.
2. Choose Your Social Presences Wisely
Now that you've learned which networks are best for your audience, let's cross-check which network is best for your business. The goal here is to commit to only one or two networks.
Instagram and Pinterest are great for highly visual companies that have access to lots of beautiful, branded photography or products. That's you, the home improvement professional! These platforms were made for your before and after photos, action shots of your team, and can emulate a stunning portfolio for your business.
Facebook and Twitter are great for businesses that generate a lot of unique editorial content that can be shared via a link. Be choosy here; your blog will be essential for driving traffic to your website from these networks. You'll need to look into your audience and demographic here. If you're building for mainly older homeowners, Facebook can be as impactful as Instagram or Pinterest.
TikTok, Snapchat, and YouTube are great for brands with access to professional-level production equipment and a sense of humor. These platforms are very

much specific to video content

and require a large time commitment to produce exceptional content.
Houzz and Porch are great for home improvement brands, contractors, and homebuilders with plenty of pictures of completed work and knowledge to share. Those that want to have work done or start a home project look to Houzz and Porch. Houzz and Porch are also great places for your happy customers to leave reviews. After all, positively reviewed companies usually win projects over those with no reviews and no online presence.
3. Choose a Consistent Social Media Handle Across Platforms
Every social network requires a "handle" or name. Make yours consistent, and make sure it's available to claim on all networks. Whatever you pick for Facebook should be used on Twitter, Instagram, Pinterest, and any other network you sign up for. In theory, fans will start tagging you on Instagram and tweeting to you on Twitter. They can't do that if your name is confusing. For Facebook, you'll have to claim your "vanity URL," too—it's much easier and prettier to share than an extra-long link with lots of numbers at the end. Claim your vanity URL at facebook.com/username. These small steps will go a long way in brand consistency and helping your audience find you.

4. Create a Strategy and a Pipeline of Content
You probably have more to share than you think. Think about the ways you can repurpose the content you already have and the steps you can take to create new content. Can you reuse any press coverage or recent awards you've received and share it on Twitter? Can your photographer take new lifestyle shots and share the images on Instagram? Can a graphic designer create branded graphics for Facebook? Can you think outside the box and create posts that address problems, concerns, or interests your clients have that are relevant to your business?
If you have a low budget and no branded content to share, consider starting a blog about common home builder topics, why people might want to build or update their homes, and even ideas for projects that homeowners can complete on their own. Share peeks behind the scenes, ways your business is helpful in the real world, showcase client stories, and how you helped them redesign their living space or build the home of their dreams!
Don't be afraid to do a little research either. You can look to other companies similar to yours and see how they are utilizing social media. You should never copy their content ideas, but you can take inspiration on how you can deliver your company's remarkable features to draw in customers.
5. Share a Well-Balanced Mix of Content
On every social network, you need a solid mix of self-promotion, testimonials, and original content that's of pure value to your readers. You can also include off-topic posts that your audience will enjoy. Self-promotion includes direct links to your website, peeks behind the scenes, and news about your company. Testimonials can be pulled from a Yelp page, an email, or a blog or article endorsing your services. Off-topic can include funny photos of your crew at work, holiday wishes, quotes, and shared content from other resources that is interesting and relevant. This off-topic mix can help add personality to your social channels without the "me, me, me" vibe some companies give off by only including self-promotion.
Social media can be as simple or as complex as you want. If you're truly looking to gain customers and leads through these platforms, you'll need to dedicate time, labor, and resources to developing your social presence. It's time to get creative and this is when a freelance writer can come in handy, especially if you do not have an in-house writer that is comfortable and knowledgeable in creating social media content. You can also work with an agency to provide a social media strategy and carry it out on your behalf. Social media definitely plays a role in supporting your other marketing initiatives.
6. Start Networking and Social Listening
You have to become a consumer of social media to win at social media. The good news is that in social media land, it's OK to steal—it's called sharing, and you should do it often as long as you give credit. Scratch someone else's back in hopes they scratch yours. Set aside at least ten minutes each day to read your feeds and interact with your followers and audience. No matter what network you use, you need to be actively following influencers, experts, marketers, brands, companies, and publications in your industry. Retweet their articles, like their posts, share their updates, comment on their blogs, or link to their content. Social media dashboards like Hootsuite or HubSpot allow you to create themed feeds from your Twitter Lists or hashtags. HubSpot allows you to set up an RSS reader if that's easier for you.
7. Share the Links to Your Social Posts Regularly
If you build it, they will not come. Slap those clickable social icons, vanity URLs, or usernames on your homepage, business cards, email signatures, marketing materials, and everywhere else you are found. There are no excuses for this. We've worked with so many companies who couldn't even gather the resources to add a Facebook icon to their homepage months after they had signed up for Facebook. That's absolutely unacceptable. Don't even bother setting up a social network if you're not going to let people know how to find you. Do a Google search for free social network icons, buy a fancier package of icons, or download official brand assets directly from Facebook or Twitter. While you use your social channels to promote your website and content, use your other channels of communication to promote your social media pages.
8. Engage with Your Social Network to Gain More Followers
Every industry has a unique presence online. There will be hashtags. There may be tweet-ups. There could even be a meme. It's your job to research this kind of thing so you can become a part of your community. They will welcome you with open arms when you play the game and look at social media as a two-way conversation. You'll get more followers and make important connections in the process. Constantly study any analytics the social networks provide you with to better understand your audience and your community and to make sure what you're doing is working.
9. Dedicate One Hour Per Week to Social
I promise that you can make an impact and grow your social following in as little as one hour per week. Facebook's scheduling feature lets you queue up posts up to six months in advance. Social media dashboards let you queue up content. In theory, you could get months of content ready in one sitting, but don't feel pressure to do so. You can still make a great impact without scheduling months of content at once. Here's a quick guide to the bare minimum you should be posting for each network:
Blogging once per week
Posting on Facebook, Instagram, LinkedIn, or TikTok two to three times per week
Tweeting at least once and up to ten times per week
Pinning 20 times per week
Contributing to Houzz and Porch 10-15 times per week
Abandoned presences are worse than no presence at all. When you enter the social media space, you're building a relationship with your audience, potential customers, and brand enthusiasts. Don't let them down by starting a great social media effort and then going silent. In the world of social media, consistency and effort are key.
If you would like to see how you can grow YOUR construction business with a marketing plan, strategy, and implementation - Download your copy of the construction marketing checklist below! For more information on how LAIRE supports construction companies with inbound marketing, connect with our team.